Update! Our ultimate travel job guide – Get Paid To Travel: 101 Amazing Travel Jobs – is now live! If full time travel is your ultimate goal but you're not sure how to make it a reality just yet, don't leave without reading this first!
We are now living in a time where advanced technology teamed with an entrepreneurial mindset and a few skills up your sleeve can take you around the world for as long as your wander-lusting heart desires.
How, you may ask?
Well, you might have heard the term 'digital nomad' thrown around quite a lot lately – meaning someone who lives a nomadic lifestyle whilst taking advantage of the digital world to earn money online.
The reason why this term is gaining popularity is because more and more people are realising the possibilities of working online, quitting the rat race and creating more freedom in their lives.
Imagine being able to receive monthly pay-checks or build your own business from anywhere with a WiFi connection…
Too good to be true? Well, let's find out shall we?
In this post I want to introduce you to 7 full time travelers who are all living digital nomad lifestyles – traveling the world while they earn money online.
There are so many paths to go down as a digital nomad, you'll be surprised.
From blogging to bookkeeping, here's what they do to earn money online while they travel…
** Before I forget I also recommend checking out these 15 awesome travel job courses that'll teach you the exact skills you need for many kinds of remote jobs you can do from anywhere.
7 Full Time Travelers Explain How They Earn Money Online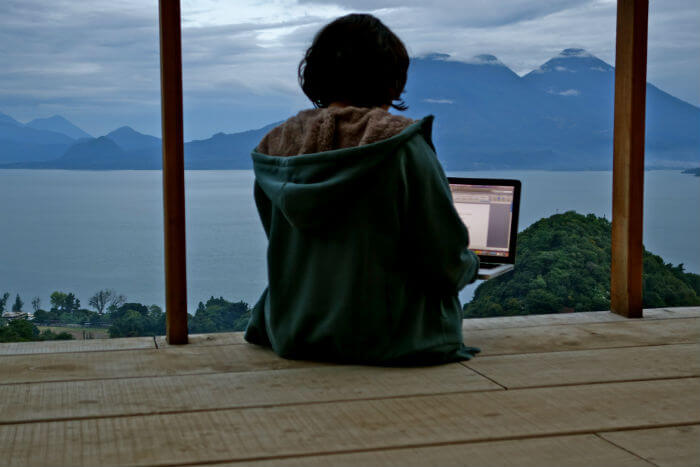 "In 2011, at age 23, I took a leap of faith – to quit my corporate job as a social media strategist at the Singapore Tourism Board, and travel the world! I started out with savings that saw me through the first three months and then became a fall-back fund. I picked up freelance work in social media and travel writing, and rejigged my blog – The Shooting Star – with a travel focus.
The money I made with freelancing, though unsteady, saw me through countless adventures over three years, and gave me space to pursue travel blogging seriously – I could build my content and readership without focussing too much on money. That strategy worked, and in the past year, I've reduced my freelance work to a minimum, making a living by promoting travel brands and destinations I love, to my loyal and growing blog readership.
If you want to make a living on the go, it's important, first, to know that you need an appetite for risk – there will be sleepless nights of not knowing where (or when) your next bit of income will surface, and you just have to palette that as an adventure. Second, know your skills in work that can be done virtually. For me, it was social media and writing. For you, it could be anything from leading trips to coding websites. Build your portfolio and let your work speak for yourself, while letting the road lead you to unexpected discoveries about yourself!"
You can follow Shivya and her digital nomad adventures on Facebook.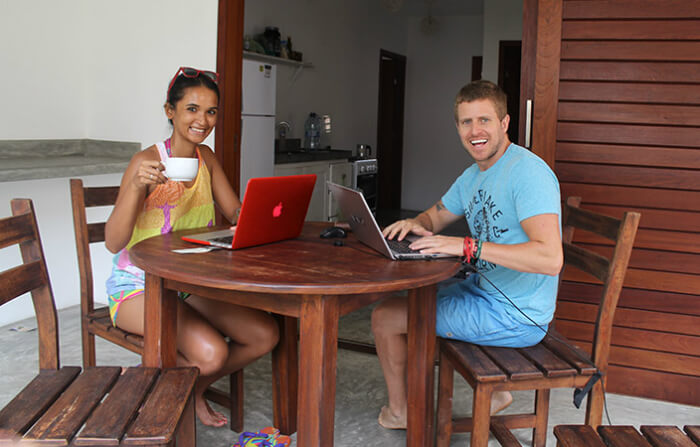 "We have an online marketing agency where we work with businesses and advise them on their digital marketing strategies and efforts such as blogging, content marketing, advertising, email and social media marketing. All our work and client communication is completely online so we can take it with us wherever we go. We both worked in digital marketing before we became digital nomads but we taught ourselves several other skills too, including design and how to manage client relationships.
Think about current skills and expertise you have, and consider how you can "sell" them as services online. For example, if you designed your own blog – it might work as a good portfolio piece to sell your design skills to clients? Our first clients came via word of mouth, so tap into your network of friends, family, colleagues and everyone you know to get started and get some experience. Freelancing sites like Upwork have also been very useful for us – to get new work as well as to outsource work."
Radhika blogs about freelancing and location independent living at Fulltime Nomad.
iAmAileen.com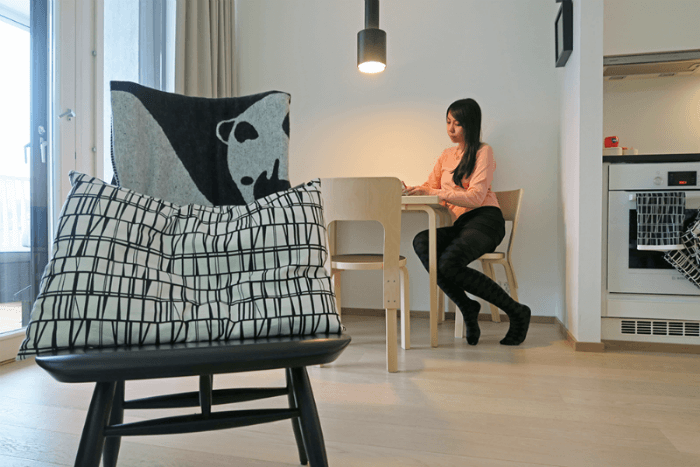 "I used to fund my travels by working online as a graphics designer and web developer. One of my employers had a very profitable drop shipping business via Amazon, and after learning the ins and outs of his business for a year, I realized that I can adapt it as my own. And so I did!
It has been almost 2 years now since I launched my Amazon business and it has been going fantastic, making me lead an even more sustainable travel lifestyle! Now the amazing thing about this profession is that I don't need need an actual physical location because I can just send it over to Amazon who handles my inventory and shipping processes for every customer order in exchange a small monthly fee."
Check out Aileen's ultimate guide to becoming a digital nomad.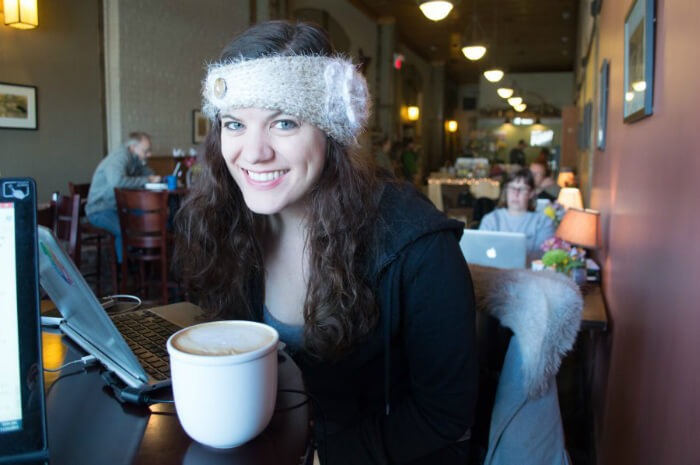 "I've been working online since 2013 and now I could never go back to a traditional job! The freedom and flexibility are the greatest perks.
90% of my income comes from freelance copywriting. I started out on the website Upwork, and got lucky landing some awesome gigs. I've since branched out from that and have sourced my own clients, using LinkedIn, job boards, and even our Two Drifters travel blog.
I write primarily for business blogs and website content, but have done everything from e-books to admissions essay editing. The other 10% of my income comes from affiliate marketing through our blog as well as sponsored posts on our Instagram."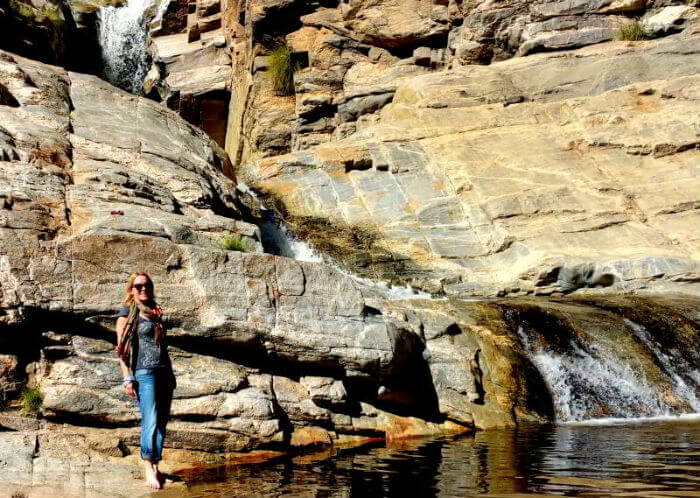 "I run my bookkeeping business Moore Balanced Books, LLC while living a nomadic life – roadtripping around the USA and Canada. I started the business while living in Austin TX and visited most of my clients on-site. I wanted to travel more so I asked my clients if they would be willing to allow me to work remotely – to my surprise most of them said yes!
In spring 2015 I began to transition my on-site clients to remote. I tested everything before leaving Austin in order to be sure all would run smoothly while on the road. Tools that I utilize to run my business remotely include: QuickBooks, Microsoft Remote Desktop, Dropbox, Skype, Backblaze, T-Mobile hotspot, Kaspersky Total Security, ScanMailboxes, email, and mobile phone.
My advice to anyone who wants to work while living a nomadic life is to start learning about the tools that would allow you to communicate with clients and access information while working remotely. Beyond bookkeeping expertise the three most important skills you need are confidence, time management, and problem solving."
You can follow Susan and her digital nomad adventures on Facebook.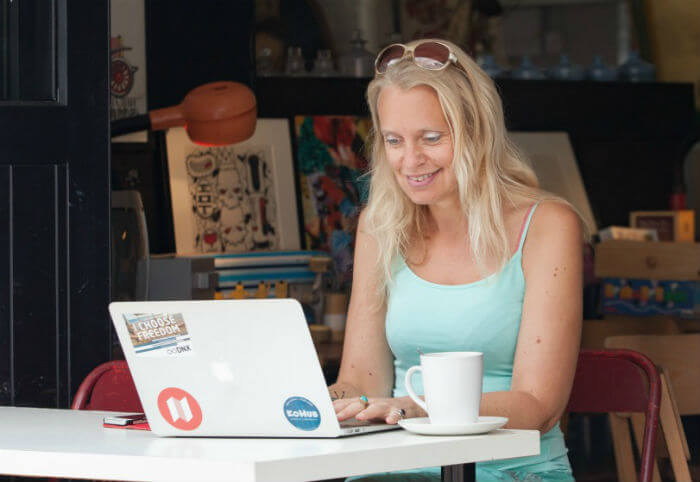 "Two years ago I sold up and left the UK to become a full-time Digital Nomad living 100% from my Business Freedom Academy coaching & mentoring site. I help other Coaches, Bloggers, & Holistic Practitioners (specifically the over 45's) to create, market & grow their own business.
I focus on 3 income streams. The first is what I call 'instant cash', offering 1-2-1 mentoring in Online Marketing & Social Media, via Skype or Messenger. Next I created 2 online training courses (Online Marketing For Beginners, & Social Media For Beginners); which become a feeder for the 1-2-1's. Lastly, I am adding in Affiliate products and services to have more automation.
I think everyone knows how to teach something. So my advice to start up would be to either go straight to offering 1-2-1 help in an area you love, or create a simple online course. You can even do this via Udemy, so you don't need your own website or marketing skills."
You can follow Sophie and her digital nomad adventures on Facebook.
WhoIsThePlayer.com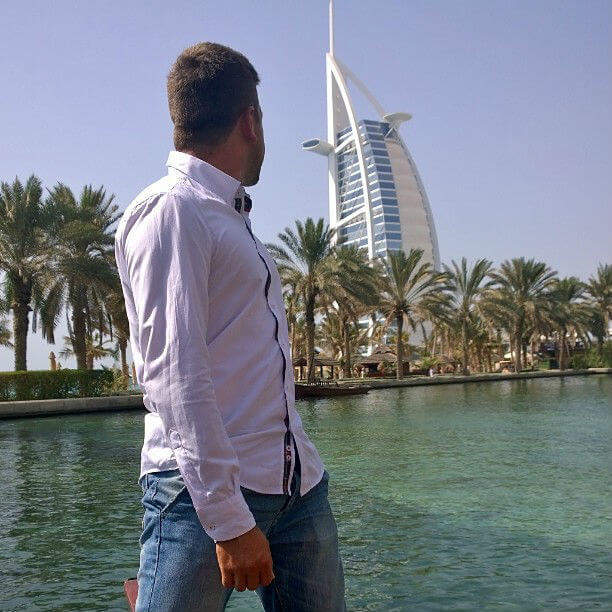 "My escape from the corporate world began one year ago. The key moment was when I realized that I do not need to wait for a 2 weeks holiday in the year to travel.
Most of my income is derived from User Interface Designs and Web Banners. To survive like a Freelance Designer and Digital Nomad it is necessary to generate a constant flow of money, and continually look for potentially new clients.
The good news is that when traveling you just meet these people randomly. You have to be open minded and a socially active person. Enjoy your life and do what makes you happy. If that path is traveling, then you know the way."
Finding a sustainable way to earn money online while you travel needn't be a difficult task… In our free eBook, 12 Steps To Full Time Travel, we cover this in more detail along with various other strategies to turn travel into a lifestyle. Just click the link to download!
We're curious… Are you considering the digital nomad lifestyle? How do you plan to earn money online while you travel? Or perhaps you're still in the beginning phase of figuring it all out… Do you have any questions? Leave a reply in the comments box at the bottom of this page and we'll get back to you!
Did you find this post helpful? Here are some others you'll like too:
** Remember, check out these 15 awesome travel job courses to learn the exact skills you need for many kinds of remote jobs you can do from anywhere.
Pin this >>