While overseas travel can be a fulfilling and great experience, traveling to a foreign and new country is also coupled with risks and threats.
Fortunately, the U.S. government has developed a way to inform the country on the risks and threats associated with traveling to each country with its Travel Advisory issuance.
Read on to learn more about the U.S. state department Travel Advisories, what they are, where to find them, and how to use them to guide your travels.
Stay Safe with Travel Advisories
Travel Advisory Levels and What They Mean
Learn about the Risks with Risk Indicators
Reading and Understanding Travel Advisories
The Interactive Map – See the World at a Glance
Stay Updated Wherever You Are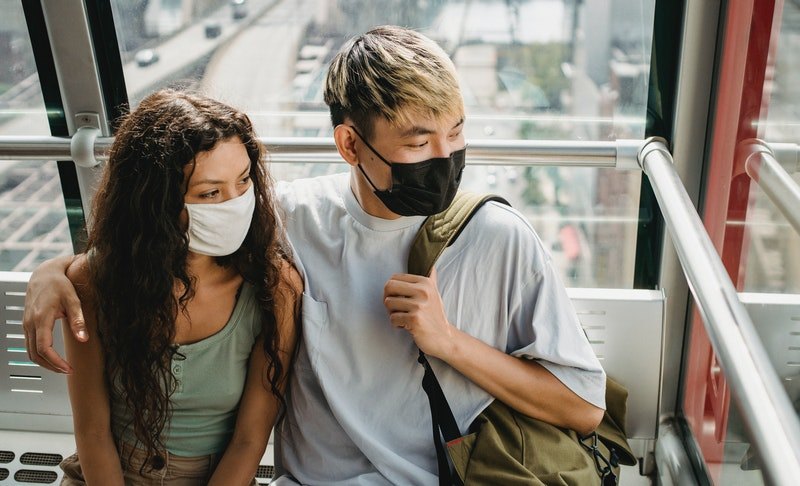 Stay Safe with Travel Advisories
If you plan to take a trip abroad, it is very important to check the Travel Advisories for the country you'll be traveling to before you leave.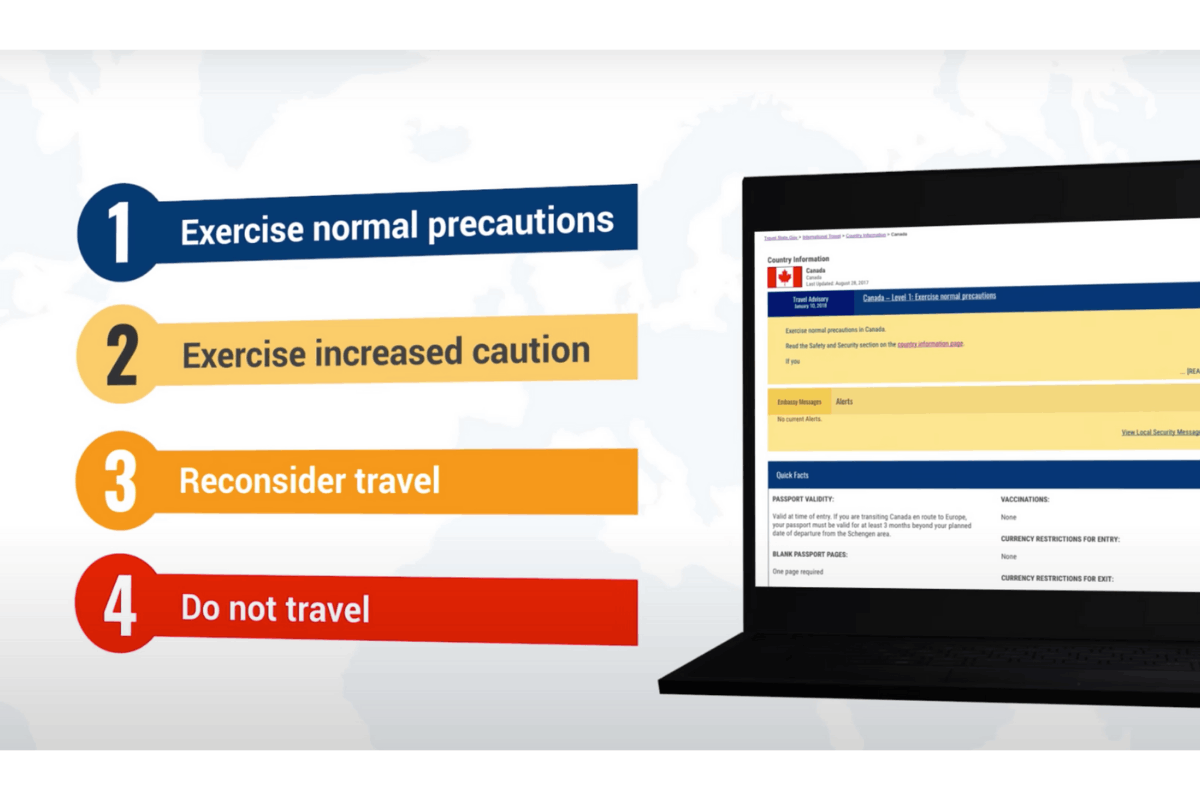 These advisories are issued by the U.S. Department of State – Bureau of Consular Affairs.
The U.S. department issues travel advisories for each country of the world. These advisories follow a consistent format and use simple and direct language to help U.S. citizens find important security information and guide them in planning their overseas trips.
Travel Advisories are divided into four levels, each with a corresponding color so that it is easier to differentiate from each other.
Where to Get Travel Advisories
Travel Advisories are posted on the State Department's website.
Other helpful resources on overseas travel for U.S. citizens are also included on their website.
Travel Advisory Levels and What They Mean
The lowest advisory level for safety and security risks is Level 1 – Exercise Normal Precautions. While there are always risks when it comes to international travel, it is generally safer to travel to countries with a Level 1 Travel Advisory.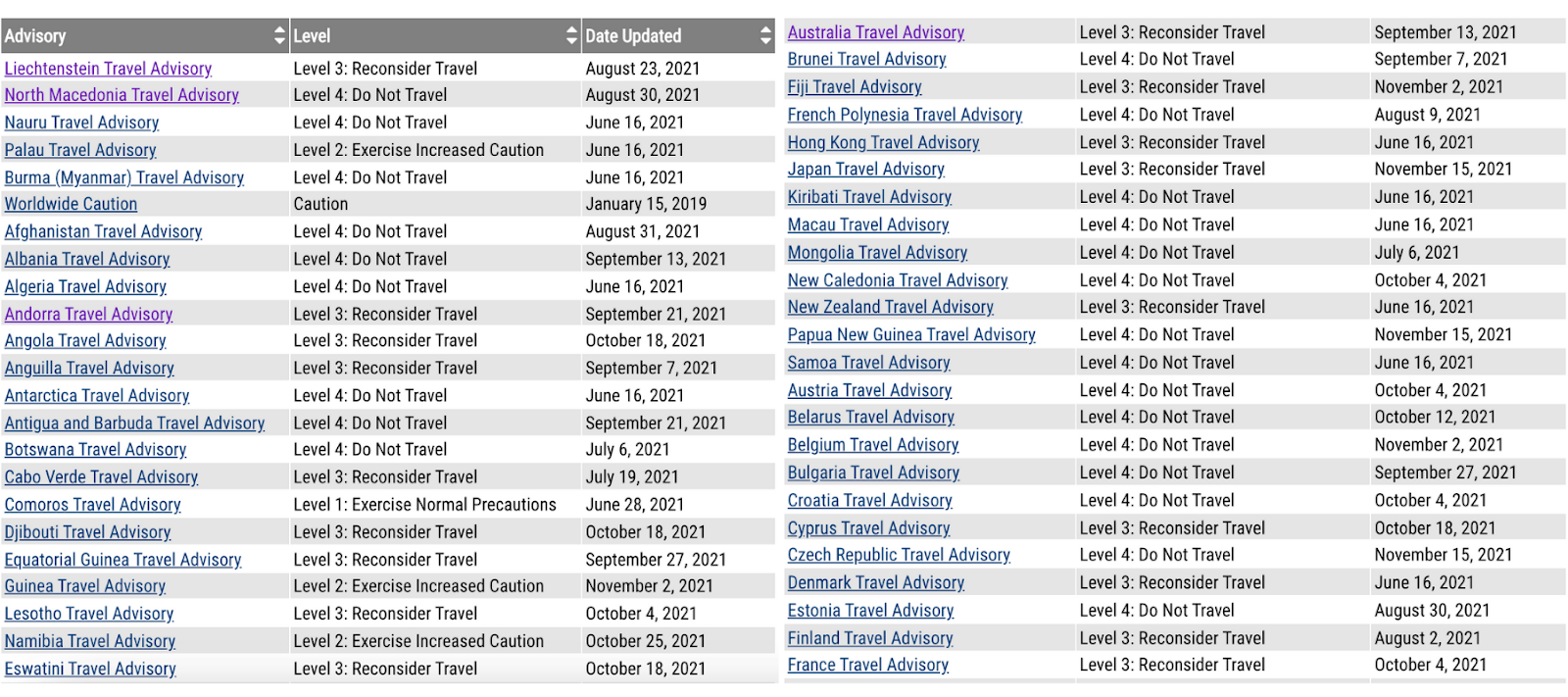 Level 2 – Exercise Increased Caution informs travelers of the heightened risks to safety and security. The Travel Advisory provides additional advice for travelers in these areas.
Level 3 urges travelers to "Reconsider Travel" due to serious risks to safety and security. Similar to Level 2, these come with additional information for travelers who will travel to countries with Level 3 advisories.
Level 4 – Do Not Travel suggests that travelers postpone their trip due to the greater likelihood of life-threatening risks. This is because the U.S. government might have limited ability to assist with emergencies in countries under the Level 4 Travel Advisory.
Travel Advisory Levels for Specific Areas
While each country is assigned an overall Travel Advisory level, there are instances where the levels of advice vary for specific areas or locations within that country.
For example, a country can have an overall Level 2 Travel Advisory, but a particular area in the country could have a Level 3 advisory.
Learn About the Risks with Risk Indicators
Travel Advisories at Levels 2 to 4 include clear reasons why the level is issued for a particular country. These reasons, called risk indicators, inform travelers of the specific risks. Eight established risk indicators appear on Travel Indicators.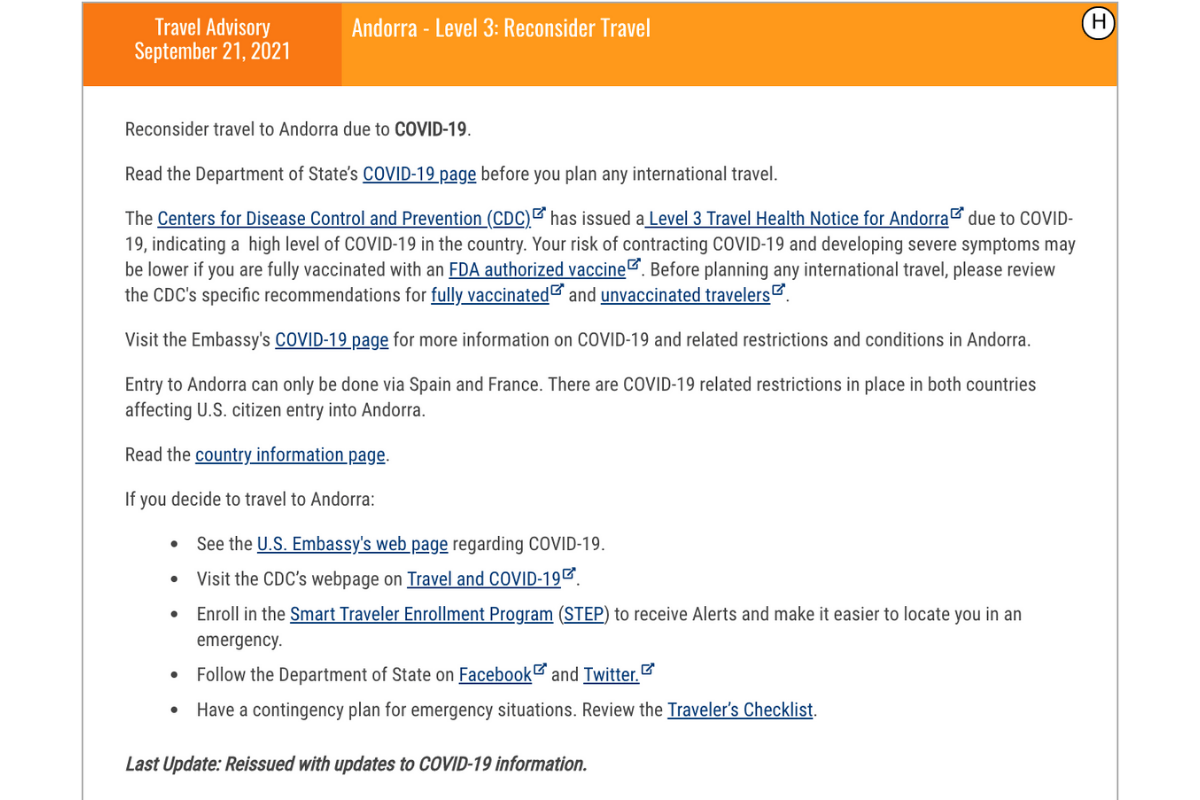 Crime (C) refers to widespread violent or organized crime in the country, especially when local law enforcement shows very little ability and potential to respond to serious crimes.
Terrorism (T) refers to attacks that may have occurred and threats against civilians, groups, and other groups. Civil Unrest (U) refers to political, economic, religious, and/or ethnic instability that may cause violence and major disruptions.
Health (H) pertains to health risks, including outbreaks and crises that threaten a country's medical and healthcare system. In addition to this risk indicator, the Centers for Disease Control may also issue a Travel Notice that will appear in the Travel Advisory.
Risks of Natural Disaster, Kidnapping, and Time-Limited Events
The Natural Disaster (N) risk indicator refers to disasters such as earthquakes, typhoons, tsunamis, and volcanic eruptions, among others. The Time-limited Event (E) risk indicator refers to short-term events which may pose safety risks, such as sporting events, large public gatherings, or elections.
The Kidnapping or Hostage Taking (K) risk indicator refers to the situations of these natures, where individuals or groups are being held and detained by criminals who want to gain control and make their demands met.
Other potential risks not covered by the above seven risk indicators are billed under Other (O). Additional information on risk indicators is detailed on the country's Travel Advisory Page.
Reading and Understanding Travel Advisories
Travel Advisories are brief and easy to read to ensure maximum comprehension of the information presented.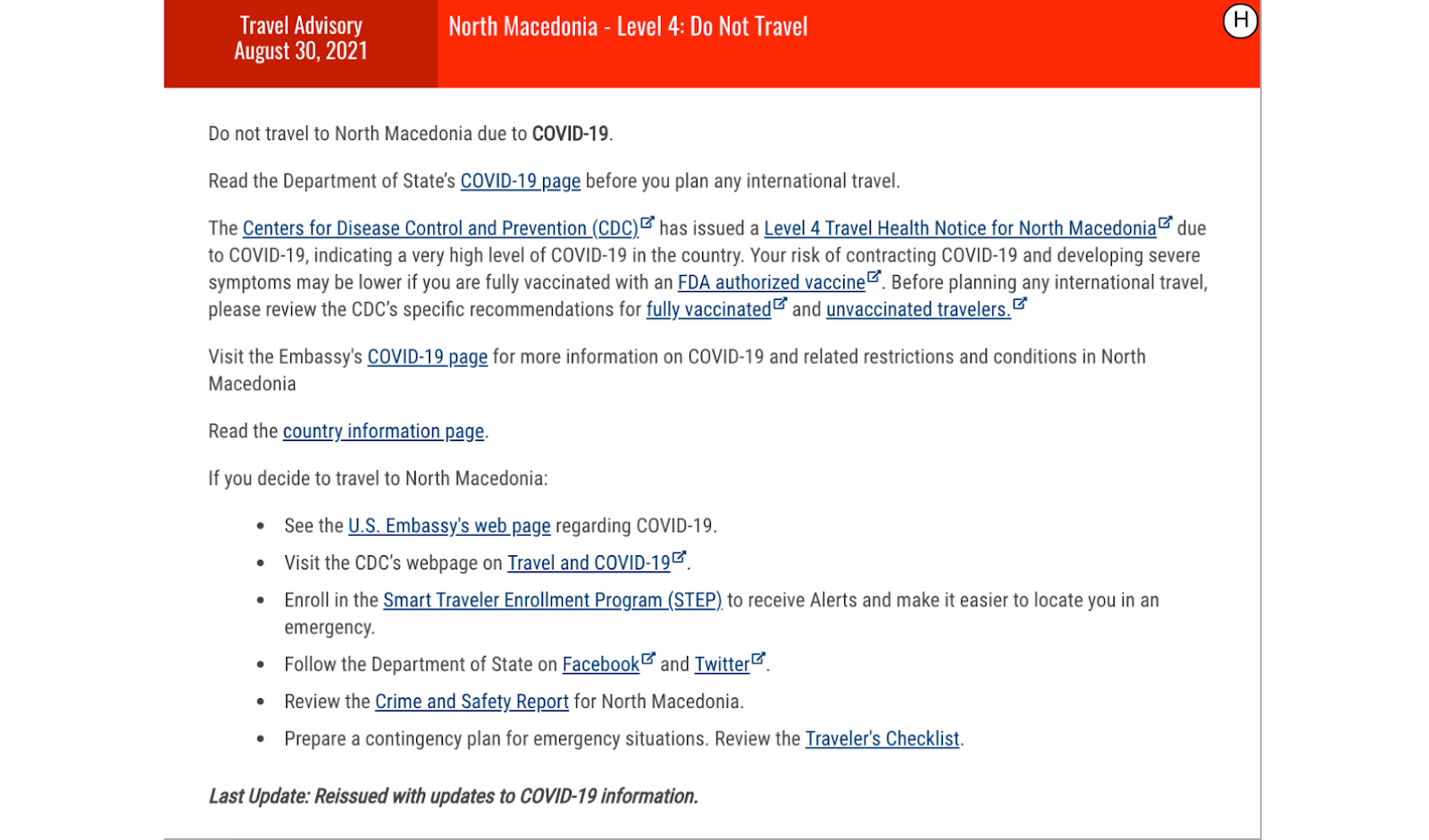 The first thing that you will notice on every country's Travel Advisory page is a color-coded bar that shows the Travel Advisory Level, the country name, and the date of the issuance.
The first paragraph reiterates the Travel Advisory level and the risk indicators, which also appear on the rightmost portion of the color-coded bar. If the Centers for Disease Control and Prevention (CDC) has issued a Travel Notice, this will appear on the page.
Travel restrictions put in place by the country are also mentioned, and you will be redirected to the government's resource page for further information.
A Repository of Resources
Travel Advisories do not just offer helpful information on the current climate and situation of a country, but they also provide useful links which you can check out to further help you with planning your trip.
The links to the U.S. Embassy's website, CDC's webpage, State Department's social media pages, STEP registration webpage, and the very useful Traveler's Checklist are also included in the advisory.
The Interactive Map – See the World at a Glance
In addition to Travel Advisories, the U.S. Department of State – Bureau of Consular Affairs also has an interactive map on their website, which shows comprehensive information for all countries of the world.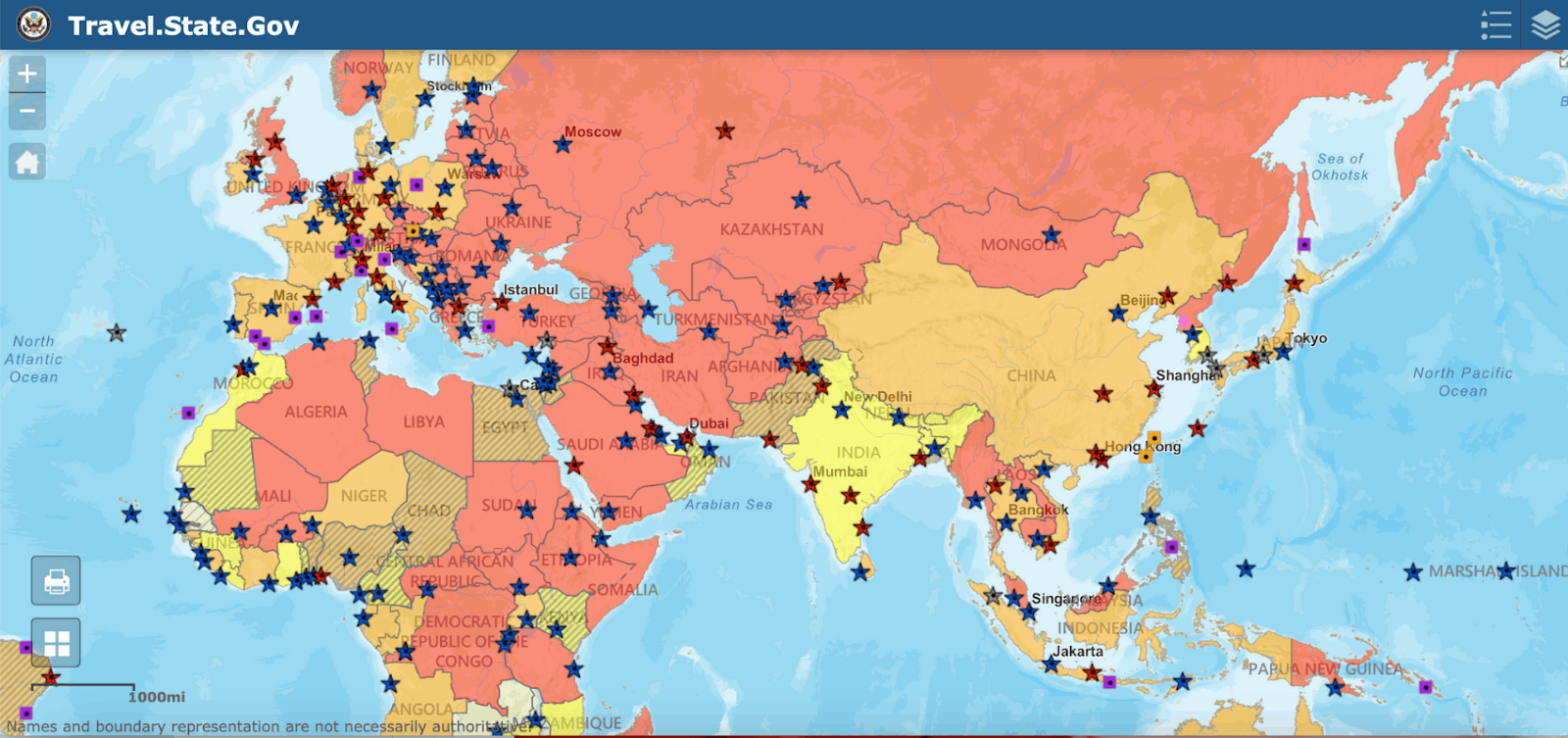 Countries are color-coded according to Travel Advisory Levels, with specific markings for all areas in a certain country. Moreover, the interactive map also shows U.S. embassies and consulates in all countries, represented by various icons on the map.
Specifically, consular agents, consulate generals, consulates, consular sections, embassies, and even the presence of U.S. Protecting Powers are indicated on the map. Clicking on a country on the map will reveal a much more detailed Travel Advisory Level.
It will also display a link to the country's Travel Advisory and the advisory's date of issuance. For a detailed view of streets and buildings from satellite images, you can choose among the options listed on the Basemap Gallery on the lower-left portion of the screen.
Customize Your Viewing Experience
Countries that have areas with a higher security risk also have black lines to denote these additional risks, in addition to the color-coding based on the Travel Advisory level.
Zooming in and out on the map can easily be done by clicking on the "plus" or "minus" sign.
The map view is also customizable. If you want to see Travel Advisory levels only, you can untick the box on the Layer List found on the top right corner of the screen.
Stay Updated Wherever You Are
By enrolling in the Smart Traveler Enrollment Program (STEP), you can stay updated on travel advisories from wherever you are.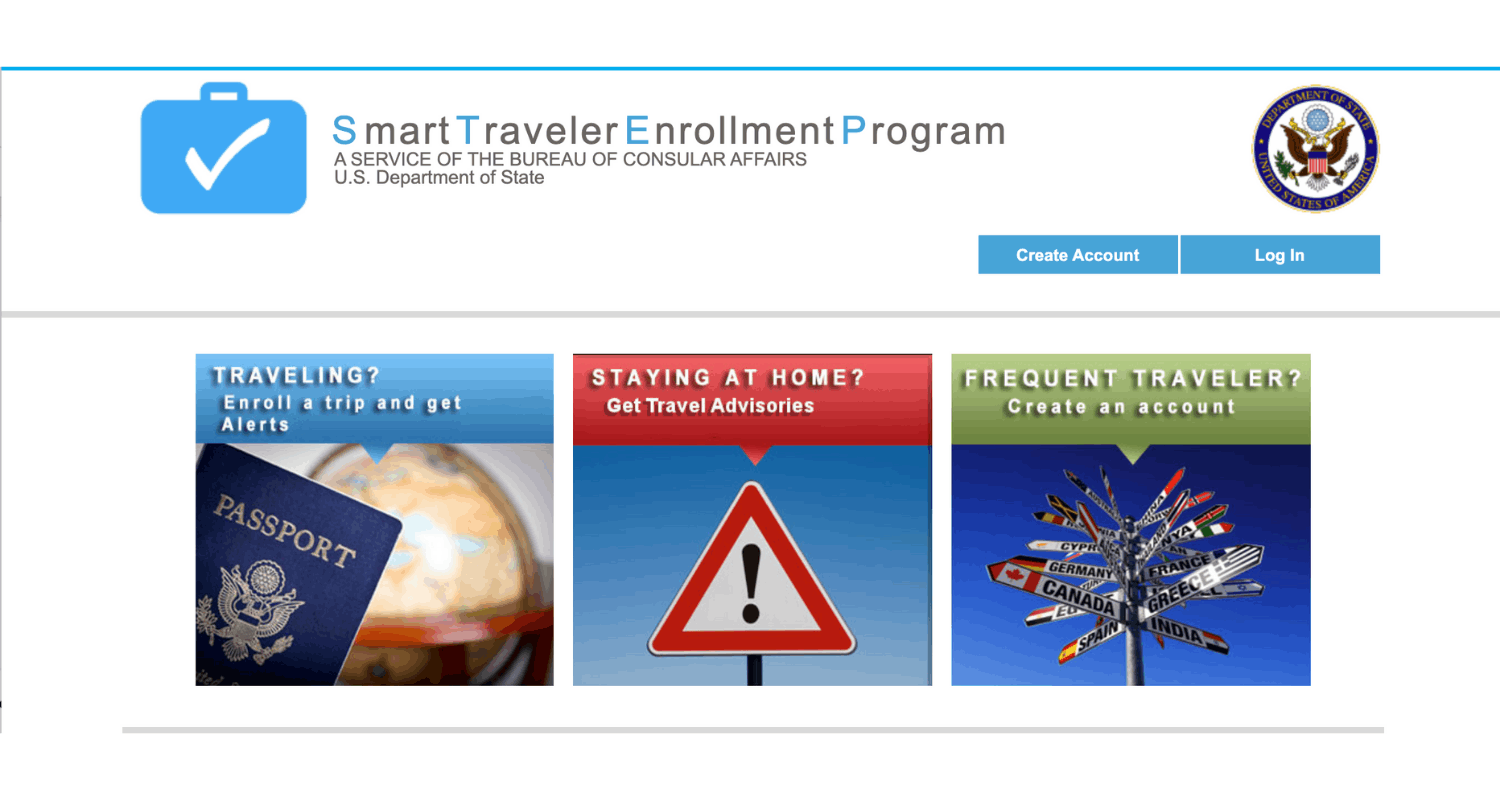 The U.S. Department of State will email you Travel Advisories as soon as they are available, so you can always be informed. Keeping these travel advisories in mind when planning your travel abroad will help you avoid potentially unsafe situations.
You may also opt to follow the department's Twitter account (@TravelGov), and Facebook accounts for updates.
However, do not solely rely on social media channels for updates as algorithms and availability of data differ. It is still advised that you check the individual country pages for complete information.
Receive Updates on Level 3 and 4 Advisories
The State Department's media team will also send email updates that include Level 3 and 4 advisories. To be part of their mailing list, go to their registration page to subscribe to receive updates.
Remember that Travel Advisory issuances can change from time to time, so you should check the State Department's website regularly if you will not be enrolling in STEP.
The Bottom Line
With the availability of reliable and credible information from different parts of the world that the U.S. government verifies, American travelers can be assured that they are making informed choices when it comes to their travels overseas.
Safety and security must never be compromised. These should be the top priority of travelers when they travel. Head to the State Department Travel Advisory website to check on the country you're planning to visit. Remember, a smart, safe, and informed traveler is a happy traveler!