Manhattan New York had been on my bucket list ever since the first Sex and the City movie graced the big screens and influenced me to begin binge watching the entire series.
Something about wearing big wooly coats whilst riding through central park on a horse and carriage ignited a sense of New York wanderlust in me that I'd never experienced before.
Manhattan New York seemed like the perfect winter wonderland – a place to indulge with your loved one over a glass of red wine, catching soft white snowflakes on the tip of your tongue and spending every minute revelling in the enchanting atmosphere of the city that never sleeps.
I'd been dreaming of this perfect scenario since 2008 and I finally made it – with a man by my side I might add – this February (8 years later).
Okay, so it didn't all turn out how I imagined (the snowflakes were actually just sludgy pieces of sleet) but it was pretty close.
In fact, Manhattan New York quickly soared to one of the top spots on my imaginative list of favourite places in the world.
Unfortunately I wasn't able to spend each day romantically wandering around hand in hand with Dan as he had a conference to attend but there were so many things to do in Manhattan New York that I was effortlessly entertained the entire time.
We spent a total of 3 nights and 4 days in Manhattan New York, staying at a hotel called Manhattan NYC, An Affinia Hotel which was perfectly situated on 7th Avenue, just 10 minutes walk to Times Square, the Empire State Building and plenty more.
Here's a list of 8 things to do in Manhattan New York that I loved and I think you'll love too!
Our Favourite Wanderlust Inspiring Things To Do In Manhattan New York
Don't forget these things to do in Manhattan, pin this to your travel board on Pinterest >>

8. Times Square
Yes, it's touristy.
Yes, it's in every New York guide book.
And yes, it's a big square full of advertising.
Nonetheless, you simply can't go all the way to Manhattan New York without visiting Times Square!
It's just one of those things you have to do.
In fact, it's quite beautiful in it's own weird way.
All of the flashing lights, massive screens and famous theatres nearby create an electrifying atmosphere that truly reflects why New York is called 'the city that never sleeps'.
Just be careful of the dressed up cartoon characters. If you take a picture with them they will surprise you with a hefty fee.
Times Square is located in Midtown Manhattan, at the junction of Broadway and Seventh Avenue and stretching from West 42nd to West 47th Streets.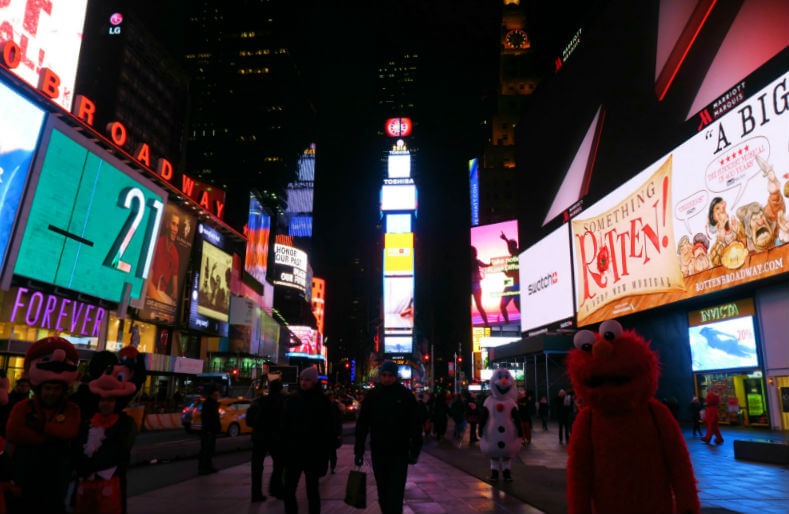 7. Eataly
Eataly is my idea of Italian food heaven.
I didn't know this place existed until our last day in Manhattan New York but I'm so glad I was introduced to it.
Located close to Madison Square, Eataly is a large upscale grocery store which includes a number of restaurants and cafés, a bakery, a kitchen dedicated to making pasta and other speciality sections, all selling incredible Italian food and delicacies.
Oh yeah, and there's a Nutella café – 'nuff said.
I recommend visiting mid-morning for some coffee and cake before taking some time to wander around.
Then when it's time for lunch, you can sit down and enjoy a delicious meal at one of the restaurants.
Eataly is a chain located in a number of destinations around the world…
They recently opened one up in São Paulo, Brazil and I can tell you, it's equally as amazing.
If you're one of those people who has food on your mind 24/7, do yourself a favour and make time for a visit to Eataly.
Eataly is located in the Flatiron district of Manhattan New York at 200 Fifth Avenue.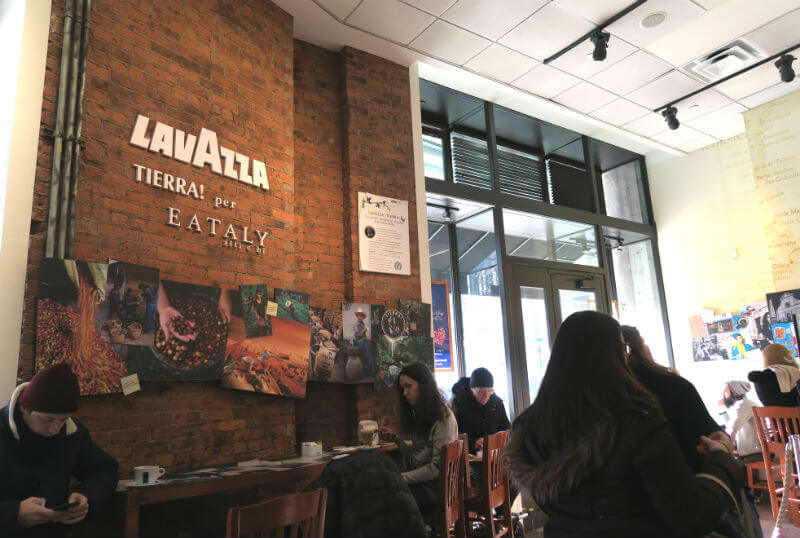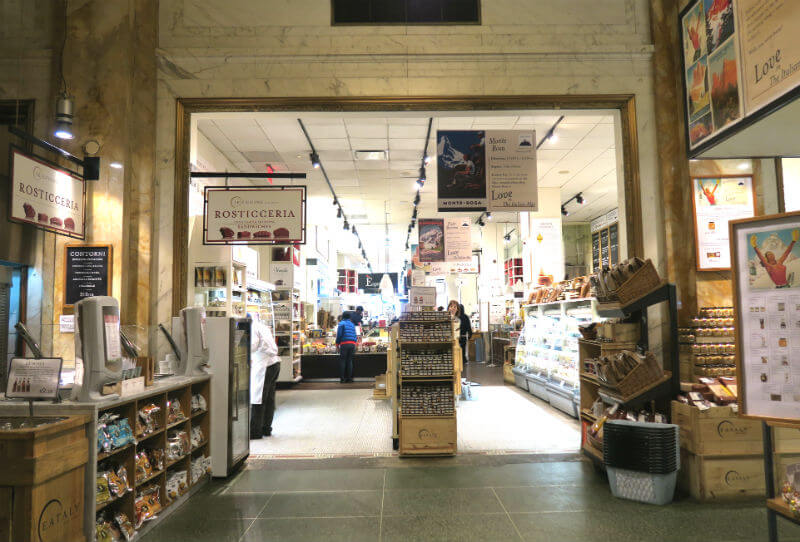 6. Madison Square Park
Just outside of Eataly is beautiful spot called Madison Square Park.
Here you can take a short stroll around the gardens or sit down on a park bench and watch all the different kinds of New Yorkers come and go.
With a gorgeous water fountain as it's central feature, Madison Square Park is circled by a number of buildings in various shapes, sizes and ages.
That's what I love about New York – the way old and new have been seamlessly combined to create a city that truly is a sight for sore eyes.
I visited Madison Square Park on a sunny but freezing winter day.
It was so chilly that I couldn't open my eyes properly when the wind blew because tears would pour out so I sat down on a park bench and basked in the warm sunshine.
Just next to me was the Shake Shack, a lovely little hot-dog and milkshake house which features rows of small hanging heaters over the outside table area.
Not only does it look pretty, the heat radiates over the nearby park benches, making the park a top spot to sit and drink a hot coffee.
Madison Square Park is located in the Flatiron district of Manhattan New York, between Fifth & Madison Avenues and 23rd & 26th Streets.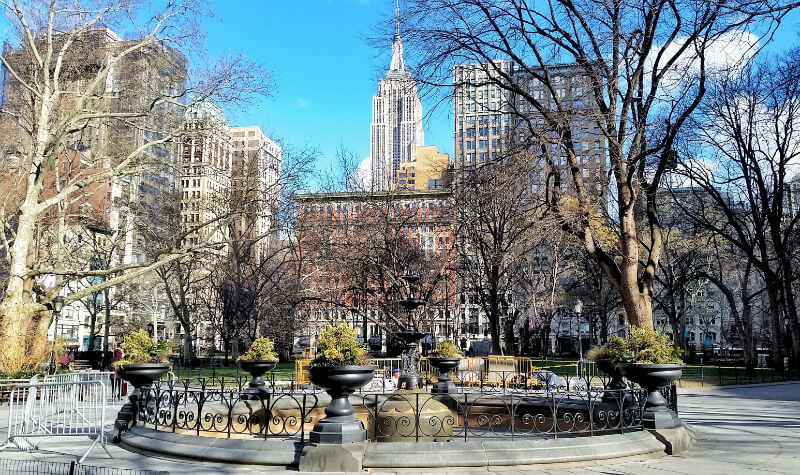 5. Chelsea Market
When I arrived in Manhattan New York, one of the first things I researched was markets in the area.
As a curious being I love wandering from stall to stall out to find one-off pieces and delicious food.
I believe that no travel experience is complete without experiencing the local markets.
The concierge at our hotel gave me a map and pointed me in the direction of Chelsea Market, one of the most famous indoor food halls in the world.
Yes, Chelsea Market is a foodie's idea of paradise, home to over 35 vendors trading everything from hearty soups to great coffee to delicious cupcakes.
Essentially, this one block long by one block wide building has an industrial feel to it, mixed with a little sparkle and glam.
Located in the Meatpacking district, Chelsea Market reflects the rustic yet glamorous character this neighbourhood has grown to portray.
Go with an empty stomach!
The Chelsea Market is located on 9th Avenue, between 15th and 16 Streets in Manhattan New York and it is open every day.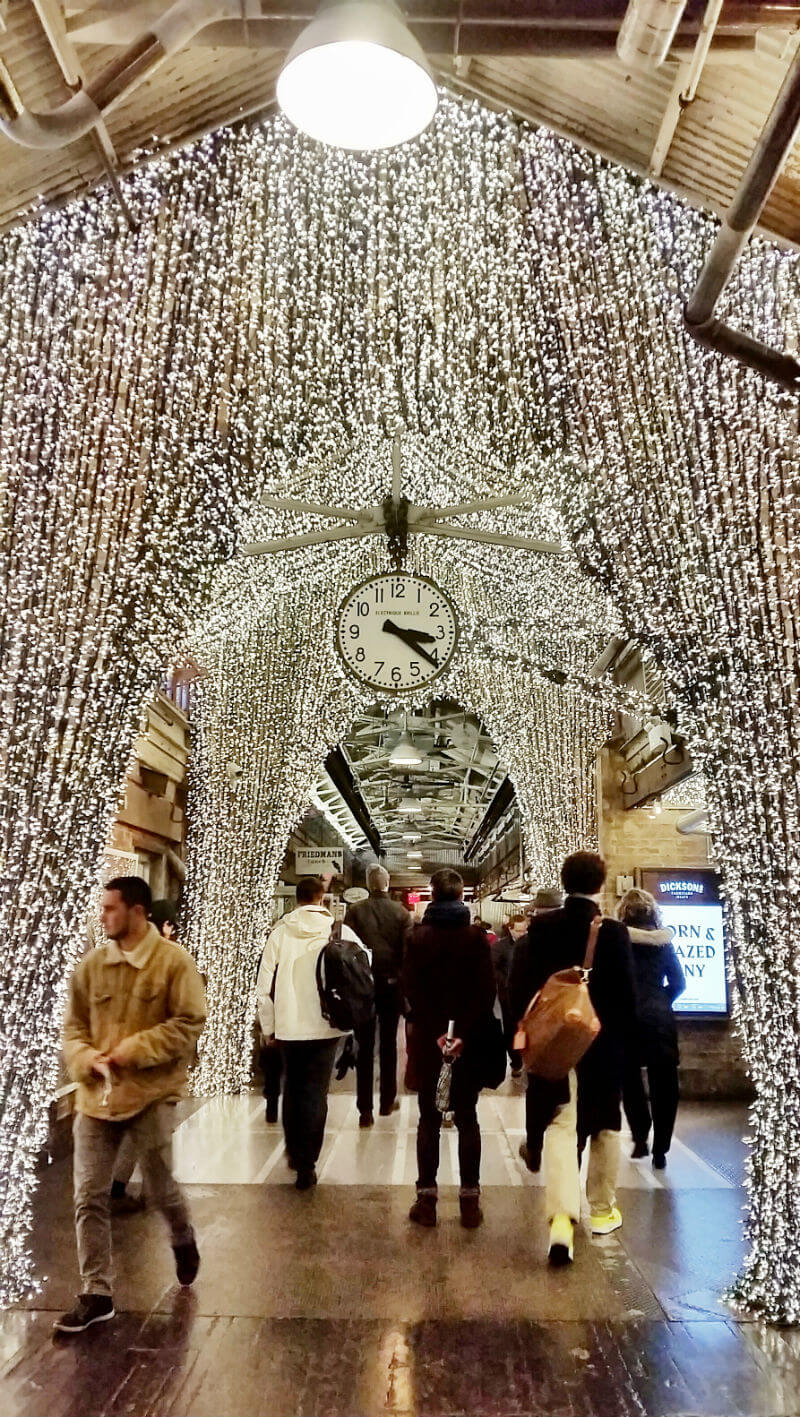 4. The High Line
To get to Chelsea Market from Midtown you can take the High Line, a beautiful suspended walkway that was transformed from an old railroad.
It opened up to the public in 2009 and since then, two more sections have opened up, connecting the city even more efficiently for those who like to stroll.
The High Line passes through both historical and new parts of Manhattan New York and weaves it's way through buildings short and and tall.
Apparently, the garden design was inspired by the self-seeded landscape that grew out of the rail tracks for 25 years after the trains stopped running.
All along the High Line there are opportunities to take amazing photos of the Manhattan streets below and there's a high chance you may run into some incredible poets and performers.
The High Line runs from Gansevoort Street in the Meatpacking District to West 34th Street, between 10th and 12th Avenues.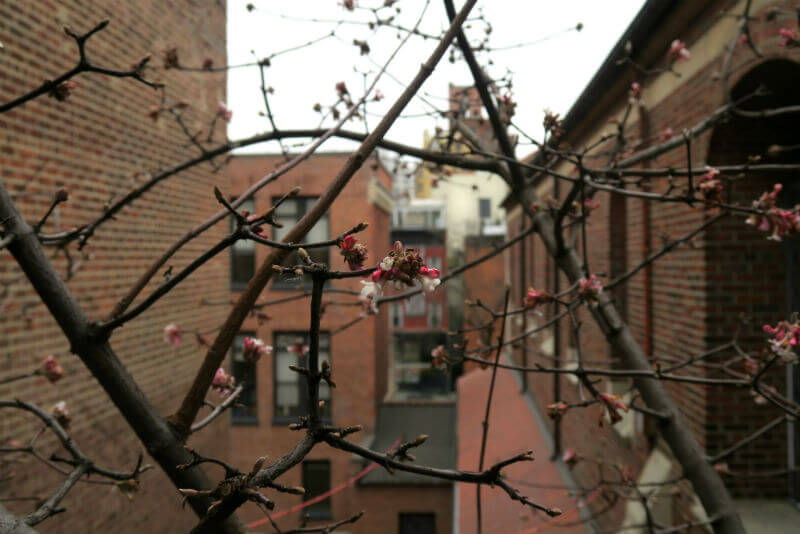 3. Empire State Building
Not far from where we were staying in Midtown stood the famous spectacle you've probably seen in all the romantic films – the Empire State Building.
Let me just start by saying, this is one good-looking building. I'm not an architect but I don't think anyone could criticise the design of The Empire State Building.
It. Is. Stunning.
The best part about visiting this building is that you can go up to the observation decks on the 86th and 102nd floors for breathtaking panoramic views over New York City.
It costs $32USD for the first observation deck and $52 if you want to visit both.
I highly recommend going on a clear day (preferably a weekday) for good visibility and space to move.
This is the perfect place to take your best shots of Manhattan New York.
The Empire State Building is located in Midtown at number 350 on 5th Avenue in Manhattan New York.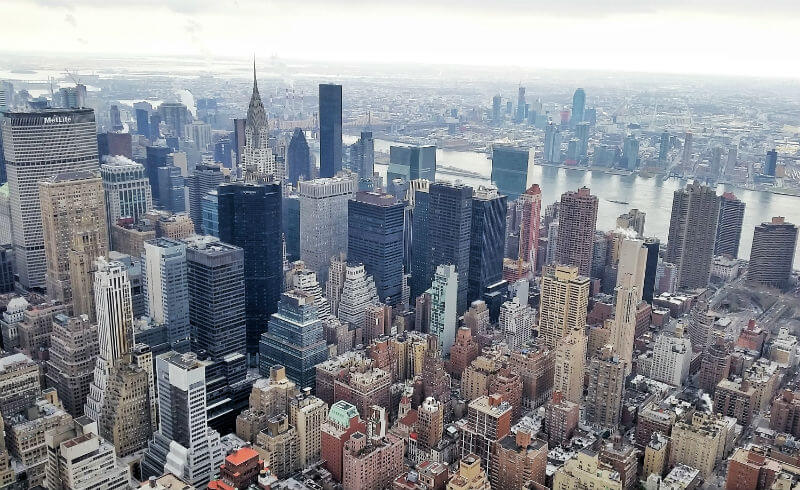 2. Birdland
If jazz is your preferred genre of music or you're looking for the perfect romantic night out with your loved one, don't go past Birdland jazz bar.
Inspired by Charlie Parker, the legendary saxophonist who went by the name 'bird', this jazz bar, which was opened to the public in December of 1949, is the epitome of a classic New York City nightclub.
Draped in black and red and complete with old fashioned furniture and adornings, the cosy atmosphere at Birdland is hard to match.
Not only is the space amazing, Birdland also boasts an award winning menu and let me tell you – the food is delicious.
Birdland mixes up it's acts each night but on the night we went we were surprised with a brilliant jazz singer who had the whole Michael Bublé vibe going on.
There is a cover charge of $20 – $50 depending on the show and you have to spend a minimum of $10 at the table as well.
All shows start at 8:30pm and 11:30pm and you can check their website for the programme.
Birdland is located at 315 West 44th Street, between 8th and 9th Avenues in Manhattan New York.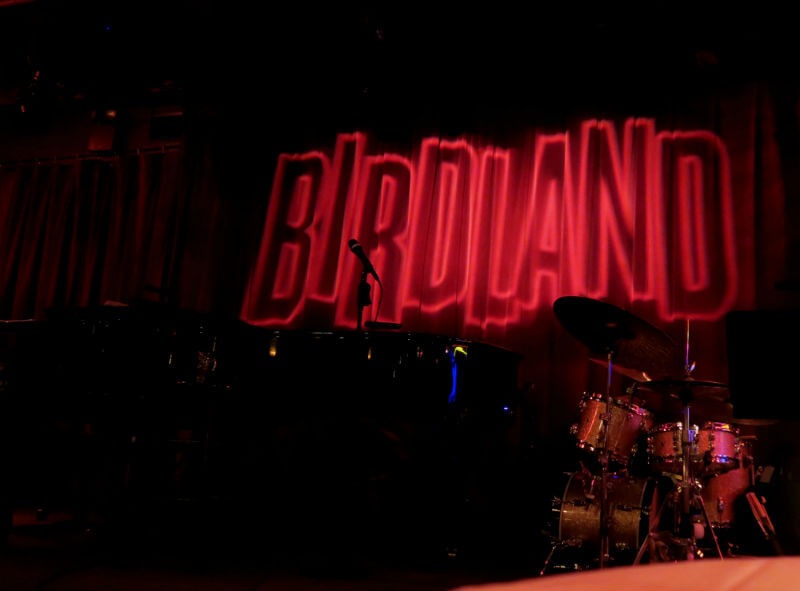 1. Central Park
Last but not least I had to give the number one spot to my favourite place in Manhattan New York, the place I'd been dreaming about since 2008, magical Central Park.
Words can't even describe how beautiful Central Park is so I'll leave you with a few pictures to sum it up.
Just a quick note though – Central Park is absolutely massive so don't just tell the taxi driver that you want to go to Central Park because that could mean anywhere between 5th & 8th Avenues and 59th & 110th streets (a long drive).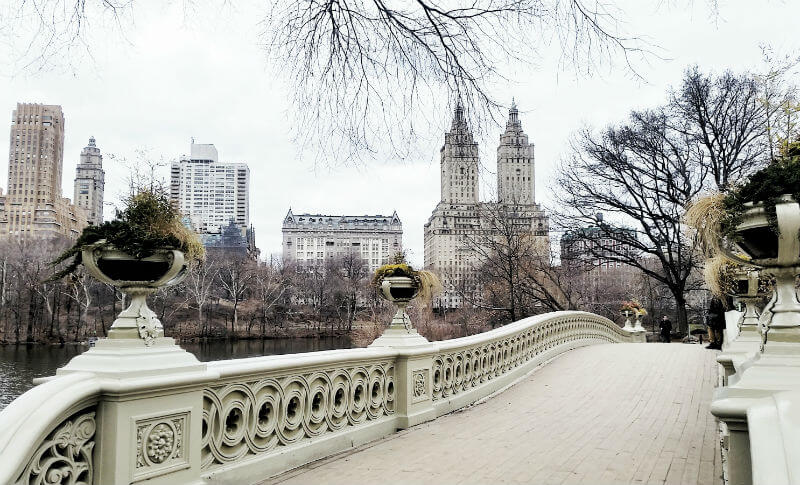 For more tips on visiting New York, read our next post, 6 Things You Should Know Before Traveling To New York.
Manhattan New York Travel Resources
Accommodation In Manhattan
We had an enjoyable time staying at Manhattan NYC, An Affinia Hotel but there are plenty of amazing hotels in New York City, often with great deals on…
Flights To New York
If you are flying in to New York, it is beneficial to use a flight compare site to find the cheapest flights. We recommend and use Cheapflights.com.
–> Click here to compare and book cheap flights to New York
Our Manhattan Video Blogs
If you found this helpful, please share it with anyone looking at booking a trip to Manhattan New York!
---
Now it's over to you! Leave your comments below…
Are you planning a trip to Manhattan and have some questions about what to see/do there? Ask away and I'll do my best to help you!
Have you been to Manhattan and have some more recommendations to add to the list? I'd love to know about them, comment below!