Croatia's top attractions include historic cities and untouched nature. Zagreb, Croatia's vibrant capital city, is home to some of the country's best museums, galleries, restaurants, and shopping.
Along the coast, centuries-old harbor towns are densely packed with Venetian-era stone buildings, and countless pebble beaches provide activities like scuba diving, water skiing, and windsurfing. Learn more about the things you can do in the best places to visit in Croatia below.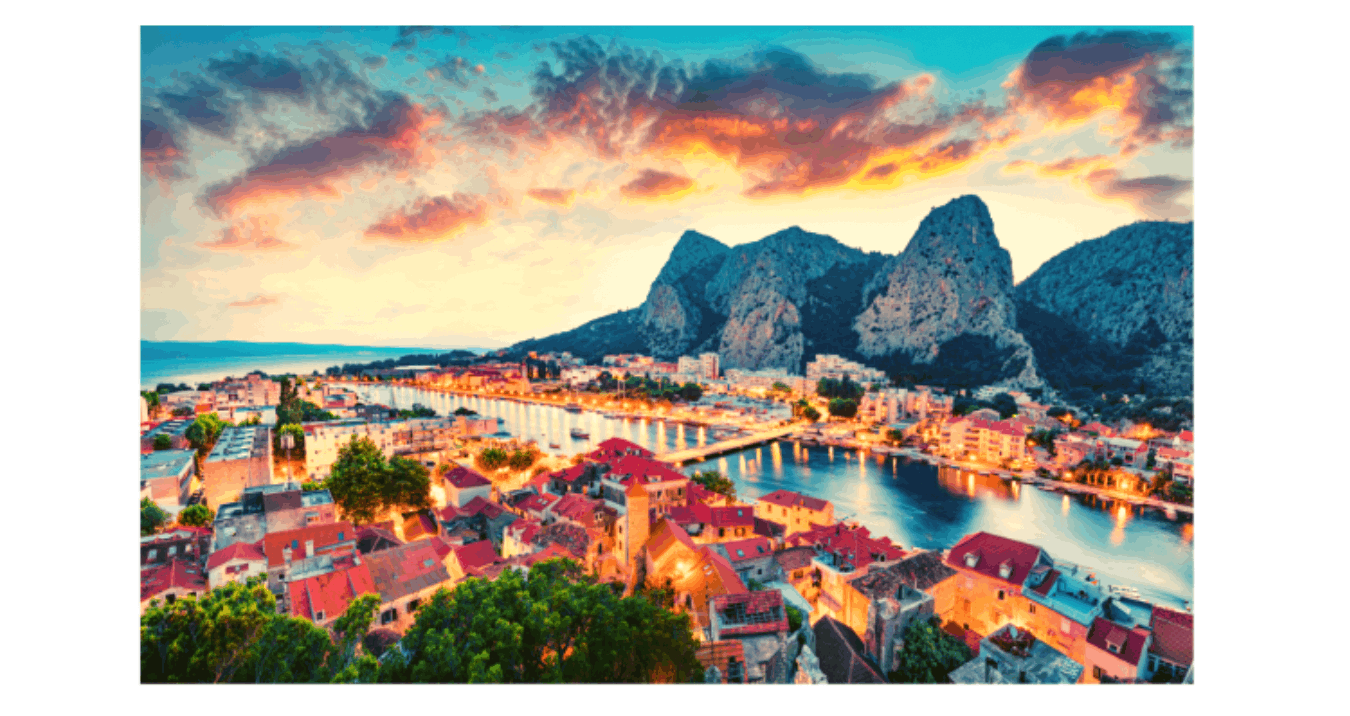 Diocletian's Palace
Situated in the Diocletian Palace complex is Split, Croatia's second-largest city. Roman Emperor Diocletian had it constructed as a summer residence overlooking the Adriatic Sea in 305 AD.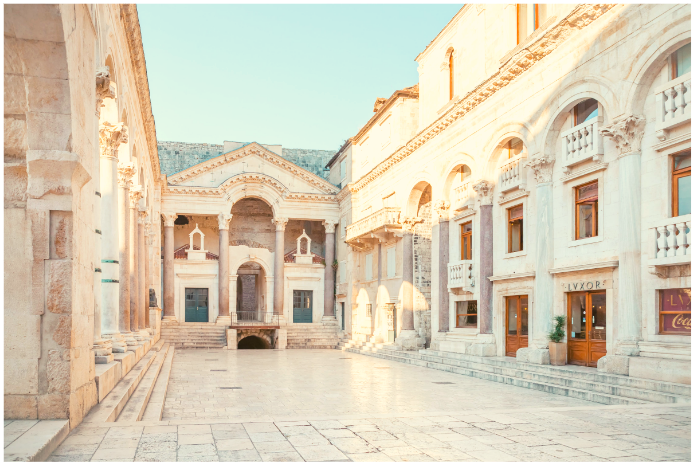 The Emperor's garrison was housed in the palace, which is square in plan and has four monumental gates, three accessible from the land and one directly onto the water. The Peristyle (an arcaded courtyard) and the Cathedral of St. Domnius, with its elegant bell tower, are both within the walls.
Visit and enjoy the illuminated ruins at night, while concerts and entertainment are frequently held during the day. The Old Town is a pedestrian-only zone designated by UNESCO as a World Heritage Site.
Dubrovnik Old Town Walls
Dubrovnik, Croatia's most popular tourist destination and a UNESCO World Heritage Site, is best known for its magnificent Old Town, encased in sturdy medieval walls. First-time visitors should stroll around the city's two-kilometer-long ramparts, which feature fortresses, towers, and cannons along the route.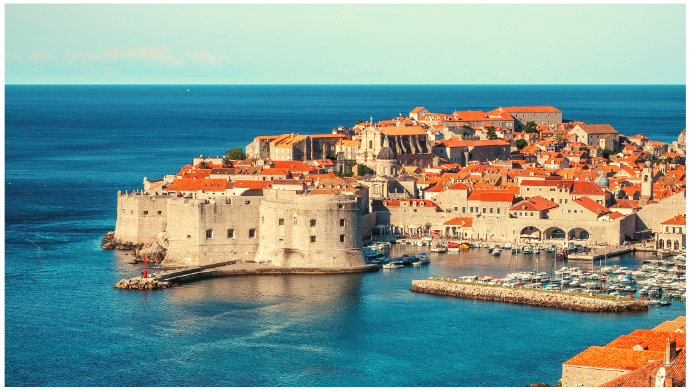 The Pile Gate, built in 1537 and one of the city's most impressive structures, is also a common entry point to the Old Town. Stunning views of the Old Town and the glistening Adriatic Sea can be had from the fortified walls.
You can also stroll down the Stradun, a 300-meter-long pedestrian thoroughfare famous for its white limestone cobblestones, lined with boutiques, cafes, and restaurants. Other must-see attractions include the cathedral and its treasury, the historic Square of the Loggia, and Fort Lovrijenac, one of the country's most important fortresses.
Gornji Grad
The medieval district of Gornji Grad, also known as Upper Town, is the most popular tourist destination in Zagreb, the capital of Croatia. The Croatian Parliament and the Cathedral of St. Mark are two of the most visited destinations in this area.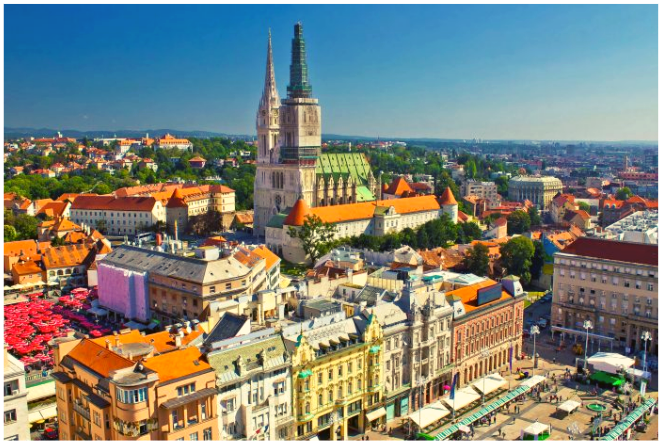 The Cathedral of St. Mark features a neo-Gothic facade, twin steeples, and a treasury with a large collection of religious art and artifacts. In addition, you should not miss the Tower of Lotrscak, which dates back to the 13th century and allows visitors to climb to the top for breathtaking views of the city and its surroundings.
Be sure to visit the Museum of Broken Relationships as well, as this is the attraction that most people enjoy.
Hvar Town
Dalmatian islands, including Hvar, are popular tourist destinations in Croatia. For those looking to sample some of Croatia's finest seafood, Hvar is a great place to start.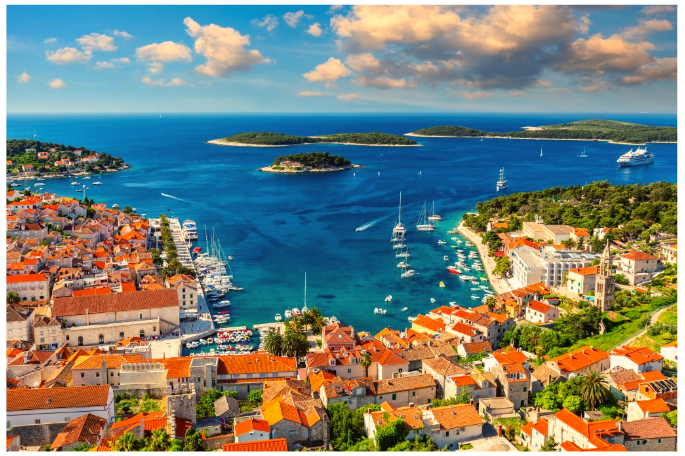 Since the Venetians ruled it from 1420 to 1797, its car-free Old Town comprises an enormous central square, an attractive fishing port, and an ancient hilltop fortress on the city's edge.
Many yachters and famous people visit Hvar, but it is also a popular destination for tourists looking to take advantage of the area's beaches and water. The ferry from Split takes passengers there.
Korcula
The town of Korcula, the most important place on the island of the same name in South Dalmatia, is on a small peninsula. Medieval walls and towers surround it, and the stone alleys are set up in a herringbone pattern to block the wind.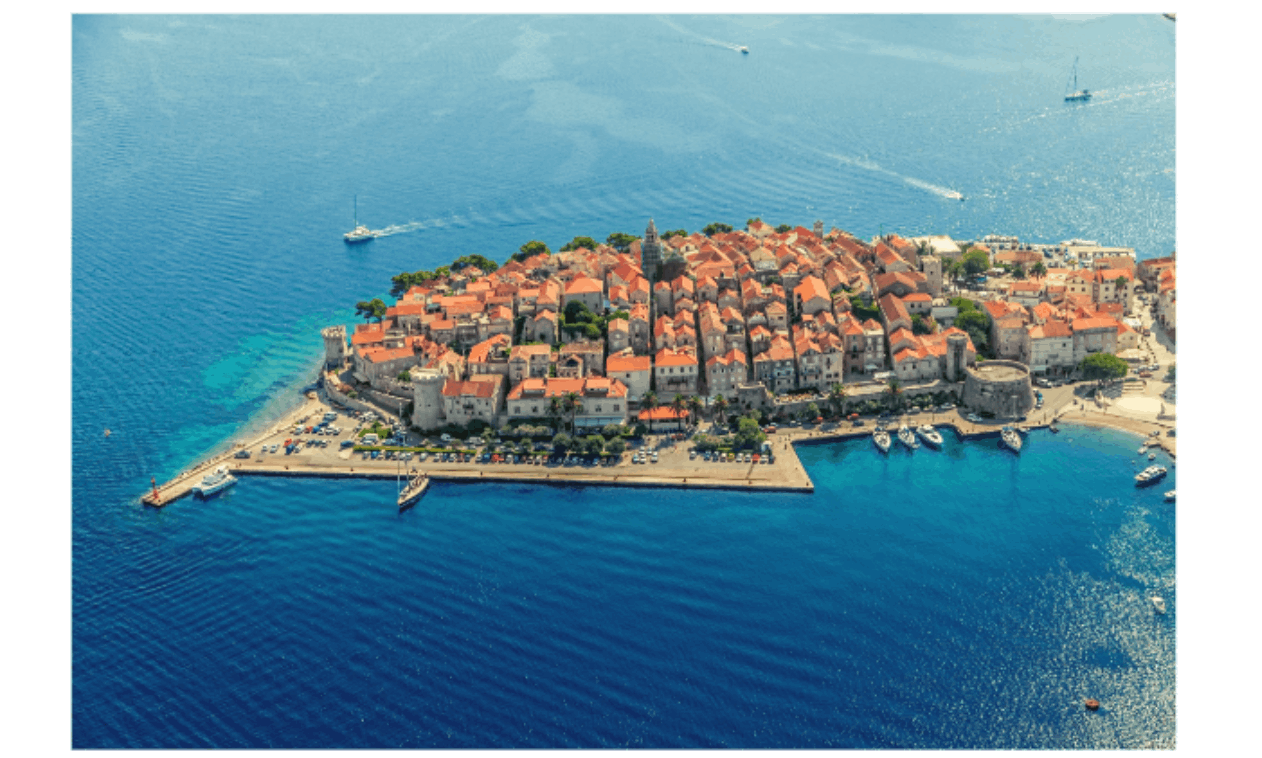 Korcula was built when the Venetians ruled the island. It is full of aristocratic stone buildings that are hundreds of years old. The famous 13th-century explorer Marco Polo is said to have been born in the Marco Polo house.
The moreska sword dance, a traditional dance put on for tourists outside the town walls on summer evenings, is one of the best things to do while there. The historic town center of Korcula can be reached by catamaran from Split (daily) or Dubrovnik. This is a truly unique way to get there, but travelers can only do this during the summer.
Kornati National Park
The Kornati archipelago, which covers an area of 320 square kilometers and is 35 kilometers long and 13 kilometers wide, is home to 89 small and large islets.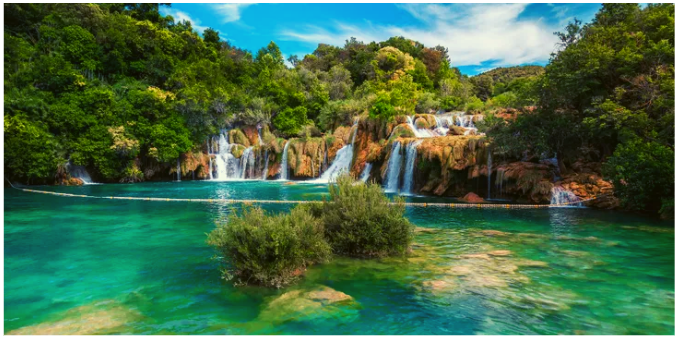 The islets are rocky and arid, with little fertile soil, and virtually uninhabited, except for a few basic stone cottages dotted around. Originally constructed by local fishermen and shepherds as one-room shelters, they are now frequently used as holiday retreats or seasonal seafood restaurants.
Private sailing boats are the best way to explore this stunningly beautiful coastal region, with the nearest charter base in Biograd Na Moru. The Kornati can also be visited if you plan a day trip. There is an excursion boat from either Zadar or Sibenik on the mainland.
Mljet National Park
The western third of Mljet has been designated a national park. It is surrounded by dense woodland and two turquoise saltwater lakes, one of which is topped by a 12th-century Benedictine monastery that can be accessed via a taxi boat.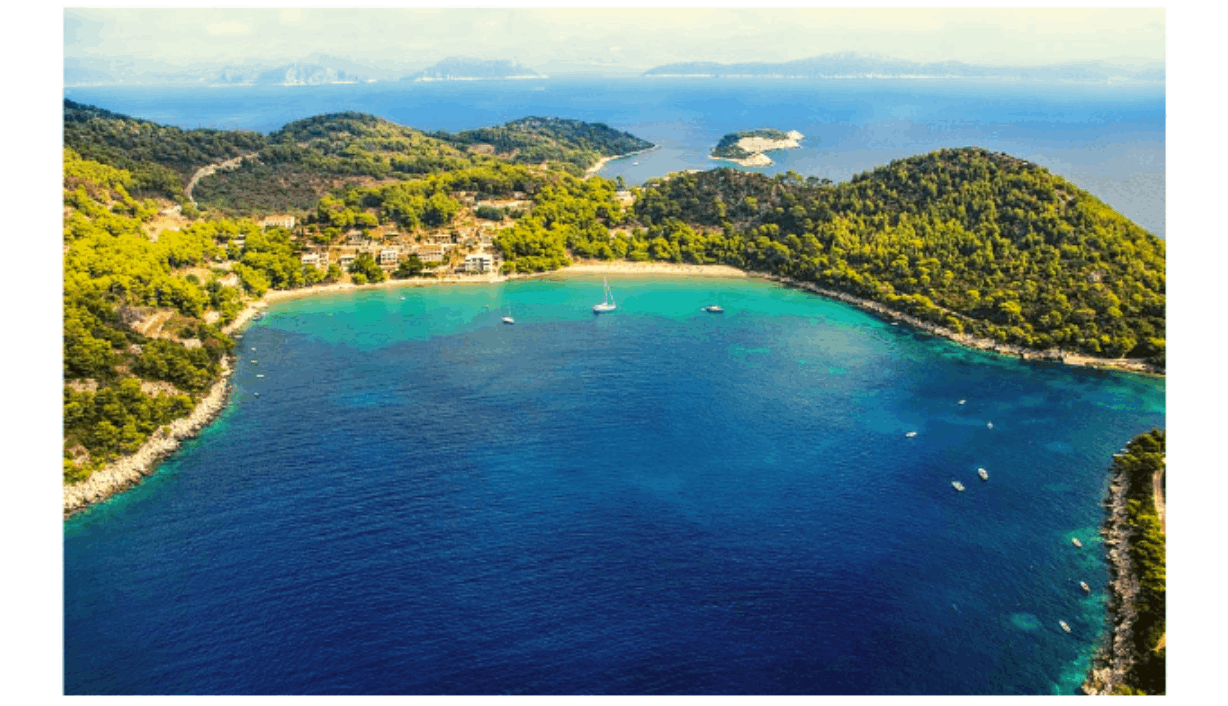 The Mljet National Park is a popular destination for nature enthusiasts, and visitors can take advantage of the many trails that wind through the woods. A nine-kilometer trail circumnavigates the lakes, making it an excellent place to walk or mountain bike. Swimming and kayaking are popular pastimes in the area.
During the summer, local families rent out their spare rooms to tourists, and there are several reputable campgrounds on the island. Ferry and catamaran services are available from Dubrovnik to the island of Mljet.
Plitvice Lakes National Park
Plitvice Lakes National Park is Croatia's most popular in-land attraction, with its steep forested hillsides surrounding 16 emerald-blue lakes connected by thundering waterfalls. The entrance to the park includes boat rides across the lakes and a network of footpaths and wooden bridges.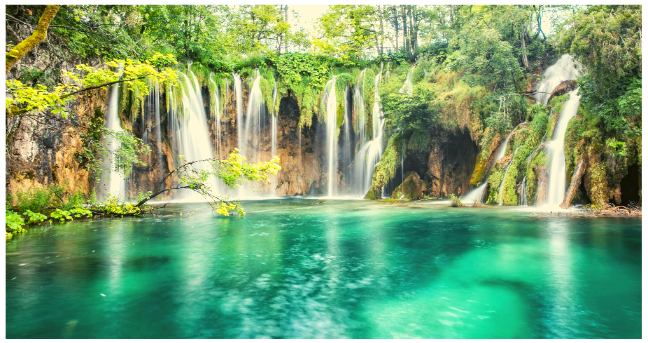 Because of the park's natural beauty, it is a haven for various wildlife, including wolves, bears, eagles, and falcons. Staying the night is possible at one of the hotels near the park's edge. You can take a bus tour to Plitvice from Zagreb and Zadar to see the park.
Plitvice Lakes National Park is the country's first national park. Thus, it is a popular tourist attraction. Based on reports, it usually attracts over one million visitors a year, so if you plan on visiting on your own, you will need to reserve your tickets in advance.
Roman Arena in Pula
Pula is well known for its well-preserved Roman architecture and lovely seaside setting, including several fine beaches. It makes an excellent day trip for those staying in other parts of the country. Despite being inhabited by humans for tens of thousands of years, the Romans left their mark over 2,000 years ago.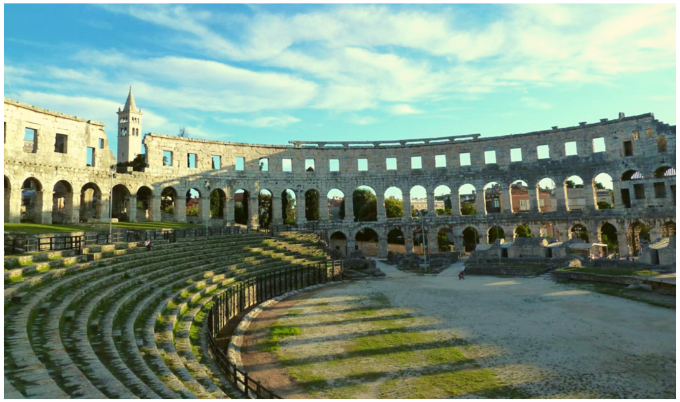 None of the remaining Roman structures are as large or impressive as the Pula Arena. It was built around the first century by Emperor Vespasian and is one of the largest surviving Roman amphitheaters. It was built to accommodate crowds of up to 20,000 people and was primarily used for entertainment, such as gladiator fighting and jousting.
This impressive structure can still host audiences of up to 5,000 visitors during its regular summer concerts and festivals, thanks to careful reconstruction. Several other Pula Roman ruins are also worth seeing. The best of these is the Roman Forum, a well-preserved ancient square at the center of town life for centuries.
Romanesque Churches in Zadar
Zadar has no cars. Old Town is situated on a small peninsula that protrudes into Croatia's Dalmatian coast. The city's most popular tourist destinations are its many magnificent Romanesque churches, constructed between the 9th and 13th centuries and filled with exquisitely preserved religious paintings and golden treasures.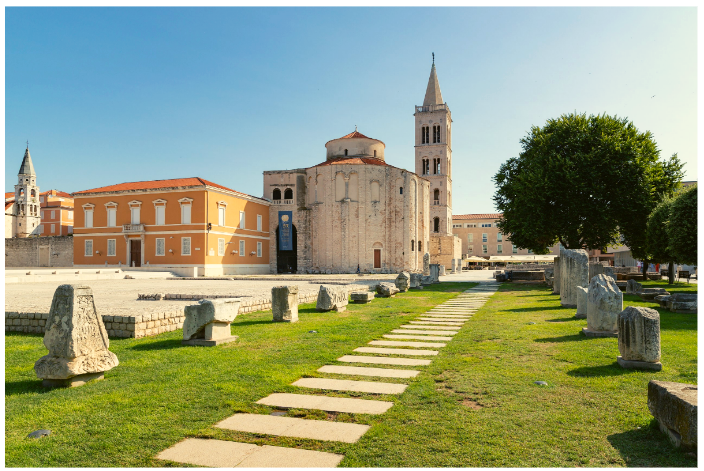 It is said to be the country's oldest continuously inhabited city, with roots dating back to the Stone Age. Make sure to visit the 9th-century pre-Romanesque Church of St. Donatus, the 11th-century Church of St. Mary, the 12th-century Church of St. Chrysogonus, and the Cathedral of Anastasia.
Other attractions include the Museum of Ancient Glass and two popular modern installations, the Sea Organ and the Greeting to the Sun, located on the seafront near the peninsula's tip.
Rovinj
Croatia's Istrian peninsula is home to the Venetian-era seaside town of Rovinj, located in northwest Croatia. There are pastel-colored houses lining the harbor in Rovinj, and a hilltop church with an ornate bell tower sits atop the town.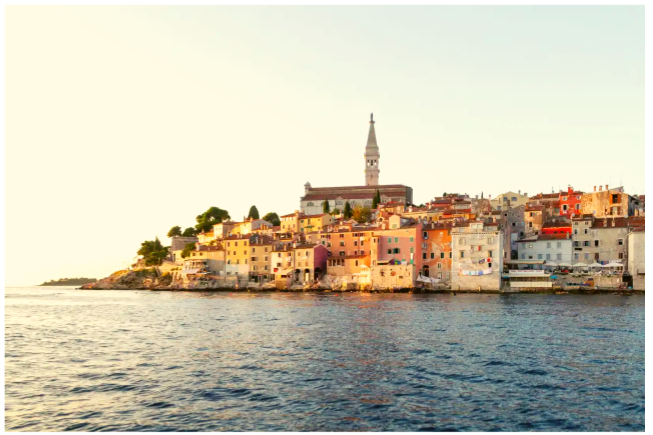 Aside from the nearby pebble beaches, the main tourist attraction on the seafront is the Batana Eco-Museum, which tells the story of the batana, a type of wooden boat used by local fishermen. There are also numerous top-rated hotels, upscale seafood restaurants, and art galleries to visit.
Zlatni Rat Beach
Zlatni Rat is Croatia's most photographed beach in Croatia. This unusual landform, known as a "spit," is located in Bol on the south coast of Brac and is made of fine pebbles. It runs 500 meters perpendicular to the coast.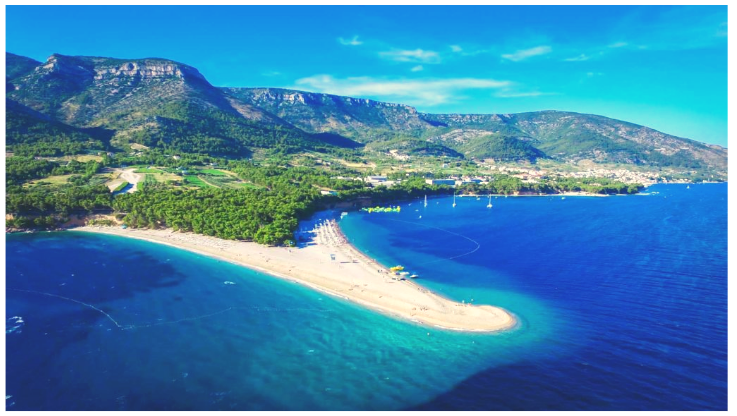 Seasonally, it moves and changes shape due to local winds and currents. In the summer, it is lined with sunbeds and umbrellas, shaded by a cluster of pine trees, and overlooked by the rocky heights of Vidova Gora mountain. The sea is warm enough to swim from June to September, and some people even extend the bathing season to May and October.
Water sports such as paddle boats, sea kayaks, and banana boat rides are available as extra attractions on the beach. Zlatni Rat is also a popular windsurfing destination in Croatia. From Split, you can reach Brac by ferry or catamaran. For those planning an extended stay, several luxury hotels are nearby.
Conclusion
Croatia offers its rich nature, architecture, food, and culture to all its visitors. Make sure to put these places in your itinerary when you visit Croatia.