As a someone who finds freedom and joy in wandering the world, I was particularly touched when I stumbled across an Instagram page dedicated to four traveling elephants…
No, these are not real elephants I'm talking about here. In fact, they are stuffed toys.
But what makes these toy elephants so special is the heartwarming message behind their adventures around the world. This is what really inspired me to get in contact.
After hearing back from Sandra Stopper, an admin of the Instagram account, I knew I had to share their amazing story with you.
Today you're going to learn about ARCHEfant, a wonderful movement created by Sandra and her colleagues at The ARCHE IntensivKinder in Germany.
From one traveler to another, I know you'll feel a connection this…
Traveling Elephants: The Inspiring Movement Supporting Young Children In Intensive Care
Spread the word & help support ARCHE IntensivKinder… Pin this on Pinterest >>
To start, could you please give us a short introduction about ARCHE IntensivKinder, where you're based and what you do?
The ARCHE IntensivKinder is an institution for children who cannot live at home. The reason is that they are too sick and need intensive care that is usually only provided in hospitals.
All of the 14 children living here (from birth up to the age of 12), need support in breathing, so almost all of them are connected to a machine that provides the oxygen they need to survive.
The ARCHE IntensivKinder is located in Kusterdingen, which is a small town in Southern Germany. Our philosophy at the ARCHE is:
We want to give our children the best conditions to grow up and enable them to develop their skills and capabilities.
The children live in child-friendly surroundings in two houses with living rooms and gardens.
To be able to give them the best conditions for their school education, we are currently building a new house with space for classrooms equipped with special appliances meeting their needs.
Please have a look at our website, www.arche-intensivkinder.de, where you can gain more insights by watching some short films about us.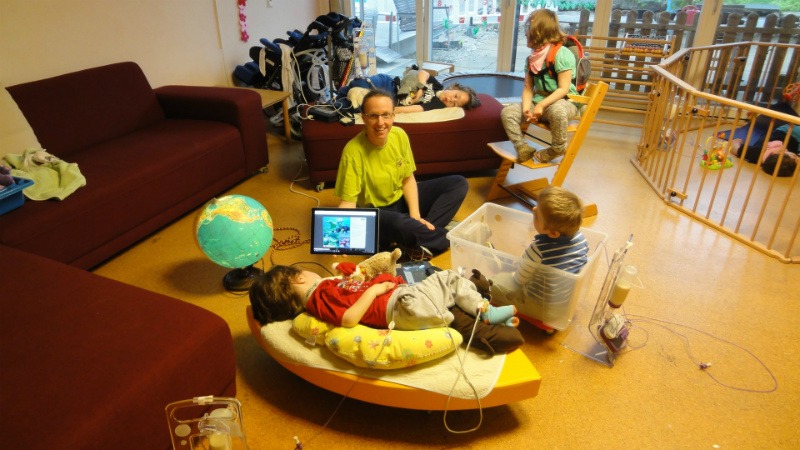 What is the ARCHEfant project?
Our ARCHEfants are soft toy-elephants which are designed by us. There are four of them: Archie, Rosa, Manni and Emmi.
In April 2016 they started their trip around the world for one year. Everyone who travels to another country can call us and ask for an ARCHEfant as a companion for their trip. They can only be borrowed, we do not sell them.
All we wish is that people traveling with them take pictures with the ARCHEfants and send them to us.
We then publish those pictures on Facebook and on our blog www.archefant.de and we may also produce a little booklet about the ARCHEfant-Globetrotters.
All ARCHEfants have a QR Code which you can scan to be sent through to the website of the institution, as we want the ARCHEfant companions to tell as many people as possible about us.
At the same time, our children learn a lot about other countries from the ARCHEfants and have fun with the stories on the blog.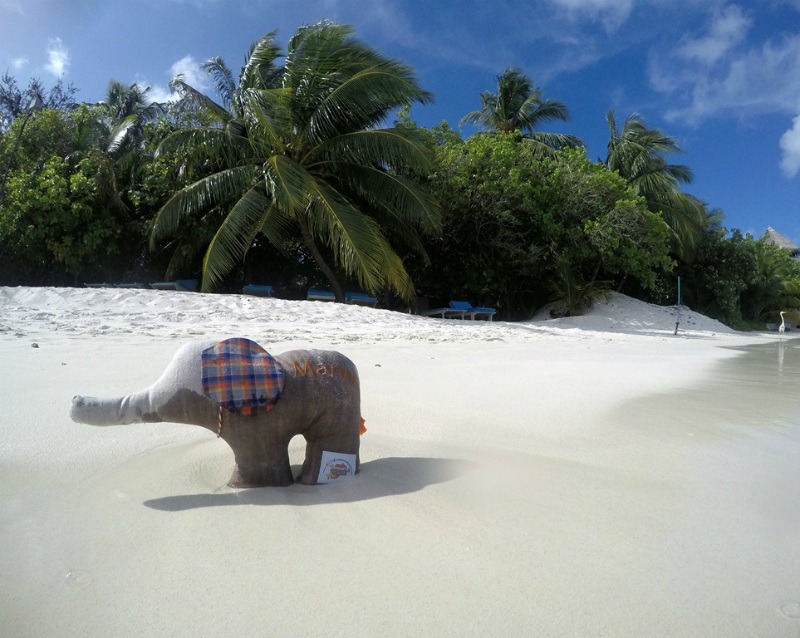 When did you start the ARCHEfant project and why?
Next year, the ARCHE will be 10 years old. We are planning to celebrate this anniversary together with the opening of our new house and classrooms in May 2017.
For this celebration we were looking for an exciting idea but at the same time we still needed to collect a lot of donations to fulfil our plans. So early this year we had the idea to have our mascot (which is an elephant) travel the world.
We created the four ARCHEfants, Archie, Rosa, Manni and Emmi and wanted them to tell the whole world about the institution, ARCHE.
At the same time the ARCHEfants tell our children about the world, through the blog and pictures, as our children cannot travel very far.
Their trip started on April 22nd 2016 – after one year we would like the ARCHEfants to be back home in Kusterdingen to join the celebration.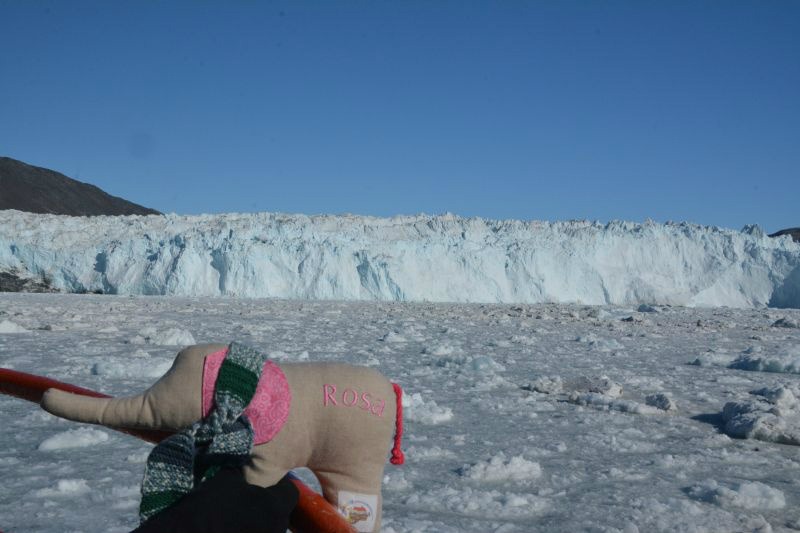 How did you come up with the idea of traveling elephants?
An elephant is our mascot, so it was obvious that an elephant should be the representative of the "ARCHE". But in addition, an ARCHEfant is a very special animal, isn't it?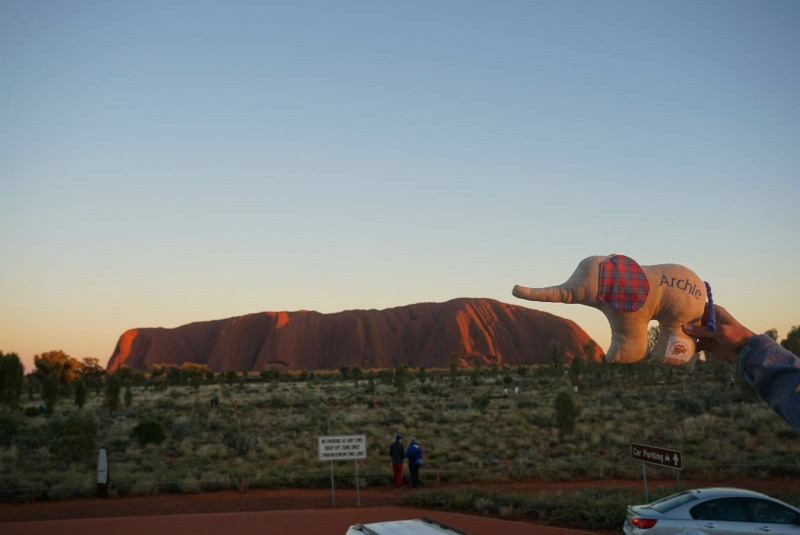 Where have Archie and the other traveling elephants been so far? Which destination was the favourite?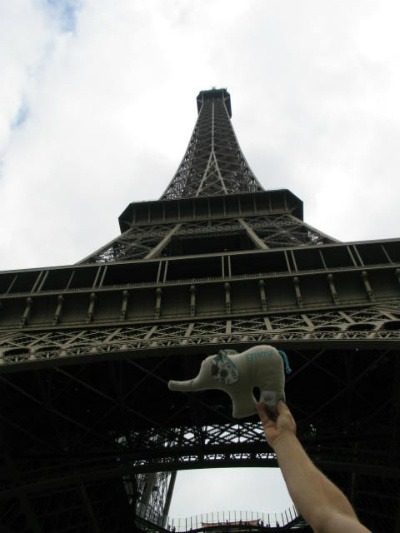 They have traveled to so many places…
To almost all countries within Europe: France, Netherlands, Great Britain, Norway, Switzerland and Austria, plus many more.
But our ARCHEfants have also been in China, the Maldives, Tanzania, Sydney, New York, Hollywood, Las Vegas, Tobago and Jamaica.
Right now, the tramps are traveling to Russia, Greenland, Spain and Argentina. They even had a small talk with Germany's chancellor, Angela Merkel in Berlin!
How are the children at ARCHE responding to the traveling elephants' adventures around the world?
They know the ARCHEfants and they love them very much.
Sometimes the ARCHEfants are coming back and visiting the children. The kids had a short summer holiday themselves where two of the ARCHEfants (Archie and Rosa) accompanied them.
Once a week our children look at the ARCHEfant blog or Facebook page and learn a lot about the different countries.
Together with their nurses and teachers they look at a big map of the world and a globe to search for the countries where the ARCHEfants are traveling to.
They are also proud that people are caring for them in the way of taking an ARCHEfant with them.
What are your visions for the ARCHEfant project in the future?
First of all they will come back to join the big celebration of our 10th anniversary.
We want to present their journey, hoping that people like them and therefore are also interested in the ARCHE IntensivKinder institution.
Therefore, the ARCHEfant project is of course also a project to support the ARCHE as an institution and we very much hope that people understand that we still need a lot of donations to develop our facilities.
Possibly, the ARCHEfants will keep on traveling after the party if people still want the ARCHEfants to join them on their trips.
And finally, how can the traveling community get involved in the ARCHEfant project?
Everyone interested in the project can contact us via email (archefant@gmail.com), Facebook, Instagram or the ARCHEfant blog.
When possible we will send you an ARCHEfant.
You can also send messages to our children, send postcards or get in touch with us!
If ever you would like to support us – there is the possibility to send donations via Paypal.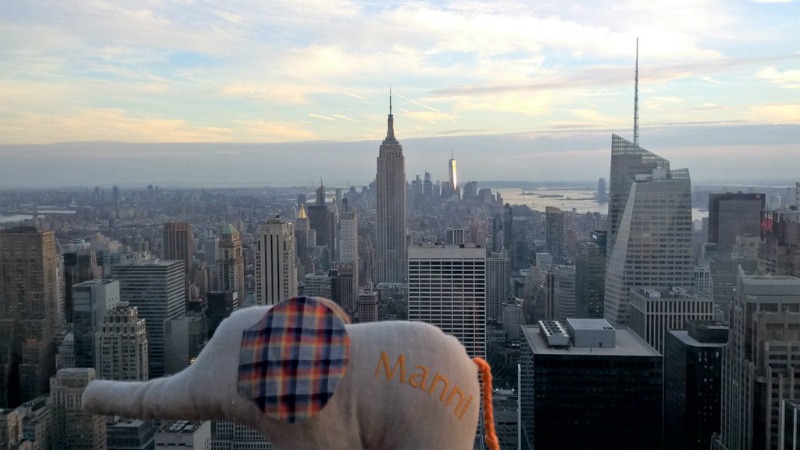 Sandra, thank you so much for sharing the ARCHEfant project with us.
This is a truly inspiring movement for the travel community to get involved in and help make ARCHE IntensivKinder a wonderful place for your children to call home.
We wish you all the best and look forward to following your traveling elephants around the world!
---
Now it's over to you reading!
If you would like to get involved in the ARCHEfant project, send your request for a traveling elephant companion to: archefant@gmail.com.
To see all the other travelers roaming the world with an elephant companion, visit the ARCHEfant Instagram.
Let's create a huge impact and make this movement one to remember!
What do you think about the ARCHEfant project? Leave your thoughts in the comments section below!