Amsterdam and it's 1281 bridges, 165 canals and hundreds of thousands of bicycles isn't usually the first destination that comes to mind for most digital nomads when it's time to start making travel plans.
It's true, it ain't no Chiang Mai when it comes to ridiculously cheap, delicious street food and simple, stress free living...
BUT, after recently spending just over a month there, both exploring and knuckling down, Dan and I have come to discover that Amsterdam really is an incredibly beautiful city and on top of that, it's 100% digital nomad friendly!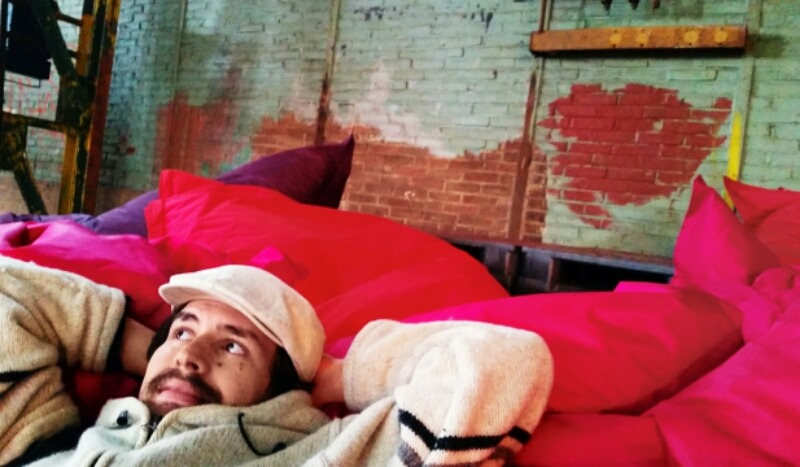 In this post I will cover:
Our total expenses for 2 people staying 1 month in Amsterdam
How to find suitable accommodation at a friendly cost
Why you should get yourself a bicycle in Amsterdam and how to do it
Where to go for good coffee, free WiFi and great networking opportunities
The cost of food and eating out in Amsterdam
Using public transport around Amsterdam and how to get yourself to less visited areas
Bonus Guide: Things to do in Amsterdam
A Digital Nomads Guide To Amsterdam
September Total Expenses:
Rent: €450/US$568
Food: US$973 (this also includes all groceries which may not be food items)
Transportation: US$312
Clothing/beauty: US$86
TOTAL: $1940
In the one month we stayed in Amsterdam our expenditures came to a total of approximately US$1940 (based on current exchange rares) for the two of us, according to AndroMoney, our super helpful finance app.
This amount also includes all costs associated with getting from the UK to Holland.
Our costs were slightly higher this particular month because we spent four months living in a van prior to arriving in Amsterdam, hence it was about time we treated ourselves a little!
Anyway, less than US$1000 each for a month in Amsterdam isn't bad! We did better than I expected actually.
If you know how to travel on a budget however, I believe that it would be very possible to spend a lot less than this in one month.
You need not spend endless nights drinking hot chocolate by the canal nor do you need to get a €42 mens haircut (much to Dans shock, this did happen)!
We highly recommend using an app to record all of your expenses when travelling long term. It makes things a lot easier when you know where to cut back if you're spending more than you can afford.
If you are on Android, AndroMoney is a highly effective, simple and easy app to use and it can be downloaded for free.
Finding Accommodation in Amsterdam:
Before arriving in Amsterdam we were actually lucky enough to have a Dutch friend invite us to stay at his house for a few nights until we found something of our own.
Conveniently situated in a nice neighbourhood, approximately 15 minutes bicycle ride from the city centre, it was the perfect base to explore Amsterdam and find ourselves somewhere to live.
However that didn't quite go to plan.
One week in and we were beginning to worry. We'd searched Facebook groups, Couchsurfing groups, local online classifieds, rental websites, Airbnb (aff link ?), you name it.
And it turned out Amsterdam was well and truly full up already.
They say there are more bicycles than people in the Netherlands - and we soon began to realise that there were far more people than houses.
Hence, we were in a bit of a pickle.
Until the friend we were staying with decided he didn't want to house share with 5 others anymore and went in search of his own studio apartment.
A few days later he was moving out and we somehow ended up with an amazing room in a warm and welcoming house.
Just like that.
The 3 story building was fully furnished, equipped with fast WiFi and home to 5 other lovely Dutch people, 15 minutes from Centraal.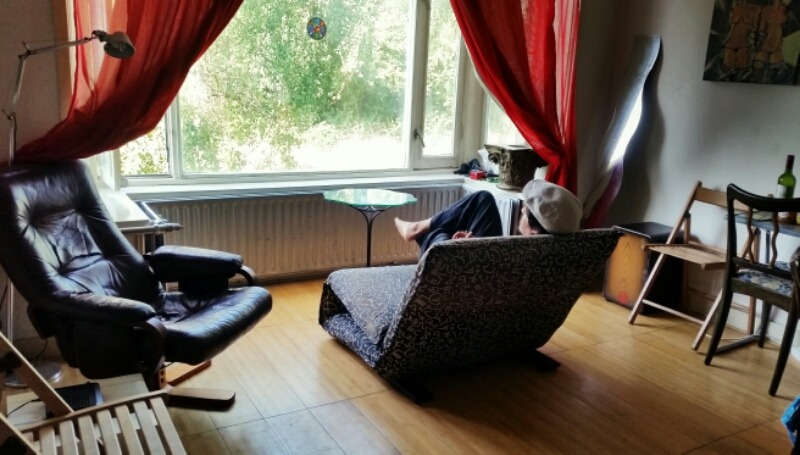 Was this life making up for all the lemons it threw at us during our road trip in the UK?
How grateful we were and still are to our friend who really did save us big time. If it wasn't for him, who knows where we would have ended up!
So you might be thinking, what about Airbnb? Or staying in a cheap hostel?
Ok so we realise that many digital nomads have moved over to the Airbnb side of things because it works out much cheaper than staying in hotels, it comes with all the homely comforts and you have much more of an opportunity to mingle with the locals.
However, after doing some research in the area and finding out what most people were paying for rent per month, Airbnb definitely didn't work out the cheapest option for us. For short term stays though, I think it is a great idea.
You see, we needed something for at least one month. And unfortunately, that's not the easiest thing to find on Airbnb where calendars are booked out sometimes months in advance. Often I'd click on a place only to find that there were a couple of 2 night bookings right in the middle of the month. Noo!
I mean, bed & breakfasts weren't exactly designed to accommodate guests for weeks at a time, so it was understandable that this option wasn't going to work for us on this occasion.
Checking out the prices anyway, the cheapest I came across was €700 (approx. US$900) for one month, plus a deposit and some other fees. And that was for a room, not a studio, somewhere quite out of the way.
It's not bad but we knew it was possible to find something cheaper, in closer proximity to the city.
So the next option was staying in a hostel. But we were quickly turned off that idea as the whole point in going to Amsterdam in the first place was to find somewhere stable and comfortable to focus on our digital life.
As much as we like staying in hostels for the social aspect, they really do not offer any sort of homely comforts or space to knuckle down and get focused without being distracted.
At around €18 each, per night, equating to €1080 (approx. US$1360) for the two of us to stay for one month, it just wasn't worth it. We'd had enough of living out of a bag and needed our own space!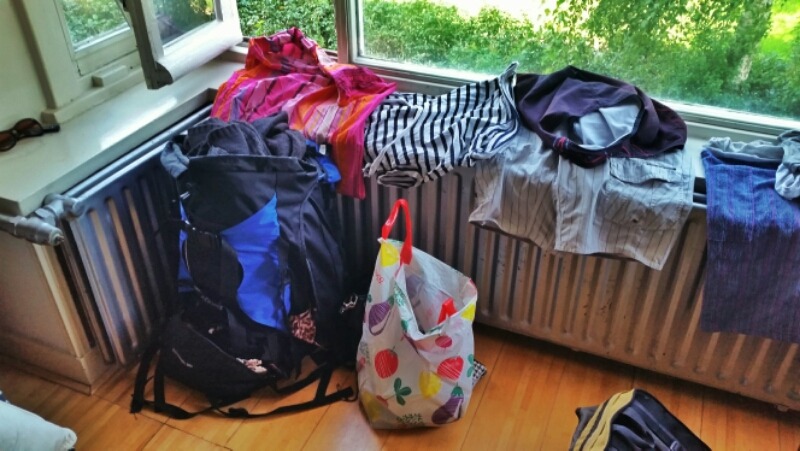 So when we were able to take over this large, bright bedroom in a brilliant location, close to trams, trains and buses, for a mere €450 (approx. US$570) per month, we were clearly stoked.
Here are a few tips in which I hope can save you some stress when searching for longer term accommodation (1-3ish months) in the city of Amsterdam!
1. Connect with some of the locals prior to leaving and during the initial few days of your stay.
Word of mouth is powerful and people are generally very friendly and willing to help. Hang out in cafés and hostels and don't be afraid to chat!
2. Join all the Facebook/Couchsurfing groups you possibly can and search for things like 'rent room in Amsterdam' or 'long term accommodation Amsterdam'.
Don't be confused with the typical Couchsurfing (where you spend a night or two as a guest at someone's house) and the Couchsurfing groups where you can search for people who have rooms for rent.
3. Keep your eyes peeled for opportunities online in the local classifieds, Craigslist, etc. However, just be careful, there are some scammers on these sites.
4. If you have the budget, hit up Airbnb for a few nights and have a word to your host. They might know someone who is looking for a longer term tenant or you might even be able to make a deal with them.
Amsterdam is one cool city and definitely shouldn't be missed because you can't find suitable accommodation for your needs. Keep searching, keep connecting and have a fantastic time exploring all the unique and hidden corners of the city meanwhile!
Finding a Bicycle in Amsterdam

Why should you use this time to ride a bicycle around instead of driving a car or catching public transport?
Because it's 100% eco-friendly and your body will love you for it!
I don't think anyone has a problem finding a bicycle in Amsterdam seeming as there are over 80 million throughout in the Netherlands. However, choosing the right one is important.
You have two simple options - rent or buy.
If you're planning to stay for any longer than a month then I highly suggest you buy. It will work out much cheaper.
However, if you're just hanging around for a week or so, renting a bicycle would be a good option.
Everyone in Amsterdam rides bicycles. You're almost an outcast if you don't. But before you get on one, make sure you know what side of the road you should be on and how to brake. Really.
Buying A Bicycle In Amsterdam:
If you're buying, keep these few things in mind:
1. Unfortunately, many bicycles are stolen, re-painted and sold for a lot more than they're worth. You really don't want to be riding around on a stolen bicycle. So if it seems suss, don't do it.
2. Check for faults before you hand over the cash. If you want to sell it when you leave, it needs to be in an acceptable condition.
3. Buy a good chain and lock before picking up the bicycle. Never leave it unlocked! You'll find yourself panicking when you suddenly remember you didn't lock your bicycle and then when you go back it isn't where you thought you put it (which may or may not have happened to me).
4. Enjoy every moment of riding around such a beautiful city on two wheels!
Local flea markets are a great place to start looking for a bicycle.
We purchased ours from a bicycle stall at the Waterloopleinmarkt, an awesome daily market in Waterlooplein, for €50 each.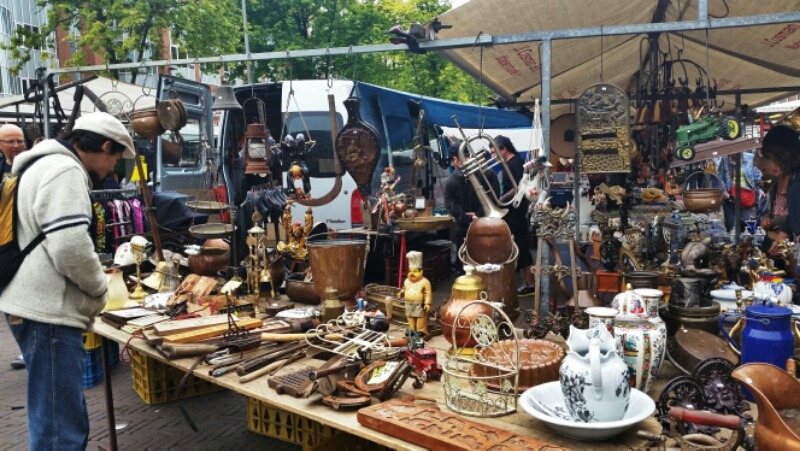 Originally the man tried to sell them to us for €65 each, however, we managed to lower the price after mentioning that we knew other people were getting bicycles around the area for much less. So keep that in mind.
Take a little test drive to work out the braking system and make sure it's the right size for you before purchasing.
At the end of your stay, stick a 'for sale' sign on the front of your bicycle, stand in a busy area and it won't be long before someone approaches you. We managed to sell ours within two days!
Hiring A Bicycle In Amsterdam:
There are a few different bicycle hire companies scattered around Amsterdam, located in convenient areas close to tram stops.
The more prominent companies are MacBike, Yellow Bike and Orange Bike and a basic bicycle from them will set you back around €10 (approx. US$12.60) per day. It is also recommended that you pay an extra €3 for insurance.
Most bicycle companies in Amsterdam will require a cash deposit or credit card authorisation as well as a form of ID. Then you're set to go.
Stay safe and bring it back in one piece!
Some things to remember when hiring a bicycle in Amsterdam:
Lock it well wherever you go. You want your deposit back right?

Adhere to the Dutch road rules, which include stopping at red lights and riding on the right hand side of the road.

Remember where you hired the bicycle from!
Great places with WiFi in Amsterdam: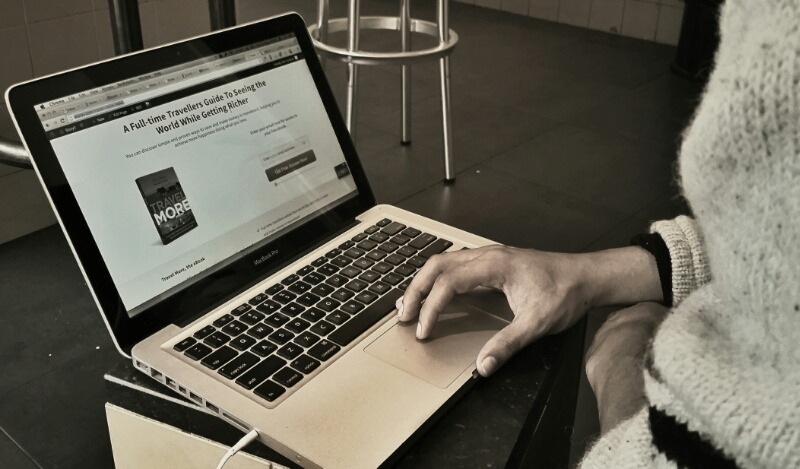 Amsterdam has been one of my favourite cities so far to go out and get stuck into projects with Dan.
During our stay in Amsterdam we did spend a lot of time inside the house as comfort was something we seriously missed while travelling in the van.
The house made for a great base to both focus and chill out and I was really enjoying cooking after not having a kitchen for many months prior!
Nonetheless, some days we knew we had to get out and explore! So on those days, we'd spend a few hours wandering around looking at different parts of the city and then a few hours in a nearby café connected to the digital world.
The main café of choice was Coffee Company.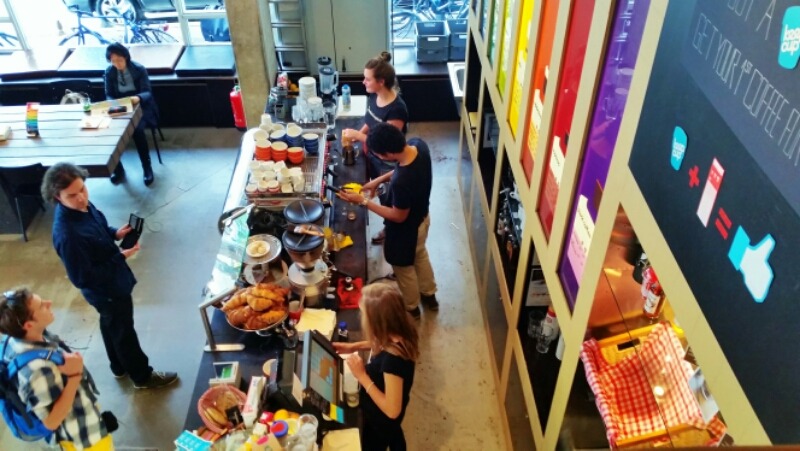 With a number of them dotted around the city and it's surrounding districts, Coffee Company has got to be one of the top cafés for digital nomads in Amsterdam.
Each shop is set up differently but they all have the same vibrant, energetic feel to them, acting as a kind of free co-working space in café form.
Generally, most Coffee Company shops consist of one big, long wooden table with a number of chairs surrounding it and a lovely, bright bunch of flowers stuck in the middle. This is where people meet, share ideas and get things done!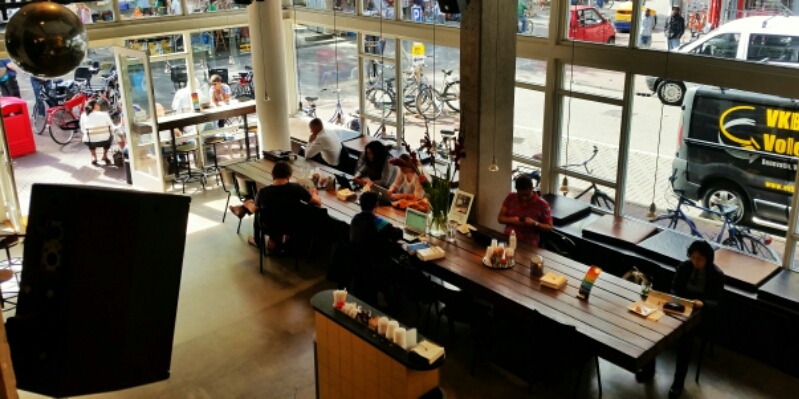 As well as this, depending on the layout, all corners have their own little study nooks with comfortable leather chairs and power points. And then there's the normal two person café style seating arrangements scattered around as well.
On our days out of the house we spent a lot of time at Coffee Company, Waterlooplein, in the market square. This was probably one of our favourite spots because it had an upstairs area, some 'quiet time' corners and a really bright and positive atmosphere.
Each morning the bustling flea market would also bring in many people from all over the world ready for their morning coffee fix.
And I thought the coffee was rather nice too. I even started drinking posh espresso coffee.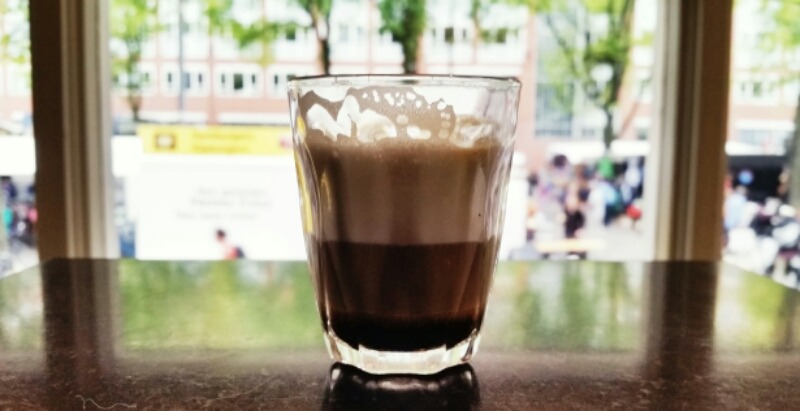 With free unlimited WiFi, electricity and a great selection of drinks to choose from, Coffee Company is a fantastic option for digital nomads who make an income online, students looking for somewhere stimulating to study or even those of you who like to chill out and read some Buzzfeed over a Cappuccino.
Not near a Coffee Company and needing WiFi? No problem! Almost every pub or café we walked into had WiFi.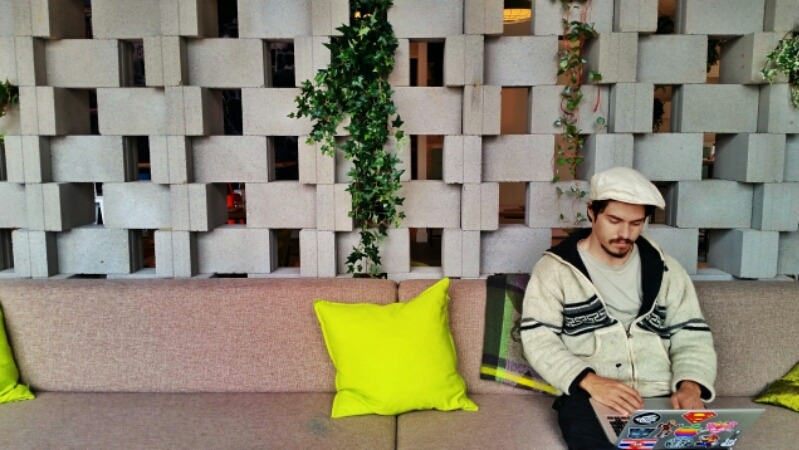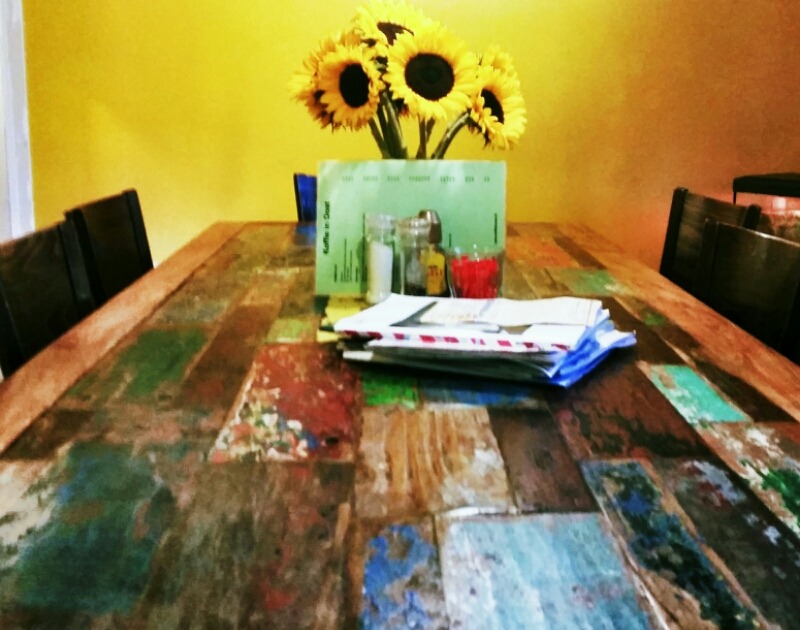 However, we usually opted for Coffee Company because of the vibrant atmosphere, good lighting and comfortable seating.
Cost of Food and Eating Out in Amsterdam:
To our surprise, food was pretty cheap throughout Amsterdam. From our expense chart for this particular month we actually noticed that our food expenditure had decreased by a couple of hundred euros compared to the month before. Yay!
The main reason for this was because most of the time we spent living in the van we were out using the internet in cafés or pubs - where we'd have to spend money on food and drink to stay. This meant that we'd rarely cook our own food.
When we arrived in Amsterdam we finally had internet at home, a fridge and proper cooking equipment again! This was exciting!
So every 3-4 days I would do a small grocery shop where I would ride my bicycle 5 minutes down the road to the Albert Hein supermarket with my reusable bags (don't forget your reusable bags) and pick up fresh, wholesome and good quality ingredients.
I'd generally spend around €20 - €30 on groceries for 3 days and that would buy us some meat for 2 nights, vegetables, fruits, yogurt, milk, bread, pasta (or similar), juice and snacks.
In just a few days we were both feeling so much more healthier, energetic and full in comparison to the months before when we were living off pub meals and prepared sandwiches.
Saying this, of course we did eat out in Amsterdam too! You don't come to Amsterdam not to eat Nutella waffles, golden fries and amazing tasting cheese!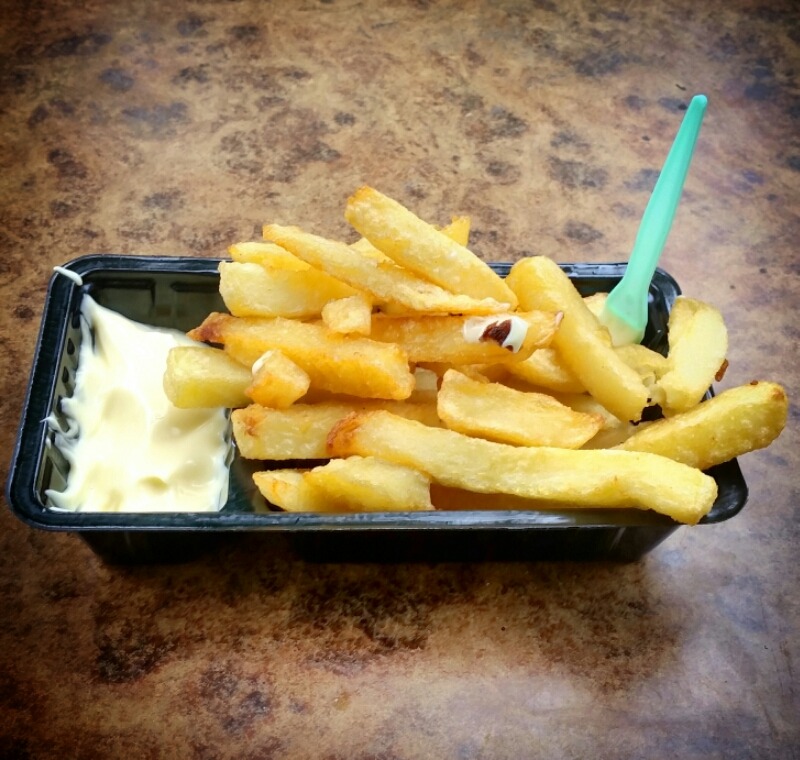 Whilst these foods do cost a little more in the city centre, they are so worth trying.
€4.50 will buy you a scrumptious hot waffle dripping with warm Nutella. Mmmm.
A few minutes walk away you'll find yourself in Leidseplein where you can feast your eyes on €5 pizza and pasta lunch specials and then relax with a beer in Leidseplein square as the afternoon sun goes down.
A 5 minute walk from our home in Hogeweg was a delicious Turkish place called Saffak. In the window they displayed up to 7 different authentic daily dishes, served with your choice of rice or salad for €5! And the plate was huge! Why not finish it off with a €1 slice of mouthwatering baclava?
So as you can see, food isn't super expensive in Amsterdam and to be honest, it is actually very easy to go out and have a lovely meal, including a drink for under €7!
Cheers to that!
Public Transport in Amsterdam: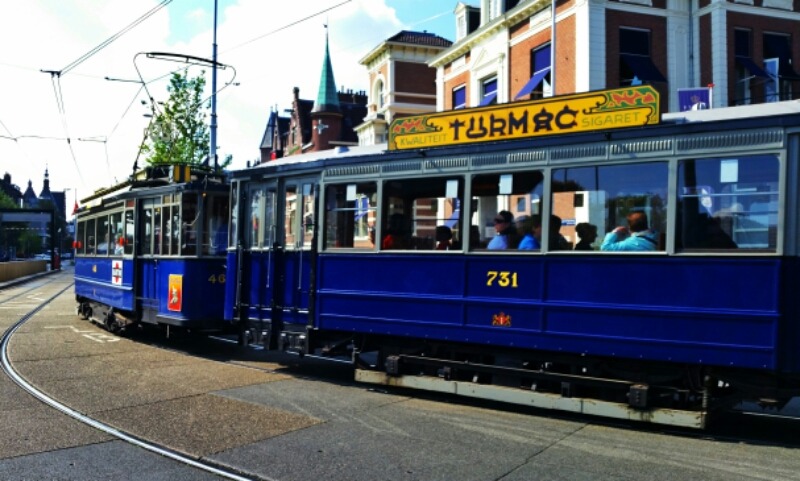 As we did rely heavily on our bicycles to take us around the city, we only had to use the tram system a couple of times.
Saying that, we did find the system to be very efficient when needing to get to most areas within Amsterdam.
At €2.50 each to get to Hogeweg, it was a little pricey but then again, the ferry to get across to Amsterdam Noord (North side) was completely free! So I guess it weighed out evenly.
Tram and bus stops are everywhere but if you want to be sure you're getting on the right one, Centraal Station would be a good place to jump on.
Just behind Centraal Station is where you'll be able to catch your free ferry over to Amsterdam Noord. I believe there are three different ferries for three different stop points, each only taking a few minutes to get to. And you can take your bicycle on board.
If you catch the ferry over to NDSM Wharf, you can wander around the old shipyard, take hundreds of pictures of some unique and spectacular art and then finish the day with a drink on the river at Noorderlicht Café.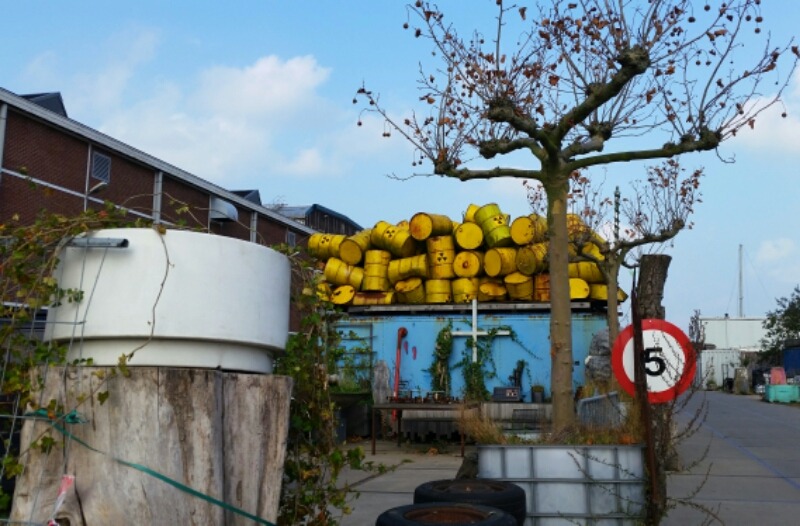 Experience the side of Amsterdam less walked on!
Bonus Guide: Things to do in Amsterdam
NDSM Wharf
As I mentioned above, NDSM Wharf is a fantastic place to visit in Amsterdam's North if you're looking for something unique to do.
You can get off the ferry and head straight towards the old shipyard. Here you'll find two massive warehouses facing each other that you can take a wander through.
I'd say the predominant theme here is expression through art. You'll notice some amazing graffiti on the outside walls and when you enter there may be some kind of gallery or workshop on.
Grab a coffee from the little café and take a walk around the warehouses and their surroundings. It is quite interesting.
If you keep walking to the right of the drop off point you'll reach Noorderlicht Café, a young, funky, innovative eating and drinking space perched on the bank of the river.
Although it does attract many locals looking to escape the city, the vibe is still very nice and chilled with a DJ often on the decks.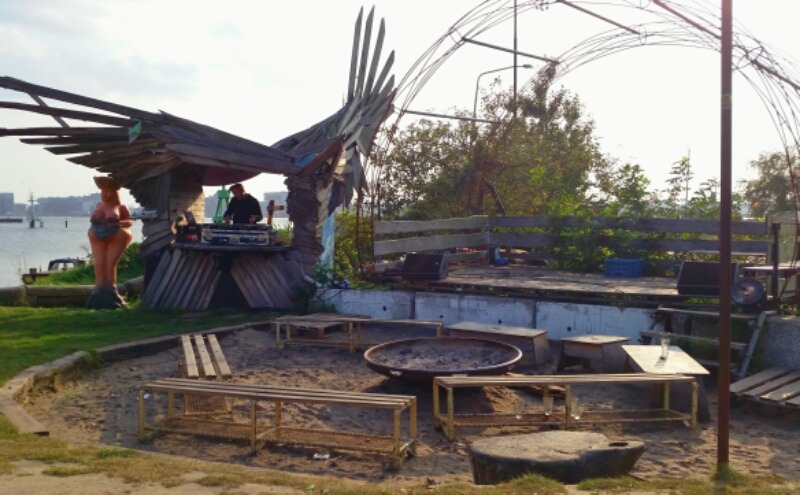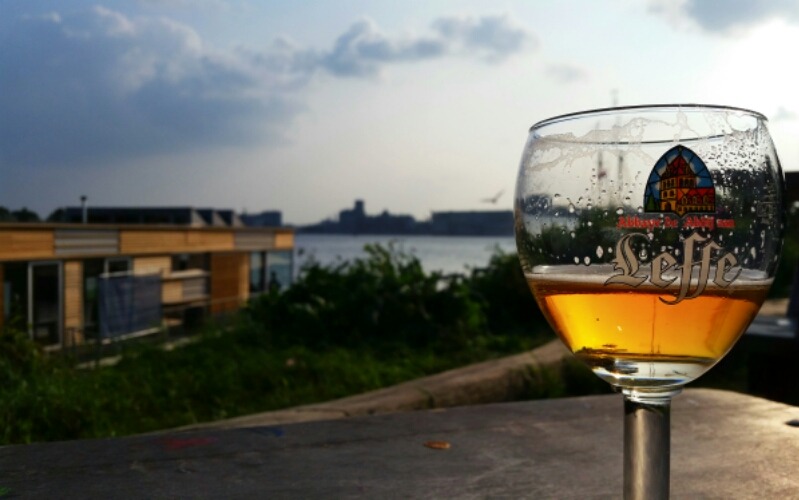 Vondelpark
Just the right thing to do on a Sunday, right in the middle of Amsterdam city! Vondelpark is a huge open space with soft green grass, beautiful shady trees and stunning water features.
You'll often find people either going there to exercise, hang out with friends or have a peaceful little afternoon nap!
Take a blanket, some snacks and soak in the fresh air and summer sunshine!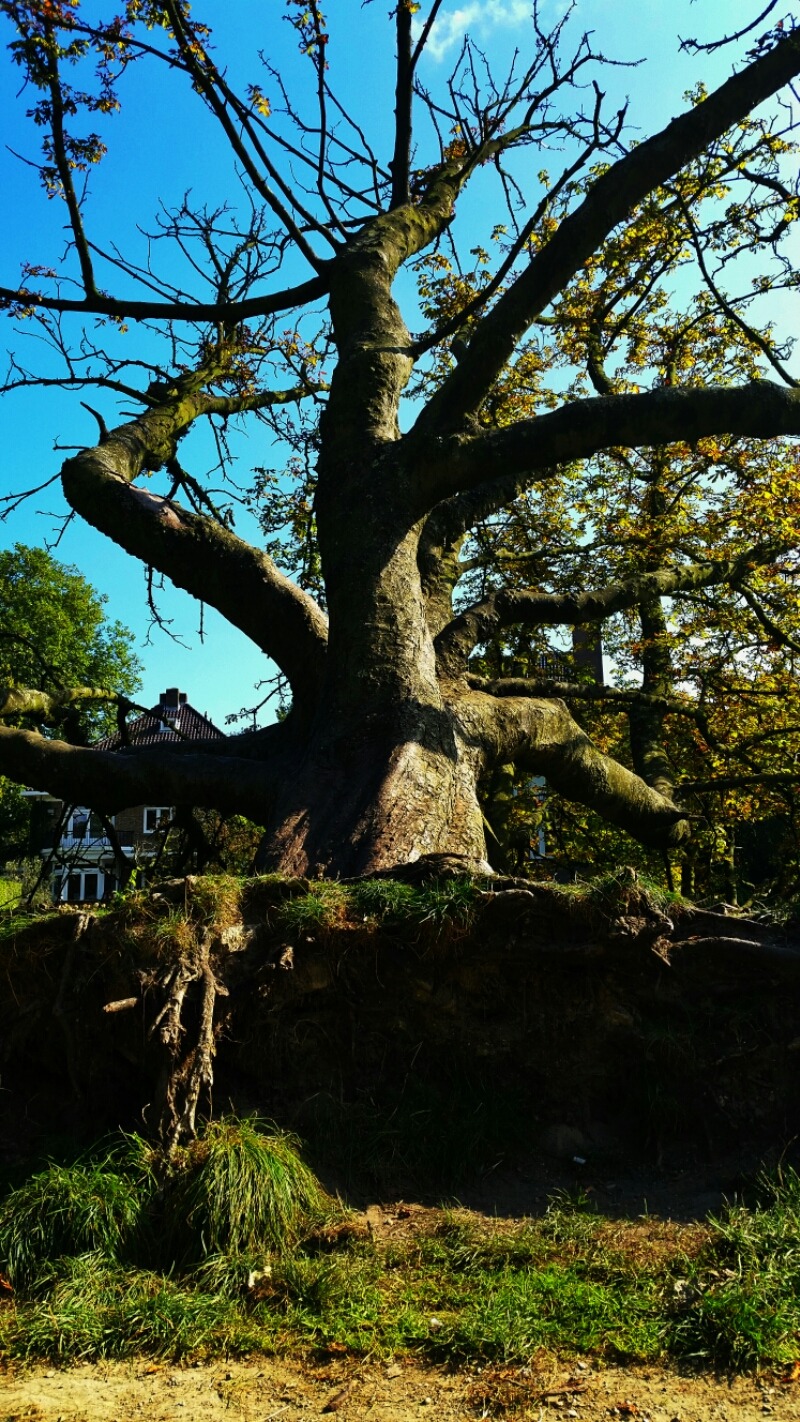 Jordaan
I call this area of Amsterdam rather posh but nonetheless it is incredibly beautiful and well worth visiting.
Take a relaxing stroll down along the canal and you'll end up amid more bridges dazzling with flower arrangements, rows of houseboats and a number of boutique shops and small cafés.
There's always great things going on during the weekends in Jordaan. Every time we went there was something interesting on, whether it was a free floating music concert in the canal or a flamenco street party!
We really love the cool vibe in this part of town.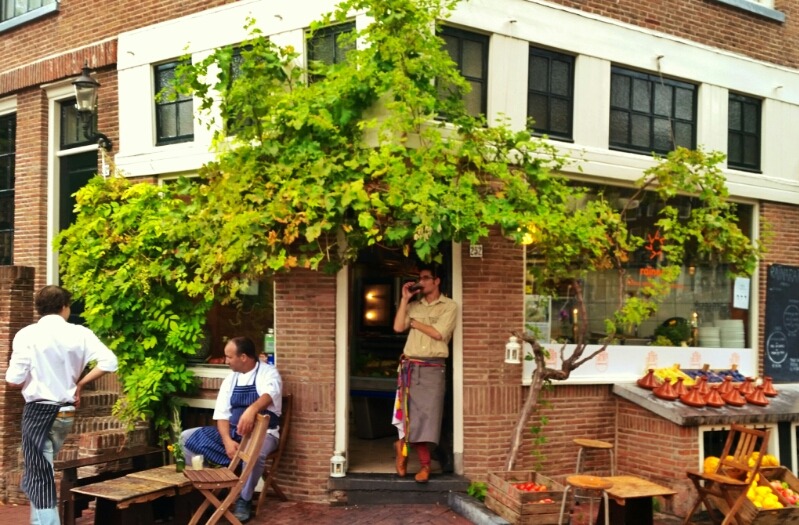 ***
So after getting to know Amsterdam a little deeper and learning that it really is a totally digital nomad friendly city with it's inexpensive food options, vibrant cafés and generally fast WiFi all over, I know Dan and I will be back.
And not only for these reasons either.
The friendly locals, warm and inviting atmosphere and ginormous amount of awesome things to see and do in the area has already got Amsterdam back on our future itinerary.
So what about you?
Is Amsterdam on your itinerary now that we've shown you it is really possible to live well on less than $1000 a month?
Let us know your thoughts! And if this guide to Amsterdam helped you in any way, please leave us a comment and share away!