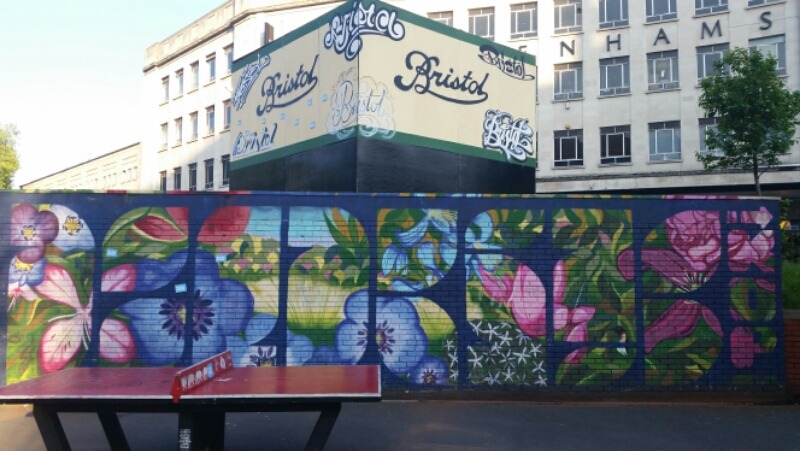 It was indeed a day of wander in Bristol on Saturday. The sun was shining, the birds were chirping and everyone was out and about making the most of the beautiful summer afternoon. As our next destination on from the small Heritage City of Bath, we were excited to step into Bristol to check out what the city had to offer. This is what happened…
The journey began when we parked the van on a small street just below Zed Alley in Bristol's city centre for the day. The weather was great and we were ready to explore!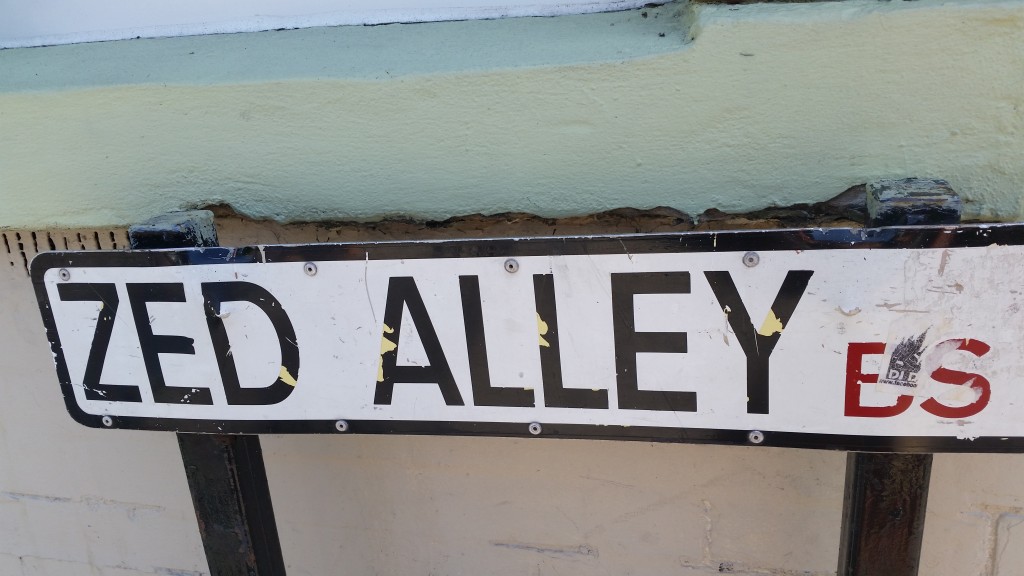 Dragging ourselves up a stair alleyway, my eyes lit up as we popped out just in front of these lovely little houses. It looks like summer has arrived early in this part of town!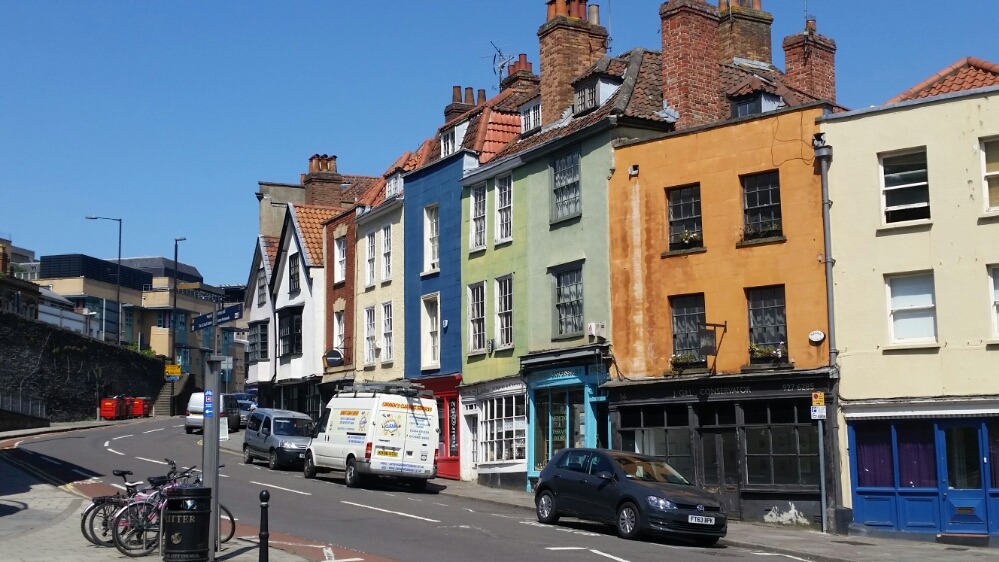 Moving on, we came across the Christmas Steps Costume Hire and Joke Shop located just down the road. With all sorts of costumes displayed in the window we thought we'd go in for a little game of dress – ups. The brand new owner of the shop warmly welcomed us in and was very helpful, assisting us to find the perfect hat for Dan. After some chatting we found out that he'd only just taken over the lease of the shop from the last owners who had it for 64 years! That's some dedication…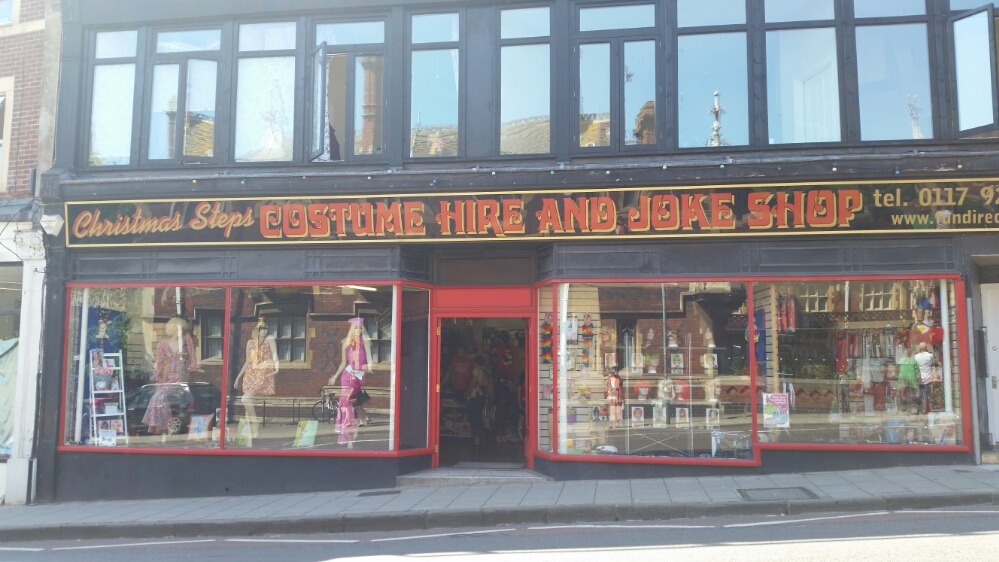 Did we find the perfect hat in the end? Dan thinks so…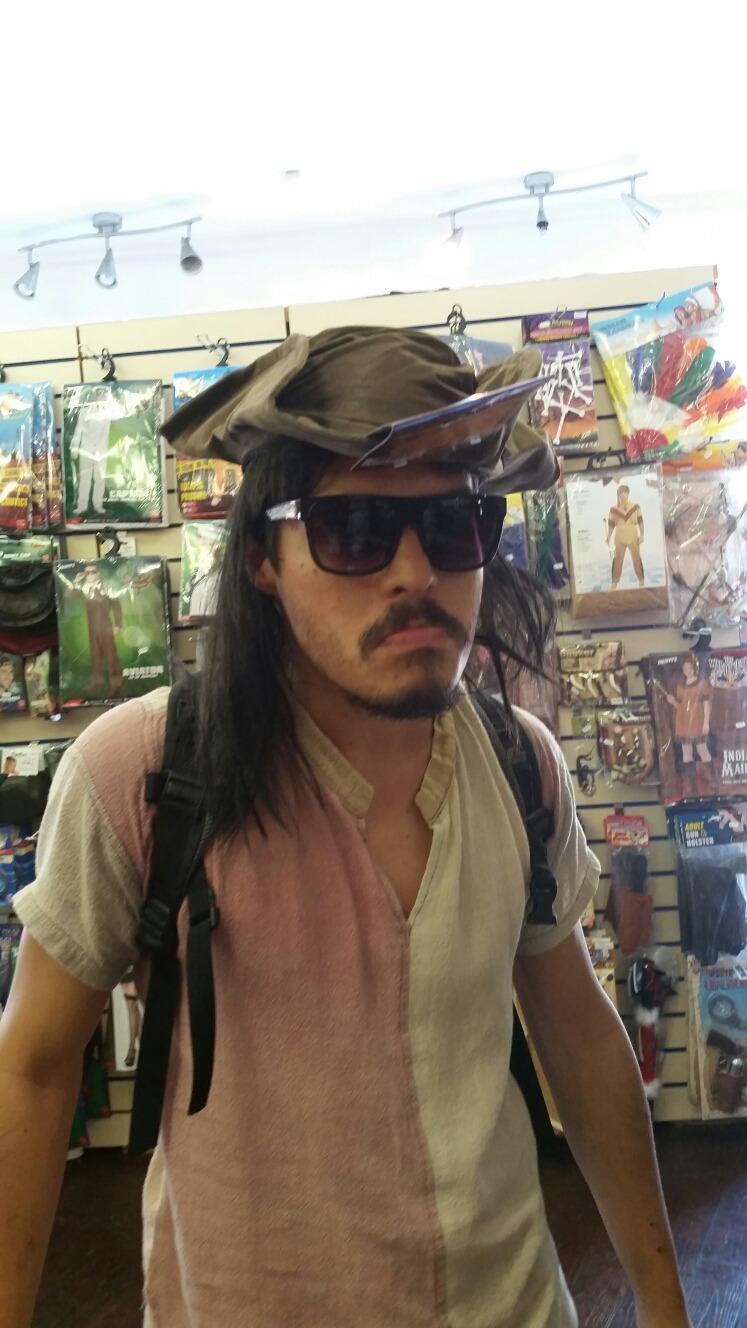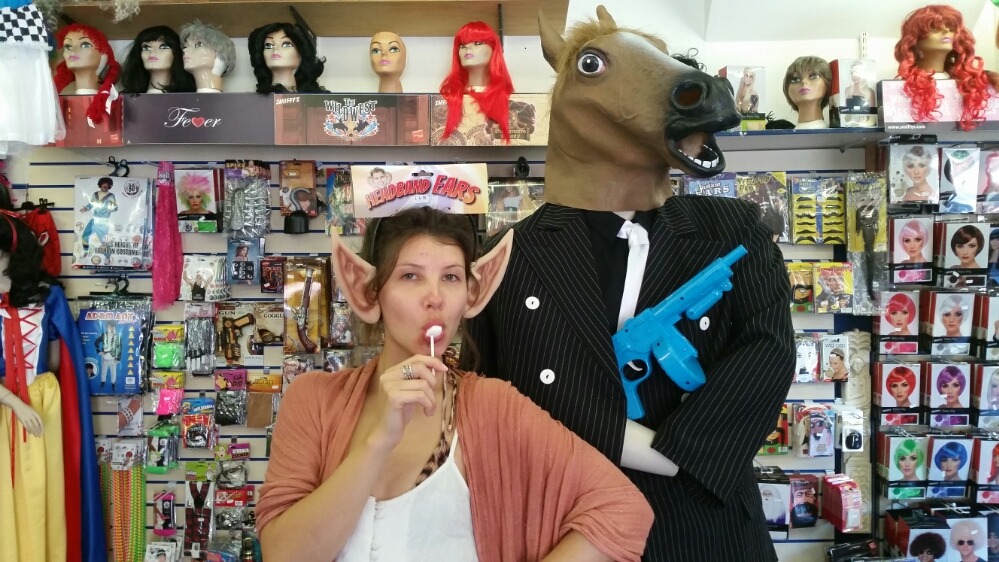 Putting down the masks, hats, ears and wigs, we carried on wandering on down to a local man clearing some tables outside a pub on the corner of Zedd Alley. "Excuse me" Dan called out, "Could you give us some recommendations on what to see around Bristol today as visitor's new to the area?"
"You're best off going down to the City Docks and Centre Promenade" the man said, "There's always something going on down there". So off we went, down the hill and across the road to Centre Promenade. It was only about a 7 minute walk from where we had parked and we were right in the city centre. Easy!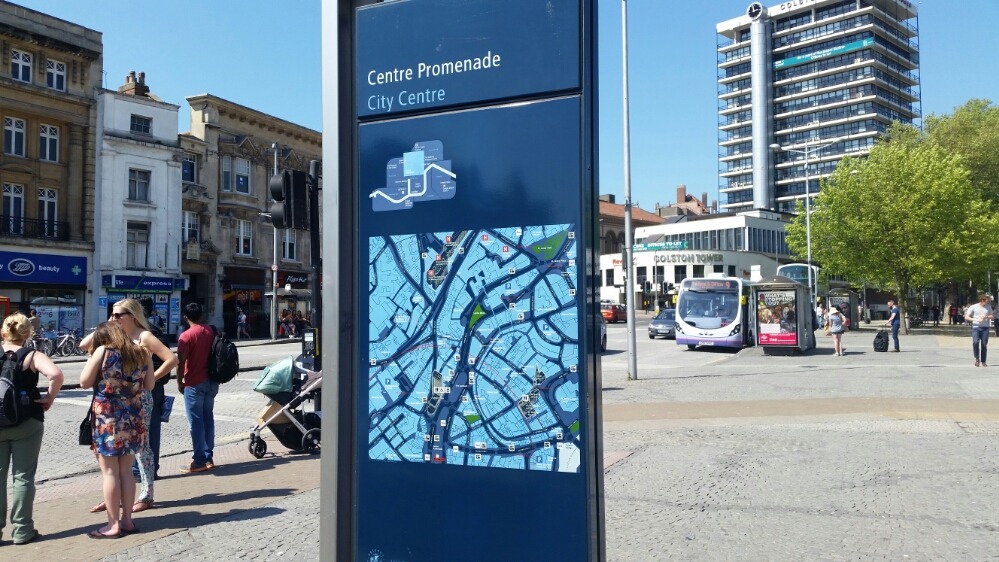 The Centre Promenade is a great spot to bring the kids for a splash around, enjoy a picnic and relax in the sun on a warm weekend afternoon. Three large pools of shallow water line the middle of the Promenade as a feature, welcoming everyone in for a paddle and some summer fun! I thought I'd try it out but the water was a little too cold for my Aussie blood!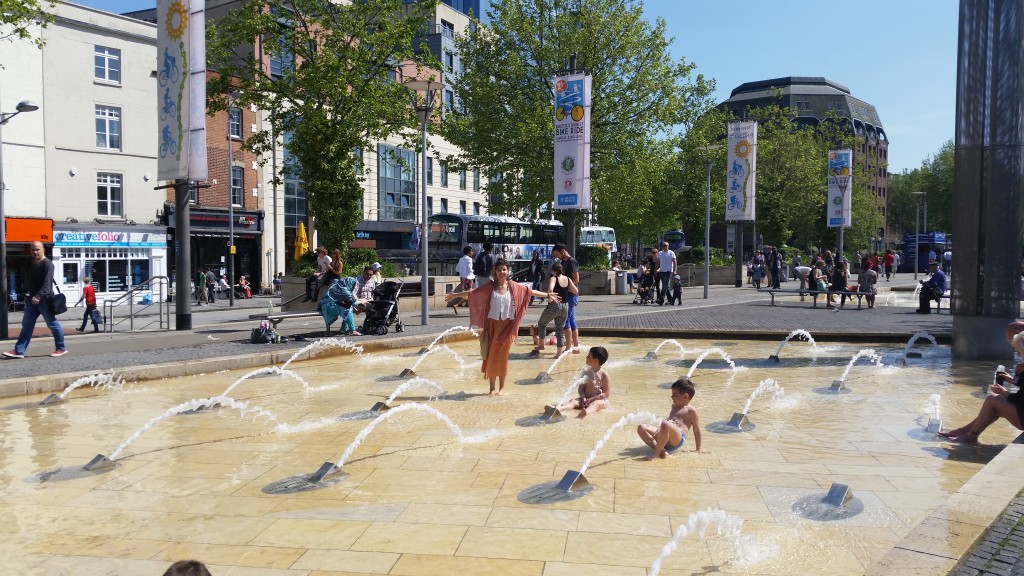 Summer's looking great in Bristol, take a look…
Just next door to the Centre Promenade was the beautiful City Docks, the central harbour in Bristol for boats of all kinds. Sparkling in the warm sunshine, the water lay calm as all the locals sat on the edge enjoying and cider and nibbles. Have a look…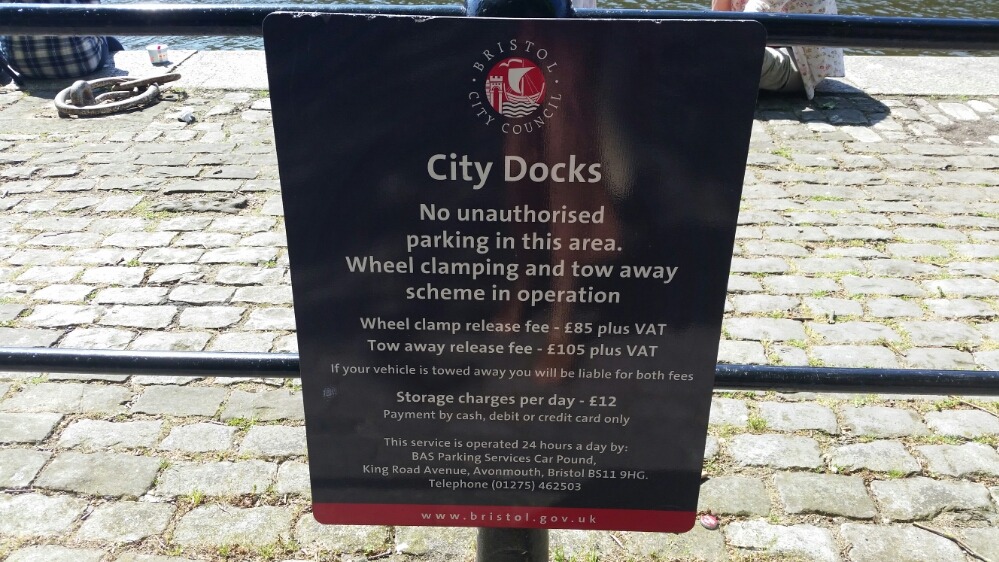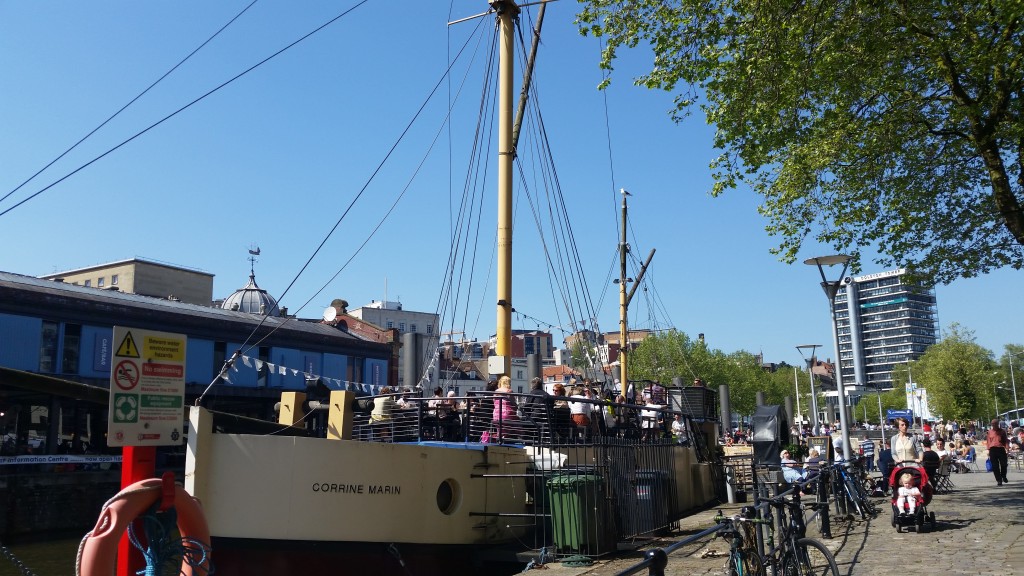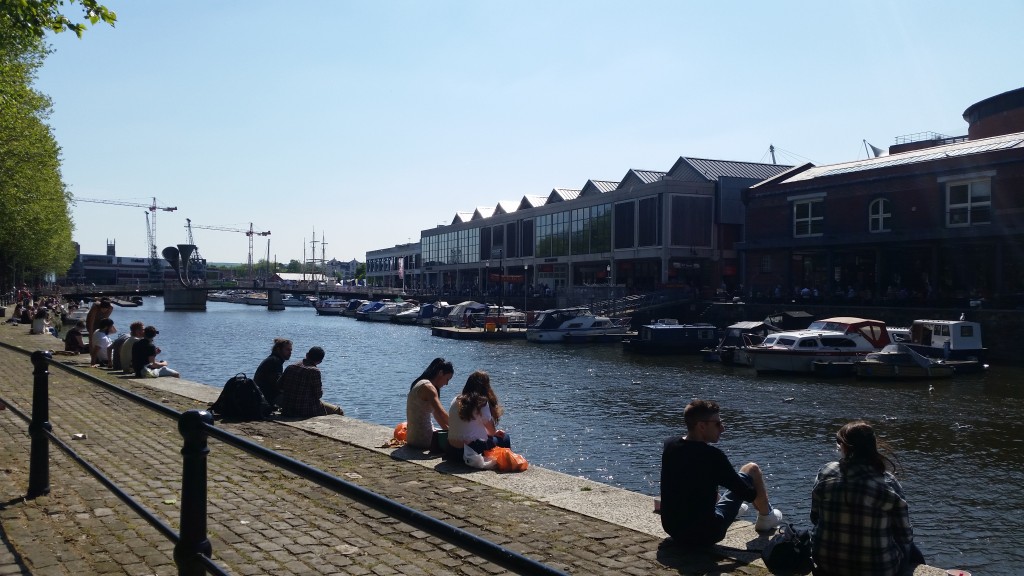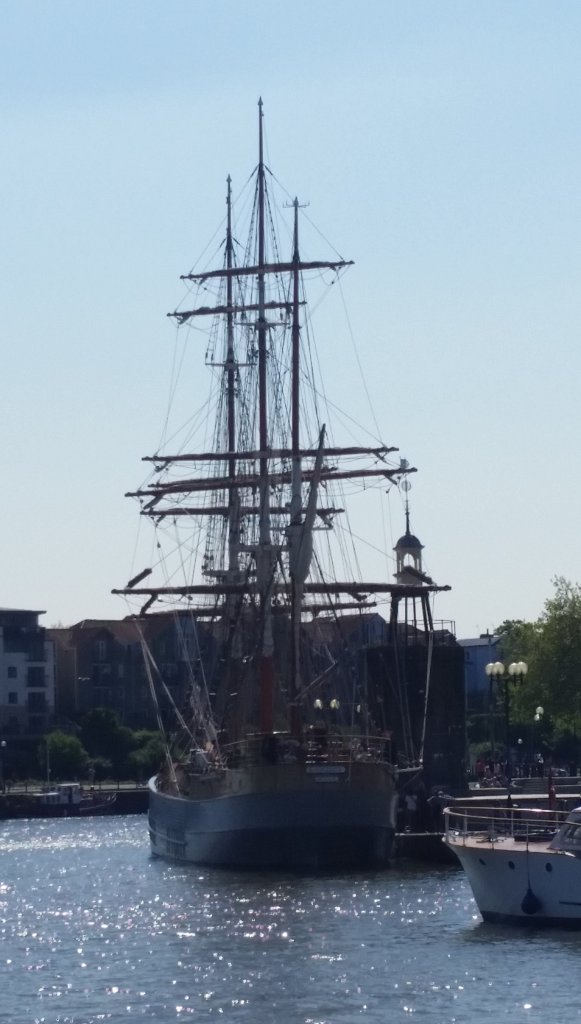 There were also some great little places to dine all along the water's edge. From a lunchtime takeaway to coffee and cake to fine dining, it was all there and brimming with people enjoying the great weather!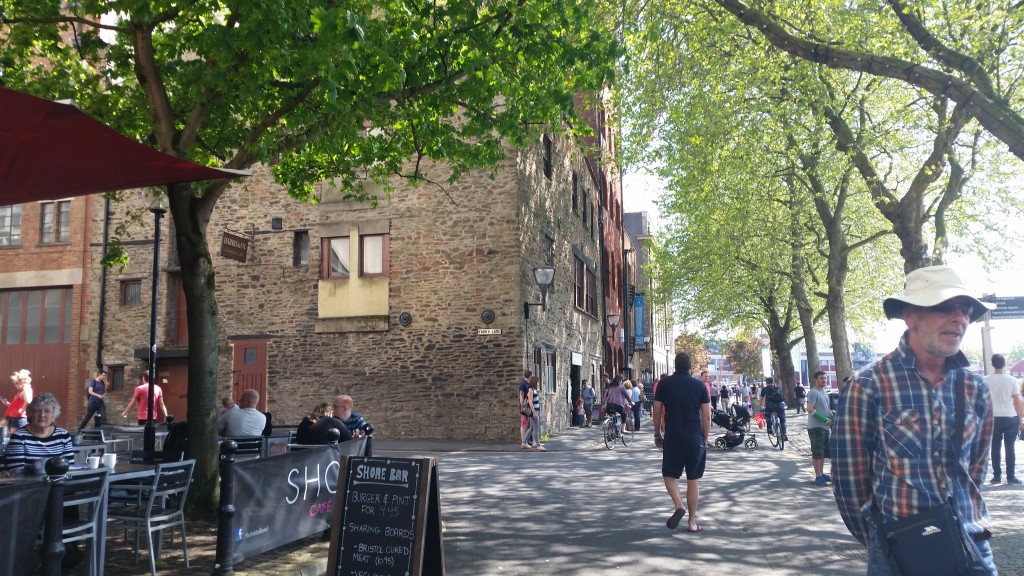 This is also a lovely spot to hang around and listen to some live music if you're there on a good day. As we walked past, a band called The Rin Tins had set up on the docks edge for the afternoon. With a female singer, one man on the guitar, another on the bass and one more on the cajon, they created a great atmosphere and happy vibes amongst the square. Watch them below!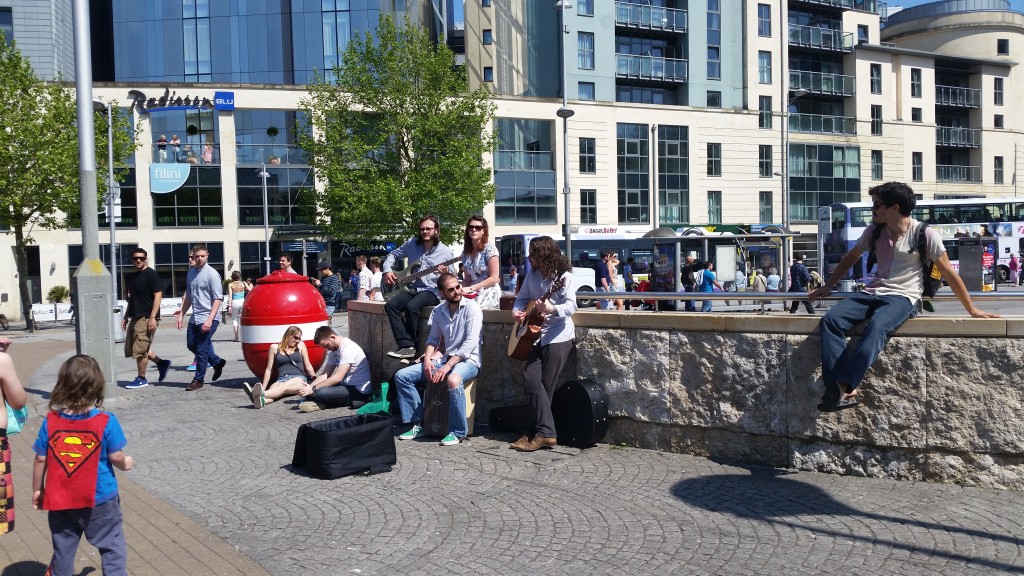 Strolling around the river bend, we reached this little spot where the entrance to the City Docks opened out into the harbour. It was so peaceful we almost thought about doing #tagtheboat instead!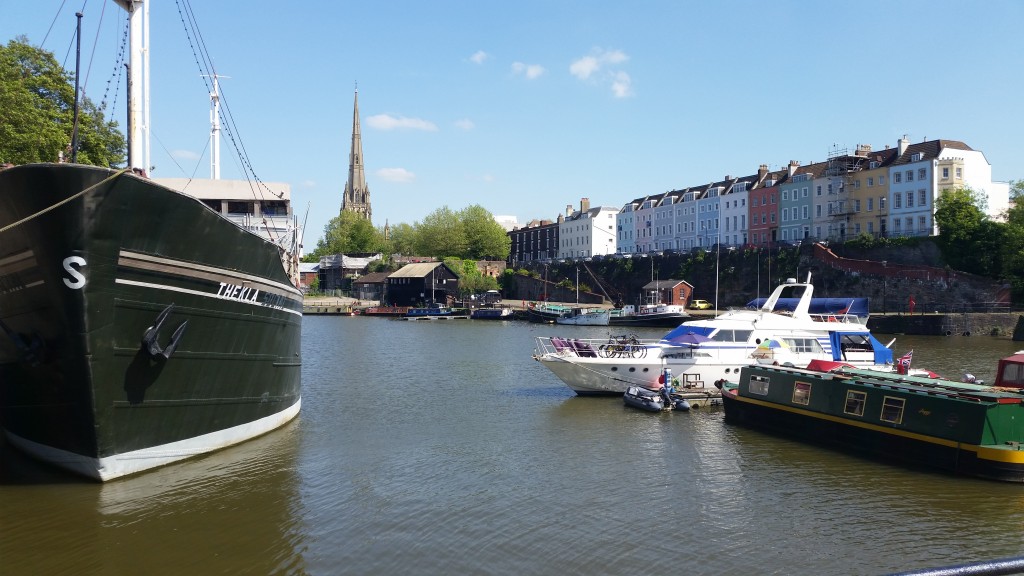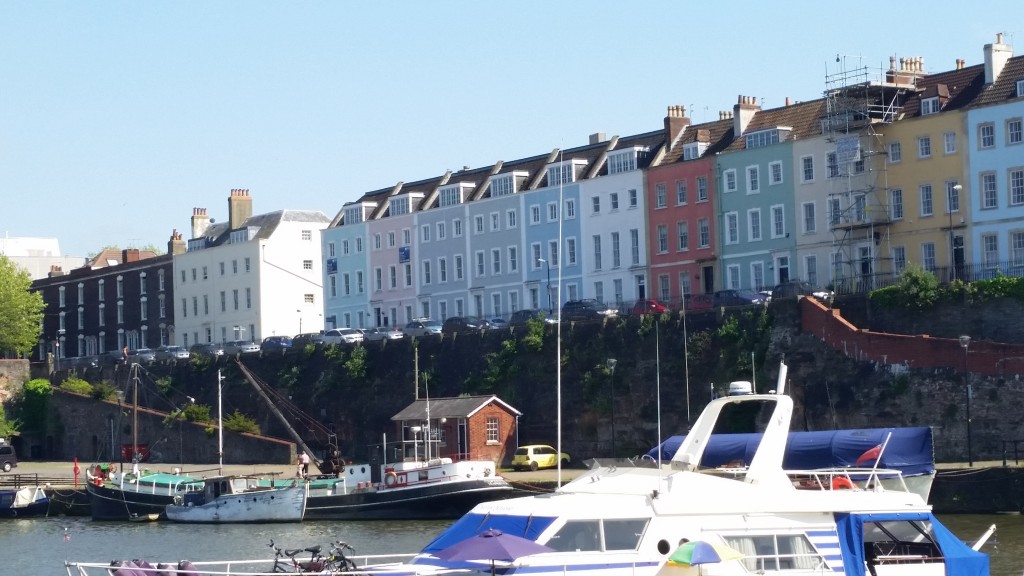 Watch the video…
Standing at the peaceful harbourside we could hear the faint sound of music echoing from a park nearby. Following our ears we ended up at Upfest, a free music festival happening in Queen's Square!
Come with us as we wander around the festival…
It was already the perfect summer afternoon in Bristol but music, sunshine and good vibes made it even better!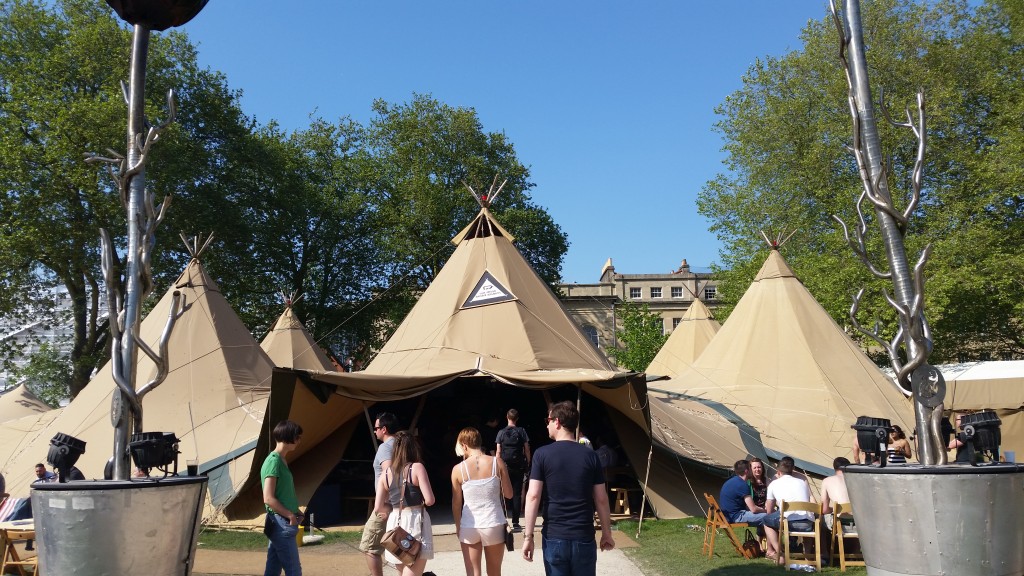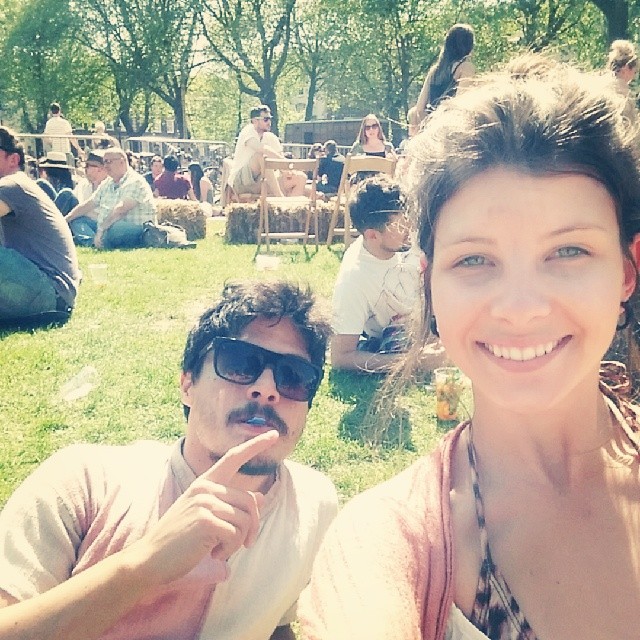 Since we've began travelling on the road we seem to have formed an interest in all things to do with vans. Big vans, small vans, coloured vans, textured vans, vintage vans, modern vans and any van in between. This one was parked inside Upfest as the owners set up their events business along side it. They offered all the fun and games of a 1950's fairground and squeezed it all back into the van when they were done. We wouldn't mind a campervan like this one!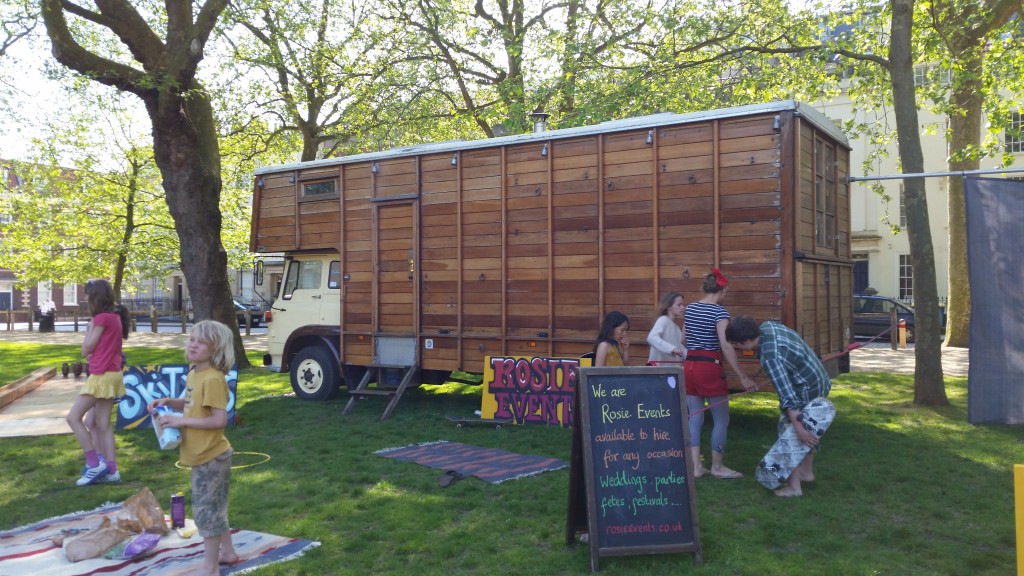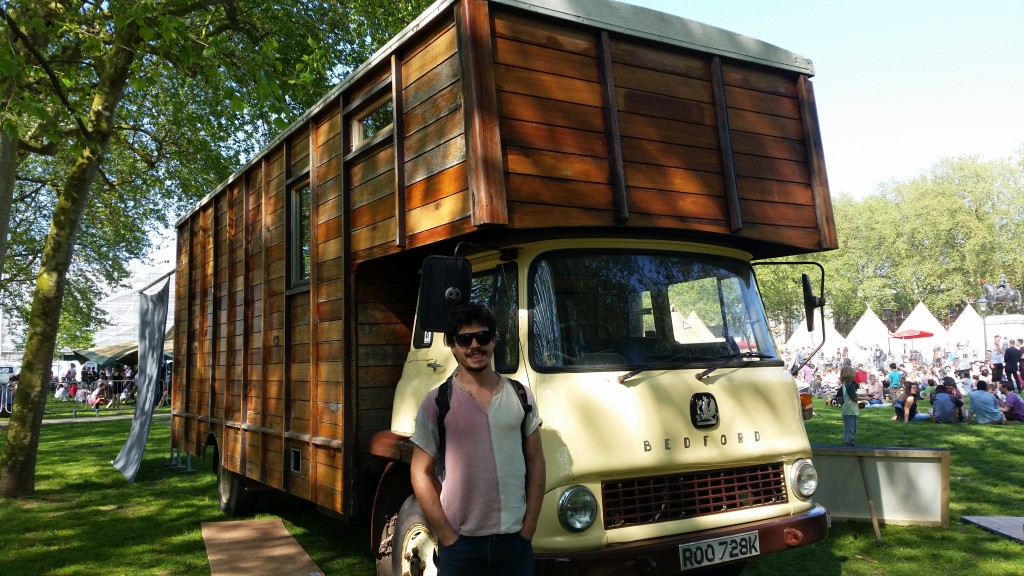 Unfortunately we had to let go of the van and move on because there were plenty more things to see and do around Bristol. Next up was the Broadmead shopping area for a little window shopping, about 5 minutes walk from Queen's Square. Market stalls lined the street leading up to Broadmead, selling everything from hand – made  gifts to vintage clothing, closing up at approximately 5 pm.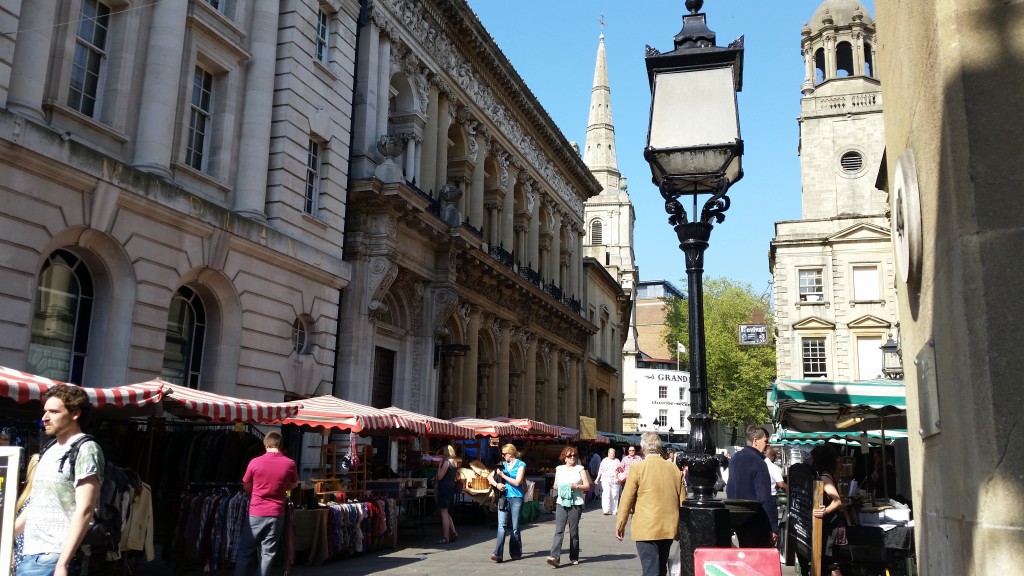 As we reached Broadmead, two hot air balloons appeared, floating around in the sky above us and glowing in the sun as it slowly went down for the day. It was a very beautiful sight indeed! In the flying season Bristol Balloons fly every day, serving complimentary champagne from morning through to night. Perhaps next time we'll be the one's up there drinking champagne!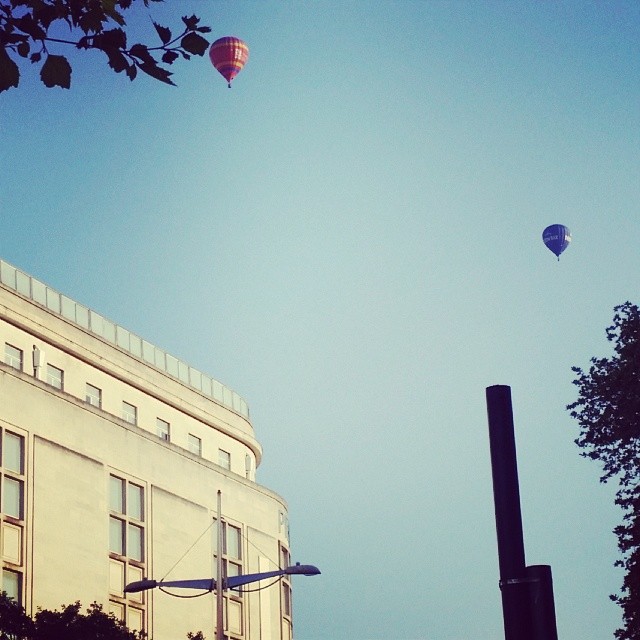 If you like to go shopping, find what you're looking for quickly and then get out of there, Broadmead is your best option. With all the bigger chains such as Boots, HMV and Lush as well as many smaller independent stores, it's very easy to find what you need. Cabot Circus shopping mall is just a few minutes walk down the road for all who take shopping as a serious sport! There you'll find all the latest fashion, beauty, technology and more in over 120 stores.
In the end we didn't get much shopping done but we did sharpen up on our soccer skills…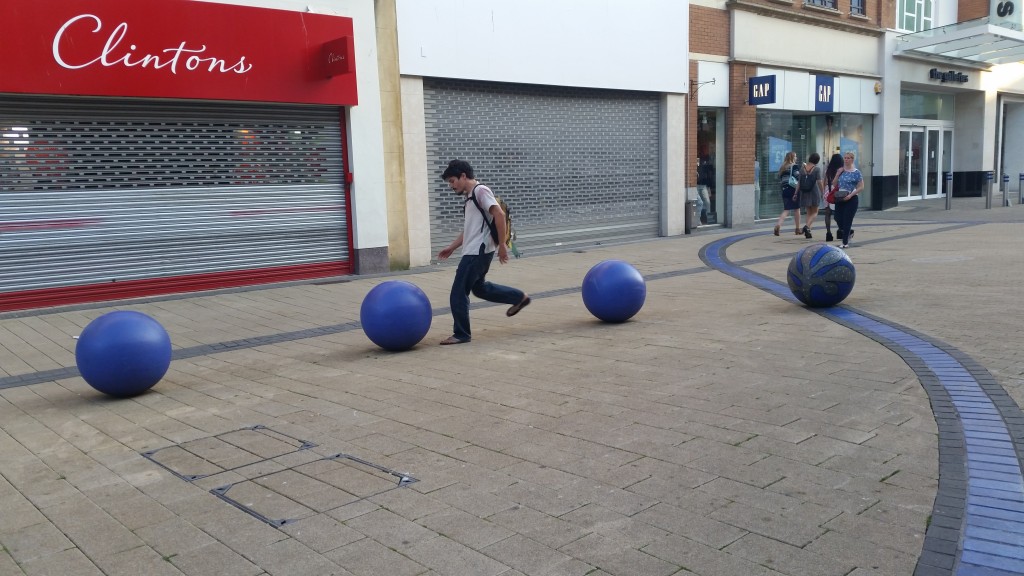 It was break time and we were craving our usual coffee and cake. Making a pit-stop at Bristol's 'Roll for the Soul', a cafe all about bicycle riding, we enjoyed live music and a gluten free chocolate brownie in a great atmosphere. The cafe also serves a vegetarian menu until about 7pm, featuring a delicious smelling bean burrito!
Check it out…
What a day! After playing dress ups, boat watching, a free music festival, some ice-cream, sunshine, lot's of walking, shopping, street art, live music and a little cake, we were definitely ready for bed by the end of it all. So we said goodnight to Bristol and headed back through Zed Alley, down the staircase alleyway and back to the van for some fish wraps and a good sleep.
Bristol is a great city for the young, the old and everyone in between. To get the most out of your visit we highly recommend going during the summer when there are plenty of fun things going on around the city! Stay tuned for our next adventures in Devon…
Have you been to Bristol? What would you recommend seeing?