Andreas Hermansen is a young adventurer with big travel dreams ahead of him.
Born and bred in Norway, Andreas first started traveling around the country when he was just three years old and has been going on adventures regularly ever since.
Here he gives us his best Norway travel tips as an insider.
In this interview you will learn:
Where to stay in Norway
What to do in Norway
The challenges you may face as a traveler in Norway
The approximate cost of a two week road trip in Norway
The top travel resources to book your trip to Norway online
Why Norway should be on your 'to travel' list
Norway Travel: Young Adventurer Shares His Insider Tips And Advice
Inspired? Pin this to your travel board on Pinterest for quick reference >>
To start, could you please give us a short introduction about yourself, where you're from and what you do?
My name is Andreas Hermansen, and I am 15 years old. I live with my parents just outside Bergen.
I go to Middle school and this is my last year before I start high school.
I like to explore, travel and my passion is to take pictures wherever I go.
When did you first start traveling in Norway and where did you go?
When I was about 3 years my parents bought a caravan at a camp site located right by the ocean. We went there every weekend and on holidays, I loved to be there. We also went abroad and I discovered that I love to travel and explore new places.
In Norway I have traveled a lot of places. Oslo, the capital, I have been there several times and I like it a lot. My sister lives there so I get to go there quite often.
Oslo is in the eastern part of Norway where the weather is much more stable throughout the year than in Bergen where it rains a lot.
I have also been to the southern parts of Norway which is also known for fantastic summers with lot of sun and ocean and boat life…
Kristiansand is the biggest city in the south and it's one of the most beautiful cities in Norway.
What was it that made you like traveling in Norway and did it inspire you to travel more?
It was the traveling and camping at a young age that inspired me and made me want to see more of my own beautiful country.
I feel lucky to grow up here but I still want to explore more of the world. I have been to several countries around the world and it keeps on inspiring me to travel more.
It is just something about travel that gets to me, I feel like I was born for this. It's what I want to do with my life.
Which Norwegian cities are your favourite and why? Would you recommend these as travel destinations? If so, where do you recommend staying?
My favourite cities are Oslo and Bergen.
Oslo, because I have traveled there since I was very little and it's been a big part of my life. Also because of the urbanity, proximity to the sea and liveliness.
Bergen, because I live here and it's a very beautiful city. It's known for its preservation of the old culture and buildings and we have a famous fish market, which is just awesome. 🙂 "Bryggen" is famous for its traditional buildings which are historical and full of character.
Bergen is also surrounded by mountains…
Mount Fløien where we can take a funicular up and see Bergen with a spectacular view…
And Mount Ulriken is located just outside the town centre and you can take a bus to the start and then a cable car to to the top, 643 meters above sea level. Here also you get a spectacular view over the city.
I highly recommend both of these cities as travel destinations. The easiest way is to stay in a hotel but if you travel on a budget, there are cheaper vacancies. Bed & Breakfast's, Airbnb, motels etc.
Your absolute top things to do in Norway?
We have a lot of wild nature and mountains and I would absolutely recommend people to explore that.
My family have a cabin high up in the mountains in the eastern part of Norway and the nature there is amazing.
Norway is famous for its nature with lots of tourists traveling here to see the coast line on "Hurtigruten". This is a cruise from Bergen to Kirkenes and it takes you all the way up to the north of Norway along the coast line.
Aker Brygge in Oslo is a lovely place to see and the fish market in Bergen is also one of my top places to visit.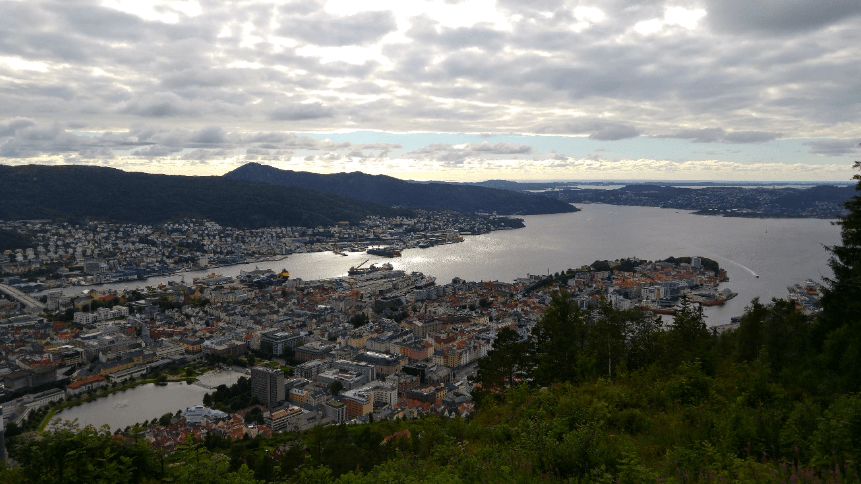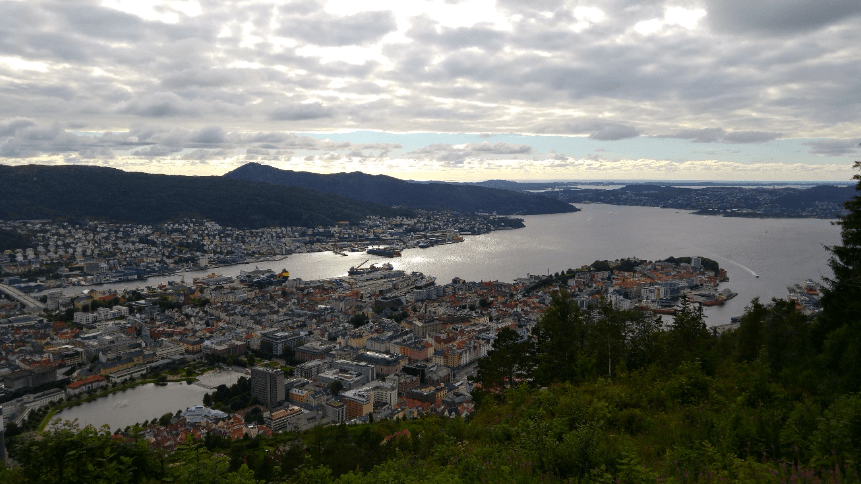 What challenges have you faced while traveling in Norway and how did you overcome them? Should people planning to visit Norway be aware of these challenges?
Norway is a pretty easy country to travel around so there aren't many obstacles…
Probably the biggest challenge is that Norway is an expensive country, however that shouldn't be a problem if you have a plan and know what specific things cost.
That said, you don't need to do a lot of planning to get around in Norway. As I said, it's a fairly easy country to travel in, so go for it!
In your opinion, what is the best way to travel in Norway and why?
The absolute best way to experience the beautiful nature Norway has to offer, even if you want luxury or you're on a budget, is to rent a camper van.
I went on a camper van trip where we drove from Bergen to Kristiansand, Oslo and visited all kinds of amusement parks. In fact, we experienced so many things on that trip, it was remarkable.
When you arrive in different cities, there's always an option to take a guided tour.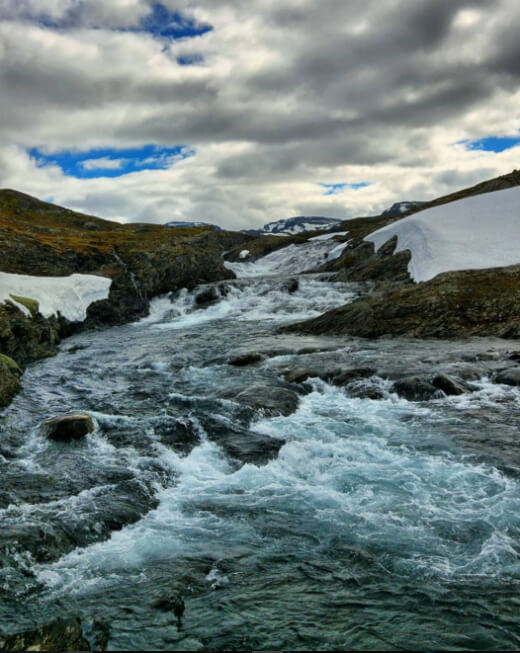 Based on this, approximately how much money would you save for two weeks of travel?
Renting a camper van will cost you around 6000-15,000kr per week, which is obviously depending on the size of the camper van…
So I would save up approximately 25,000kr, but it would really depend on how far you go, and how much gas you need.
Your top go-to resources for booking flights and accommodation in Norway?
For booking flights in Norway, the most used companies are Scandinavian Airlines or Norwegian.
The best website for finding hotels is definitely Booking.com.
In Oslo, I personally think that Radisson Blue Plaza is the best, although it is on the pricier side. There are cheaper alternatives, however, like Airbnb.
Can you share with us three important Norway travel tips to know before visiting?
1. Don't be afraid to ask for directions, we are more than happy to help.
2. In a lot of the big cities in Norway, they have very good public transportation. So that is definitely something you should try out. It's a great way to see, and get around the city.
3. Just go for a hike, in every single Norwegian city there's some sort of hike you can take, so definitely do it. Norway's beautiful nature is going to blow your mind. In Bergen, for example, there are countless mountains to see and explore.
And finally, do you have any last words to inspire everyone reading this to travel to Norway?
If you are considering going to Norway right now, just do it. Norway is one of the most beautiful countries in the world, with is spectacular nature, and mountain views. It's not one of the cheapest options, but it is definitely worth it.
Andreas, thank you for sharing your helpful Norway travel tips! We look forward to seeing where the road takes you and your itchy feet in the future!
To follow Andreas' next adventures in Norway and around the world, remember to visit him on Instagram: @andreashermansen_
---
Norway Travel Tools
Ready to pack your bags after reading all of these tips on traveling to Norway? Get prepared and book your Norway accommodation now while it's fresh in your mind…
=> Search For Guesthouses & Hotels In Norway
=> Search For Airbnb Accommodation In Norway (reader discount applies)
=> Search For Cheap Flights To Norway
---
Now it's over to you reading this! Leave your answers in the comments section below…
Are you planning a trip and looking for more Norway travel tips? Leave your questions below and we'll help you out!
Have you been to Norway and know some more Norway travel tips to add to the list? Let us know!