Update! Our ultimate travel job guide – Get Paid To Travel: 101 Amazing Travel Jobs – is now live! If full time travel is your ultimate goal but you're not sure how to make it a reality just yet, don't leave without reading this! Click here to read next!
Most travellers know the situation all too well: You set off on a wild adventure to some exotic part of the world with nothing but a backpack and an overwhelming sense of curiosity. You meet incredible people, eat delicious food, learn the most amazing things and then all of a sudden you're out of money with no desire to go home yet. What to do in Kathmandu?
Simple. You earn some cash, of course. Working out how to do that is likely to be worrying you right about now but don't fear, there are a ton of ways to make money whilst travelling, you just need to figure out how you go about it – Online, offline, it's up to you.
This is a list of 21 creative things you can do to make money whilst travelling without the need for an internet connection. The majority of these are not travel jobs but simply ideas to make money from anywhere on your own terms.
If you're looking for online jobs and other ways to make money as a freelancer or entrepreneur, these articles might interest you:
Let's get to it.
Before I forget I also recommend checking out these 15 awesome travel job courses that'll teach you the exact skills you need for many kinds of remote jobs you can do from anywhere…
1. Teach a Language
There are a few ways to do this.
If you're not planning to stay for long, you could keep it casual by spreading the word and offering small group or one on one tutoring sessions at your your own or a local hostel/guesthouse.
Most travellers are already learning or want to learn another language, particularly if they are planning to travel somewhere where their native language isn't widely spoken, so this would be a great option to find enthusiastic students.
Another option, if you're planning to stay longer would be to get in contact with some schools as well as the local community. Schools are always on the lookout for language teachers and there are many people in local communities who would benefit greatly from one on one private language tutoring with a native speaker.
2. Cut Hair
If you're a hairdresser and you're craving the travel life then why not cut hair as you go?
Talk to your guesthouse/hostel manager and see if you can set up a weekend or a few hours a day to cut the guests hair.
Come up with a cheap price, spread the word in town and then enjoy meeting many travellers from all over the world as they flock for a much needed haircut.
Tip: Familiarise yourself with combing out dreadlocks and sticky stuff before you begin.
3. Run Haircutting Workshops
Whilst offering hairdressing as a service, you could also run weekend workshops to teach people how to cut their own hair!
As someone who's been through the long hair rasta phase, got fed up with it and tried to cut it all off himself (which ended ridiculously), my partner, Dan, strongly believes that there are many other travellers out there who would love to know how to take the scissors to their own head without making a terrible mess.
What do you think?
4. Fix Restaurant Menus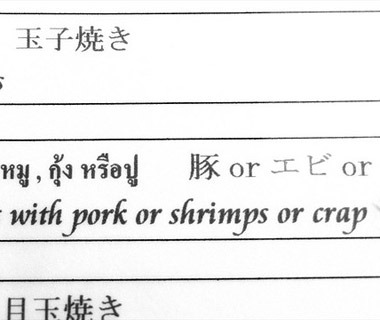 We thought we were onto something here when we were living in Thailand.
Most restaurant menus had totally embarrassing mistakes all over them which often made them hard to read, sometimes turning potential customers away – things like 'crap' instead of 'crab' or 'French fried' instead of 'chips' or 'fries'… French fried what?
So we said, someone could definitely go around to all of these restaurants and offer to fix their menus for 10 bucks or so. It would be a quick and easy job for a native English speaker, yet it would be something really valuable and worthwhile for restaurant owners.
And looky here, someone was already one step ahead of us.
5. Give Massages
Everyone loves a massage, whether they're a budget backpacker or a 5 star holiday maker, however not everyone can afford to enjoy this luxury. So, offer up your spare time to give cheap massages in your guesthouse/hostel common area.
Again, spread the word through town, throw out a sign and watch a plague of jet-lagged backpackers with aching shoulders line right up.
6. Run Massage Workshops
Many people travel to go away and learn new things. Generally, this is to gain knowledge or skills they cannot obtain in their own country for reasons such as expense, availability or time limitations.
From what I've noticed on my travels so far, massage is a skill many other travellers are interested in learning – some to practice it as a profession but most just for the sake of learning how to relieve pain through prodding and poking.
If you are confident in sharing your knowledge about massage then holding workshops at your hostel/guesthouse could really be worthwhile.
Even in some of the cheapest destinations around the world a one week massage course can cost around $300 and many travellers would prefer not to spend a whole week inside when they could be out, you know… travelling.
So perhaps offer a weekend workshop for 10 people at $50 each and cover the key elements of massage. That's $500 in one weekend, not bad!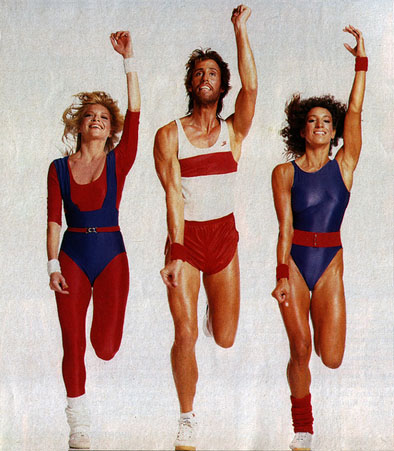 7. Run Group Exercise Classes (Yoga, Dance, Aerobics)
Physical activity shouldn't stop when we travel, however for most of us it does.
The good thing is, we all know that when there's someone there to motivate us, exercise actually becomes fun.
It also helps us to spring back into productive mode after weeks of thinking that sleeping in until 11, eating crepes and drinking beer for the rest of the day is generally acceptable.
So where's that exercise freak everyone's searching for? Could it be you?
Again, similar sort of thing. Talk to the person in charge, spread the word through town about price, what to wear and where to go and then put up a sign on the day. Get these travellers sweating!
8. Make Video Footage
Ok, so this is something you can do offline but it still requires some work on the old laptop. There are also a few ways to go about this. Obviously, you'd need to have some skills in this area and ideally a bit of a portfolio going on.
One, you could connect with some local businesses and see if they would like a short promotional video recorded. We met someone in Thailand who was actually doing this in exchange for free accommodation and tours however, you could contact some bars, for example and see if they'd be interested in paying you for it.
Two, you could start a Youtube channel and monetize it. You need lots of views to start seeing any kind of income being generated but if you're creative enough and can offer a unique view through your lense and you are able to promote your work, you could well get some traction.
Three, you can sell your work online to travel websites, tourism boards, advertisement agencies, etc but that's for a later post.
9. Perform (Music, Circus Acts, Comedy, etc)
This is one of the most exciting ways to make money whilst travelling!
There are many many people out there who perform as they travel and get by simply by doing this.
If you can get a gig somewhere, depending on where you are travelling, you can get paid (and quite well sometimes), not to mention the tips.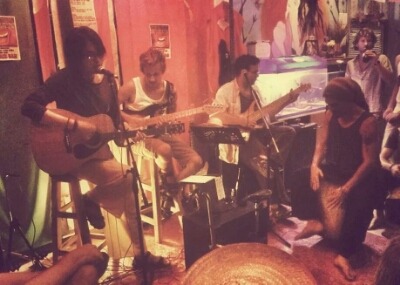 We have met many performers on our travels – musicians, fire spinners, dancers, hula-hoopers, poets, you name it.
Again, it's all about connecting with the local community and fellow travellers to find new opportunities – and shouldn't be too difficult. Everyone loves some entertainment!
10. Run Performance Workshops
If the tips aren't enough to get by on, why not teach your skills to others who seriously want to know how you do that one particular fire-spinny trick thingy? Or sit down with a group of people and teach them a difficult chord on the guitar.
The trick is not to try and show them everything because it doesn't give them any time to take anything in. Focus on one or two skills and then promote that. This way, you're also encouraging a more specific group of students who are enthusiastic about learning that particular skill.
11. Become An Instructor
There are a number of courses dedicated to certifying you as an instructor in your chosen field while you travel. For example, many people up and go to undertake their short Padi scuba diving courses in Thailands' island paradise, Koh Tao. Then, once they've finished their training, they are able to get work.
Sound like your ideal job?
12. Babysitting
This is something I completely forgot about trying until a few months into my Thailand trip when a local friend needed someone to look after her son 3 nights a week.
Whilst the pay wasn't anything to shout about, it did pay for some of my meals. This was in Southeast Asia mind you, it would be a whole other story in somewhere like Australia.
If you have any kind of background working with children then I strongly urge you to connect with the locals and put the word out around town. You might get special consideration if you can utilise the time to teach the children your language too!
13. Make and Sell Jewellery or Crafts
You know those little tie up anklets and bracelets made from string or leather strips that are sold at almost every market you come across? Well everyone loves that stuff when they're in travel mode! They help to bring out the inner hippy/wild child inside us!
And you know what? They sell like hot cakes…
Whilst this kind of jewellery goes cheap, you could harness your artist and add your own unique touch to increase the value and make it more sentimental for people who buy it… sell your story with the piece.
This doesn't necessarily have to be done with a market stall either. You could create each piece in front of the guests where you're staying so they can see how much time and effort you put into your work and what your inspiration is. It's likely that many would make a purchase based on that alone.
And don't forget, there's also a whole other world online.
14. Run Jewellery Making Workshops
Spread the word that your teaching how to do Makrame at your guesthouse over the weekend with some posters and fliers around town and you're likely to get a good response!
Many people like to get more in touch with their creative side while travelling as it's a time to refresh and step away from the routine of normality.
Most will be up for giving something new a go so take it on board. You could even do something like a 'pay what you think the workshop is worth' kinda' thing.
15. Sell Photography
If you're savvy on the camera and you know how to really give a destination justice through your lense then you might want to think about selling your photography – online or offline.
Have you thought about making postcards? That's another thing travellers love to collect as a reminders of their journeys. You could also sell your work online to websites that share stock photography.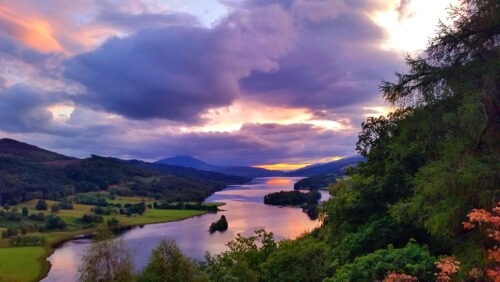 16. Run Photography Workshops
Nearly every traveller wanders with a camera. Whether they know how to use that camera is another thing. Which is where you come in.
Promote yourself and your service around town and then take a small bunch of potential travel photographers out on a shoot.
Obviously not everyone's going to have all the professional gear but you could teach the basics such as shooting angles and lighting.
17. Translate for Tour Companies and Hotels
Maybe they have a product that needs translating into English to reach a wider audience or perhaps they need posters, signs, handbooks, brochures, email templates, menus, etc translated.
You could also run tours for local companies in your native language. We see this a lot!
If you're bilingual then this could be a great way to earn some cash while travelling. Email some businesses or connect with them in person and offer your service by the hour or by the project.
18. Offer a Repair Service
How often does something break while you're travelling and you can't find anyone to fix it?
Well perhaps you could develop some handyman skills!
Whether it be sewing, shoe mending, zip fixing (it happens all too often) or iPhone screen repairing, you're bound to have some custom, especially if you place yourself in a busy hostel in a popular destination.
Things always need fixing! This could be a little "on the side" job to make money whilst travelling.
19. Tutoring
You don't have to limit yourself to teaching a language while you travel.
There are many other topics people are interested in learning about and would pay to get some private tutoring.
If they already know some of the language you speak, you could try and do the whole lesson in that language or vice versa, you could learn some of theirs.
Again, networking and promotion is key!
20. Consulting
Do you know how to help people? Whether it be with their relationships, finances, travels, tech problems or just life in general, you could offer a consulting service to people that come by your hostel/guesthouse.
People will pay to pick your brain if it's going to be of value to them. So determine what you feel knowledgeable about and confident offering advice in and share your most valuable information about it to help others.
21. Run a Hostel/Guesthouse
For the slow travellers! It doesn't sound like the easiest way to start making money while you travel (hang on, I'll just go and start my own whole entire guesthouse quickly), but in fact, it's easier than you think.
We now have 3 friends who have ran their own guesthouses overseas – 2 in Thailand and 1 in India. You can actually just rent the guesthouse off the owner and take over the management side of things. A great way to meet many interesting people and immerse yourself in the local community!
See: [Interview] How to Start a Hostel Overseas
What do you think? Would you do any of these fun jobs to make money whilst travelling? Or have you already? Share in the comments section below!
Remember, check out these 15 awesome travel job courses to learn the exact skills you need for many kinds of remote jobs you can do from anywhere.
Interested in any of these offline travel jobs? Save this on Pinterest for easy reference >>