This interview was was originally published on nomadan.org. To read it in Portuguese, click here.
Do you ever get the feeling that you aren't making the most of your life?
This is the exact feeling that pushed Brazilian couple Vagner Alcantelado and Barbara Rocha to leave their home in Brazil behind and go follow their dreams.
With a mixture of dissatisfaction and an itch to see the world, they prepared for a trip that now seems endless.
They do what most people dream of, they get paid to travel.
By pairing digital work with a nomadic lifestyle they now face endless adventures in some of the worlds most exciting countries.
Dan held the reigns on this interview to find out about the mentality, planning, tools, money and attitude needed to create this kind of lifestyle…
** Before I forget I also recommend checking out these 15 awesome travel job courses that'll teach you the exact skills you need for many kinds of remote jobs you can do from anywhere…
This includes Nomadic Matt's highly acclaimed Superstar Blogging course, How To Become A Travel Filmmaker.
Interview With Filmmakers, Vagner And Barbara Of Melhores Momentos Da Vida
Feeling inspired? Don't forget to share this post on Pinterest >>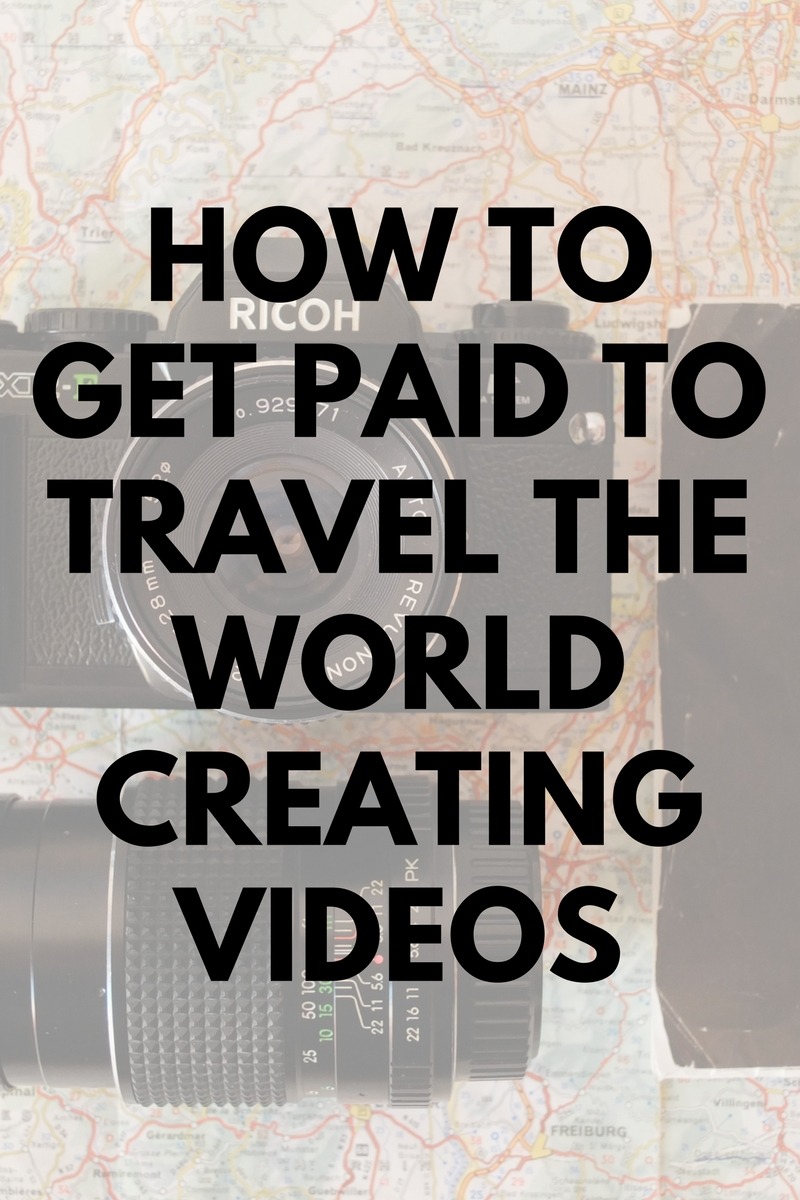 You dropped your jobs in Brazil, sold all your things and left to travel the world. Why did you decide to do this? I can imagine that before starting the trip, a lot was placed on the scales and a great deal of research was carried out. Could you tell us about the whole process? What influenced your decision?
Trapped inside an office from 9am to 7pm, we felt like "life" was only really going on out side and we were not fully doing our part.
There were so many places to see, interesting people to meet and experiences to live! We didn't want to "lose" our best years and leave it all until we were retired or on annual leave.
We were full of ideas but instead we were channeling all of our energy to third party projects (in this case, our employers) when we could have been investing in own projects.
Then we had the idea to create "Moments of Life", an independent television series that would follow our travels around the world, with a special focus on adventure activities, culture and the natural beauty of the world.
To bear the costs of our travels and the production of the television series, we decided to create a parallel production of videos specialising in luxury hotels and restaurants.
Prior to leaving, we carried out 6 months worth of research and contacting companies within New Zealand, the site of season 1 of our series.
When we left Brazil we had enough money to stay in New Zealand for 3 months and buy a car.
We had nothing to lose, if it didn't work we always had the option to go back and start over (although this hypothesis has never crossed our minds since we left Brazil …).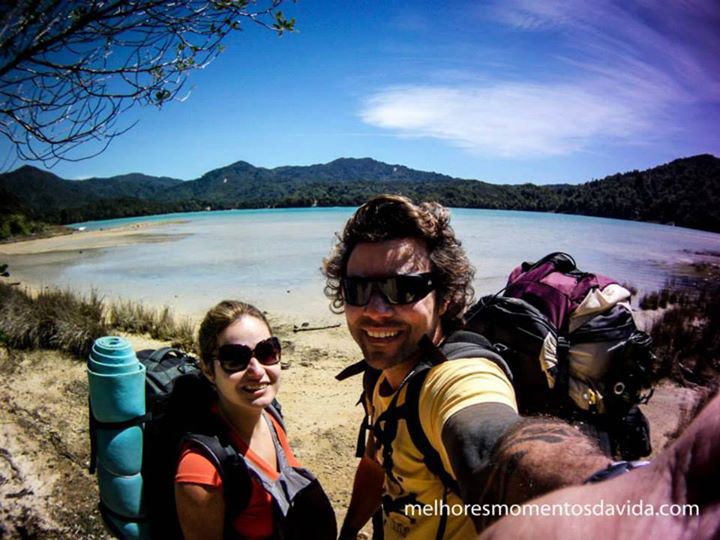 How long have you been on the road so far and how does it feel?
We've been on the road without going back to Brazil since December 2012.
Before that, we spent a lot of time in some European countries but always came back home. We had a house at the time!
Since 2012, the longest we've lived in the same place was two months but the average length of stay in a place usually varies from 5 days to 3 weeks.
It feels like freedom in the sense of not having to satisfy anyone anymore, which is also mixed with a little anxiety as we never know where the next step will take us.
Nonetheless, it's NEVER boring! lol
Travelling the world and working at the same time requires a lot of discipline and usually, we full time travellers tend to show the fun side of travel a lot more than the moments of hard work. What is a normal day like for you? What are your main habits? And what are your main difficulties?
Yes, it requires a lot of discipline, you said it all.
The term "digital nomad" is fashionable right now and the glamorisation of it comes from the fact that so many blogs spread this idea that is easy to live around the world and make good money while working little.
This is not true!
We work loooong hours and we work often – more than we'd work in an office for an employer. Here, the office is always with us wherever we go.
It's hard to find balance, especially in our case as we depend on constantly finding new customers to keep the money coming in.
We have to have a long-term view, so we always plan our steps 3 to 4 months in advance.
In day-to-day work, we divide our tasks…
Vagner is the Artist, the part of creation is up to him. I take care of all practical matters, administrative/financial, in addition to capturing the work and building relationships with our customers.

At the time of this interview you had 72 professional videos on Vimeo. Could you highlight your top 3, the 3 most difficult to produce and the 3 that created more income?
It's hard to pick our favourites but we enjoy the videos we did for the Punakaiki Beach Hostel, Marndadee and Old Slaughterhouse.
The most important thing for us is not what gives us more money but what is more enjoyable to do.
The most difficult videos to produce are the ones that offer more challenges and this usually happens when places are not so beautiful.
In this case, we have to make the place look beautiful and it requires a lot of imagination. lol
A Video from "Melhores Momentos da Vida" Season 2 -Thailand:
Speaking of money … When someone signs up to our list here on the blog we wonder what else prevents a person from travelling more. The most outstanding response is lack of money. I'm curious, how do you make money? What is the process of acquiring new customers like?
Today all of our revenue comes from promotional videos that we produce along the way but this wasn't always the case.
When we arrived in New Zealand we worked with various other things (harvesting flowers, selling fruit, as hostel managers) and in the meantime we made some videos for free, with the goal of setting up a portfolio of big names.
From this portfolio other opportunities have emerged, we have gained visibility, and can charge a fair price for our work now.
I do the part of capturing new clients. I contact hundreds of companies (via email or telephone) offering our services a few months before we get to a city.
Now we've found a good strategy but there were many mistakes and successes to get here.
What professional equipment do you use? Do you intend to acquire more or dispose of some?
We have two DLSR cameras (Canon 70D and a TD1, our darling), a DJ1 Phantom (drone), a GoPro, microphones, lenses, etc …
A little further ahead, we intend to buy a Sony A7.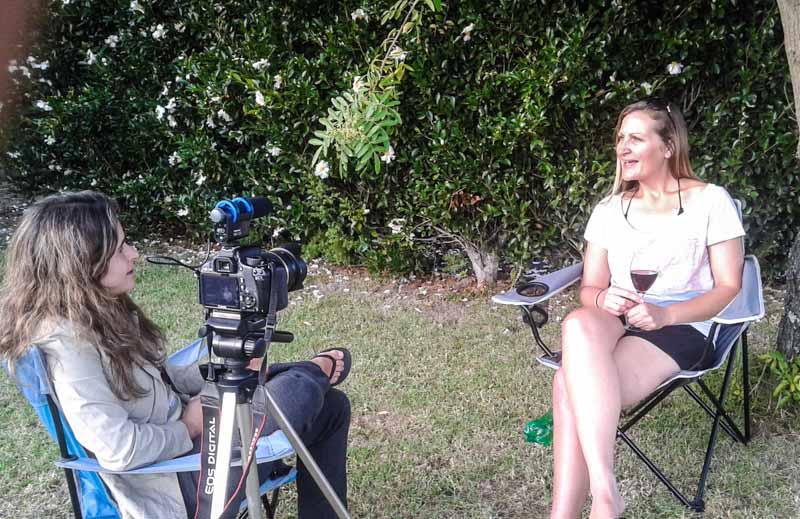 If you don't mind saying, how have your prices progressed since you began until now? In previous conversation, Vagner told me that in the beginning you were doing more exchanges but now not so much. Could share more about this?
At first we charged less but with the introduction of some luxury hotels and more complex jobs that have required more days of work, we are starting to charge more now.
It always depends!
Each case is different, we can not charge the same price for a small hostel that can be shot in a single day and on a tight budget, as a huge hotel with five restaurants, which would take at least 4 days to shoot and require a much higher return.
The formula that works the best for us is a money package + accommodation.
We quote the full price of the video but we propose that half of this amount is paid in accommodation, as we need to get to know the place in order to shoot our TV series.
We usually stay one to three weeks in one place and receive a share in cash.
This way, everyone wins.
The client loves to know that they are paying for a valuable product.
We sell our product as a unique opportunity for the client, while making it personable with prior research about the companies before I contact them.
I always make it appear that the company was handpicked, special and not like I'm shooting in all directions.
Little details make all the difference.
How do your partnerships work within various fields (tours, accommodation, equipment, etc.)?
In New Zealand our partnership worked very well.
Kiwi people were super open, and we were surprised with the ease we had closing partnerships in Brazil thereafter.
We select companies that interest us and we send out a proposal letter presenting our project, our proposed "investment" from the company (in this case, what we are asking, usually some sightseeing or a few days accommodation in a hotel) and what we can offer, which is visibility for the potential partner.
With our experience we have learned that sometimes it's better to ask for a lot and it's also important to know exactly what you want (don't leave you request open) as makes it easier for all sides.
The fact that the two of us together are almost a complete communications agency (I'm the journalist and producer and Vagner is the graphic designer, web designer and videomaker) has allowed us to create professional material, which makes all the difference because it passes on credibility and opens doors.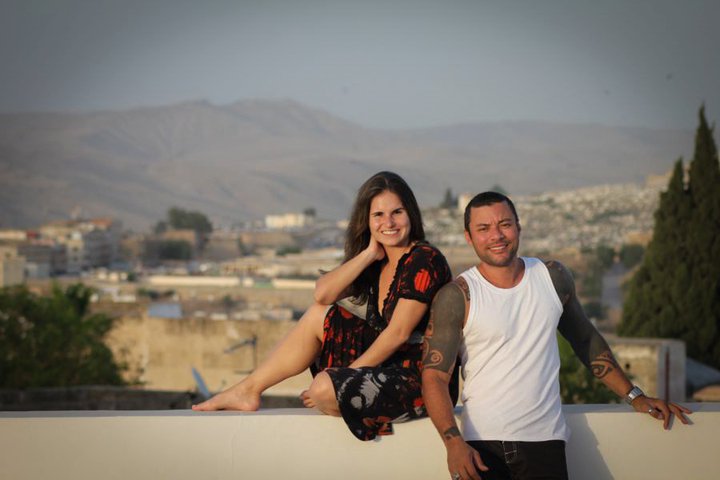 Thank you Barbera and Vagner! We really appreciate your participation and hope you both have a fantastic and unforgettable journey through this amazing world. Here's a final message for the readers of this interview..
"If you really want something, plan, invest in the necessary skills to make it happen, and do it! If you use your time productively and put your energy into something intentional, things will happen. FOCUS, STRENGTH AND FAITH!"
Are you considering a location independent career in travel filmmaking? Don't leave without looking into Nomadic Matt's Superstar Blogging Course – How To Become A Travel Filmmaker…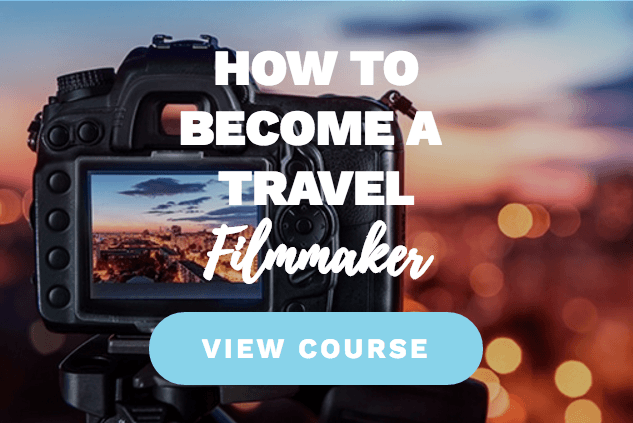 ***
Did Barbara and Vagner from Melhores Momentos da Vida inspire you? Have you always dreamed of doing something like this? If you enjoyed this interview or it helped you in some way, please remember to share it with your friends!