Are you ready to begin experiencing and indulging in the finer things in life? Then you'll find it beneficial to upgrade to a credit card that reflects the comfortable lifestyle you wish to lead.
The BDO Titanium Mastercard is certainly a standout contender amongst the most premium credit cards in the Philippines. Aside from allowing you unlimited access to your high credit limit on international trips, this credit card also provides access to the most exclusive deals, making it a valuable asset for frequent travelers to have.
Banco de Oro (BDO) offers a wide range of flexible credit cards that are perfect for various types of people. From the basic to the elite offerings, they find ways of catering to everyone's needs. Perhaps an upgrade from their classic offerings includes the much-coveted BDO Titanium Mastercard.
This boasts of all the basic functions of a regular credit card with premier additional benefits. If you are interested in ordering the BDO Titanium Mastercard, read on.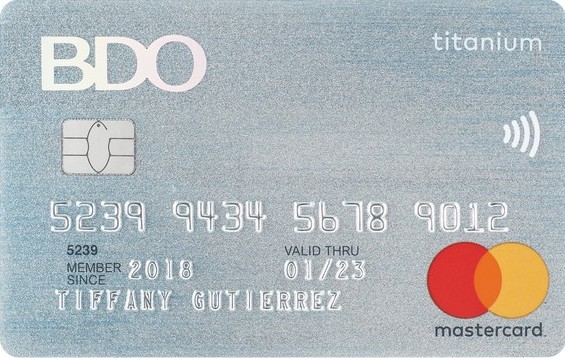 BDO Titanium Mastercard Credit Card
Finding a suitable credit card that provides the right terms and benefits to suit your lifestyle is one of the most essential aspects to consider before applying for a credit card. Aside from studying its level of accessibility, advantages and even costs, you also need to reflect on its flexibility.
For those of you who want to get the best of both worlds, applying for a BDO Titanium Mastercard comes with heavy-hitting perks…
BDO Titanium Mastercard Benefits
Accepted worldwide, this luxury credit card allows you to experience the following:
Points Redemption Program: For every ₱40 local transaction or US $1 international transaction = 1 point. Use these points to redeem travel miles!
Flexible/high credit limit
Free Travel Accident and Inconvenience Insurance Coverage
Crossborder Treats: Exclusive treats from partner merchant/s on international travels
50% Off Dining Programs
Travel Getaways: Exclusive rates and deals and top-of-the-line resorts
Dual Currency Billing Option: Convenience of paying with Philippine Peso or US Dollar, allowing you to pay the exact amount
Cash Advance
24-Hour Protection
Easy Account Access Through the Mobile Banking App
BDO Titanium Credit Card Fees
The annual fee for the BDO Titanium Mastercard is ₱4,500. However, the annual membership fee for up to 6 supplementary cardholders is free for life.
The interest rate which applies for both US Dollar and Philippine Peso accounts is 3%.
Bear in mind that any late or missed payments, cash advance services, and foreign exchange conversion fees also apply. For example, the cash advance charge is 5% of the amount withdrawn or P500, whichever is higher. There is also a 2.5% charge for foreign transactions.
You can see a full list of fees and charges here.
With the BDO Titanium Mastercard you can enjoy a high credit limit (available in both Philippine Peso and US Dollar) that you can spend on your own terms and access anywhere in the world. This will be determined by the bank based on your financial analysis.
Apply For a BDO Titanium Credit Card
To apply for the BDO Titanium Mastercard, you can simply fill out the application form on the BDO website or go into one of their many branches.
Make sure you provide their required set of documents, including proof of ID, proof of income, and proof of residency.
Interested applicants must be between 21 to 70 years old and receive a minimum gross annual income of ₱1,000,000.
BDO Titanium Mastercard & Travel
Frequent flyers and travelers will find joy in the fact that BDO Titanium Mastercard holders receive a plethora of perks and discounts worldwide. Not only that, you'll enjoy rewards points that can be exchanged for Air Miles and Free Travel Accident and Inconvenience Insurance Coverage!

How to Contact the Bank
If you would like to get in touch with the bank, you can call them by (+632) 8631-8000. You can also find their main address at 7899 Makati Avenue Makati City 0726, Philippines.
Conclusion
If you're looking to upgrade to a more advantageous credit card and start enjoying worldwide indulgence at your fingertips, apply for your exclusive BDO Titanium Mastercard today. To find out more, contact BDO.
Disclaimer: There are risks involved when applying for and using credit products. Ensure you consult the bank's terms and conditions page before agreeing to anything.