Pin this post: Where to Stay and What to Do in Medellin >>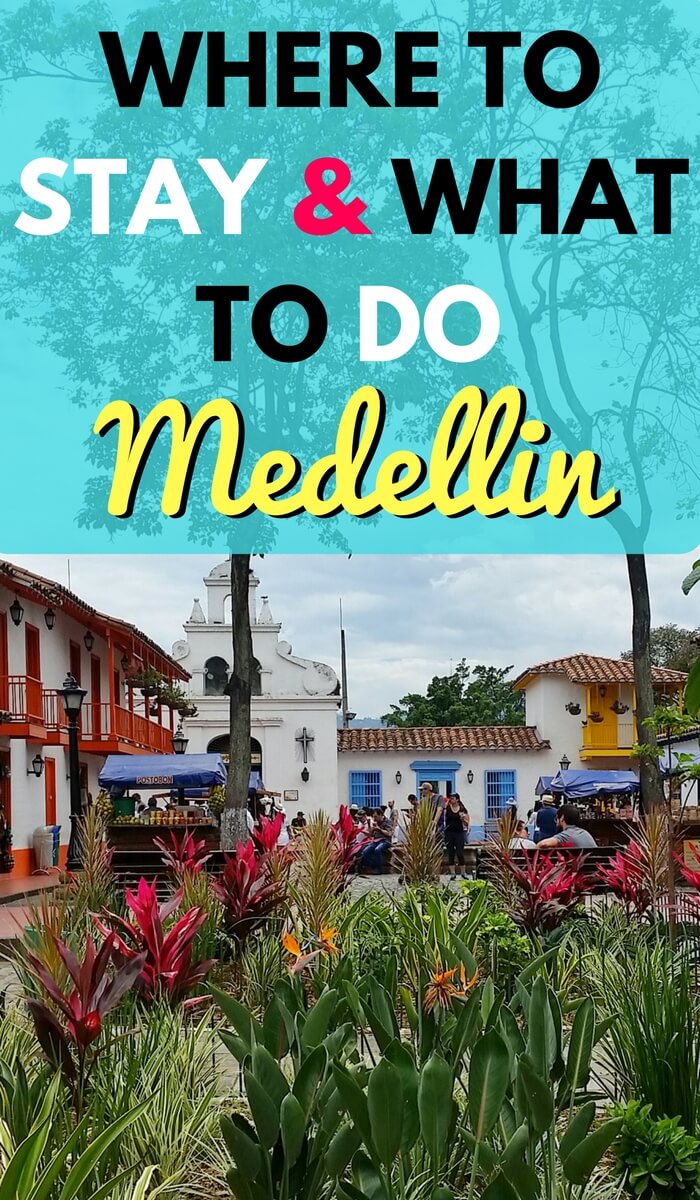 "You have to go to Medellín" about 4 different people said to me when they found out Dan and I had booked a one month trip to Colombia.
"It's the digital nomad hotspot and well known for it's amazing weather... eternal spring, they call it".
Eternal spring sounded pretty good, yet, something just didn't appeal to me.
It may have been because I hadn't done much research on the city and honestly didn't know what to expect.
Or maybe I just had my mind set on Chiang Mai being the best city for digital nomads.
I told Dan that we'd spend five days max. in Medellín because my heart was set on Cartagena and the Caribbean coastline.
However, when we arrived, those five days quickly turned into two weeks and counting.
Why? Well most of the reasons are in this article.
We've absolutely fallen for Medellín and it's people, food and culture.
In fact, I'll probably cry when (if) we leave.
That said, I'm so keen to tan on a Caribbean beach with a coconut in my hand, so it's not all that bad.
Below I want to give you a run down on where to stay and what to do in Medellín (kind of like a Medellín travel guide, I guess).
We've spent the majority of our time in the neighbourhood of El Poblado, purely because this is where all the best hangout spots are but we did take some time to explore Medellín further and this is what we came up with.
Our Personal Guide To Medellin Colombia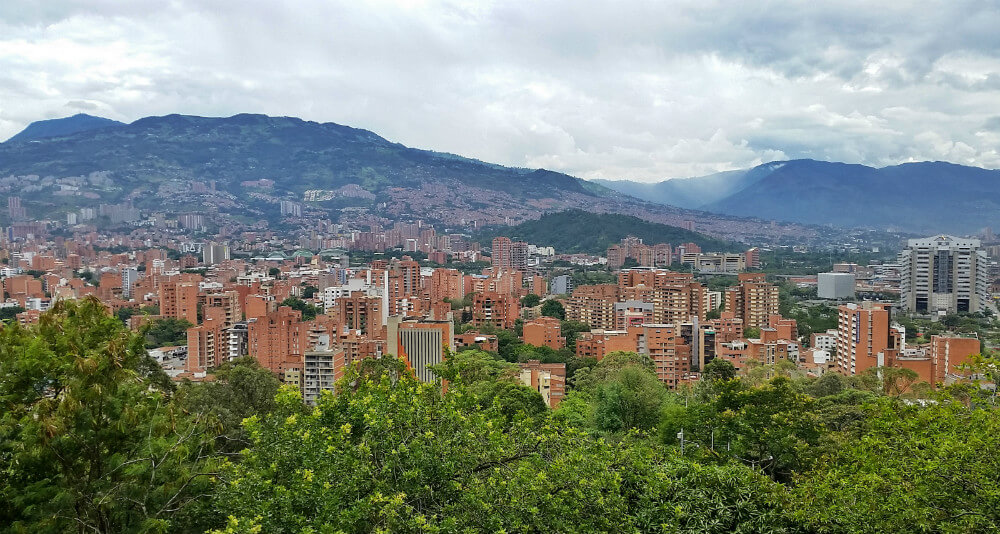 Medellin is a Colombian city situated in the Antioquia province.
It is located in a valley and surrounded by dozens of green mountains.
As I mentioned before, warm weather stays pretty consistent all year round and the air quality is great, like I can actually breath fresh air here.
That might sound weird but I just spent the last year in São Paulo, Brazil so clean air is like a luxury for me.
One of the main reasons why so many people are initially attracted to Medellín is because of the low cost of living.
Compared to other Colombian cities like Bogotá and Cartagena, Medellín is cheap cheap
I saw a place selling coffee and iced tea for $1 the other day!
In fact, you could probably argue that Medellín is one of the cheapest cities in South America.
Of course, compared to a country like Bolivia, Colombia isn't that cheap but for someone travelling from the US or Australia, it's pretty darn inexpensive.
I'll be putting a post together on the cost of traveling in Colombia soon, including a price breakdown for Medellín so to stay updated and find out when that post goes live, join our mailing list (you'll also get a free eBook, just because).
Once you arrive in Medellín, it isn't long before you have an opinion of the place and I think for most people, it's a good one.
Its vibrant atmosphere, great food and lovely people make Medellín irresistible for slow travelers and digital nomads looking for somewhere to stay long term.
If slow travel isn't your thing, don't let that hold you back because Medellin is also a fantastic city for tourists and backpackers!
Not only are there plenty of exciting things to do, see and eat, there are also a wide range of accommodation options from budget to luxury.
Sooo, Medellin is pretty much perfect for everyone!
Where To Stay In Medellin
El Poblado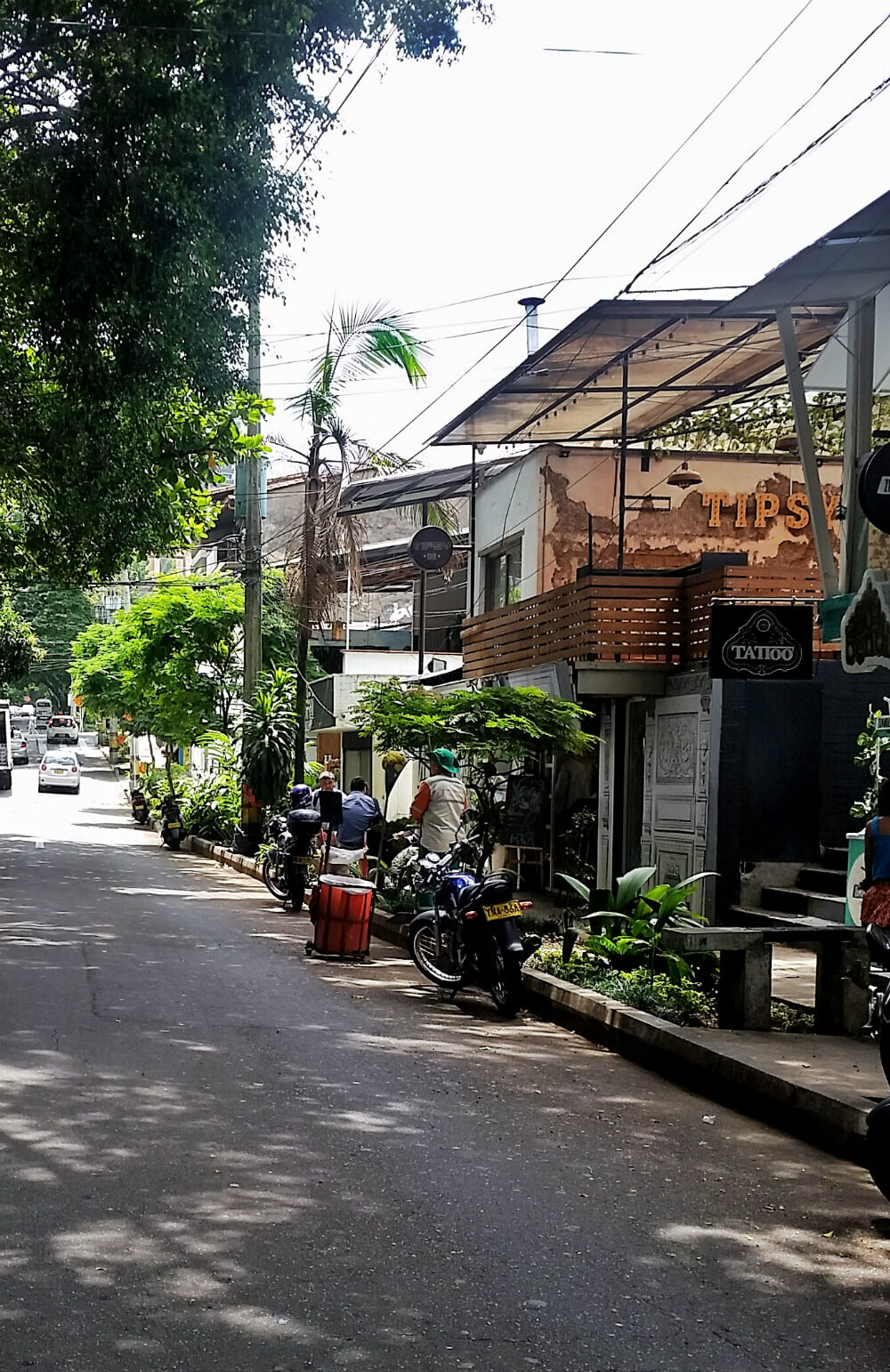 Whether you plan to visit the city of eternal spring for business or leisure, El Poblado is probably your best option out of all the places to stay in Medellin.
There are a few reasons why:
El Poblado is safe, clean and well developed
Most hotels and accommodation options are situated around this area
There is a wide selection of indie cafés, bars and boutique stores which make the neighbourhood an enchanting place to wander around
There are trees and freshwater streams - you can find real jungle in the middle of a concrete jungle
Everyone is friendly and open to connecting with you
El Poblado is home to an amazing expat and traveler community so you'll have absolutely no problem meeting people if you're traveling on your own
As I said above, there's a wide selection of accommodation options in Medellin so it's really just down to your travel style and the level of comfort you're looking for to find the perfect place for you.
Below I have listed three different places to stay in El Poblado that range from luxury to budget to local.
Boutique Luxury: Hotel Du Parc Royal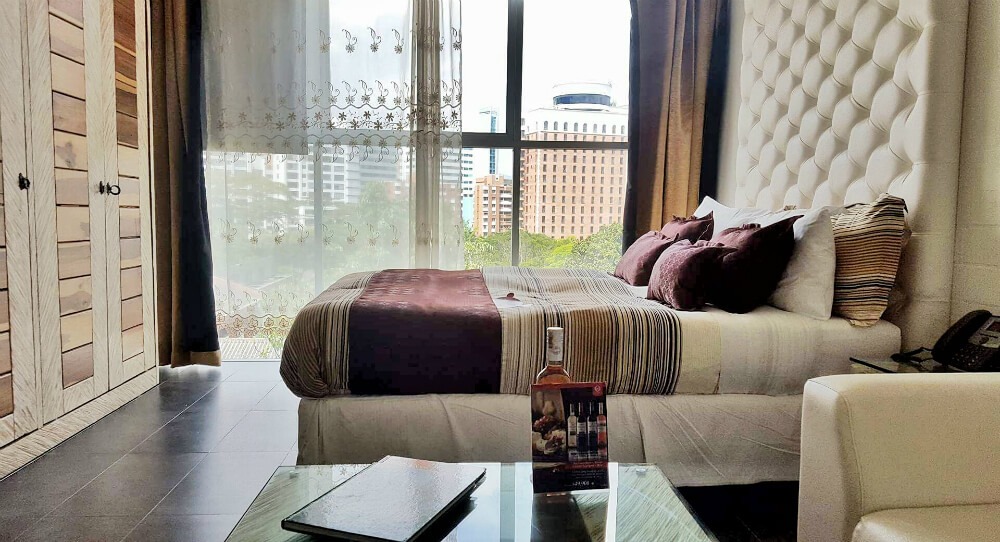 Hotel Du Parc Royal is situated in one of the best spots in Medellin.
Sitting directly in between Parque Lleras and Parque El Poblado, you are literally a 2 minute walk to everything - cafés, bars, restaurants, shops, supermarkets and more.
Hotel Du Parc Royal is a luxury boutique hotel combining modern elements with a little French charm.
Not only are the rooms clean and spacious, they're also cosy and tastefully designed.
A delicious buffet breakfast is served up each morning consisting of tropical fresh fruits, pastries, breads, cheeses, eggs your way, traditional Colombian dishes, coffee and juices.
The WiFi worked well in our room so we pretty much spent our entire first day in robes, working from our comfy bed with a view over Medellin!
To read our whole review, click here. | To book a room at Hotel Du Parc Royal, click here.
Budget: Happy Buddha Hostel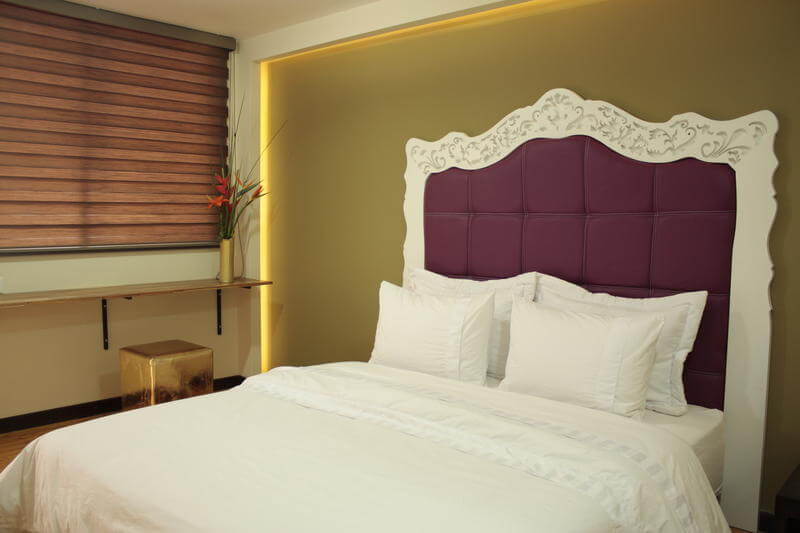 I'm going to admit, neither one of us have stayed at Happy Buddha Hostel but I've heard great things.
In fact, I looked into staying in one of their private rooms because based on the pictures and reviews, they are nicer than most hotel rooms I've stayed in.
Unfortunately they had no availability which says something.
The location is also convenient, situated in a lovely street with trees, cafés, bars and restaurants.
I guess you could say that this part of El Poblado is 'upper class' yet there are still a variety of down to earth hostels and hangout spots.
To book a room or dorm at Happy Buddha Hostel, click here.
Unique: Bambú Glamping House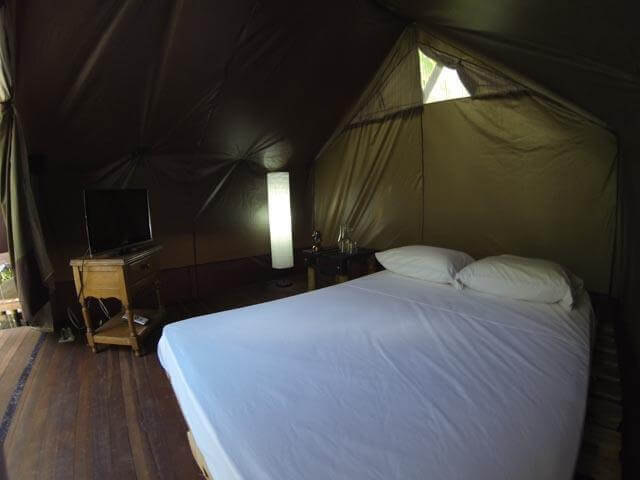 This is another place we didn't get the chance to stay at but would love to experience if (when) we return to Medellin.
Situated in a jungle within a concrete jungle (literally just around the corner from all the bars and cafés in El Poblado), Bambú Glamping House is a hostel with a twist - they offer a 'glamping' experience.
Ever heard of glamping?
Basically, it's glamorous camping, meaning that inside your giant tent you have most of the luxuries of a hotel room (depending on how luxury you go).
This hostel offers two tents, each with a proper bed, tv and a couple of other little things that take it from a normal hostel stay or camping experience to a chic adventure.
To book a tent, room or dorm at Bambú Glamping House, click here.
Local: Airbnb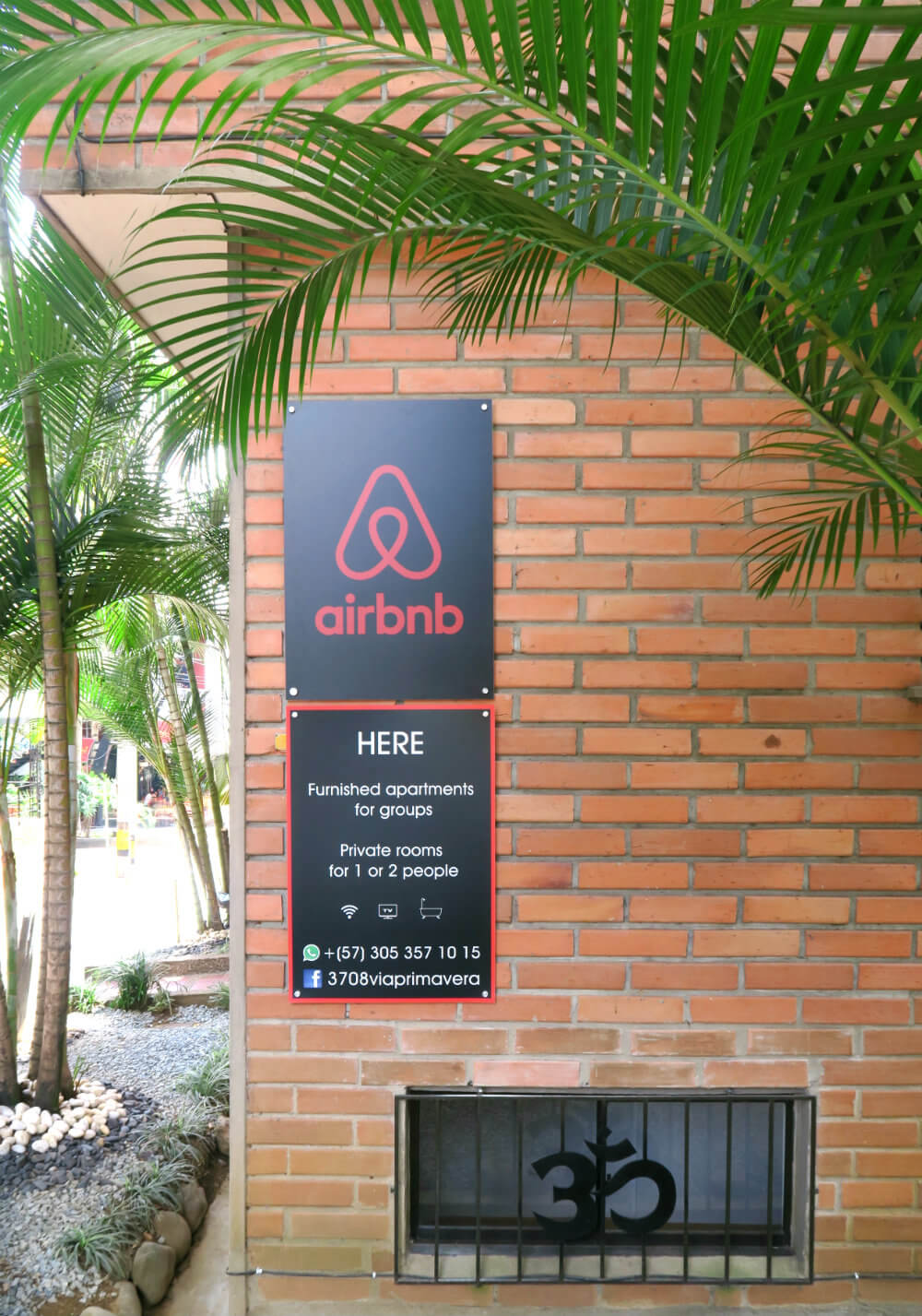 Then you have Airbnb, the perfect option if you are looking for a more local experience or wanting to stay in Medellin for a longer period of time.
During our time in Medellin we've stayed with two different Airbnb hosts who have welcomed us, cooked us breakfast, washed our clothes, you name it.
While Airbnb isn't as cheap as a hostel, you can choose to rent a place to yourself or rent a room in someone's home.
We've tried both but here in Medellin we've enjoyed staying with locals as it has helped us to learn more about the El Poblado neighbourhood and connect with other locals and travelers.
To book an apartment or room in Medellin through Airbnb, click here.
Laureles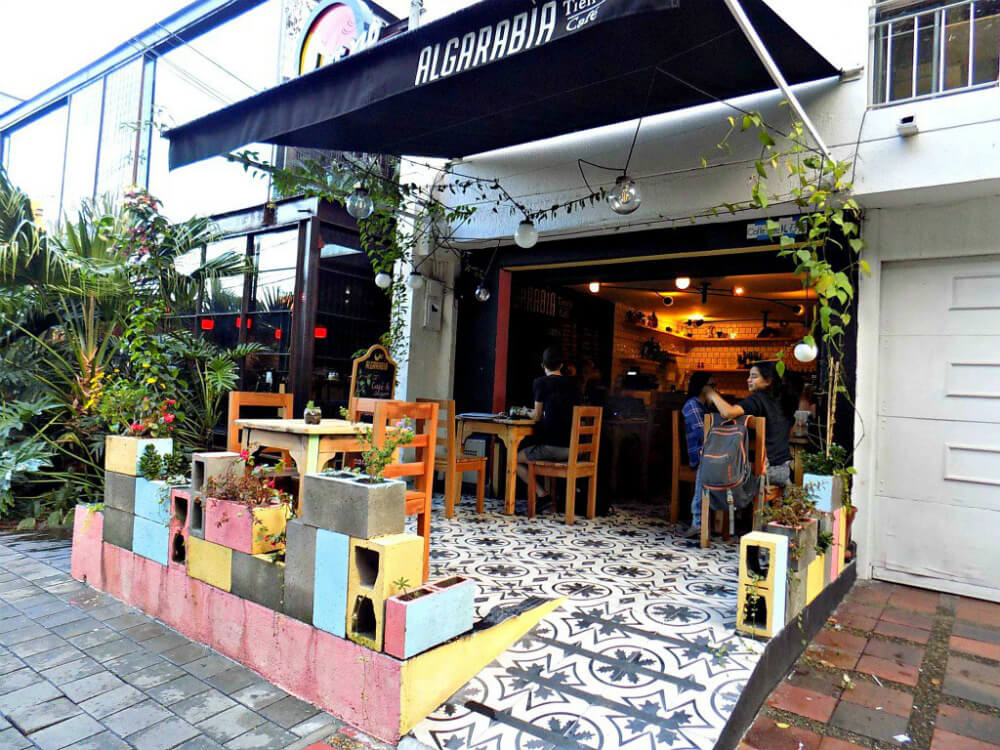 If you are looking for a neighbourhood in Medellin where you can get a little more involved with the local community and steer clear of the touristy areas, we've heard that Laureles is a good place to stay.
In fact, they say that Laureles is 'up and coming' and 'the new Poblado'.
I have done a bit of research on Laureles as we were planning to stay there before we found a great place to stay in El Poblado.
There are a few different hostel, hotel and Airbnb options but not as many as El Poblado (naturally).
Laureles is home to quite a few expats and digital nomads who have traveled to Medellin for a long term stay and there are apparently a variety of nice cafés including Naturalia Café and Café Zeppelin.
What To Do In Medellin
So you're looking for things to do in Medellin, hey?
Not a problem.
If you have no idea what to do in Medellin it's always a good idea to ask the local people, including your Airbnb host, hotel reception staff or hostel manager because they always give the best advice!
Here are some of our recommendations for things to do around Medellin, based on our experience mixed with some advice from others.
El Poblado
As I said before, El Poblado is the hangout hotspot.
It is here where you'll find some of the best cafés, restaurants, bars and clubs in Medellin and it's pretty much lively every night of the week.
While this neighbourhood does attract a lot of foreigners, I have spoken to some locals who say they also love to go out in El Poblado, so it's not just some pretentious place for tourists.
Here are a few things we like to do in El Poblado, Medellin...
Parque Lleras
Parque Lleras is like the central meeting point in El Poblado.
If you've met someone in a café and they invite you out for a drink that night, chances are, you'll agree to meet at Parque Lleras.
This is basically just a square surrounded by a number of different cafés, bars, restaurants and take-out shops.
When big events happen, like football games or cultural festivals, Parque Lleras is usually full of people celebrating.
And yes, we've been here for two weeks and have already been involved in crazy football celebrations and a giant motorbike parade.
Cafe's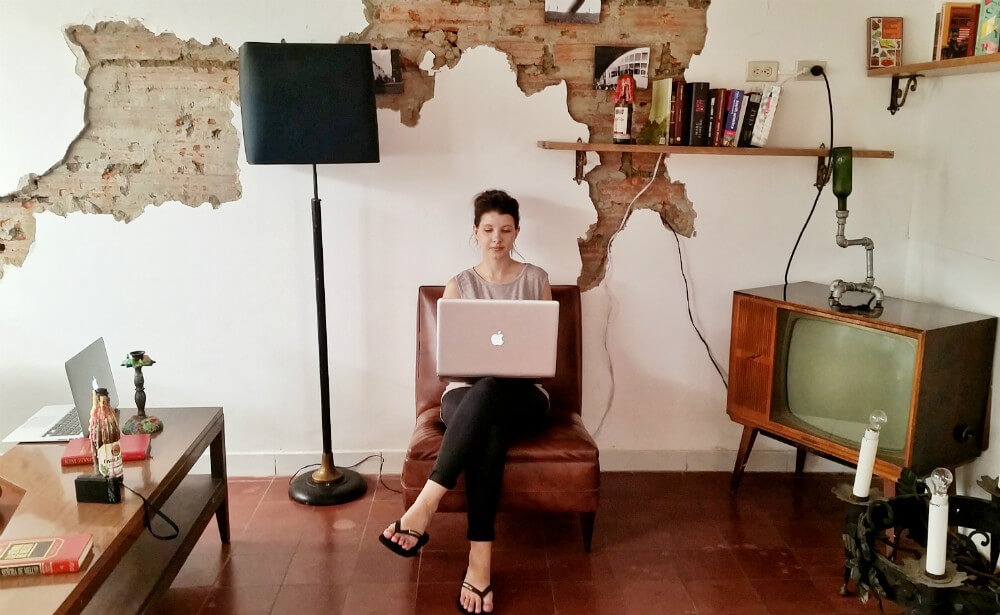 If you're looking for good cafés in Medellin, look no further than El Poblado.
Home to some of the best cafés I've ever been in, El Poblado has the whole coffee scene down pat.
Not only is the coffee good, the atmosphere is amazing.
Most of the people inside the cafés are digital nomads, entrepreneurs and remote workers all hustling along together each day.
The cafés in this neighbourhood are the perfect places to network if that's your goal!
Some of our favourite cafés in El Poblado include: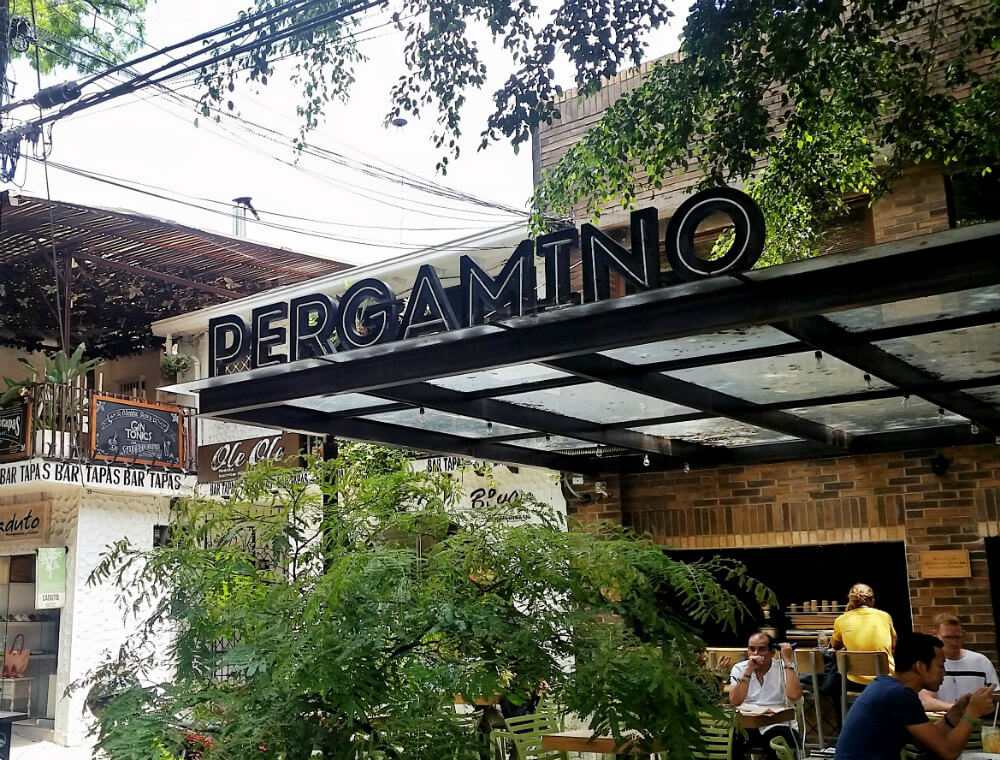 Nightlife
Not only is El Poblado known for it's amazing cafés, the restaurants, bars and nightclubs here are also top notch. In fact, I'm currently writing this from the coolest rooftop bar. It's called Panorama Rooftop Bar.
If the noise of nightclubs agitates you, then I would recommend staying a few minutes walk away from Parque Lleras because all around this area the bars and clubs keep the music turned right up until the early hours of the morning.
Medellin
Of course there's more to Medellin than El Poblado, which is what I'm about to share with you now. Here are some more fun, unique and exciting things to do in Medellin...
Pueblito Paisa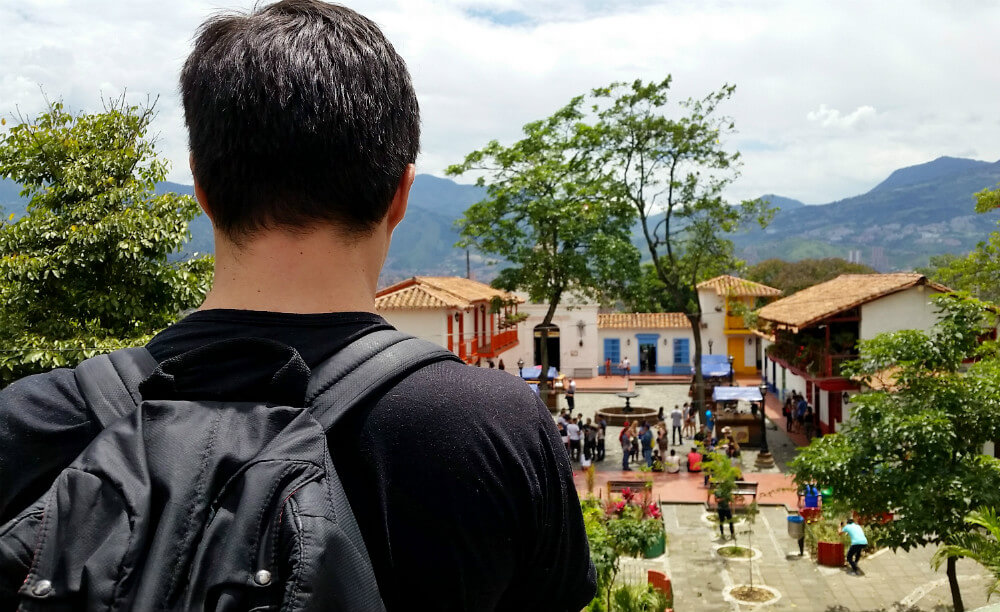 Pueblito Paisa has to be one of the cutest little places I've ever been.
It's actually a replica of a traditional Antioquia village and it was built in the seventies.
Nonetheless, they've done a good job of recreating the atmosphere and showing what a traditional village was like.
Not only will you find a teeny tiny town square with characterful buildings, juice stalls and interesting souvenir shops, you can also see over the whole of Medellin. It's amazing!
Pueblito Paisa is about a fifteen minute drive from El Poblado and Uber is probably your best option (Uber is super inexpensive in Medellin).
Botanical Gardens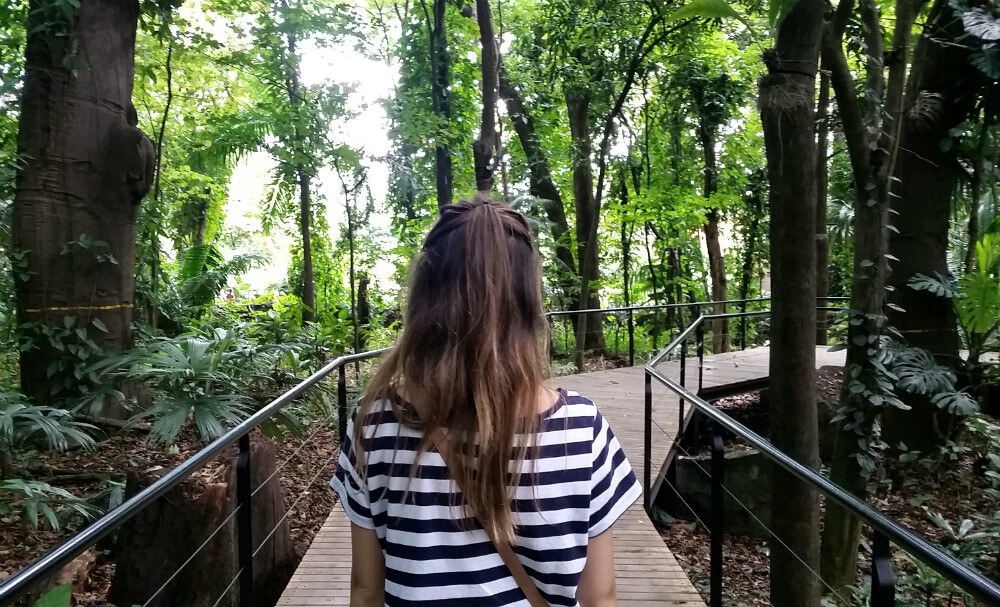 We actually stumbled across the Botanical Gardens when we were trying to get to Parque Explora.
The Uber dropped us off at the Botanical Gardens which was right next to Parque Explora so we decided to go in and have a look.
The gardens are quite beautiful as far as parks go.
We don't visit places like this all too often so it was nice and relaxing to take a stroll through.
Two areas that stood out most for us were the large lake, where you'll probably spot an iguana or two, and the Cactus garden.
Parque Explora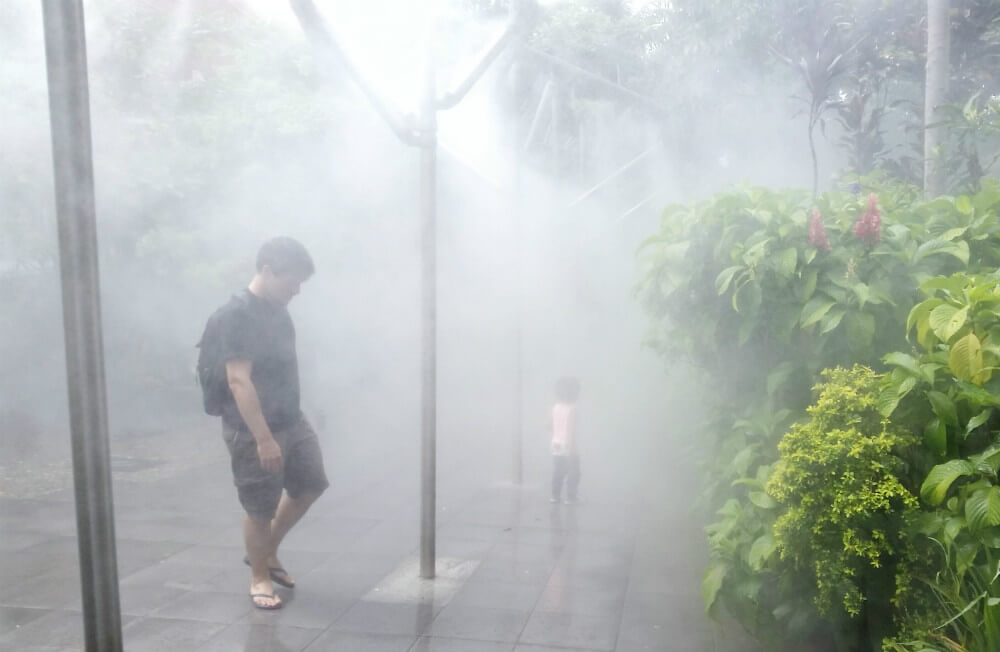 Parque Explora is totally different to what I expected.
I read up on it before going and learned that it was home to Colombia's largest aquarium but for some reason I still expected it to be some kind of park
Upon arrival we realised that it was more like a cool science museum, similar to Museu do Amanhã in Rio de Janeiro.
The funny thing was, I didn't realise that we needed to pay to get in (because I thought it was going to be a park with a mediocre aquarium somehow built into it).
It cost us 24,000 cop (around $8 usd) each and that gave us access to everything - the aquarium, reptiles and tons of different interactive games and experiments (which were super fun) - so it was worth it.
Parque Explora is a great space for both adults and kids to have some fun so if you're stuck deciding what to do in Medellin give it a go!
Metrocable (Cable Cars)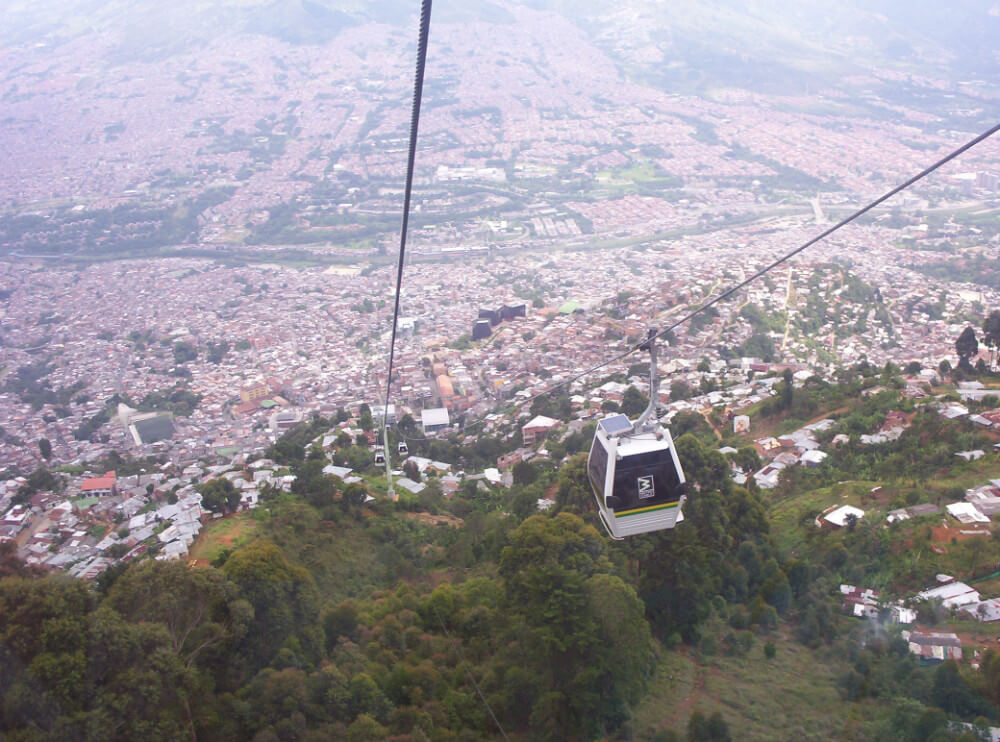 Every day we wake up and say to each other, "we should go on the cable cars today".
Then we pack our bags and head to a café in Poblado to work all day.
But seriously, we need to go on the cable cars. In fact, i'm not leaving Medellin until we've done it.
The cable cars were recommended to us by a few different people, both local and foreign, who all say it's an amazing experience.
A friend of ours who has been in Medellin for two months told me that the purpose of the cable cars is to provide the people who live in the hills easy access to the city.
If you look closely over the hills, there are thousands of tiny little houses dotted all over them, similar to the favelas in Rio de Janeiro.
While riding a cable car over Medellin may seem meh for the people using this as an every day mode of transport, first timers seem to think it's awesome, so we'll be getting onto that very soon and reporting back to you.
Cultural Festivals and Events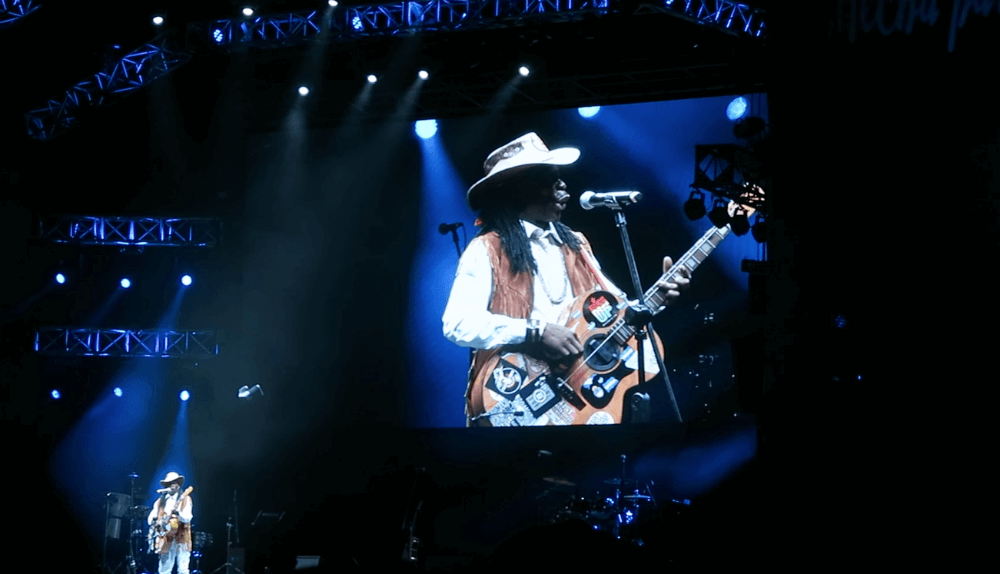 The city of Medellin is like one big party.
The people are always out and about, cumbia and meringue pump through the speakers of nearly every bar an there's always something going on!
Right now (August) Medellin is having their annual flower festival (La Feria de Los Flores) which runs for an entire week.
A lot of time, effort and money goes into making this festival fab-u-lous because the people want to show their city off at its absolute best!
During this festival, there is an outdoor music concert held every night of the week, each with a different theme... For free!
We went to the World Music night and it was amazing!
Always check with your host to find out if there are any local events happening while you are in Medellin because I can pretty much guarantee that you'll love it!
Guatape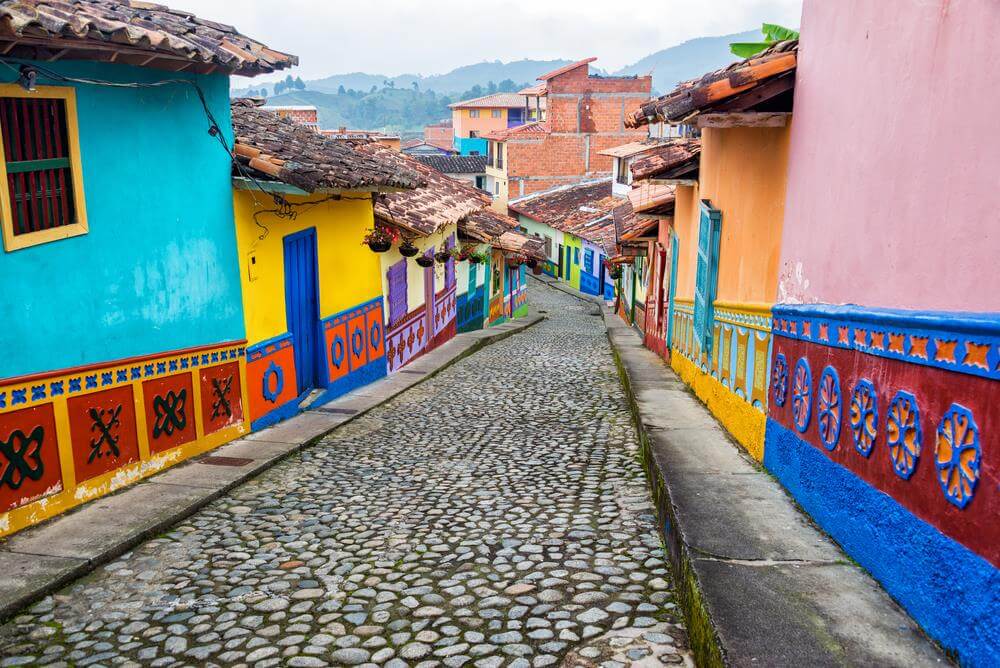 About two hours away from Medellin by bus is the quintessential town of Guatape which sits on the edge of a stunning reservoir.
In fact, it's narrow streets lined with little colourful houses and shops are often photographed and passed off as 'Medellin'.
Unfortunately Medellin doesn't look that cute but luckily, Guatape isn't too far away and can easily be done in a day trip.
Not only can you visit the colourful town, there's also a large rock called El Peñon De Guatape where you can take the stairs all the way to the top and enjoy incredible views over the reservoir.
You can book a day trip to Guatape through your hotel, hostel, or tour company or you can stay the night as there are plenty of accommodation options to choose from.
Watch The Video
We put all of these things to do and more into a travel vlog to give you a real view of what it's like to travel in Medellin... Check it out!
Travel Vlog: 10 Things To Do In Medellin, Colombia!
More Of What To Do In Medellin
We've still got a few more days left in Medellin so who knows what we might see and do in that time!
Of course, if we do come across something cool, we'll add it to the list for you.
Did our 'where to stay and what to do in Medellin' guide help you to figure out how you can best utilise your time when you visit the city?
We hope you have an amazing trip to Medellin and wish you all the best!
---
Now it's over to you reading this! Leave your answers in the comments section below...
Why are you considering traveling to Medellin?
Out of all the things to do in Medellin, what would you like to do the most?
Do you have anything to add to the list?