Update! Our ultimate travel job guide – Get Paid To Travel: 101 Amazing Travel Jobs – is now live! If full time travel is your ultimate goal but you're not sure how to make it a reality just yet, don't leave without reading this! Click here to read next!
That thought again. How can I be sure that I'm picking the right place?
Leaving your home to go to a country most people can't spell right is a difficult decision. But it's so exciting.
Will I get lost? Will it be safe?
With all the violent events in the world, nothing seems safe if you listen to the media.
You might also think that your Spanish is out of shape, but come on, how is your Thai or Indonesian?
I love the digital nomad lifestyle and Medellin.
Let me tell you why I believe they go well together – and who knows, maybe we'll see each other around here.
Medellin Digital Nomads: Why Medellin is the New Hotspot for Online Entrepreneurs
Pin this to your travel board on Pinterest >>
My story in short
I'm Jonathan Magnin, I'm French, 33 and I've been traveling around latin America for 18 months now. I love to be considered a digital nomad, and I usually spend about 30 hours per week in different cafes.
Earlier, I never liked school. I never liked the regular jobs that people worked at. After a degree in sports university and about 7 years of jobs without passion, I decided to find the work that suited me.
I started to ask myself what I liked to do as a kid, what activities I enjoyed doing and lost myself in. I looked for what I was good at. I searched for what really mattered to me.
Then I found spirituality and entrepreneurship.
Since then, I've spent between 3 to 9 months in different cities around the world.
Medellin Digital Nomads and the Entrepreneurship Movement in Latin America
As everywhere, internet gets better and cheaper.
While you needed to hire a designer for months to build a bad website 10 years ago, now you can build a great one yourself in a weekend for free.
Want to run a business and manage employees from a different continent? No problem, with tools such as Paypal or Slack, it's easy, whether you're in LA or in Colombia.
Google, Facebook, Space X and OneWeb are in a race to set up internet everywhere on earth. This means that in the next 5 years, 3 billion additional people will turn up online with cheap and powerful smartphones. This is going to be huge.
Digital nomads (or location independent people) are the nomad part of a bigger movement, which is entrepreneurship. Entrepreneurship is now the fastest growing economic sector in history, and we should reach 1 billion entrepreneurs by 2020.
Latin America won't escape this fast growing movement.
The New Possibilities
You don't need permission to start something anymore.
If you want to sing, don't look for a producer that likes you. Record yourself on Youtube and you will know if people like it.
If you want to write, don't look for a publishing company, create a blog and publish a book on Amazon yourself.
Now, while it's not easy, it has never been easier to start your own business. And to make it work well, it basically needs to be at the intersection of 3 things:
Your strengths

What you enjoy doing
A problem that people have in the world
(See more about this in our eBook, 12 Steps to Full Time Travel)
How Long Does it Take to Go From Office to Café?
The average time to receive the same salary that you had before is about 1000 days. Even if 1000 days seems like ages, it's highly efficient in the long run because once you hit that amount, it becomes 10x easier to scale that number to something much bigger.
This 1000 days also includes finding your purpose, studying entrepreneurship, building a communication channel (a blog) and finally, coming up with something to sell.
Of course this time can vary, but don't quit your job just yet, it takes time!
It's not for everyone, and it's hard. But it can be extremely rewarding when you can work towards your purpose.
Medellin is Safer Than You Think
Sure, the city went through hard times. About 25 years ago it had murder statistics that only a war zone could reach. Drug and corruption were ruling the country big time.
Sure, it's not over yet, and I know huge cocaine sales are made every day on the hills of the city but let's say that this is definitely a more separated thing now.
So as an expat in the touristic or higher class areas, you shouldn't see any of it. The country protects its interest in foreign investments and tourism is something they value. As a matter of fact, Medellin got elected the most innovative city last year. 
Sure, you still need to watch where you're going and not walk around with expensive items on you, but that's a precaution you need to take in any developing country.
Funny fact, earlier this year when I told Brazilian friends that I was about to go to Colombia, they all said "Are you sure? It's violent over there!" And guess what? The Colombians here told me the same about Brazil…
So don't listen to the media, they know bad news sell much better than good, so unfortunately that's where they focus all their attention.
Most Colombians Have Never Tried Cocaine
Quick point here. Don't think that the distinguished cocaine trading side of Colombia is a reality in the daily life of Colombians.
Most of them have never tried cocaine, mainly because they were educated within a violent environment caused by its commerce, and they simply don't want to participate in it.
And you shouldn't either.
The City of the Eternal Spring
If you check Medellin climate on Wikipedia like I did, you might find quite a lot of rain and stormy days.
The thing is, they'll register a day as "rainy or stormy" even if it rains just 2 drops. The weather does change quite rapidly, but that said, it seems as though the meteorologists are taking too many coffee breaks because the forecast is often inaccurate.
Coming from Europe, I would actually say that it's the city of the eternal summer because in my world, when you reach temperatures of about 28C (or 82F), it's a perfect summer day.
What about Medellin Culture?
Fiestas and days off are part of the Medellin culture.
From Thursday to Sunday the city is buzzing because everyone is out spending their hard earned salaries on beers and nightclubs.  
Salsa is also big here. Actually many of the salsa world champions are from Medellin, and guess what? You can get salsa classes with them at a reasonable price! So if salsa is your thing (it's mine…) that alone can be a decision factor.
Landscapes around the city are beautiful and perfect for daily excursions. The reason being, you can be out of the city and amid the surrounding mountains in just half an hour.
As a Medellin digital nomad, your dollars or euros can go a long way. You can have your own room in a shared flat with a local for about $280 USD, all included. Eating out won't ruin you and yes, the food is great!
The cafés around Parc Lleras in El Poblabo usually have strong WiFi and seriously good coffee. For the best experience, visit Velvet and Hija Mia – and say hi from me. 🙂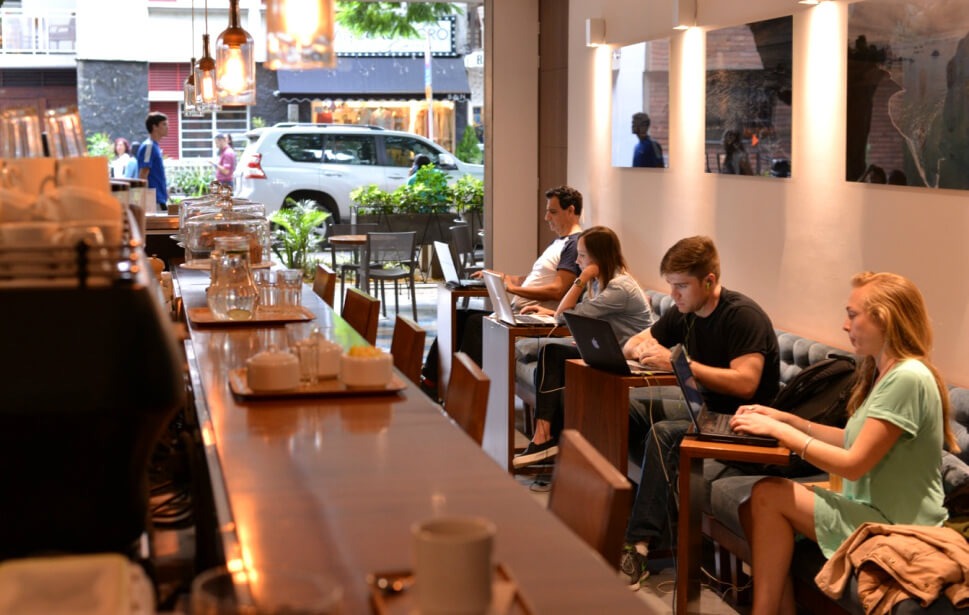 Finally, I would be misleading you if I didn't mention the beautiful girls you can find here. Not for every taste, not easy to get either, but if you like latinas, Medellin's a good spot.
It's not at all surprising why so many Medellin digital nomads find it difficult to leave.
Imagine yourself enjoying a real coffee from a beautiful cafe in Medellin, with your laptop in front of you and a couple of other digital nomads around. You've been courageous enough to get there and it's a truly fulfilling feeling.
Colombia as a Whole
It's tasty. It's lively. Man, it's Colombia.
This country is waking up fast, so don't let the media stop you. Do what sounds right for you and if you're attracted to Colombia, go for it!
Believe me, it's much better than you think.
Nos vemos!
---
Are you a digital nomad or working towards becoming one? Finding destinations with a low cost of living, vibrant culture and a great network of other digital nomads can prove difficult, unless you spend your life in Chiang Mai. Medellin is a fantastic alternative which boasts all of the above and more! Would you spend some time in Medellin? For what reasons? Comment below!