So you're heading to Rio de Janeiro – the glorious city of Samba, Caipirinhas and radiant natural beauty. But now you may be left wondering how to make the most of your time there.
You see, Rio de Janeiro is full of things to do but once you've got the big things out of the way like Christ the Redeemer, Pão de Açúcar and Copacabana Beach, it can be difficult deciding where to go next…
Don't worry though because we've got you covered!
Rio de Janeiro is one of our favourite cities in the world which is why we spent a total of 6 weeks exploring every corner we possibly could of the city and it's surroundings.
Here is a list of 7 things to do in Rio de Janeiro that we loved and think you'll absolutely love too. And if that's not enough, at the bottom of this page you'll find 12 more articles we've written about things to do in Rio de Janeiro!
Things To Do In Rio De Janeiro: What We Recommend Seeing And Experiencing
Keep these things to do in Rio somewhere easy to find… Pin this on Pinterest >>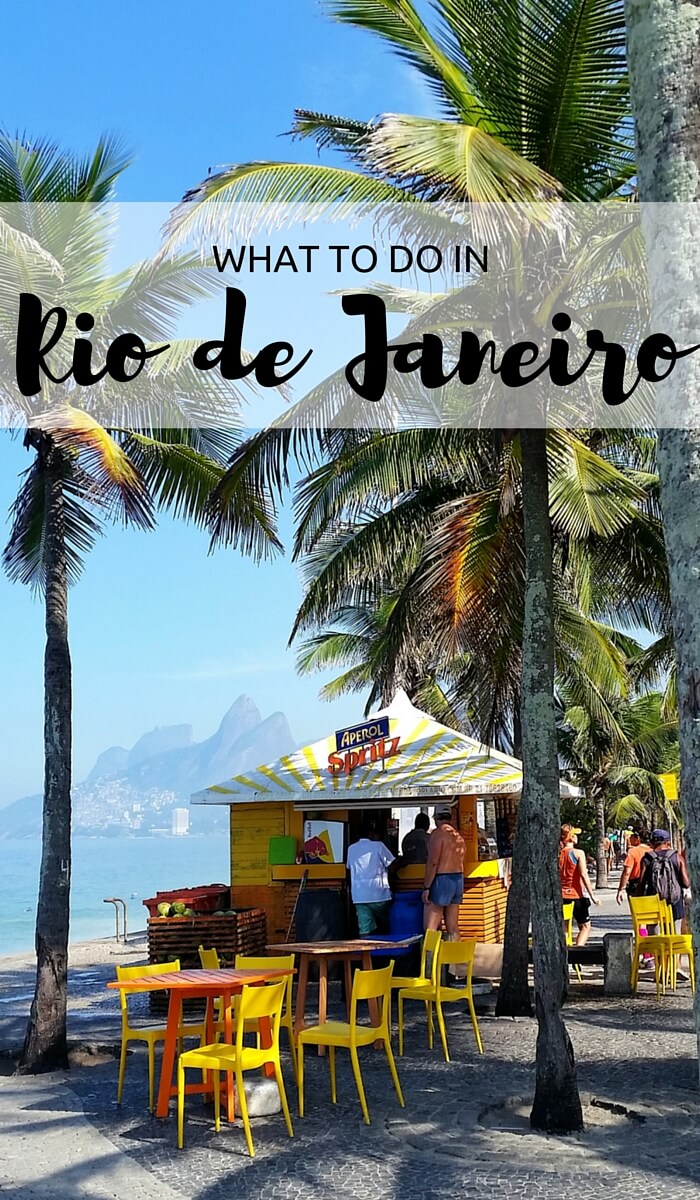 1. Ipanema Beach
How can we not start this list with Rio de Janeiro's trendiest beach – Ipanema, where romance blossoms and summer vibes radiate.
You may have only heard about Ipanema in the famed Bossa Nova song, "Garota de Ipanema", otherwise known as "The Girl From Ipanema" but when you visit Rio de Janeiro, this is one beach you cannot miss.
Surrounded by tall, distinguished coastal mountains and boasting clear, blue water that laps up against soft, white sand, Ipanema Beach is a real sight for sore eyes.
The image of Ipanema Beach is likely what you've seen splashed all over travel magazines and TV programs due to it's stunning scenery and dreamy summer atmosphere.
When you head to Ipanema there's a few things we highly recommend doing:
Grab a fresh R$5 coconut from one of the beach bar shacks and rehydrate whilst overlooking the waves rolling in below
Rent some beach chairs and an umbrella for R$5 each and chill out whilst being surrounded by all the action
Take a wander along the paved walking strip above Ipanema beach – there are many artisans selling unique jewellery and crafts
Take some time to explore the Ipanema neighbourhood behind the beach – this is one of the most prestige areas in the whole of Brazil with a number of boutique shops, cafés and restaurants you won't be able to resist
Ipanema is one of the most happening neighbourhoods in Rio de Janeiro, why not stay? You can search for all the best deals on Ipanema accommodation options here.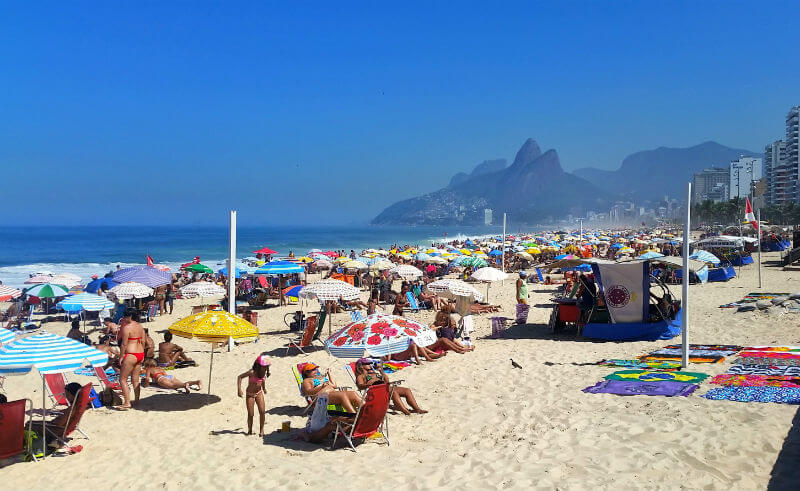 2. Lagoa Rodrigo de Freitas
If you are looking for things to do in Rio de Janeiro that are a little bit less 'done' by tourists, a visit to Lagoa Rodrigo de Freitas could be the perfect activity for you!
Situated just behind the the neighbourhoods of Ipanema and Leblon and in close proximity to Jardim Botânico de Rio de Janeiro (the Botanical Gardens), Lagoa Rodrigo de Freitas is a sizable lagoon surrounded by mountains.
All around the exterior is a flat walking/bike path which makes it really easy and enjoyable to do a full circle around the whole lagoon.
Along the way you will discover multiple view points, park areas and coconut/caldo de cana vendors to make your journey all the more interesting.
You may even come across some native Blue and Yellow Macaws but don't get too close, I got nice beak to the forehead (#angrybirds).
To do the full circle around the lake your best option is to hire bicycles, like we did, either from your accommodation or from one of the public Itaú bike stations which are located all over Rio de Janeiro.
To hire one of these you need to download the Itaú app and go from there.
At only R$5 per day, this is a really cost efficient, healthy and enjoyable way to get around Rio de Janeiro.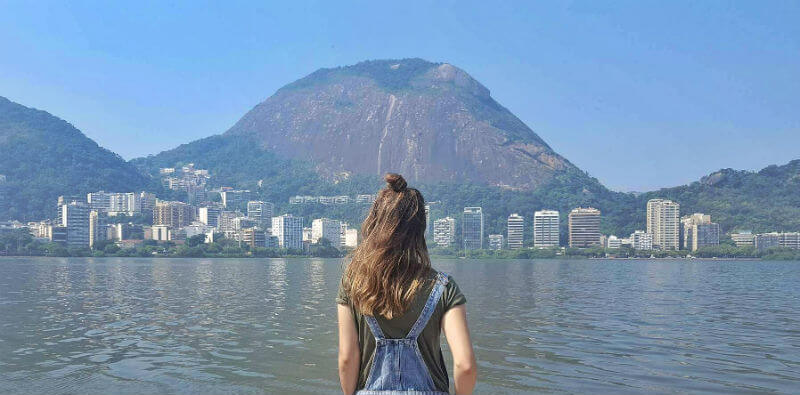 3. Explore The Pacified Favelas
Surrounding the beaches of Rio de Janeiro are hundreds of tightly packed hill neighbourhoods, otherwise known as 'favelas' or 'slums'.
These favelas are made up of hundreds, often thousands of tiny homes (shanties) stacked on top of each other, sometimes up to 11 stories high.
Favelas came about in the 19th century when soldiers had nowhere else to go.
Later, African American slaves with no land ownership or rights to an income began moving in.
Over the years, more and more slaves and poor people were forced into the hills, however, the modern favelas as we see them now began appearing more in the 1970's when many people left rural areas of Brazil for the city.
As they were unable to find work or anywhere to live, they were forced to set-up base in favelas.
Due to the circumstances of living in favelas, with little access to education, almost no opportunity for employment and extreme lack of public services, millions of people had to find ways to fend for themselves.
This led to a massive drug trafficking issue, where drug traffickers began ruling the favelas.
And as you may know, this eventually caused favelas to become severely dangerous places.
Nowadays, favelas are still mainly ruled by drug traffickers, however, all of the favelas in the South Zone of Rio de Janeiro and some in the North Zone are now controlled by the UPP (Pacifying Police Unit).
You can read more about this here where I wrote about our experience staying in Chapéu Mangueira, a pacified favela above Praia do Leme.
So why are we recommending you to visit neighbourhoods notorious for being highly dangerous?
Because with the introduction of the UPP many favelas are totally safe for 'outsiders' to visit now.
In fact, if you look on Hotels Combined or Hostelworld you will notice that there is a large variety of different hostels, guesthouses and pousadas located within favelas, some actually being more expensive than accommodation in Copacabana or Ipanema, due to the location (favelas offer some of the best views in Rio de Janeiro) and unique cultural experience you're likely to receive.
Which favelas in Rio de Janeiro are safe to visit? We recommend the following:
Morro da Babilônia/Chapéu Mangueira, located above Praia do Leme (Leme Beach) – this favela has beautiful views over the rest of the favela and Leme Beach and is home to many great bars
Vidigal, located above Leblon – this is one of the most popular favelas to visit due to it's incredible location and vibrance
Rocinha – this is considered to be one of Rio de Janeiro's largest favelas with between 100,000 and 200,000 inhabitants. While tourists do visit Rocinha, we recommend going with a local or a tour group to this one as it is so large that it cannot be adequately controlled and protected by the UPP.
Watch our motorbike ride through the Vidigal favela:
What do we recommend doing in the favelas?
Take a moto-taxi to the top – it's exhilarating and you'll see so many amazing people, buildings and winding streets along the way
Hike to the top (providing you take a safe route – ask locals first) and take pictures of the view below
Just explore – engage with locals, eat the street food and simply hang-out, there will always be action going on around you!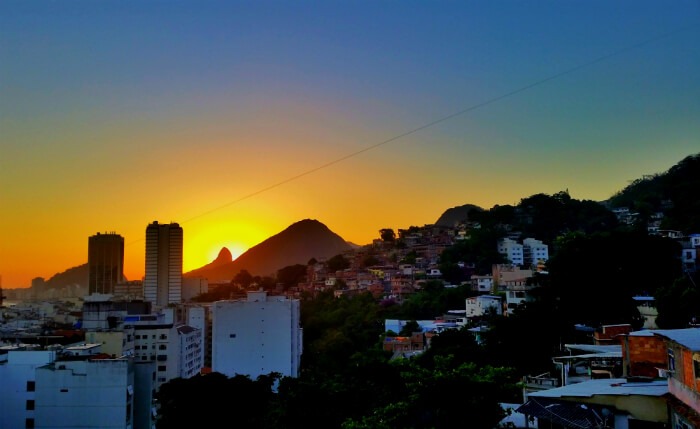 4. Santa Teresa
Located on a steep hill overlooking Lapa and downtown Rio de Janeiro, Santa Teresa is a quirky neighbourhood which is home to some of Rio's most classic architecture, colourful street art and winding narrow roads.
Even though the neighbourhood is situated on a hill with stunning views over Rio de Janeiro, it is not a favela.
In fact, Santa Teresa used to be home to a number of mansions which housed some of the wealthiest families in the city.
It was considered very prestigious in it's time but nowadays it has become more of an artistic, bohemian neighbourhood where you can immerse yourself in Carioca culture.
What is there to do in Santa Teresa?
This is a wonderful place to explore the winding streets and discover beautiful little hidden cafés and boutique shops…
Walk and see where your footsteps take you!
There are a number of amazing viewpoints all over the hill if you like photography and there's also a great deal of street art dotted all over if you are interested in the artistic aspect of Santa Teresa.
The atmosphere here is inexplicable – all I know is that sipping on my fresh orange juice outside a hill-top boteco, surrounded by Carioca locals sat down enjoying their knock-off drinks whilst watching the sunset behind the city below, was a really nice, feel-good experience.
Santa Teresa is a popular spot to stay in Rio de Janeiro because of it's distinctive character, proximity to Lapa and Downtown Rio and spectacular views.
In fact, we've stayed at three different places in Santa Teresa and would recommend them all, even though they were all catered towards different types of travelers.
Mambembe Hostel, located in the South Zone of Santa Teresa, is a cute little hostel with lovely views over the rest of the hill.
Even in a dorm we were spoiled with an outside terrace to watch the sunset on.
If you are a budget backpacker who likes to socialise and meet new people while you travel, Mambembe Hostel would be an ideal option for you. Click here to read our full review.
Terra Brasilis is a new hostel with a touch of luxury.
We say this because for a start, the view is amazing, and secondly, the place is really designed to feel homely and comfortable.
Complete with wooden floorboards and bunks as well as a lovely lounge and breakfast space on the downstairs balcony, this is a great accommodation option for you if you enjoy the communal aspect of hostels but prefer more comfort. Read more here.
Santa Tere Hostel is for those of you who again, enjoy the communal aspect of a hostel but like a little more luxury and comfort.
Complete with a large deck and swimming pool overlooking the city and lagoon below, Santa Tere Hostel is a modern space with an airy, open feel to it.
Book a private room here and you'll also get your own balcony and hammock with a view over the pool!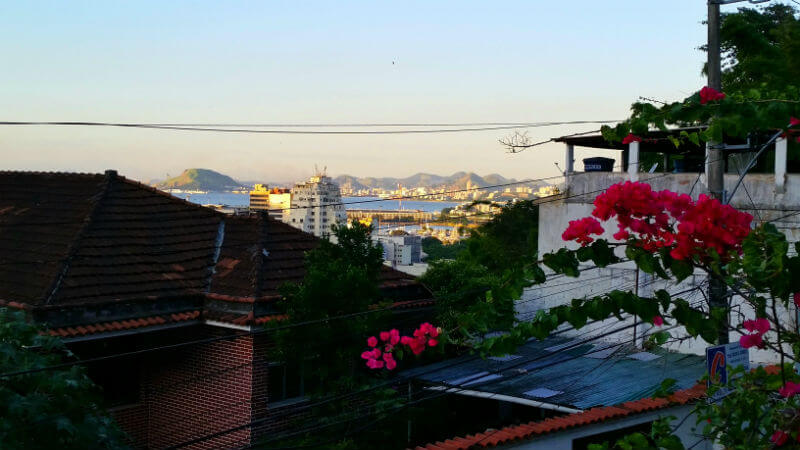 5. Lapa
Just down the hill from Santa Teresa you will find Lapa, the lively and popular neighbourhood where you can experience some of Rio's best nightlife.
This is where you can really immerse yourself in the culture of Rio de Janerio and mingle amongst the locals.
If you want to learn more about Samba this is the place to do it!
Lapa is home to a variety of vibrant Samba bars where you can drink caipirinhas (the traditional cocktail of Brazil), and dance the night away.
Or if you prefer something a little less energetic, why not head to Sinuca da Lapa and challenge someone to a fun game of snooker?
There are also plenty of great places to eat, including street stalls selling typical Brazilian foods such as tapioca and barbecued meat.
During the day Lapa is an interesting place to visit, with an opportunity to capture a beautiful photo on every corner, especially at the Arcos da Lapa.
Much like it's characterful neighbour, Santa Teresa, Lapa is made up of colonial buildings in a variety of colours, quirky pubs and plenty of special little one-off shops selling antiques and vintage pieces.
As the weekend approaches, Lapa becomes one of the most spirited neighbourhoods in Rio as it is the go to spot for both tourists and Cariocas to socialise and have some fun. Don't miss it!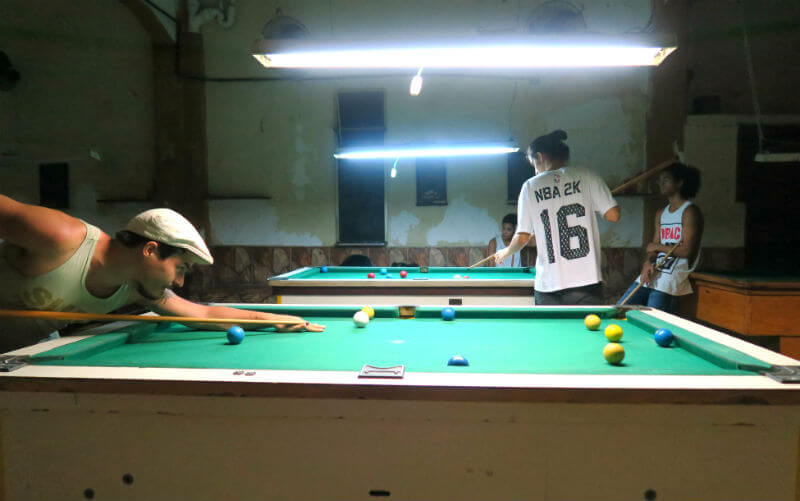 6. Escadaria Selarón
Connecting Lapa with it's significant other up the hill, Santa Teresa, Escadaria Selarón is an artistic masterpiece you'll kick yourself over if you don't pay a visit.
Made up of over 2000 small colourful tiles sourced from all over the world, Escadaria Selarón (Selarón Steps) has become a world famous monument over the years and has attracted thousands of tourists to the area.
The Chilean born artist, Jorge Selarón began working on the steps back in 1990 when he decided to renovate the damaged steps that ran along the front of his house.
As he was a painter, he chose to decorate the steps in the colours of the Brazilian flag, which were blue, green and yellow.
This seemed odd to his neighbours and they even mocked him for it until his work started gaining some traction.
Selarón soon became obsessed with decorating the steps, collecting tiles from construction sites and urban waste areas as he had no money.
When visitors began to find out about what he was doing to the steps, they started donating tiles from all over the world.
In fact, most of the 215 steps are covered in tiles sourced from other countries.
Sadly, in January 2013, Selarón was found dead on the steps with burn marks on is body.
Nowadays, tourists from all over the world visit Lapa to see the famous Escadaria Selarón, which the artist created as a 'tribute to the Brazilian people'.
To beat the crowds and ensure that you'll walk away with some beautiful photographs without random people in the background, visit on a weekday during low season (April – October).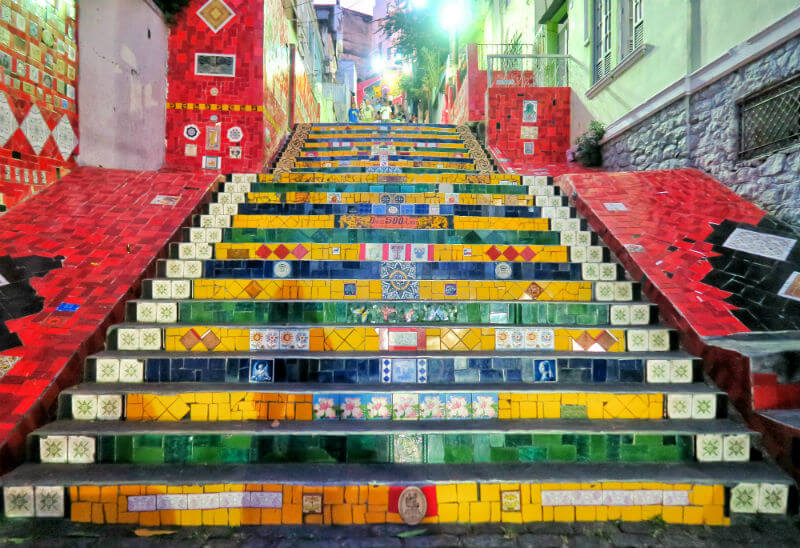 7. Museum of Tomorrow
Museu do Amanhã, otherwise known as the Museum of Tomorrow, is an incredible science museum built on the water at Pier Maua in Rio de Janeiro's downtown area.
Now before the word 'museum' makes you lose interest, don't be fooled!
We are totally not the museum type of people but this place was super cool.
First of the all, the architecture is out of this world (literally, it looks like something from another planet).
Think, Sydney Opera House with an ultra modern touch.
Costing R$230,000,000 to build, of course it was going to be nothing short of spectacular.
Watch the video here:
The whole area surrounding the back of the Museum of Tomorrow has such a serene feel to it and the three large pools filled with crystal clear water make you just want to dive in on a hot summer's day.
This isn't a museum of objects, it's a museum of ideas which is what makes the concept of Museu do Amanhã so much cooler than traditional museums.
When you walk in, there are five areas, or 'exhibitions': Cosmos, Earth, Anthropocene, Tomorrow and Now.
Each of these are interactive learning experiences designed to transform our thinking about the planet in order to shape a better future.
Museu do Amanhã is open between 10am and 5pm Tuesday – Sunday and is closed on Mondays.
Tickets are R$10 and if you purchase them online, you can skip the giant queue out in the sweltering sun (which trust me, takes a long time to get through).
Alternatively, go on a Tuesday and you'll get in for free!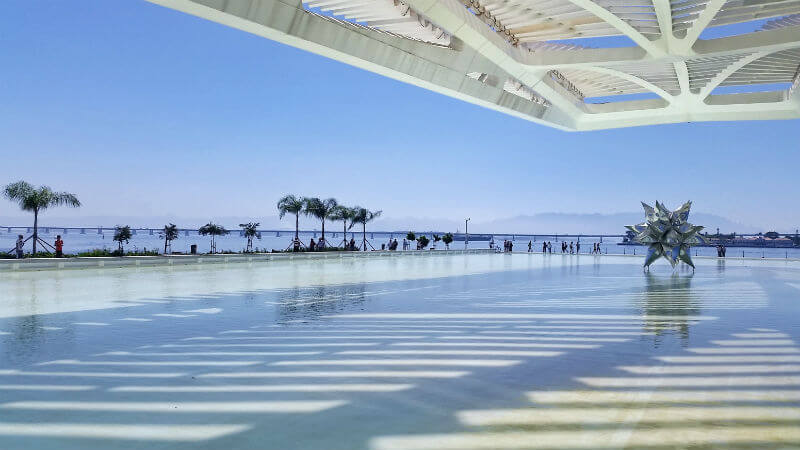 If you've been searching for things to do in Rio de Janeiro but keep on getting recommended the same old things (even though you've already been to all of them), our list of 7 activities should have given you some more ideas to make the most of your trip to Rio de Janeiro!
What do you think? Would you add any more to the list? Let us know in the comments section below!
---
Rio de Janeiro, Brazil Travel Resources
Accommodation In Rio de Janeiro
To start looking at your accommodation options in Rio de Janeiro, choose Hostelworld for budget, Hotels Combined for comfort or Airbnb for local (and get $25 off).
Want stylish accommodation you can afford? Enter your dates and Hotels Combined will scan all the top booking sites (Booking.com, Hotels.com, Expedia, etc) for the cheapest prices possible:
Flights To Rio de Janeiro
If you are flying in to Rio de Janeiro, it is beneficial to use a flight compare site to find the cheapest flights. We recommend and use Cheapflights.com.
–> Click here to compare and book cheap flights to Rio de Janeiro
---
Did you enjoy our list of things to do in Rio de Janeiro? Well, there are many more where that came from! For plenty more fun things to do in Rio de Janeiro check out our other articles:
Want to know how you can travel more? Come join our traveling tribe to receive our eBook, 12 Steps To Full Time Travel for free! This eBook will walk you through how to go from wanderluster to full time nomad in simple, bite sized steps.