The following is a review of our two night stay in a queen room at Hotel Du Parc Royal, a luxury French inspired boutique hotel in Medellín, Colombia.
Save this hotel for later >>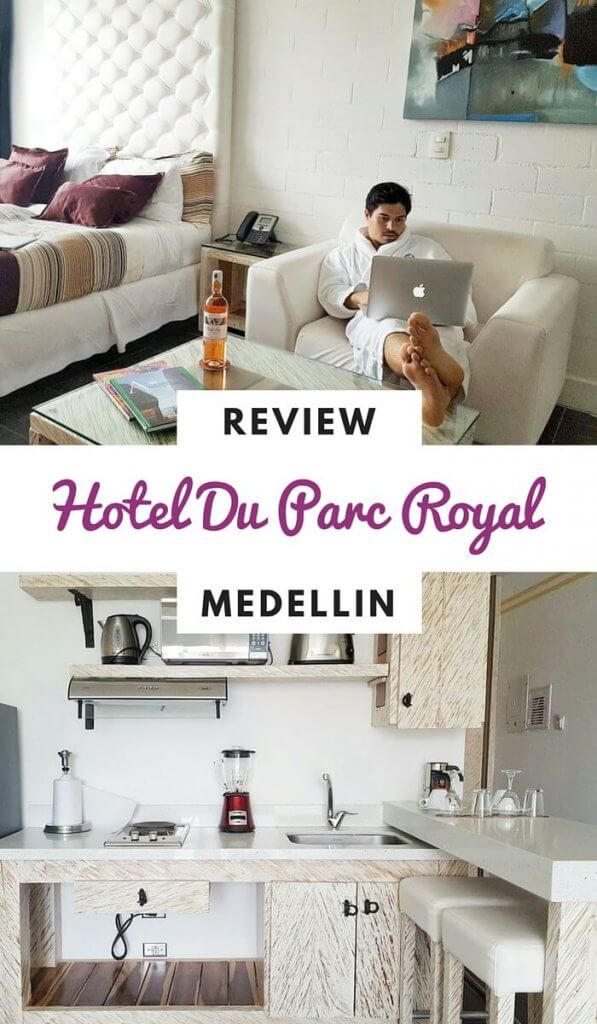 We arrived in El Poblado, Medellín for the first time early one Saturday morning. Slowly navigating through a quiet street in search of an open café, we pulled up outside a tiny indie coffee bar which had a cool, chilled out vibe to it. Ordering a couple of lattes and then taking a seat on the upstairs balcony, we soon realised that all of the cafés, restaurants and shops surrounding us were quirky, thoughtfully designed spaces with oodles of character. Instantly we knew that we would love Medellín and even more specifically, the neighbourhood of El Poblado.
Time went by quickly so we figured that we'd drop our bags off at our hotel and then go and explore our new surroundings. According to Google maps it was only a seven minute walk from where we were drinking our coffee so we decided to take a stroll through Park Lleras and pick out some little cafés and restaurants to try later on.
Check-in & Service
As we rolled our bags up to the entrance of what was meant to be Hotel Du Parc Royal, we were only half sure that we were in the right place. Although the hotel was easy to locate, some of the signage from when it was previously known as Hotel Le Parc Royal still remained so we were a little confused until the helpful porter warmly welcomed us in and put our uncertainty at ease.
Taking the heaviest bag off our hands, the porter kindly instructed us to follow him through to the hotel reception. Passing through the hotel front alongside a charming open air breakfast room and restaurant, we immediately felt as though we'd stepped into a gorgeous little French boutique hotel.
Upon check-in we were promptly attended to by a lovely male staff member who ran through all the common hotel details with us in English before scanning our passports and handing over the keys. Surprisingly the room was already prepared for us when we arrived at 11am. This was a huge plus because we'd spent the previous night travelling and needed to catch up on some work followed by a much needed nap.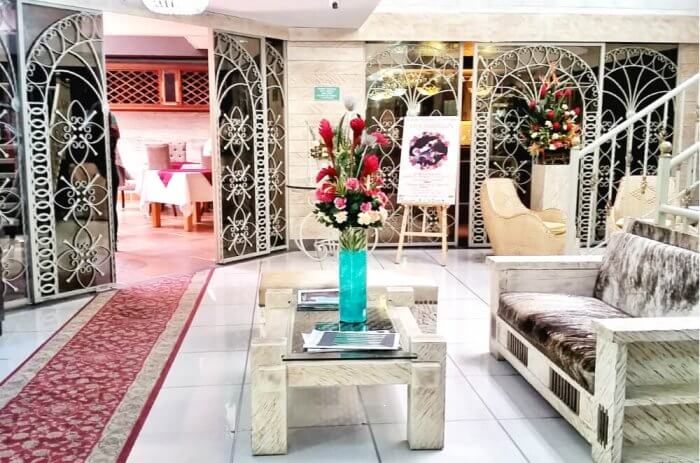 Taking our keys, we followed the porter into the elevator and up to the fourth floor of our French abode.
Bedroom & Bathroom
As the elevator doors opened and we stepped out, the first thing we noticed was the relaxed atmosphere. The design was minimal and artistic yet, somehow, the hotel felt comfortable and homely at the same time. Air flowed freely through the open hallway as we turned the corner to arrive at our room. An enormous door awaited us.
As the porter swiped our key over the door handle and slowly pulled our bags through to our room, Dan and I anxiously peered over his shoulder only to discover that the space was a lot larger than we expected. After checking that the television and air conditioning were functioning properly, we were left with the room to ourselves.
Now that we were alone, first thing was first… A room tour. Over on the far side of the room was our bedroom space which consisted of a comfortable queen size bed with a prominent feature headboard, cupboard space, two bedside tables and the star element, a wide floor to ceiling window panel with views over El Poblado.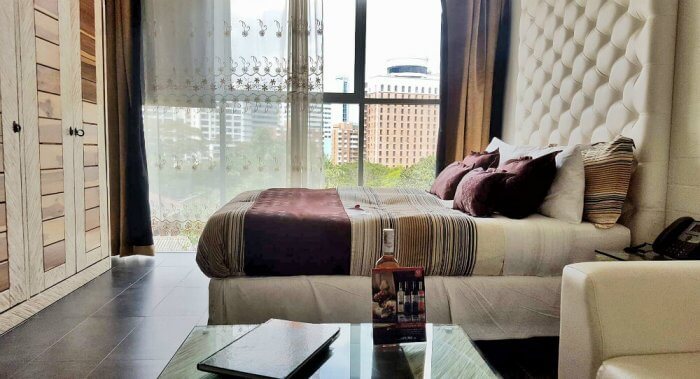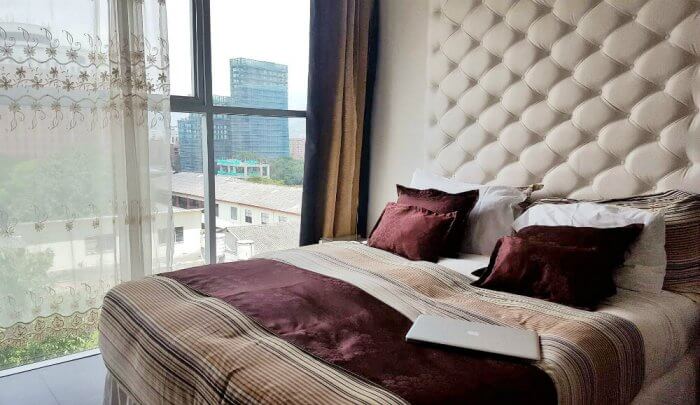 In the middle of the room was our living space which included an arm chair, coffee table, television and desk. The television came with a good selection of channels in both Spanish and English but they sometimes took a while to load.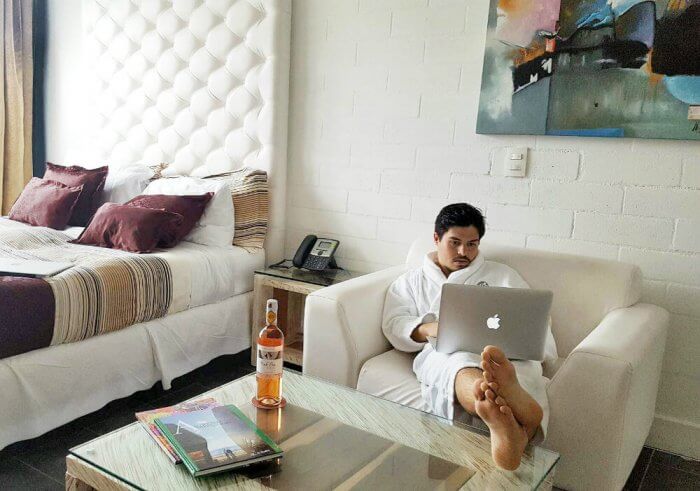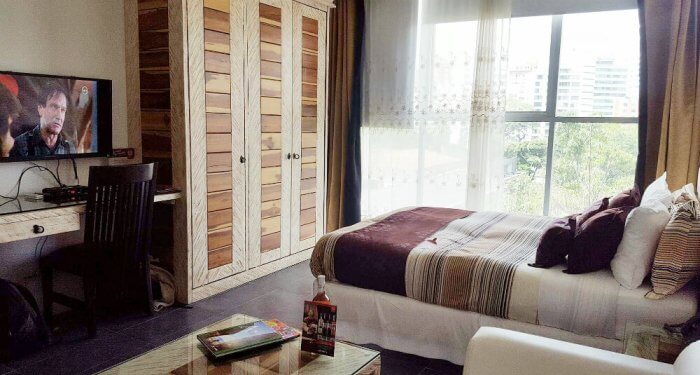 Nearer to the door we had the kitchenette which was much better than your average, complete with a stove top, microwave, blender and more. I was actually surprised by how well stocked the kitchen was with appliances and the the mini-bar fridge was as large as most household fridge-freezers. Two complimentary packets of quality Colombian coffee were placed on the kitchen bench for us each day along with a good old fashioned coffee percolator and the morning paper.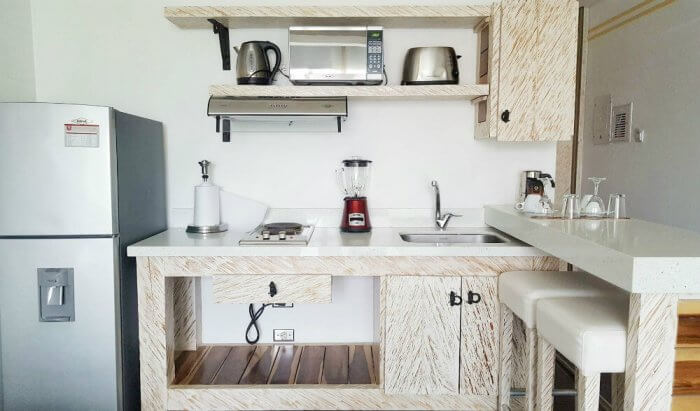 Directly next to the door was our bathroom. The bathroom was chic and clean and came complete with a huge shower, a vanity area and a modern toilet as well as one bath robe, towels for two people and the hotel's own cosmetics. Although we liked the bathroom, the shower head wasn't releasing the water evenly so we believe that a better shower head and also a hairdryer would be a beneficial improvement.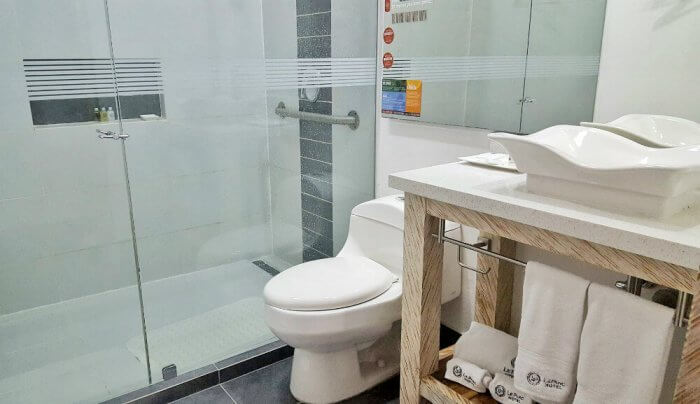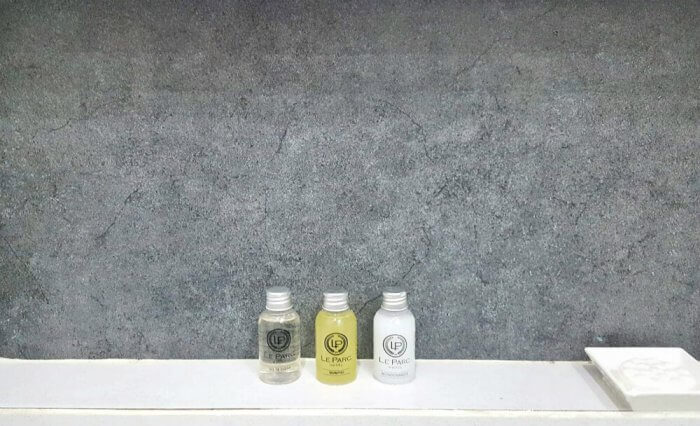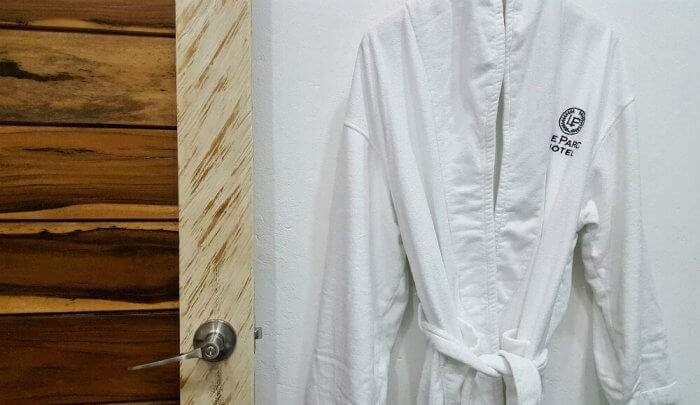 Overall, the space was substantial in size without feeling clinical or empty in any way shape or form. In fact, as a boutique hotel, they've done really well at creating the balance between modern and cosy which makes for for a comfortable and enjoyable stay.
Facilities
Hotel du Parc Royal is a boutique city hotel and spa which caters to those who wish to be central and close to all the action in El Poblado but are looking for serenity and rejuvenation at the same time. If dressing in your bath robe and cosying up in bed to watch the sunset over Medellín isn't enough relaxation for you, why not book in for an alleviating massage or hair treatment at their exclusive resident spa? Not only do they offer services such as deep tissue massage and hairdressing, you also have access to a sauna and solarium.
Not only is Hotel Du Parc Royal the perfect choice for a leisurely trip to Medellín, it also offers four elegant function rooms for events and business conferences. Differentiating in size and ambience, you can take your pick out of the Piano Bar room (65 guests), the Hannukah room (110 guests), the Vendome room (50 guests) and the Cristal room (30 guests).
Also on the ground level there is an open air restaurant where you can enjoy breakfast, lunch or dinner in the pleasant Medellín climate. This restaurant is situated just off the sidewalk and up a few steps so it's a great spot to sit and watch all the daily action happening on the street. From what I could tell, there were always staff in the restaurant so even if you just wanted to pop in for a coffee you'd be welcomed.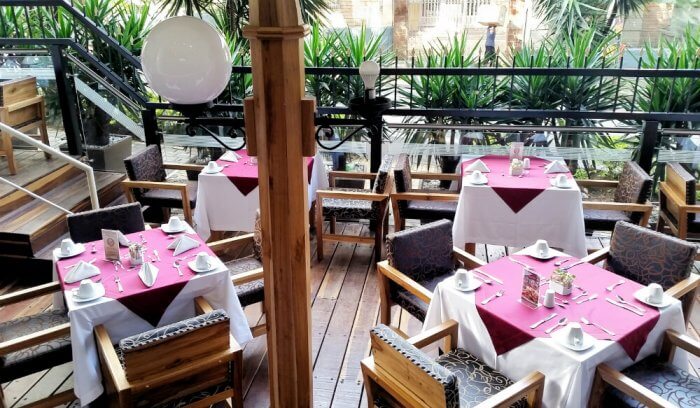 Breakfast
Upon check-in we were informed that breakfast was included in the room price and normally served between 7am and 9am except for Sundays when it's served between 7am and 10am. I thought this was quite early but that said, when we arrived at 8am on Saturday, they stayed open for at least another 90 minutes. Also on Sunday we thought we were going to miss breakfast because we didn't leave our room until 9:50am but again, the buffet was open for at least another hour.
In my opinion, the buffet breakfast was delicious. Not only was it presented beautifully amid flowers and candles, there was also variety of fresh fruits, pastries, and Colombian breakfast specialties to choose from. Fruits included sweet, juicy pineapple, watermelon, strawberries and some exotic varieties that I'd never tried before. I also tried a traditional bean stew with rice and meat as well as barbecue pork ribs which I thought were quite unique for breakfast food. Eggs were done however we liked by a dedicated egg cook so we chose to mix onion, tomato, corn and herbs into ours. A healthy and hearty breakfast for an energetic and productive start to the day!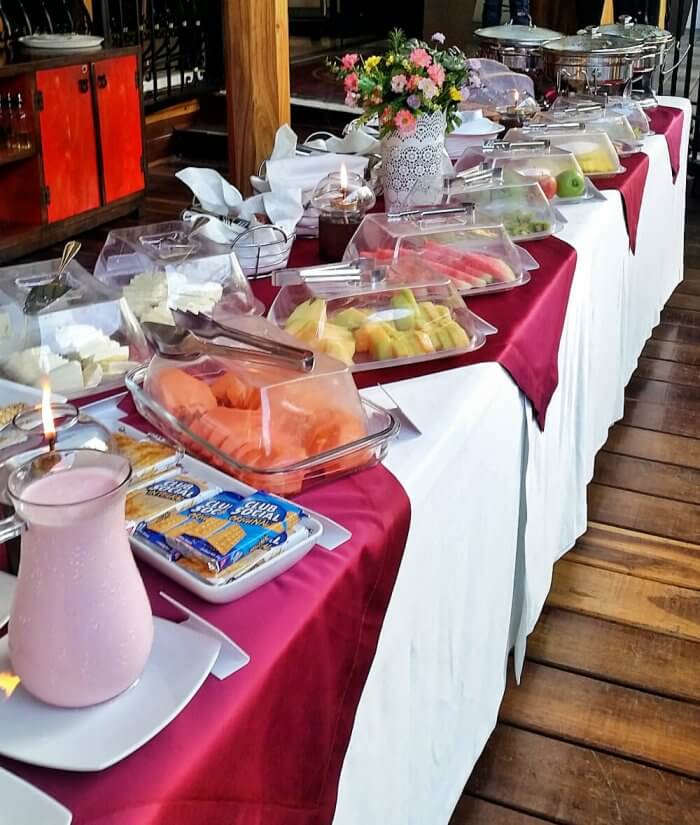 Cleanliness
As I mentioned earlier, this is a boutique hotel which combines chic minimalism and french charm to create a modern yet cosy abode for guests. When creating a sense of space using light colours, it is so important to keep the hotel clean at all times because dirt and dust is easily visible. With that said, not only was our room spotless, the hallway and restaurant were also kept very clean and well presented. The only thing that may have caused a little dust was the shop renovation going on downstairs at the time but this was beyond staff control.
Location
One of the best selling points of boutique Hotel Du Parc Royal is the fantastic location. Situated right in the middle of El Poblado, one of the most frequented neighbourhoods in Medellín for its seemingly endless variety of indie cafés, shops and hangout spots, Hotel Du Parc Royal is the perfect point to explore Medellín's best attractions and nightlife from.
Conclusion
While there are a couple of small changes that the hotel could make to slightly improve the quality of the guest experience, the positives far outweigh the negatives. As I said, I think that the bathroom could do with a new shower head and a hairdryer but these things are minimal when you consider the above and beyond service, pleasant ambience and convenient location. Overall, we thoroughly enjoyed our stay at Hotel Du Parc Royal and given the opportunity, we would definitely return again.
Details
Queen rooms at Hotel Du Parc Royal start just from $91 per night, including breakfast. To make a booking, go to www.hotelduparc.com.co. 
---
Are you considering a trip to Medellín, Colombia? Have questions? Let me know in the comments section below!
---
For the purpose of this review our stay at Hotel Du Parc Royal was compensated, however, as always, all opinions are our own.