If you're looking for a secure credit card that allows you to shop online, at home, or worldwide, you may be interested in the card we're about to profile.
And if you want a credit card that guarantees special perks like free travel insurance, airport lounge access, and redeemable rewards points, a Silver UBL Credit Card could be the perfect option for you.
Just continue reading below to learn how to apply for a UBL Credit Card.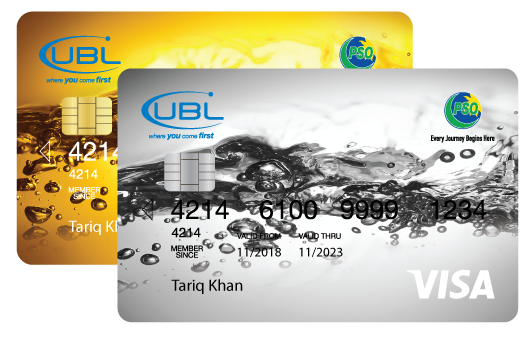 UBL Credit Card
The UBL Credit Card (Silver Visa) offers all the functions of a basic credit card and much more. This includes purchases, installments, cash advance, free travel insurance, rewards points, and all this at the most competitive rates on market.
In order to help you better understand the advantages of applying for a UBL credit card, let's take a look at all the benefits & features this credit card offers.
UBL Credit Card Benefits & Features
The UBL Visa Credit Card (Silver level) is a truly international card offering unmatched features and complete peace of mind. Here's what you'll get as a UBL cardholder…
Security
First of all, you can rest assured your credit card is totally secure. UBL offers Pakistan's 1st chip-and-pin-based credit card for the state of the art security which helps you to maintain peace of mind on each transaction you make.
UBL, in partnership with Visa, also makes certain that you enjoy a hassle-free online shopping experience by introducing enhanced security features.
Rewards
Secondly, you will become part of an exclusive rewards program where you can avail redeemable reward points and opt for cash back. You can also get free fuel from PSO outlets nationwide against your reward points.
Even More Perks
Thirdly, you get to enjoy premier travel perks such as free travel insurance of up to Rs. 3.5 Million if you purchase airline, bus, or train tickets with your UBL Credit Card, as well as free access into exclusive CIP airport lounges at Karachi, Lahore, Islamabad, and Multan Airport.
You'll get free secretarial services, free buffet access, internet connection, reading material, and 24 – Hour porter facilities.
On top of all this comes other features like convenient installment plans (pay off your purchases at partner merchants over 3,6,12,18,24,30, or 36 months), Buy Now & Pay Later facility (pay after 1 month), and supplementary cards.
UBL Credit Card – How To Apply
You can apply for your UBL Credit Card by choosing one of two easy steps.
You can apply in person at any UBL branch nationwide or
You can opt to apply online via the application form found on the UBL website (much more convenient)
Before ordering the UBL Visa Credit Card, you must first check if you are eligible to get it. You must be at least 21 years of age and earning Rs. 35,000 per month if employed and Rs. 100,000 per month if self-employed.
You will also need to supply the required supporting documents. These may include proof of ID, proof of residence, and proof of income. Proof of income can be in the form of salary slips, CNIC, and a bank statement if employed or CNIC, bank statement, and valid proof of business if self-employed.
Your credit card application's approval is based on your credit scoring and other factors assessed by the bank. If approved, your credit limit will be determined based on your income and creditworthiness. This could be anywhere from Rs. 10,000 to Rs. 125,000.
UBL Credit Card – Fees and Interest Rates
It is always important to know the applicable fees and interest rates on your credit card so you can manage your finances well. For the Silver level UBL Credit Card, these include the following.
Annual fee: Rs. 3,500
Supplementary card fee: Rs. 1,500
APR (Annual Percentage Rate): 41.99% on retail expenses and cash advances
Balance transfer APR: 28%
Cash advance intro rate: 3% of the amount or Rs. 1,000 (whichever is greater)
Balance transfer intro rate: Rs. 500
Foreign currency transaction fee: 4.5%
Late payment fee: Rs. 1,500
Cancellation fee: 5% of outstanding balance or Rs. 1,000 (whichever is greater)
Using the App
For the convenience of customers and cardholders, UBL also offers a digital banking app. This is particularly great for those who would like to monitor and manage their finances on-the-go! Check out the video below to learn how to make an account.
Bank Contact Info and Address
You can contact UBL by calling 111-825-888.
Their head address is located at Head Cash Management, Retail Bank United Bank Limited 16th Floor, UBL Tower, I.I. Chundrigar Road Karachi.
Conclusion
Overall, the UBL Visa Credit Card is a smart choice if you're looking for an everyday credit card that allows you to shop online and around the world as well as enjoy the privileged treatment you deserve with perks and rewards.
Note: There are risks involved when applying for and using a credit card. Please see the bank's Terms and Conditions page for more information.