If earning rewards points and getting premium discounts is at the top of your list, then look no further. A Onecard Visa Credit Card is your answer when it comes to gaining access to some of life's sweetest deals.
Your Onecard Visa Credit Card takes pride in giving your exclusive deals and discounts designed to fit your lifestyle. If you are interested in having a reliable everyday credit card that won't break the bank, read on.
Onecard Visa Credit Card Features and Benefits
Powered by Visa, this credit card allows you to earn points wherever Visa is accepted. Here, you can earn Onecard points and even get double the rewards when you shop at Countdown! Better yet, you will be given AA Smartfuel discounts at Countdowns, allowing you to save money and maximise your profits in the long run.
Using your Onecard Visa Credit Card, you can enjoy up to 55 days of interest-free spending on all your purchases! Even your online transactions are protected by the Verified by Visa facility. To help you make hassle-free purchases, simply use the Visa payWave option for purchases under $80. As part of their offerings, you can enjoy free delivery with Countdown when you spend more than $200 online.
The best of all? You can enjoy all these great privileges for free! There is no annual fee for the first year. This means you can get a taste of Onecard's best offerings even at the very start.
Interested in applying for your very own credit card? Read on to find out how.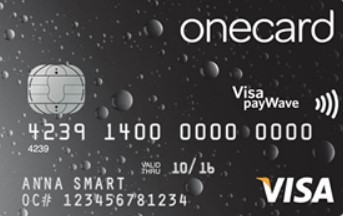 Applying for a Onecard Visa Credit Card
Getting a Onecard Visa Credit Card has become more accessible. Simply head on to the Onecard Visa website, click apply now and finish the application form online.
To be eligible for their Onecard Visa Credit Card, you need to be at least 18 years of age and be a permanent resident of New Zealand. In addition, your combined household income should be $20,000 or above.
To complete the application, you need to provide proof of identification such as your driver's licence (if applicable), email address, employers address and contact number and details of your income and expenses.
Should your application be approved, you will be given a credit limit starting from $1,000 depending on your credit score.
Onecard Visa Credit Card Fees and Charges
After the free annual fee for the first year, you would need to pay $65 for your annual account fee afterwards. There is also a supplementary card charge of $14.50 if you wish to add a cardholder under your account.
Other charges you might want to take into consideration include the APR of 19.99% for purchases and the APR of 22.00% for cash advances. There is also a cash advance fee of $2 for over the counter transactions and $1 ATM withdrawal fee. Remember that there is also an international transaction fee of 1.90% for the amount you used and a late payment charge of $15.
If you wish to earn rewards and get the best discounts on your purchases, a good option would be the Onecard Visa Credit Card. Apply now and experience these offers today!