If you value having a reliable everyday credit card with flexible payment plans, the Gem Visa credit card has you covered.
From 0% interest on your purchases to secured access each time you swipe your card, the Gem Visa Credit Card is a flexible, safe, and convenient credit card option.
To know more about the advantages of the Gem Visa credit card and how you can apply, read on.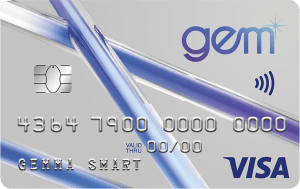 Gem Visa Credit Card Features and Benefits
Powered by Visa, the Gem Visa Credit Card gives you unlimited access to anywhere in the world. With this feature, you can shop at any Point of Sale terminal and withdraw cash anywhere Visa is accepted.
Another advantage offered is their flexible payment terms. Through this initiative, you can get access to three payment options, namely: "Interest-free", "Buy Now, Pay Later" or "Instalment Interest-free". With this, you will get 0% interest payment plans designed to complement your lifestyle.
Whether you are purchasing technology, travel, fashion or other goods, you are in charge of your payment plan. With this offering, you have the chance to make extra payments to reduce your balance or pay only the minimum. With a Gem Visa Credit Card in your arsenal, the world is on your terms.
Last but not the least, you can enjoy 0% interest for 6 months on everyday Visa purchases over $250. Another option extended to you is 0% interest for up to 55 days on purchases under $250.
How to Apply for a Gem Visa Credit Card
Ordering a Gem Visa Credit Card online is easy as pie. All you need to do is head to the Gem website, click apply now and fill out the online submission form. In less than 10 minutes, you can finish the whole application and even receive a response in less than 60 seconds.
To be eligible, you must be at least 18 years old and be a permanent resident of New Zealand. Some documents you need to have available when applying include a valid ID, income details, assets and liabilities and your employer's contact number.
Should your application be approved, you can get a credit limit starting from $1,000 depending on your credit standing.
Gem Visa Credit Card Fees and Charges
The annual membership fee for the Gem Visa Credit Card is $52. There is also a one-time establishment fee of $55. Meanwhile, the normal annual interest rate for this card is 25.99%.
Other charges you need to consider include the cash advance fee of $2 for over-the-counter transactions and $1 for ATM withdrawals in New Zealand.
There is also an international transaction fee of 2% for purchases, and a late payment charge of $15.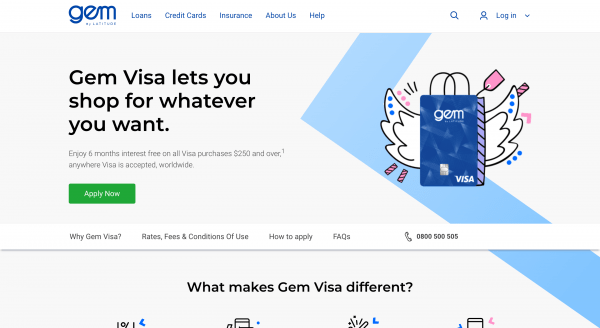 How to Contact the Bank
If you would like to contact the bank with more questions about this offer, they can be reached at 0800 500 505. In addition, you can find their main office at 8 Tangihua Street, Auckland Central, Auckland 1010, New Zealand. 
Conclusion
If you want a trustworthy credit card that gives you flexible payment options, look no further. The Gem Visa Credit Card is the answer to your needs. For more information, visit the Gem website.

Note: There are risks involved when applying for and using a credit card. Please see the bank's Terms and Conditions page for more information.