Need a credit card with insurance coverage that you can use for daily purchases? With the Visa World Credit Card, you can enjoy these privileges and more.
This is a versatile credit card that can be used around the world. Are you interested in applying for this card?
In this article, we will tell you more information about the rates and fees associated with this card. Read on to find out how to apply for the Visa World Credit Card.

Features of Visa World Credit Cards
International Card Services (ICS) offers three types of Visa credit cards: the basic Visa World, the mid-range Visa World Gold, and the elite Visa World Platinum.
As a cardholder of each of these cards, you get an exclusive set of benefits and advantages. For this article, let's zero in on the Visa World Credit Card.
The Visa World Credit Card is the most affordable of the three. But even so, you still get a lot of perks and advantages.
You can use the Visa World Credit Card for your everyday purchases. With this card, you can shop online or in-store anywhere in the world.
You can also use this card for making flight and hotel reservations in virtually any destination inside and outside the country. You can also withdraw cash and earn bonus points from this card.
Visa World Credit Card Benefits
In the first year as an owner of this card, you will not pay a single cent in annual fees. This allows you to concentrate on maximizing purchases as a newbie cardholder without worrying about extra fees.
What's more, your credit card purchases are insured for 180 days. This gives you the assurance that you can return defective items that you've bought using this card with a full refund.
With the Visa World Credit Card's advanced features, you can also purchase products and services with safety in mind. You can avail of the contactless payment feature using the RFID technology.
This card is also protected by 24/7 fraud monitoring to ensure you will not be charged for any unauthorized transactions.
Want to order the Visa World Credit Card now? Continue reading to find out the application process and requirements.
Visa World Credit Card Application Process
You can request the Visa World Credit Card by filling out the online form on the Visa website. To qualify, they will request proof of identity showing that you are at least 18 years old and a resident of the Netherlands.
You also need to present proof of income that shows you earn a minimum fixed net monthly income of €1,150.
If your application is approved, you will be given a standard credit limit of €2,500 which may be higher or lower depending on your credit score and financial capacity.
Fees and Interest Rates
In the first year, your Visa World Credit Card annual fee is waived. But in the succeeding years, you will pay an annual fee of €36.50. Additionally, any supplemental cards have an annual fee of €16.
You should also take note of some of the other fees including the cash advance fee of 4% of every transaction and a late payment fee of around €20 based on the discretion of ICS.
There is also a 2% exchange fee for using the card in places that do not use the euro. The Visa World Credit Card comes with an annual interest rate of 14%.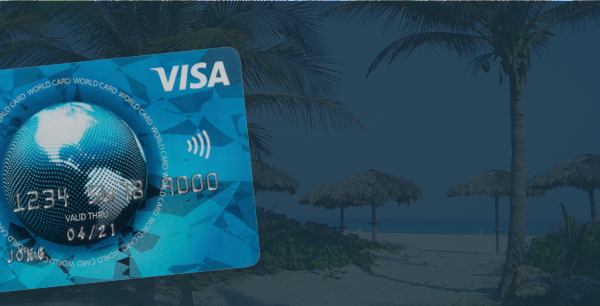 Contact the Bank
If you would like to contact the bank, you can call 020-6 600 678. Alternatively, you can visit their main office at Interaction 32, 1112 XP Diemen.
Conclusion
In summary, the Visa World Credit Card is perfect if you want to make secure financial transactions inside and outside the Netherlands.
Disclaimer: There are risks involved when applying for and using credit products. Ensure you consult the bank's terms and conditions page before agreeing to anything.