Looking for a credit card that gives you irresistible discounts on your purchases locally and abroad? Love the idea of earning mass rewards points to redeem for airline miles, cash back, or a trip away?
Whether you're a new cardholder or you simply want something that little extra spark, the SCB Platinum Rewards Credit Card is worth a look.
To learn more about how to apply for an SCB Platinum Rewards Credit card, keep reading.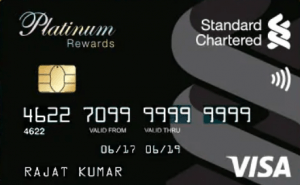 SCB Platinum Rewards Credit Card
Standard Chartered Bank (SCB) provides an elite selection of credit cards that offer a wealth of benefits to match every lifestyle. One of their most rewarding options includes the Platinum Rewards Credit Card. Available as a Visa credit card, the Platinum Rewards card is accepted worldwide, making travel a breeze.
The SCB Platinum Rewards Credit Card offers all the basic functions of a standard credit card with a few stand-out exceptions, including up to 5X reward points and exclusive offers on shopping, dining, and travels!
Before you apply for the SCB Platinum Visa, it's important to know exactly what exciting benefits the bank has to offer.
SCB Platinum Rewards Credit Card Features and Benefits
As someone who values financial independence, you'll surely get to enjoy the advantages of the SCBPlatinum Rewards Credit Card. Let's take a closer look at the perks it has to offer…
First off, you can earn 5 reward points for every INR 150 you spend on dining and fuel. That's a lot of points! For other categories and partner establishments, you can earn 1 reward point for every INR 150 spent. Now, how's that for a treat!
In the Standard Chartered 360 rewards program you can redeem the points you earn for all sorts of things, including home appliances, electronics, dining, fashion, airline miles, cash back and holiday packages!
Then you have The Good Life programme. Here, you can gain exclusive privileges such as complimentary airport lounge access when you travel, discounts on your annual gym membership rates, and best offers on hotel accommodations and more!
How to Apply for an SCB Platinum Rewards Credit Card
Ordering your SCB Platinum Rewards Credit Card can be done in a matter of minutes. Simply fill out the credit card application form on the SCB website and upload the required documents.
The main requirements include proof of identity, proof of address, one recent passport-sized photograph, and financial documents (latest salary slip for salaried individuals).
You should also be aged between 21 to 65 years old and must have a stable monthly income.
Provided that you supplied a complete set of documents, the bank will take approximately 9 days to determine the status of your credit card. If approved, they will set your credit card limit based on your financial standing.
Standard Chartered Bank Fees
In requesting an SCB Platinum Rewards Credit Card, it's best to know about the important fees and charges you may need to pay on a regular basis.
The annual membership fee is INR 250. For this card, your monthly interest rate is 3.49%, with an annual rate of  41.88%. Other fees you need to bear in mind include a late payment charge between INR 100 to INR 700 as well as the 3.5% overseas transaction fees.
In addition, ATM withdrawals are subject to a charge of  3% of the cash withdrawal amount, or a minimum of INR 300.

How to Contact the Bank
If you would like to get in touch with SCB about this offer, you can contact the bank at 1800 345 5000. You can also find their main office in India at Crescenzo, 3rd Floor, C – 38 /39, G – Block Behind MCA Club, Bandra Kurla Complex, Bandra (East), Mumbai, 400 051.
Conclusion
Overall, the SCB Platinum Rewards Credit Card is a great option to consider if you are looking for an affordable yet reliable and rewarding everyday card.
Disclaimer: There are risks involved when applying for and using credit products. Ensure you consult the bank's terms and conditions page before agreeing to anything.