When you're visiting the Gold Coast, Australia for just a couple of days it can be difficult tossing up between visiting the Gold Coast theme parks, taking a drive out to the Gold Coast Hinterland or enjoying the amazing Gold Coast beaches.
But what if you could do it all in just a quick weekend getaway?
Everyone's travel itinerary differs depending on what they want to get out of their Gold Coast holiday…
However, in this 48 hour travel guide we've given you various options (adrenaline, relaxation, leisure) which you can swap for one another.
Here we have listed our top things to do on the Gold Coast, Australia when you only have a weekend to spare.
Not only that, we've also included a handy Gold Coast travel guide which covers Gold Coast accommodation options, typical Gold Coast weather, and where to find cheap flights to the Gold Coast.
Weekend Travel Guide: The Best Things To Do On The Gold Coast Australia
Find this Gold Coast travel guide helpful? Share it with your friends on Pinterest by pinning this image >>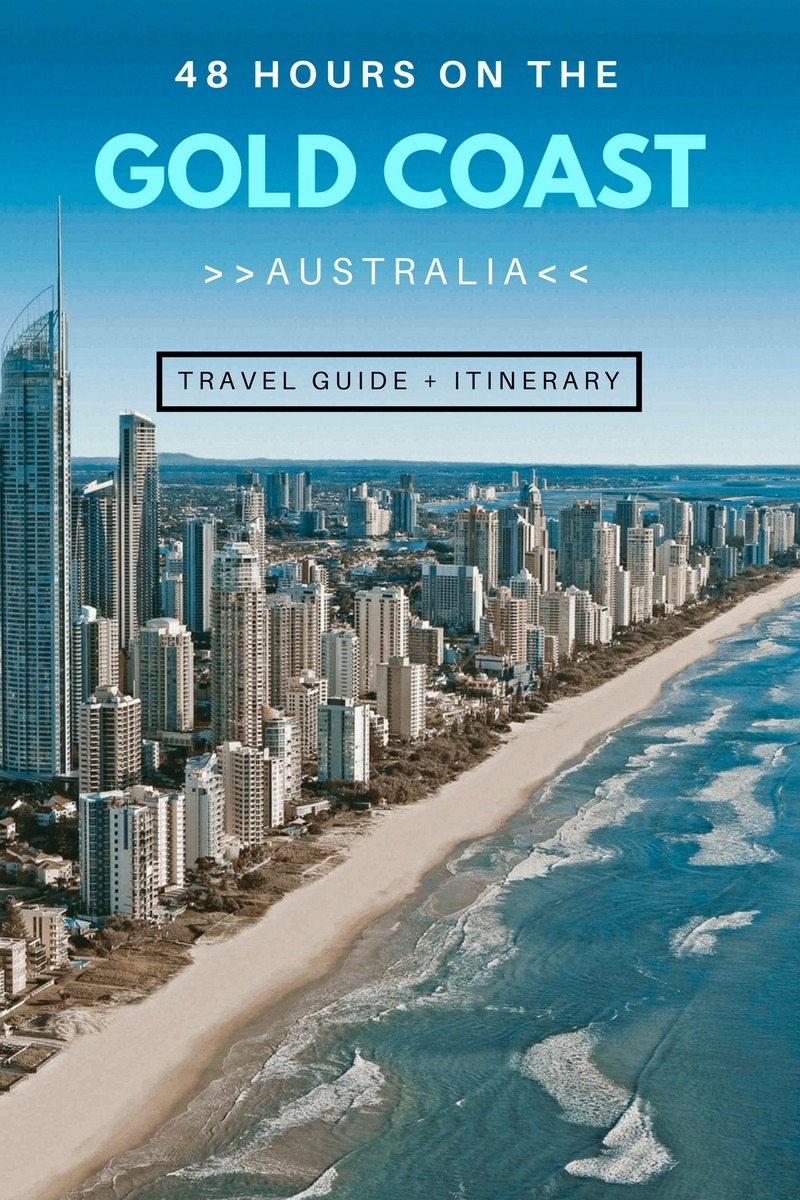 Let's start this Gold Coast itinerary with some practical travel advice and resources!
If you haven't been before, this will give you an idea of what to expect during your Gold Coast holiday and help you to choose the right platforms to book your accommodation and tickets.
The Gold Coast Travel Guide
Gold Coast Weather
The Gold Coast is situated in southeast Queensland, however, the last town, Coolangatta, borders on New South Wales. This means that the Gold Coast enjoys a sub-tropical climate with around 300 days of sun per year.
As Australia is in the southern hemisphere, the seasons are as follows:
Summer – December to February
Autumn – March to May
Winter – June to August
Spring – September to November
Summer
During summer on the Gold Coast the average temperature sits between 21°C – 29°C with high humidity. Heavy rainfall and storms occur mostly through February. You must wear sunscreen and light, protective clothing during these months!
Autumn
During Autumn on the Gold Coast you can expect temperatures between 18°C – 26°C with cooler nights and less rain. The ocean is still a beautiful temperature to swim in and humidity isn't as high.
Winter
During Winter on the Gold Coast you will enjoy milder days with clear, sunny skies and dry air. The average temperature sits between 12.5°C – 21.5°C, making this a comfortable season to travel in.
Spring
During Spring on the Gold Coast the average temperature falls between 17°C – 26°C with sunny days and slightly milder evenings. You can expect little humidity, however, it can get windy. For many, September is their favourite month of the year to visit.
For more information about the Gold Coast weather, visit Australia.com.
Gold Coast Tourism
When is the best time to visit the Gold Coast? Well as it is one of the most popular tourist destinations in Australia, you can expect to bump into tourists all year round.
That said, the Gold Coast does have it's high and low seasons, which are as follows:
High Season: Mid-October to January
Low Season: June to August
Shoulder Season: February to May and September to mid-October
Gold Coast High Season
Generally speaking, high season normally begins in December throughout most of Australia, however the Gold Coast is different because it hosts an international motor race called the Indy 300 in mid-October and then Schoolies begins on the 19th of November and runs through to the 9th of December (with different Australian states graduating year 12 at different times).
If I were you, I'd avoid the Gold Coast during this time if you want a relaxing getaway as it gets very rowdy with huge beach parties, the price of accommodation soars (if you can get any) and crowds make it difficult to go anywhere.
Gold Coast Low Season
Low season on the Gold Coast falls during winter, as it can get quite mild for tourists who are used to tropical temperatures. That said, the days are still beautiful and sunny and the ocean is surprisingly warm to swim in.
This is a fantastic time to visit the Gold Coast because there are far fewer tourists, meaning you can expect cheaper accommodation, less waiting in lines and smaller crowds.
Gold Coast Shoulder Season
The shoulder season is deemed as the best time to visit the Gold Coast. Why? Because you don't have the huge crowds that you get during high season, however the temperature is beautifully warm, there's little rain and accommodation is affordable. Perfect!
Head to ShermansTravel for more information on when to visit the Gold Coast.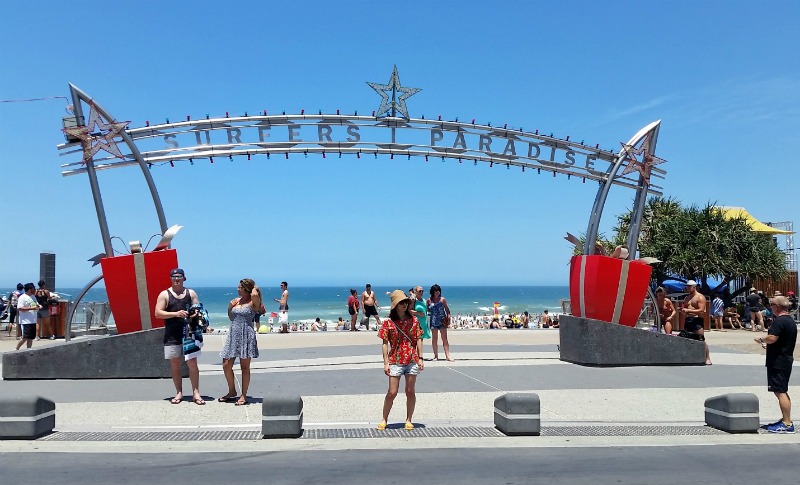 Gold Coast Accommodation
The Gold Coast is known for its huge range of accommodation options, ranging from boutique hotels to spacious apartments to B&B's to backpackers hostels.
If you're looking for accommodation on the Gold Coast that ticks all the boxes, look no further than ULTIQA Freshwater Point Resort, Broadbeach.
Situated on the edge of a quiet canal in Broadbeach, this modern family friendly resort is conveniently central, yet not right in the middle of all the hustle and bustle of the Gold Coast.
You can walk to some of the best restaurants on the Gold Coast, as well as the famous Jupiters Casino, Pacific Fair shopping centre, the incredible Draculas, and Broadbeach all in under 10 minutes. Surfers Paradise is also just a short tram ride away.
Not only are the apartments spacious, modern and clean, with ample sleeping arrangements (we could fit up to 8 people), you also have refreshing views over the swimming pool, canal and Surfers Paradise in the near distance.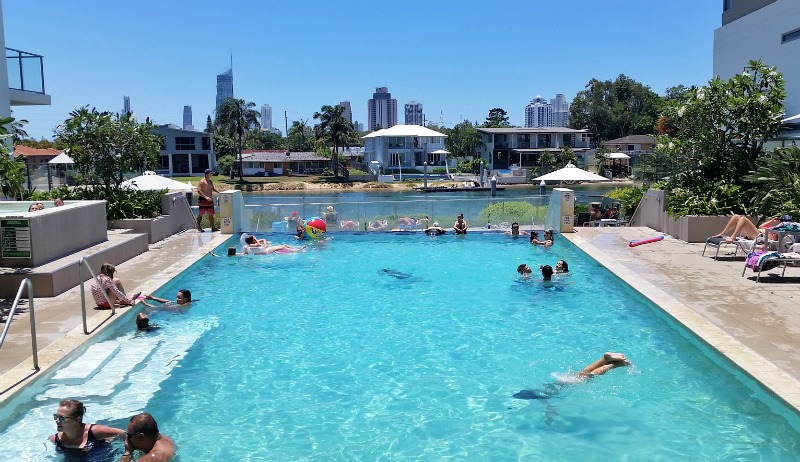 Gold Coast Apartments and Hotels
For more hotels and apartments on the Gold Coast, Hotels Combined has a huge range of options to suit your travel style.
What we love about this platform is that when you enter your dates, it will scan all the top booking sites (Booking.com, Hotels.com, Expedia, etc) for the cheapest hotel prices possible.
Hotels Combined Gold Coast accommodation options range from AUD$42 – AUD$900 per night during low season, ensuring that no matter what your budget, you can have an enjoyable weekend away.
>> Click here to look at your Gold Coast Hotels Combined accommodation options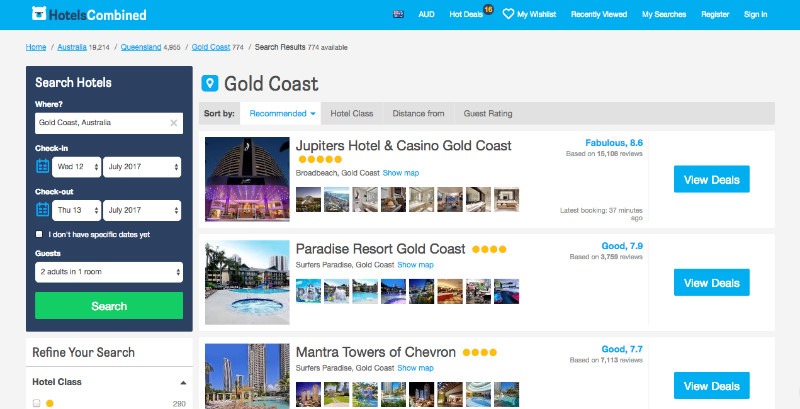 Airbnb Gold Coast
If you're looking for accommodation that feels that little bit more private and homely than a hotel, you can go for a whole apartment or house on Airbnb.
These usually come with all your homely comforts, including a laundry, full kitchen, WiFi, TV, swimming pool and more…
You can find various styles of accommodation, including large holiday homes, villas, studio apartments and unique B&B's.
Airbnb also caters to those of you who enjoy staying with a local host and getting to know the area through a knowledgeable source.
When you stay with a host you will often have your own private room inside their home or you might stay in a separate granny flat.
Airbnb hosts provide all of your bedding, towels and often add a hotel-like touch to your stay with complimentary toiletries and breakfast.
Airbnb can often work out cheaper than staying in a hotel but I do recommend comparing before you book.
>> Click here to look at your Gold Coast Airbnb options

Gold Coast Backpackers/Hostels
If you're on a tight budget but you still want to enjoy a weekend away on the Gold Coast, no worries!
The Gold Coast (especially Surfers Paradise) is a highly popular destination for backpackers and road-trippers, which means there are plenty of cheap Gold Coast accommodation options for you.
Here in Australia hostels are generally called 'backpackers', so you're best off looking for Gold Coast backpackers resorts. You can do this when you arrive but I personally wouldn't risk it…
As I said above, the Gold Coast gets busy, especially during the summer months so I would recommend booking a hostel using a site like Hostelworld at least a few days before you arrive.
>> Click here to look at your Gold Coast backpackers/hostel options

How To Get To The Gold Coast/Getting Around
Fortunately, the Gold Coast is centrally located which means it is very easy to get to from anywhere in Australia, no matter what kind of transport you're using.
For those of you doing the popular east coast Australia road-trip, the Gold Coast is a strong point of interest along the way, with plenty of parking all along the beaches.
Gold Coast Airport
Conveniently enough, the Gold Coast has its own international airport located in Coolangatta. While not as many flights land and take-off from here compared to Brisbane and Sydney, you can still find some great deals.
For example, low-cost international airlines, such as Skoot, fly in and out of the Gold Coast Airport, making it highly accessible to anyone traveling to and from Asia.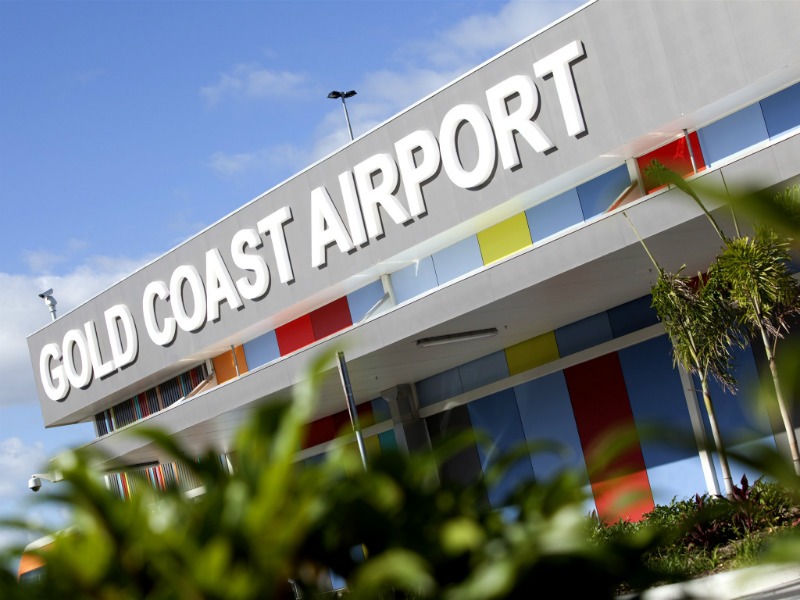 Cheap Flights To Gold Coast
To find the best deals on flights to the Gold Coast, I recommend researching and booking online…
Because it's quick and convenient
Because less commissions are involved (so it works out cheaper for you)
We use a few different platforms to book flights but we always find good deals on Cheap Flights.
If you cannot find flights to the Gold Coast from your departing destination, Brisbane International Airport is your next closest option, located just 1 hour away.
Brisbane To Gold Coast
To get from Brisbane airport to the Gold Coast I would highly recommend renting a car. This way, you can use the car to get around during your Gold Coast holiday and then you can conveniently drop it back when you leave again.
As I mentioned above, it'll take you just over an hour to drive from Brisbane airport to Broadbeach and it's a very easy drive along the highway. You may hit some traffic coming into Surfers Paradise or Broadbeach but it usually passes quickly.
Sydney to Gold Coast
If you're staying in Sydney and planning to drive up to the Gold Coast, you're looking at a 9.5 hour drive. There are plenty of relaxed towns along the way where you can stop for meals and to stretch your legs.
Alternatively, there are 21 flights between Sydney and the Gold Coast every day.
Things to do on the Gold Coast: The 48 Hour Itinerary
Now that we've got the basic travel information covered, let's put your Gold Coast travel itinerary together.
Before we get started, watch this quick video I put together on things to do on the Gold Coast, so you can see what I'm talking about…
---
Day One
---
9:00am – Spend the day at one of the Gold Coast theme parks
If your idea of a weekend getaway on the Gold Coast is full of fun, excitement and action, then look no further than the famous Gold Coast theme parks.
There are four major theme parks on the Gold Coast, each offering a unique experience:
As visiting the theme parks is one of the most popular things to do on the Gold Coast, these four attractions get extremely busy during weekends and school holidays (especially in high season) so you need to get there early to avoid waiting in extra long queues.
You can pre-purchase your tickets online or you can buy them at the gate, but again, you'll need to get there early.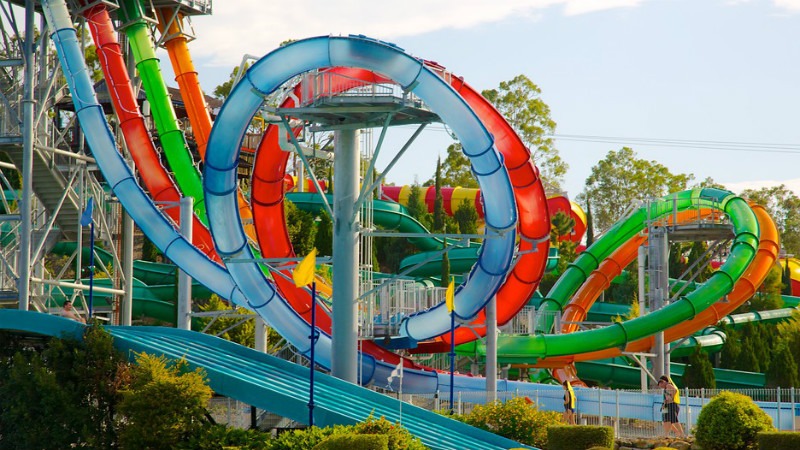 7:30pm – Dinner at Georges Steak and Seafood Restaurant
If you look on Tripadvisor, Georges Steak and Seafood Restaurant ranks #23 out of 197 restaurants in Broadbeach.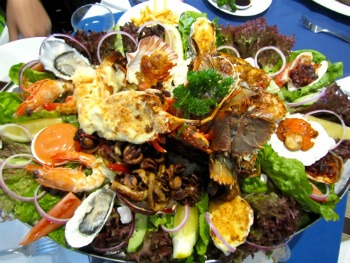 What we love about this restaurant is its proximity to everything in Broadbeach, the friendly staff, inviting atmosphere and delicious food.
I love the spaghetti marinara, while some of my other family members go for a steak every time.
Within walking distance of ULTIQA Freshwater Point Resort, this is a must-try, however, it gets busy so ensure you book beforehand!
Call (07) 5570 1222 to book your table.
---
Day One Alternative 
---
9:00am – Breakfast and a walk through Broadbeach
Broadbeach is home to a variety of cafés and restaurants which serve up breaky by the beach until the late hours of the morning. Use this time to enjoy the warm Gold Coast weather, get some coffee into you and then take a stroll along the beach.
If you don't fancy getting sandy, no worries! There's a huge space of park area all along the top of the beach where you can play a game, fry up some bacon and eggs on the bbq or just sit and read a book.
12:30pm – Lunch and relax on the beach in Surfers Paradise
Come lunch time, I recommend heading down to Surfers Paradise to get amid the hustle and bustle of this popular holiday destination. Your morning was cruisy, so it's time to amp it up a little!
Bring your swimsuit because Surfers Paradise gets hot (especially during summer) and there's nothing better than jumping into that turquoise water to cool off!
After you have a swim, wander on up to the main esplanade where you'll be enticed by a variety of different restaurants and bars offering lunch specials.
Now's the time to grab an ice-cream, sit back and take all the Surfers Paradise action in, or if shopping is more you style, head for the souvenir shops where you'll find plenty of fun and interesting gifts to take back for your family.
Parking may be costly and difficult to find, however we had luck at the Chevron Renaissance Shopping Centre which offered 2 hours of free parking in the underground car park.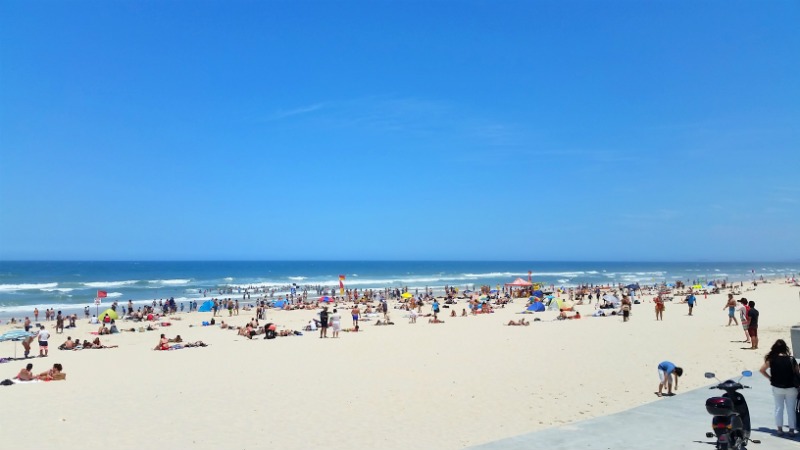 4:30pm – Pacific Fair shopping
Before dinner you can choose to head back to your hotel and relax for a little while, or you can squeeze in some shopping at the fourth largest shopping mall in Australia, Pacific Fair.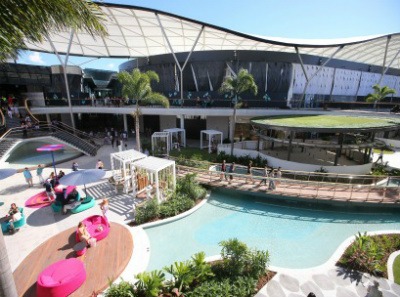 Pacific Fair has been undergoing major renovations to transform it into a sleek, modern shopping and restaurant hub in the centre of the Gold Coast.
This shopping mall has everything you need, along with a huge range of amazing dining options. You can get lost for hours in here (but don't because you need to get ready for dinner)!
Perhaps you could even purchase yourself a little something to wear to dinner…
7:30pm – Dinner at George's Steak and Seafood Restaurant
See first day one itinerary option.
---
Day Two
---
9:00am – Visit Mount Tamborine
Out of all the things to do on the Gold Coast, no trip here is complete without a drive out to the beautiful Gold Coast hinterland.
There's one place in particular that I recommend visiting during your stay and that is Mount Tamborine.
Home to a number of waterfalls, waterholes, walking tracks, cafés, restaurants, breweries, wineries, and small village shops, Mount Tamborine is one of those must-see quintessential hinterland towns that attracts visitors from all over the world.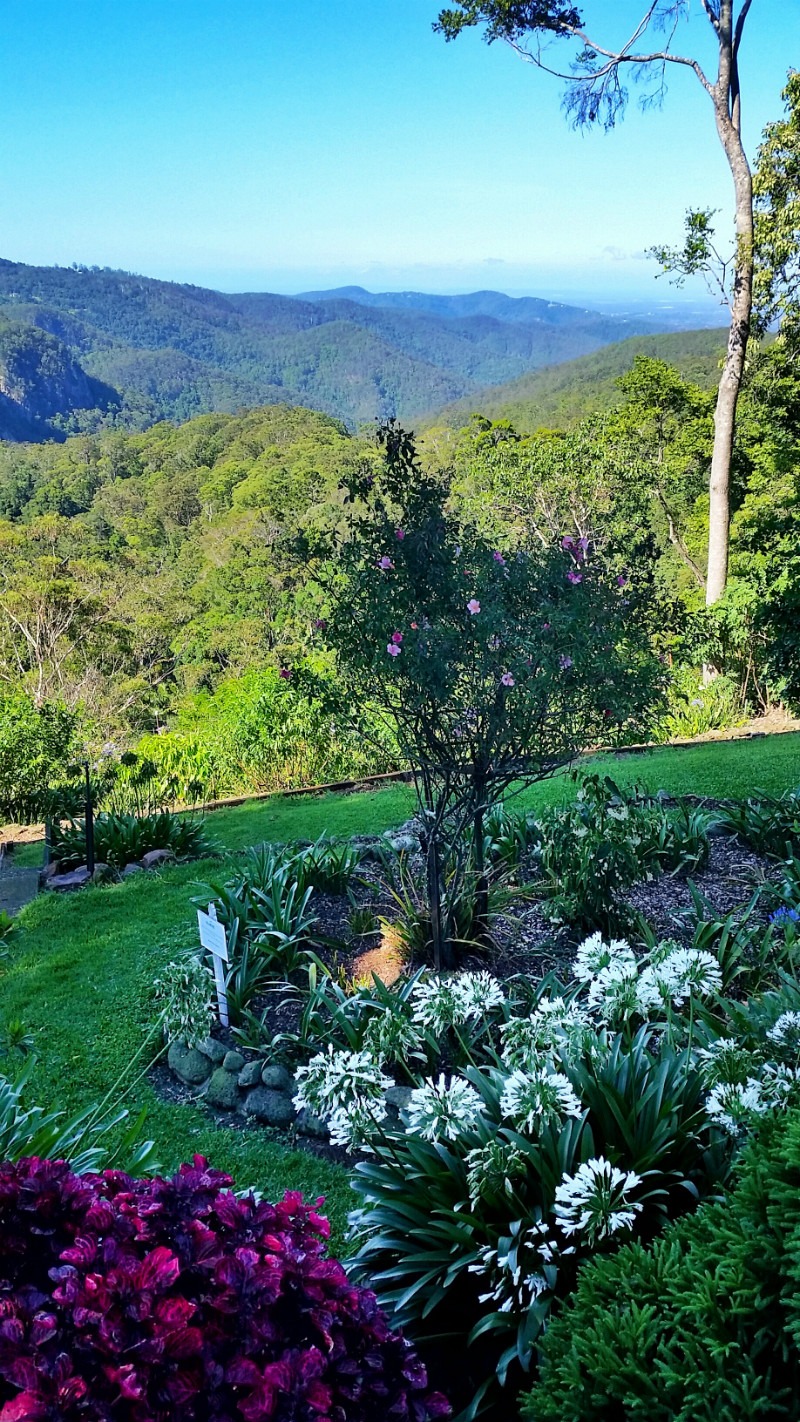 To start your day off, I recommend taking a wander through the Main Street and into some of the quirky little shops and galleries along the way.
You'll be able to find some beautiful souvenirs to take home with you, as well as a range of local produce, including the most decadent and creamy fudge at Fudge Heaven.
Come mid-morning, it's about time you indulged in a delicious traditional Devonshire tea.
There are numerous cafés along the Main Street of Mount Tamborine offering Devonshire tea complete with English Breakfast or Earl Grey tea, scones, jam and cream. Yum!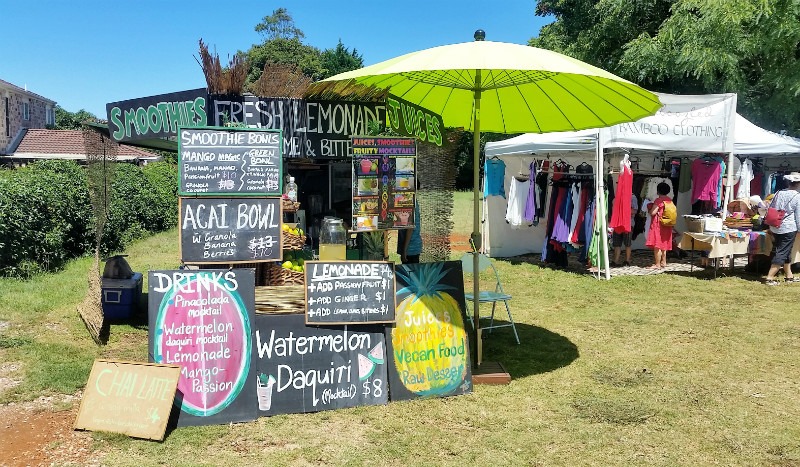 By now, it's probably getting quite hot up there, so why not head down to one of the Mount Tamborine waterholes and cool off?
Cedar Creek Falls is the best option for swimming in the area, with a large waterhole that attracts plenty of locals and tourists looking to refresh and relax among nature.
Alternatively, you can visit Curtis Falls, however, swimming in the rockpool is prohibited here.
After your swim, you can choose to head back up into town for a cool local beer at the Fortitude Brewing Company, or if you're feeling peckish, jump back in the car for a short ride to the pub…
12:30pm – Lunch at Fox & Hounds British Pub
Get ready for a typically British pub meal in one of the most traditional British style pubs you'll come across in Australia.
Located on the side of the road leading up to the Mount Tamborine village centre, Fox & Hounds offers an eating experience like no other in the area.
Complete with eye-catching Irish pub decor, a range of English and Irish beers, hearty British pub food and a warm and welcoming atmosphere, I just fall even more in love with this place every time I visit.
They have an extensive lunch and dinner menu with a range of daily specials on the board, including a vegetarian option and meal sizes are just right.
Careful though, try not to fill up too much because you've got a 3 course dinner coming up tonight!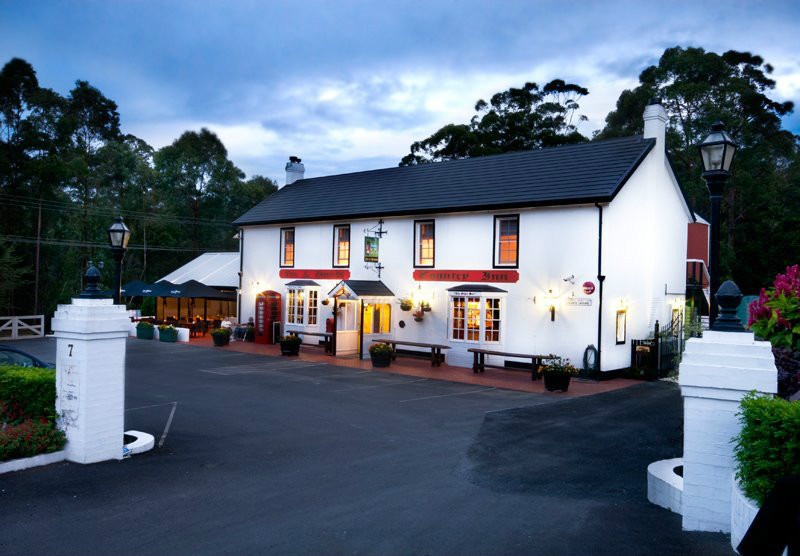 2:30pm – SUP at Tallebudgera Creek
After lunch, you may be feeling a little dazed and sleepy. Pub food tends to do that to you!
So depending on your energy levels, you might want to take this time to go back to your accommodation and rest for the afternoon, or, you could jump back in the car for a trip to Tallebudgera Creek.
Tallebudgera Creek is a beautiful calm river mouth where the water is turquoise blue and invitingly warm.
This is a feel good place where families come together to picnic, swim and relax on the creek's edge while the children splash around in the shallows.
Tallebudgera Creek is also the perfect spot to learn Stand-up Paddle Boarding, due to the the calm, flat nature of the water and warm weather.
My dad and I hired a board for an hour one afternoon just to try it out and we loved it. It cost $20 for one hour and we were also taught the basics of how to SUP before we got started.
Surprisingly, it takes no time to get the hang of it and I actually found it super relaxing (apart from when I ended up going against the tide).
I highly recommend this as one of the best things to do on the Gold Coast!
4:30pm – Grab and coffee and watch the surf at Burleigh Heads
Just around the corner from Tallebudgera Creek (heading back towards Surfers Paradise) is Burleigh Heads.
By now you may be feeling a little tired, so I recommend grabbing a coffee from one of the nearby cafés and then parking up at the point, where you can sit down on the grass and watch over the surfers below.
This is also a beautiful spot to watch the sunset as the waves roll in and crash over the rocky peninsula.
Across from the point at Burleigh Heads you'll have amazing views over to Surfers Paradise, so don't forget to bring your camera!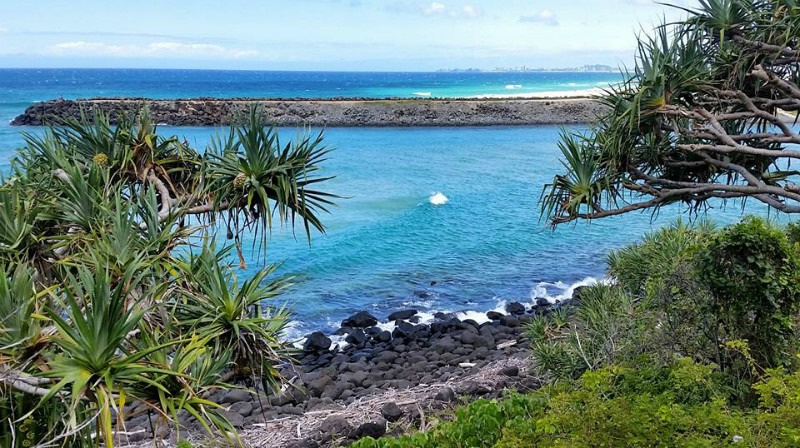 7:00pm – Draculas Cabaret Restaurant
Your action packed Gold Coast weekend getaway is almost coming to an end, so why not finish it off with a bang?!
After the beach, go back to your apartment, get showered and then put your best dress on…
Because this is likely to become one of the most entertaining nights you'll have in your life!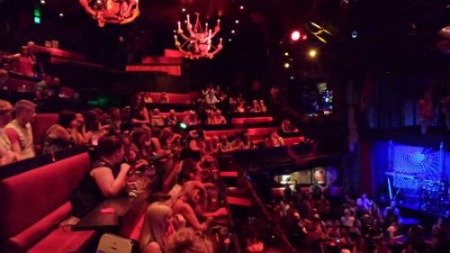 Dinner at Draculas Cabaret Restaurant is an experience you cannot miss, and is absolutely one of the best things to do on the Gold Coast. It's scary, exciting, hilarious and delicious all rolled into one… How is that possible?
You'll sit down to a tasty 3-course dinner whilst enjoying an action packed show filled with vampires, comedy, cabaret, burlesque, and more…
I'm not going to give it all away, because it's the little surprises throughout the night that'll have you coming back for more.
Bookings are essential and you need to purchase your ticket online prior to the night of the show you are attending. Ticket prices start from $95.
Conclusion
There are a plethora of things to do on the Gold Coast, Australia and it really is an exciting holiday destination for the whole family.
Whether you're looking for relaxation or action, the Gold Coast can offer it to you, with its numerous accommodation options, beautiful beaches, refreshing hinterland towns, delicious restaurants, iconic shopping centres and adrenaline pumping attractions.
If you've only got a weekend to spare, look no further than the Gold Coast for a holiday to remember!
For more tips and information on traveling long term in Australia, be sure to check out our Australia work and travel guide.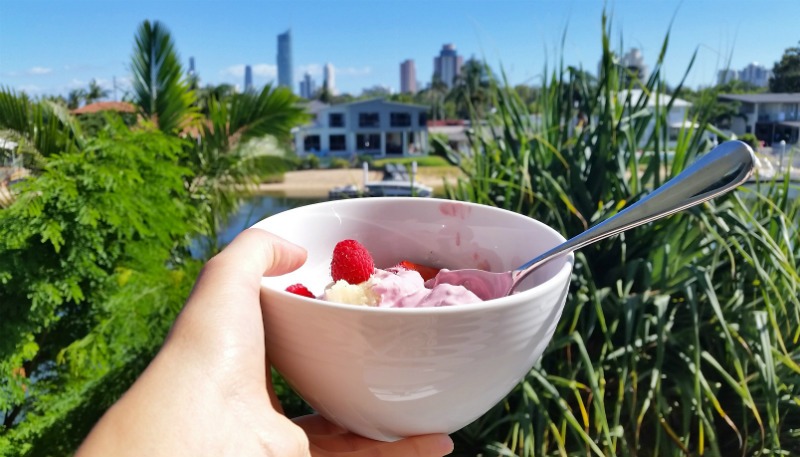 ---
Gold Coast Travel Resources
Gold Coast Accommodation:
To book your accommodation on the Gold Coast, choose Hostelworld for budget, Hotels Combined for comfort or Airbnb for local (and receive a discount).
Want stylish accommodation you can afford? Enter your dates and Hotels Combined will scan all the top booking sites (Booking.com, Hotels.com, Expedia, etc) for the cheapest hotel prices possible:
Gold Coast Flights:
If you are flying in to the Gold Coast, Brisbane or Sydney from overseas, it is beneficial to use a flight compare site to find the cheapest flights. We recommend and use Cheapflights.com.
–> Click here to compare and book cheap flights to Australia
---
Now I'd like to hear from you! Are you reading up on the best things to do on the Gold Coast and have some questions about how to utilise your time? Heard about some other things to do on the Gold Coast that are not on this itinerary? I'd love to hear about them! Leave all your questions, comments and thoughts in the box below!