With credit cards being so dominant today, you have to have at least one, and the Frank by OCBC Singapore credit card could just be the right one for you. Some people go as far as having a different credit card for the purchase and even for rewards. Everyone is different, though.
We simply can't live without cards any longer. First, most people don't have enough cash to make payments through cash. That's why credit cards are essential to how we live. To make timely payments of services.
A card such as the Frank by OCBC Singapore card is one of those credit cards. With perks that are majorly tailor-made to suit millennial spenders, it's a card that's in demand. To learn more about the perks and services, you can read on.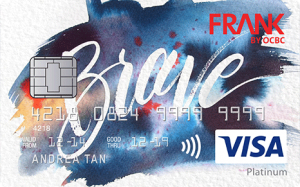 Benefits And Features Of OCBC Singapore Credit Card
With this card, you first get to pick a design from the 120 stylish designs they have. It's more of a hip card – the kind that the millennials pretty much like to have in their wallets. You also earn a 1% cash rebate whenever you ride, eat, or even shop.
The best thing about this card is the 6% cashback you get when you spend online. Today, most people tend to shop a lot online, and that's a major plus for having this card. You also get 5% cash rebates when you spend at selected cafes, at the movies, and even at clubs.
The total cashback you can earn from this card, however, is capped at S$60 and you have to earn it, as well. You earn it by spending S$400 offline on your card.
Eligibility And How To Apply For Frank by OCBC Singapore Credit Card
Like most cards in the market, there are some requirements that you'll have to meet to be approved for this card. They include age and also employment status. First, you have to be at least 21-years old to be considered for this card.
For Singaporeans, you have to earn at least S$30,000 annually. Foreigners, on the other hand, have to earn at least S$40,000 annually. You also have to provide documents supporting the same when applying for the card. These are the documents that are required.
Copy of both sides of NRIC – principal and supplementary
A computerized copy of your last payslip
For self-employed persons, produce the last 2 years' income tax notices
To apply for this card, you can head to the OCBC website for easy online application. 
Fees And Charges
There are fees and charges associated with every credit card in the market. That's basically how credit card companies make money out of the cards. Some of these fees are well-publicized, while others you have to ask your bank about.
Make sure you ask your bank rep before applying for this specific card. Here are some fees and charges associated with the Frank by OCBC Singapore Credit Card.
The annual principal fee is set at S$80
The supplementary annual fee is set at S$40
The annual interest rate of the card is set at 25.92%
Your late payment will cost you at least S$100
For foreign currency transaction, there's a 2.80% fee of the transaction
Cash advances are at a 6% fee of the borrowed amount or S$15 — the highest one
Your monthly payments are at 3% or S$50 – whichever is higher
The annual fees (Principal & Supplementary) associated with this card are waived in the first two years.
Bank Contact & Address
To get in touch with the bank, you can call the customer service number at 1800 363 3333.
The bank's address is Oversea-Chinese Banking Corporation Limited, 65 Chulia Street OCBC Centre Singapore 049513.
Special 6% Cashback Feature
The 6% cashback you earn when you make online expenditures is the feature that most stands out. Today, you can easily get anything online and that's where millennials go to buy anything they want. At 6%, this Frank by OCBC Singapore is one of the best when it comes to cashback rebates today.
Conclusion
The young generation that has their finances in order would really love to get this card. This card earns the young spenders' rewards mostly along with their spending patterns, as they mostly spend online. What are you waiting for? Start your Frank journey today!
Note: There are risks involved when applying for and using a credit card. Consult the bank's terms and conditions page for more information.