Whether you are a frequent traveller who wants to gain access to premier airport lounges or simply want a flexible payment method, Nedbank has got everything you'll need and more. They have a wide range of offerings designed to give you a variety of financial benefits.
One of the best offerings from the line is the Nedbank Platinum Credit Card. With this credit card, you will be privy to the bank's preferential interest rates couples with their flexible repayment options. To know more about this credit card, read on.
Nedbank Platinum Credit Card Features and Benefits
One of the highlights of the Nedbank Platinum Credit Card is its access to Bidvest Premier airport lounges. If you are a frequent traveller, you'll be happy to know that you can get up to 8 complimentary lounge access visits for domestic flights. With this feature, you can say goodbye to waiting in congested areas and say hello to a relaxed and comfortable space whilst waiting for your flight.
Another privilege you can get your hands on is Nedbank's preferential interest rates. Depending on your personal circumstances and your credit rating, you'll be given interest rates that are right up your alley. In addition, you are also entitled to their flexible repayment methods. This is designed to make payments easier and more wallet-friendly.
Apart from these advantages, you will also get automatic basic travel insurance when you purchase travel tickets. This travel insurance covers delayed flights, lost baggage, and in an unfortunate turn of events, falling sick in a foreign country. Through this offering, you can safeguard you and your income from these unwanted events.
Powered by Mastercard, this credit card is accepted worldwide. This will give you global ATM access, zero transaction fees, and up to 55 days interest-free credit.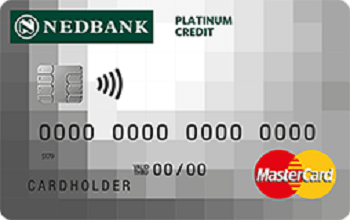 Applying for a Nedbank Platinum Credit Card
Ordering the Nedbank Platinum Credit Card is now more accessible than ever. You can simply head on to the Nedbank website, click apply online and check if you qualify then you can fill out the application form.
To be eligible, you should at least be 18 years old or older to apply, have a good credit rating, and must be a South African resident. You should also be earning a minimum of R350,000 for the Nedbank Platinum Credit Card.
Documents you'll need to prepare include a copy of your valid ID, proof of income, and if you are self-employed, three months' worth of bank statements or payslips.
Should your application be approved, you will be given a credit limit starting from R10,000 depending on your creditworthiness.
Nedbank Platinum Credit Card Fees and Charges
There is a one-time initiation fee of R189,65 for this credit card. In addition, there is a monthly credit facility service free from R25,00. Bear in mind that there is a maintenance fee of R54,00.
The Nedbank Platinum Credit Card is a great choice if you want a card that gives exclusive access to airport lounges and flexible payment terms. If you are interested in getting this credit card, feel free to apply today.