Are you looking for a credit card that you can use for both national and international transactions, with facilitated online banking?
With the Capitec Credit Card, you can enjoy worldwide use without the extra fees plus plenty of other benefits. Read on to find out how to apply for the Capitec Credit Card.
Why Choose Capitec
Capitec provides you with three account options, so you can get the best one for your needs, as each one of them offers different perks and advantages. With the GlobalOne account, you can streamline your savings, credit, insurance, and other bank transactions.
Powered by Mastercard, Capitec's credit card enable you to purchase goods and services, both locally and abroad. You can book flights and accommodation anywhere in the world, either online or in-store.
The GlobalOne credit card allows you to make cash advances from any of the bank's ATMs, and you can even earn reward points. Capitec also offers GlobalBiz and Live Better accounts for you to organize your enterprise and get cashback.
Capitec Credit Card Benefits
The Capitec Credit Card allows you to enjoy interest-free purchases for up to 55 days. This is the bank's welcome perk for you as a new cardholder.
With this card, you are also entitled to credit insurance. You will receive generous payouts in the event of death (full outstanding amount), permanent disability (full outstanding amount), and temporary disability (maximum of 12 installments).
You can also receive a payout of up to the full outstanding amount in case of unemployment, retrenchment, or incapacity to earn an income. Just take note of the bank's terms and conditions.
Travel Insurance
As long as you buy your ticket using this card, your emergency medical expenses while traveling abroad will be covered. You can even choose to top up the coverage at an additional cost.
This card also gives you protection from unauthorized transactions when you lose or misplace your card. Just notify the bank that you've lost your card, and you will be free of liabilities. Read on to learn about the procedure to order the Capitec Credit Card.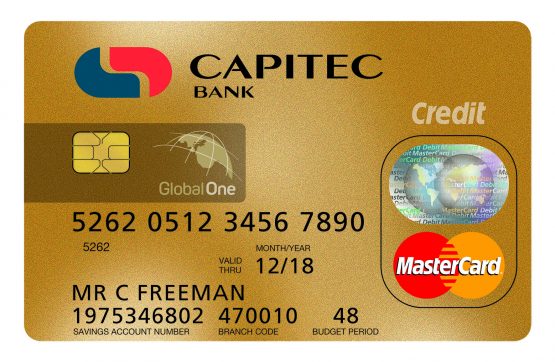 How to Apply
To be eligible for the Capitec Credit Card you must supply copies of documents (valid South Africa ID or passport) proving you are 18 years old and above.
The bank will also ask you to give them a copy of your proof of residential address (not older than 3 months) and your latest payslip (minimum monthly salary of ZAR3,000).
You should also give them a certified bank statement of your latest three salary deposits. Check out the Capitec website for more information.
Upon receiving your card, Capitec will give you up to ZAR150,000 credit limit, depending on your creditworthiness and financial capacity.
Fees and Interest Rates
One-off Initiation fee: ZAR100
Monthly fee: ZAR35
APR: 10.25% – 20.75%, depending on your credit profile.
Late Payment Fee: ZAR120
Understand The Different Account Options
Capitec offers three different accounts, each one of them with a dedicated app to make your financial life a lot smoother.
GlobalOne
Capitec's GlobalOne account shows the bank's commitment to simplicity, accessibility, and customer-centric banking.
Designed to cater to the diverse financial needs of individuals, GlobalOne offers a holistic banking experience that combines convenience, affordability, and a wide range of features.
One of the standout features of the Capitec GlobalOne account is its streamlined fee structure. With a focus on transparency and cost-effectiveness, GlobalOne eliminates many of the complex and often hidden fees associated with traditional banking.
This includes monthly account maintenance fees, card transaction fees, and withdrawal charges, allowing customers to have better control over their finances and reducing unnecessary expenses.
GlobalBiz
This account is a standout financial solution designed to empower businesses with a global outlook. With an emphasis on seamless international transactions and comprehensive financial management, GlobalBiz caters to the unique needs of modern enterprises.
This innovative account offers a range of features that facilitate effortless cross-border payments, foreign exchange transactions, and access to a suite of digital tools to streamline financial operations.
One of the key advantages of the Capitec GlobalBIZ account is its ability to simplify international trade. The account provides businesses with a convenient platform to conduct cross-border payments, allowing them to efficiently settle invoices, pay suppliers, and receive funds from clients worldwide.
Live Better
Designed to elevate your financial journey through a range of innovative features, Live Better has you covered whether you're seeking better ways to manage your money, maximize savings, or earn rewards.
Bank Better Rewards: Live Better allows you to get real cash back on your monthly spending when you choose Capitec as your banking partner. There is no tiered pricing – just genuine rewards that put money back into your pocket.
Spend Better Partners: By joining the Live Better program on the app, you can unlock a world of cash-back offers and discounts at partner stores. 
Save Better Tools: You can activate Round-Up on our app and effortlessly save your spare change. Watch your savings grow and take advantage of our Interest Sweep feature to boost your Live Better savings even further.
MoneyUp: Equip yourself with financial wisdom through MoneyUp, a free online platform offering courses, games, and guides to enhance your financial literacy. Empower yourself with knowledge and take control of your financial future.
Say goodbye to complex fees and hello to simplicity. Switching to Capitec's Live Better enables you to experience a banking transformation. The Best Financial Services Loyalty Programme in SA offers you real cash back, real rewards, and real simplicity.
Capitec Address & Contact Details
Address: 1 Quantum Street, Techno Park, Stellenbosch, Western Cape, South Africa
To get in touch with Capitec, call 0860 10 20 43 (or +27 21 941 1377 from outside South Africa).
Conclusion
In a world driven by convenience, flexibility, and financial empowerment, Capitec Bank's array of offerings, including the GlobalOne account, GlobalBiz account, and Live Better program, stand as true champions of modern banking innovation.
Through GlobalOne, GlobalBiz, and the Live Better program, individuals and businesses alike can truly embrace the notion of banking better, simplifying their financial lives, and embarking on a path toward prosperity.
Capitec Bank's dedication to transparency, simplicity, and customer-centricity paints a promising picture of a future where banking is not just a necessity but a tool for creating a brighter financial future.