Looking for a credit card that you can use for international transactions with NO currency conversion fees? With the Capitec Credit Card, you can enjoy worldwide use without the extra fees plus plenty of other benefits. Read on to find out how you can apply for the Capitec Credit Card.
Being a Capitec cardholder allows you to do many things. Powered by Mastercard, the Capitec Credit Card allows you to purchase goods and services both local and abroad. You can also book flights and accommodation anywhere in the world. You can do all of this either online or in-store. When short of cash, you can also make cash advances from any of the bank's ATM machines. You can even earn reward points. Read on to know more about the features of this credit card.
Capitec Credit Card Features
Unlike most of its competitors, Capitec only offers one card. But with this single card, you can enjoy many perks and advantages. As a cardholder, you will become part of Global One account, which streamlines your savings, credit, insurance and other bank transactions.
Capitec Credit Card Benefits
Once you receive the Capitec Credit Card, you can enjoy interest-free purchases for up to 55 days. This is the bank's welcome perk for you as a new cardholder.
With this card, you are also entitled to credit insurance. You will receive generous payouts in the event of death (full outstanding amount), permanent disability (full outstanding amount), and temporary disability (maximum of 12 instalments). You can also receive a payout of up to the full outstanding amount in case of unemployment, retrenchment, or incapacity to earn an income. Just take note of the bank's terms and conditions.
Moreover, you will have travel insurance coverage. As long as you buy your ticket using this card, your emergency medical expenses while traveling abroad will be covered. You can even choose to top-up the coverage at an additional cost.
This card also gives you protection from unauthorized transactions when you lose or misplace your card. Just notify the bank that you've lost your card and you will be free of liabilities. Read on to learn about the procedure to order the Capitec Credit Card.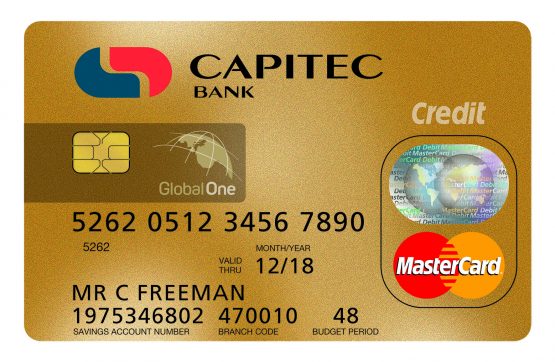 How to Apply
To be eligible for the Capitec Credit Card you must supply copies of documents (valid South Africa ID or passport) proving you are 18 years old and above.
The bank will also ask you to give them a copy of your proof of residential address (not older than 3 months) and your latest payslip (minimum monthly salary of ZAR3,000). You should also give them a certified bank statement of your latest three salary deposits. Check out the Capitec website for more information.
Upon receiving your card (which you can get immediately), Capitec will give you up to ZAR150,000 credit limit. Your credit limit will depend on your creditworthiness and financial capacity.
At the time of writing this article, Capitec doesn't offer an online application feature for credit cards. You must visit the branch near you.
Fees and Interest Rates
One-off Initiation fee: ZAR100
Monthly fee: ZAR35
APR: 10.25% – 20.75%, depending on your credit profile.
Late Payment Fee: ZAR120
Capitec Address & Contact Details
Address: 1 Quantum Street, Techno Park, Stellenbosch, Western Cape, South Africa
To get in touch with Capitec, call 0860 10 20 43 (or +27 21 941 1377 from outside South Africa).
Conclusion
In summary, you will enjoy the Capitec Credit Card if you want to keep your finances in order and if you are frequently traveling and spending time abroad. Apply now to begin enjoying these credit card benefits.