Looking for a credit card that will give you plenty of opportunities to travel to various destinations? With the Avios Credit Card, you can enjoy this perk and more. Read on to find out how to apply for the Avios Credit Card.
As a holder of the Avios Credit Card, you get the privilege of purchasing products and services anywhere in the world. Powered by Mastercard, you can shop at any online or offline merchant in virtually all parts of the world. Booking your trips and accommodation will also be easy if you use this card. On top of these, you will receive great cashback and rewards that will increase your spending power.
Avios Credit Card Features
Avios Credit Card is issued and managed by ABSA Bank. Meaning, the card is subject to the subject to the credit card terms and conditions of ABSA Bank.
Aside from travelling, you can use the Avios Credit Card for your daily purchases and other financial transactions. Check out some of its advantages and perks:
Avios Credit Card Benefits
Upon receiving your card, you can obtain interest-free credit for up to 55 days on eligible purchases. This feature will kickstart your spending with this credit card to accumulate cashback and rewards.
You can get a bonus of up to 4500 AVIOS points within the first three months. Once you earn enough points, you can convert it to huge discounts or promos for your local and international trips.
Moreover, this card has the latest security features, such as the EMV chip. With these safety measures, you can be sure that scammers and frauds cannot access your personal information and records of financial transactions.
What's more, you can personalize your card by choosing the card face of your choice from the options given by the company.
Interested in ordering the Avios Credit Card? You should know the application process and requirements first. Continue reading.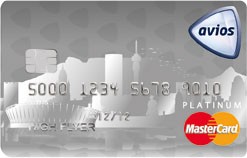 Avios Credit Card Application Process
So far, Avios Credit Card does not have the online application feature. You can contact the company or visit an ABSA Bank branch to order. Head to the Avios website for more details on how to apply for this credit card.
During the application process, you may be asked to submit specific requirements such as a proof of identity (a valid ID or document proving you are 18 and above). You will also be asked to give your employment documents that will show that you are receiving a monthly income of at least ZAR8,000.
Once Avios approves your application, you can get a credit limit of ZAR50,000 depending on your financial capacity and credit history.
Fees and Interest Rates
The Avios Credit Card has a monthly fee of ZAR25. You should also be aware of the card's cash advance fee (ZAR7.50 + ZAR1.40 per ZAR100 of the withdrawn amount or ZAR35, whichever is greater) and late payment fee of around ZAR140.
The Avios Credit Card has a monthly interest rate of 20.75%.
In summary, becoming an Avios Credit cardholder will allow you to earn great cashback and incentives for your local and international trips. Apply today to get started.