Absa, a leading South African bank, offers a wide range of credit cards for different types of people for making daily purchases, booking flight and hotel accommodation all over the world and other uses.
Absa Credit Card Types
The bank categorizes its credit cards into four — everyday use, exclusive, co-branded and student. Each caters to the unique spending habits and lifestyle of cardholders. One of the cards that customers can use for daily purchases is the Absa Gold Credit Card.
Absa Gold Credit Card is a general-purpose card with some lifestyle perks targeting average income earners.
Absa Gold Credit Card Features
Upon approval, the Absa Gold Credit Card offers an interest-free period of up to 57 days on individual purchases to its customers. They can also receive an extended credit for purchases of more than ZAR300 that they can pay between six and 48 months.
Absa also gives its cardholders access to Bidvest lounges at domestic and international terminals within the country. They are also covered with basic travel insurance.
The card also has advanced security features such as EMV chip. Cardholders can also make contactless payments at any physical or online merchant.
While the bank offers special offers and discounts on travel, dining, and shopping in using this credit card, it does not provide a list of these advantages says on its website. Moreover, customers may need to contact the Absa's service center to ask for information as the bank's website provides minimal information on its promos, product updates, and other essential details.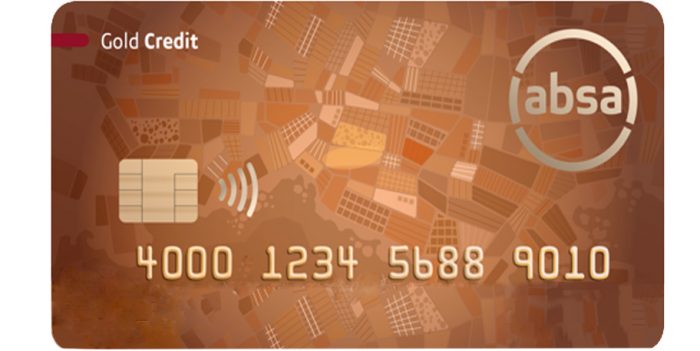 Absa Gold Credit Card Application Process
Interested cardholders can apply online for the Absa Gold Credit Card online. A bank representative may contact applicants additional information and other requirements such as proof of identification showing they are 18 years or older and a citizen or resident of South Africa. They must also have a monthly income of ZAR4,000 to ZAR25,000 to be eligible.
Absa only issues Absa Gold Credit Card to customers with a bank account and good credit score. The bank may also reject applicants with bad loans and are undergoing debt counseling
Upon approval, the bank will provide its new Absa Gold Credit Card customers a credit limit of approximately ZAR20,000. This amount can be higher or lower depending on the customer's credit history, financial status, and spending habits.
Fees and Interest Rates
Cardholders of Absa Gold Credit Card should pay a monthly fee of ZAR23, a monthly facility service fee of ZAR27, and an initiation fee of ZAR170. They must also be mindful that they should pay a cash advance fee worth ZAR4.50 plus ZAR1.50 for every ZAR100 withdrawn. This card has an annual interest rate of 20.75%.
All in all, Absa Gold Credit Card is a general-purpose card with various promos and rewards. However, cardholders must ask the bank's customer service to check the latest promos and privileges offered by the bank. Because of this credit card's limitations, experts recommend applicants who want additional travel and lifestyle benefits to picking a high-end card from Absa or its competitors.