Want to enjoy huge savings as a credit card holder? By applying for a South Indian Bank Credit Card, you get big discounts by being an active user.
South India Bank has joined forces with State Bank of India (SBI) to come up with a feature-packed credit card. Co-branding with the biggest bank in the country gives cardholders a wide range of benefits…
The bank offers two kinds of credit cards – SimplySAVE (for ordinary employees) and Platinum (for executives and high net worth individuals). Cardholders of both can avail of perks, discounts, and cash back. Read on to learn how to order a South Indian Bank Credit Card…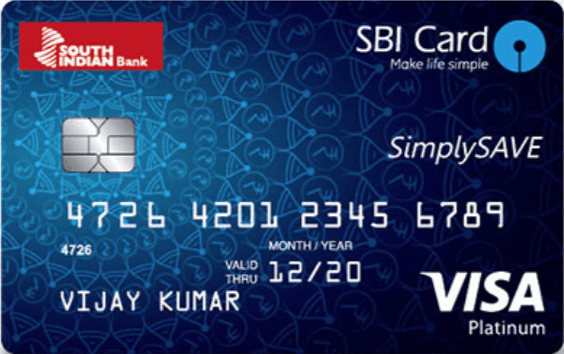 South Indian Bank Credit Card Features & Benefits
For simplification, let's focus on South Indian Bank SimplySAVE SBI.
Being the basic variant, SimplySAVE SBI comes with an annual fee of only INR 499. Apart from a low yearly fee, you can experience the following advantages:
True to its name, one of the biggest benefits of the card is its capacity to provide you huge savings. By owning this, you can have access to many discounts on dining, grocery, movie ticket bookings, shopping, and many more. For every INR 100 spent, cardholders earn 1 reward point. You can redeem your rewards for discounts and gifts.
SimplySAVE Visa is also ideal for motorists. For every INR 500 to INR 3,000 worth of petrol in India, the 2.5% fuel surcharge is waived.
What's more, you can receive up to 2.5% value back for purchases in department stores and groceries.
SimplySAVE SBI Requirements for Eligibility and Application Information

To apply for a South Indian Bank credit card, particularly the SimplySAVE SBI Visa card, you can simply fill out the online credit card application form found on the South Indian Bank website.
Some of the required supporting documents may include the following.
Proof of identity (you must be 18-65 years old)
Proof of address (Utility bill, bank statement, etc)
Proof of income (payslips, recent income tax return, etc)
You should have a good credit score and not had a default on a loan or credit card in the past.
After submitting your online application, the bank will check your eligibility. If approved, the bank will set a credit limit of up to INR 300,000 depending on your financial capacity.
South Indian Bank Credit Card Fees and Charges
Check out some of the fees and interest rates associated with this credit card. For a more comprehensive rundown of the fees and charges you may occur when using this card, please contact a qualified bank representative.
Annual fee: Rs. 0 – Rs. 4,999
Cash transaction fees: 2.5% or Rs. 500 (whichever is higher) at domestic ATMs and 2.5% or Rs. 500 (whichever is higher) at international ATMs
Finance charges: up to 3.35% per month (40.2% per year) from the transaction date
Late payment fees: between Rs. 400 and Rs. 950, depending on the amount due
Over limit fees: 2.5% of the over limit amount or Rs. 500 (whichever is higher)
Payment dishonor fee: 2% or minimum Rs. 500
Card replacement fees: Rs. 100 – Rs. 250
Foreign currency transaction fee: 3.5%
SBI Contact Info and Head Office Address
To get in touch with SBI, you can call customer care at 1860 180 1290, 1860 500 1290, 39 02 02 02 (prefix local STD code), OR 1800 180 1290.
Their head office address is SBI Card, Correspondence Department, DLF Infinity Towers, Tower C, 10-12 Floor, Block 2, Bldg 3, DLF Cyber City, Gurgaon – 122002, Haryana, India.
Conclusion
In summary, a South Indian Bank credit card, particularly the SimplySAVE SBI Visa card is a great help if you want to earn rewards and discounts for your spending.
With huge discounts, reward points, gifts, and other perks, cardholders can enjoy fantastic financial benefits. Apply today!
Note: There are risks involved when applying for and using a credit card. Please see the bank's Terms and Conditions page for more information.