Looking for an every day credit card that helps you to save money with every swipe? Well, you can stop the search because a Karnataka Bank credit card will help you achieve this.
In a world of rapid spending, you need a credit card that allows you to make transactions easily, conveniently and with benefits. Karnataka Bank gives you these options by offering the SimplySAVE SBI Card.
Here's why you should consider applying for this credit card with tips on how to do so…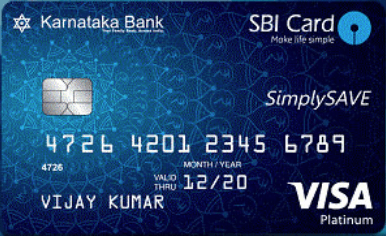 Karnataka Bank Credit Card
If you are looking for a credit card that offers the best value for your money, you are in for a treat with Karnataka Bank's SimplySAVE SBI Card (Visa). This card offers unparalleled affordability and a wide variety of rewards…
When you spend on any transaction except fuel, insurance, utilities and cash transactions, you are entitled to 1 reward point per Rs 100 spent. Each point is equal to Rs 0.25.
You can also get more out of your expenditure with the accelerated reward points the bank has to offer. You get a whopping 10x the points when you use your card for movies, dining, groceries and at department stores! This means that you will receive 10 points for every Rs 100 you spend on these transactions!
For faster points accumulation, make sure that you spend Rs 2,000 in not more than 60 days after the card's issuance. This allows you to get 2,000 BONUS reward points which you can redeem for cash or gifts.
The bank is also offering Rs. 500 cashback to the first 25,000 people who apply for this credit card, so get in quick!
If convenience is your priority, you will be glad to know that the bank offers various ways to get information about your card. You can use the Simply SMS feature of the card for balance inquiry, reporting, reward points balance and other important functions.
Applying for a Karnataka Bank Credit Card
Should you decide to apply for the Karnataka Bank SimplySAVE SBI Visa Card, your application process will be a convenient experience.
To apply, you must go into your nearest branch and fill out a credit card application form.
As with most banks, Karnataka Bank has an age, income and residence requirement. Make sure that you have copies of all related documents on hand. This way, any file the bank requests will be easily within your reach.
Some supporting documents you need to prepare may include:
Your PAN card
Income tax statement
Utility bills
National IDs
Pay slips
To know more about the bank's eligibility requirement, visit their website or go to a branch near you to enquire.
If your application is approved, the bank will determine your credit limit based on your financial standing. Depending on the card you choose, this may be anywhere from Rs. 10,000 to Rs. 100,000.
Karnataka Bank Credit Card Fees and Charge
The following fees are for the Karnataka Bank SimplySAVE SBI Visa Card.
Annual fee: Rs 499 plus taxes
Waive your annual fee for the 2nd year onwards when you spend up to Rs 90,000 in the previous year
Supplementary credit cards: 1 FREE
Interest rate: 3.35% Monthly
Cash withdrawal fee: 2.5% of the transaction amount
Late payment fee: up to Rs. 750, depending on your current balance
Over limit fee: 2.5% of the over limit amount (min. Rs.500)
Foreign currency transaction fee: 3.5% conversion mark-up 

Image source: The Financial Express
How to Contact the Bank
If you would like to contact the bank, you can reach them at 1800 425 1444. In addition, you can find their main office in India at 599. Mahaveera Circle, Kankanady, Mangaluru-575 002.
Conclusion
Covering your expenses has never been more worthwhile with a Karnataka Bank SimpleSAVE SBI Card. With this in your pocket, you can finally make seamless personal transactions without hassle and look forward to reaping the benefits!
Disclaimer: There are risks involved when applying for and using credit products. Ensure you consult the bank's terms and conditions page before agreeing to anything.