When decorating your child's room, it is ideal to consider what they want. There are different room styles to make, depending on their mood, personality, and preference.
Teenagers must be involved in deciding what kind of decorations to put into their room because this is a way to practice being independent. If you are on a budget, there are no worries because there are many DIY ideas that you can search on the internet that will make you resourceful.
Teenagers nowadays prefer those that are trendy and based on what they see on social media. The goal is to create space based on their style and interest. Read on to see some room inspiration and bedroom decor tips for decorating your child's room.
Choosing the Headboard
Aside from there being bed support, headboards may add up the texture to the room's overall look. Invest in a high-quality, timeless upholstered bed frame.
The texture is significant in planning interior design. Beds with a wood-carved headboard or an upholstered headboard give a textured consistency. It corresponds to the bedroom layout. There are various luxurious headboard collections for teens that suit well to their style.
If you want your child to enjoy the headboard longer, choose for a versatile type of headboard that will match any style and color of the room.
The headboard comes in different sizes, there are ones that can have the same size as the bed, but there are headboards covering the whole wall where your bed is. If the headboard is plain, you can make the beddings colorful.
Style
It is quite a challenge to choose the room style for teenagers because of their varying interests and style. Their preference right now may be different from what they want 2-5 years from now.
If the style chosen is edgy, consider the possibility of renovating a few years from now that is why the fixtures to be used must be easy to disassemble or dismantle.
If you are using dark-colored paint for the walls, consider using wallpaper, so it's easy to change it if you want to. Don't overdo decorating the room, especially if it is small because it will make the room smaller.
You can have an accent wall if you don't want to make use of room decors. You can experiment by mix and matching different furniture and decorations in different colors, but just make sure that the colors jive well with each other.
Incorporate Artwork
Style the room with trendy pieces that have a soothing look. Abstract arts are modern and chic. Select a color theme, minimalist painting, or framed photos that volume timeless elegance and visually stunning.
Purchase artwork pieces that satisfy the wall decor and arrangements of the pattern. Black frames are also a trendy look that never gets out of style.
Support your child's passion, such as creating their art wall display, to cater to their creativity for arts. Create an eclectic gallery wall that centers the attention on their bedroom. Combining the textures, colors, and frames will be the central piece in the room's small space.
Design a Multi-Functional Room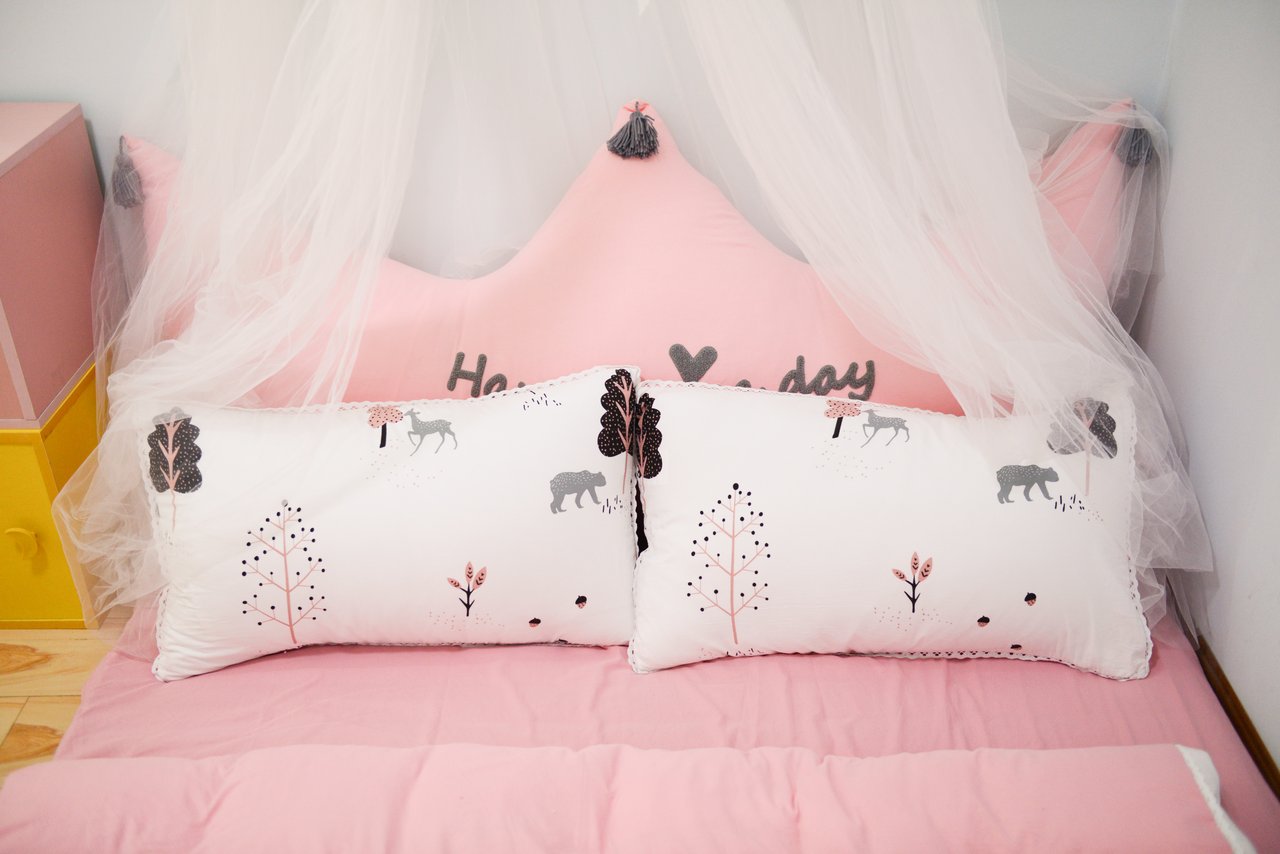 Whether the room is small or large, you may create different areas in the room. Since it's for a your child, it is ideal for creating a study area, so they have a space to stay if they need to accomplish school tasks. You can make use of partitions through the use of furniture.
If your child loves hanging out with friends, you can create a simple lounge area, so they have a space to chill when they come over. Space must be made into several divisions, like a small lounge area for spending time with friends, a study area, and a place for a bed.
Conclusion
Letting your child take part in designing their own room is a way to express themselves. As a parent, allow them to make decisions about the concept of their space and the things that they want to use but guide them still.