Update! Our ultimate travel job guide – Get Paid To Travel: 101 Amazing Travel Jobs – is now live! If full time travel is your ultimate goal but you're not sure how to make it a reality just yet, don't leave without reading this first!
It's 2018 and we've reached this amazing point in time where no longer do we have to be stuck in one location for eternity, just so we can earn an income to… Live.
No, no no!
Now, with a little help from forward thinking employers, the world wide web and your own determination, you can now secure remote online jobs that allow you to roam the world as you very well please.
Intrigued?
Well let's show you the exact kind of jobs I'm talking about. I'm warning you though – the following websites will open up a whole new world of opportunity for you to live, travel and work around the world… Are you ready?
Hold on to your seat!
I also recommend checking out these 15 awesome travel job courses that'll teach you the exact skills you need for many of these remote online jobs.
Online Jobs: 42 Best Websites To Find Remote Employment While Traveling…
1. Contena
Contena is a brand new platform which lists a huge selection of the most up to date and relevant remote freelance writing jobs available right now, even if you don't have any experience.
Since trying it out, Contena has become my absolute favourite tool to find exciting writing gigs that actually interest me. The way they use categories such as lifestyle, health/fitness, parenting, finance, marketing, social media, etc, to display jobs makes it really quick and easy to find the opportunities suited to you and your writing style.
They also give a good indication of whether the company is offering low, mediocre or high payment before you even click on the job (to save your precious time).
Not only that, they have a whole library of fantastic training materials to prepare you for freelance writing success, including pitch templates, negotiation scripts, portfolio advice and even more!
2. FlexJobs
FlexJobs is a purely remote job search platform with an emphasis on telecommuting and freelance jobs. While some companies prefer you to be US based, there are plenty of online travel job opportunities for citizens of any country, as long as you are proficient in the English language.
3. Working Nomads
Specifically designed for people like you who want to become digital nomads and work online while traveling, Working Nomads is a helpful and promising resource of quality jobs. You can search for any kind of remote jobs, from design work, to customer success, to writing. Job opportunities are posted quite often by companies based all around the world.
4. Skip The Drive
Skip The Drive is a remote job finding platform which aims to provide people like you with professional work from home (or work from anywhere, really) opportunities. Whether you're looking for freelance or contract work or full time employment, they've got you covered.
5. Lingoda
Lingoda is one of the top online language schools, employing teachers from all around the world. As a remote teacher, you must be a native speaker in the language you teach and lessons are held via Skype. You can work as little or as much as you want, from anywhere and they pay 8.50 € per hour.
6. Virtual Vocations
Virtual Vocations say they have the largest online database of remote telecommute jobs, however the positions seem to be predominantly for US citizens. That said, this platform offers opportunities in almost all online fields. You can create a free account to get access to a limited amount of online job opportunities or you can become a premium member for $15.99 per month and get full access.
7. Toptal & Toptal Business
If you are highly skilled developer or designer and want to travel more without having to succumb to low paid freelance jobs, this platform is for you. Toptal takes you through a rigorous screening process before they accept you as a freelancer. This is to identify the very best freelancers for their clients, and if you pass, it will put you in their 'top 3%'. Then you'll have the opportunity to work with clients like Airbnb, J.P.Morgan and Stayful.
8. Upwork
Upwork is one of the top online platforms in which connects businesses with freelancers from all over the world. In fact, they have over 1 million clients using their service. As a freelancer, you can browse the job opportunities (in every online field possible) and then 'bid' for a chance to get the job. Most freelance jobs are hourly or contract based.
9. Freelancer
Freelancer is another popular platform in which connects businesses with freelancers to get lots of different jobs done. While Freelancer is quite saturated with over 20 million users, there's still no harm in signing up for free and putting your bid in when an opportunity arises.
10. Guru
Guru is newer freelance platform with 1.5 million members. As this platform is lesser known than Freelancer and Upwork, it could be a great starting point on your hunt for hourly or contract remote online work. With less competition, you are far more likely to secure quality freelance work that will fund your adventures around the world!
11. The Muse
The Muse is said to be the only online career resource which gives you a behind the scenes look at job opportunities, expert career advice and access to personal coaches to help you further your career. While The Muse posts all kinds of job opportunities, they do have an entire section devoted to remote and work from home/travel jobs. I had a scroll through and some of the opportunities look pretty cool!

12. We Work remotely
We Work Remotely is a remote job search platform which lists "jobs that aren't restricted by commutes or a particular geographic area." They say that clients can find the most qualified people in the most unexpected places… That qualified person in unexpected places can be you! With job opportunities in fields ranging from finance to design, this is another great starting point in your quest for online travel jobs.
13. Remote OK
Remote OK is specifically designed to help you find jobs that you can do from anywhere. They have a handy sign up tool so that you can receive daily, weekly or monthly alerts about new jobs and there are opportunities in tech and non-tech fields. While some remote jobs may require you to be a US citizen, there are still companies posting opportunities from all over the world.
14. Jobspresso
Opportunities posted on Jobspresso allow you to work remotely from anywhere. They curate online jobs in marketing, tech, customer support and more so you can get the best idea of what's around. With huge online companies such as Shopify and Amazon posting remote job opportunities on this platform, you can trust that there is quality, well paid online work available.
15. Remote Tech
Remote Tech Work is a platform for seeking online jobs in development, design and support engineering. A lot of the opportunities seem to be US based, however most allow you to work from anywhere.
16. Idealist
As someone who dreams of having the best of both worlds by exploring new countries whilst earning an income, some may say you're an "Idealist". Luckily, for you, there's a site specifically for that. This platform "connects idealists with opportunities for action", offering a whole section on worldwide remote jobs which are posted very frequently.
17. Authentic
Authentic is the leading job board for designers, hackers and creative professionals. Huge publishers like The New York Times use Authentic to hire staff and it looks as though there are some good quality job positions on offer. Not all of these opportunities are remote though, so it's important to tick the 'freelance' box before you get your hopes up.
18. Virtual Assistants
The Virtual Assistants job board allows you to use your current job skills to work from home. Posting jobs in accounting, sales, tech, writing, customer service and secretarial assistance, this site is particularly for stay at home mums who want to make some extra income (not to say you can't use it). The only thing I found with this platform is that all the job postings are from the US, which means you'll probably need to be a US citizen.
19. Virtual Office Temps
Virtual Office Temps is a platform where businesses can immediately hire virtual assistants to take on a number of small tasks. The opportunities listed only require entry level skills so this could be a great resource to initially use if you want to go down the virtual assistance path.
20. Mashable Job Board
So, who knew Mashable had their own job board? Yes, Mashable, the huge multi-national site about all things tech, social media and business are now giving you opportunities to work in fields like tech, social media and business! While not all of the positions listed are remote, keep an eye out because more and more digital companies are starting to see the benefits of hiring remotely.
21. Problogger Job Board
The Problogger job board has been around for a while now and is one of my favourite resources for looking up online jobs. While I don't actually plan to have a remote 'job', it's always interesting to scroll through and see what's available for our readers. Problogger is actually a site which teaches people how to become… Pro bloggers, so naturally, there are quite a lot of blogging, writing and VA jobs available. Take a gander!

22. Blogging Pro Job Board
The Blogging Pro job board is full of freelance and remote job opportunities such as writing, blog management and copywriting. They post all kinds of online job types, whether you're looking for full time work or just after something on the side.
23. Media Bistro
I recently stumbled across Media Bistro and I have to say, I'm impressed. They've got major companies like HBO, Time and Fox News posting freelance job ads! To find the kind of remote/online jobs you're looking for, it's important to tick the "freelance" box before searching. I reckon a lot of opportunity awaits on this platform.
24. Paid To Blog Jobs
Paid To Blog Jobs was created by a guy called Tom who was sick of spending hours searching through low quality jobs, finding the odd one he liked and then not getting the job anyway. Tom says Paid To Blog Jobs is a unique service that helps you find and secure more freelance blogging jobs in less time. You do have to pay a membership of this one as they only list top quality freelance blogging opportunities. The other reason to become a member is because the community is quite small, meaning you spend less time looking for work and more time winning it.
25. Blogger Jobs
Blogger Jobs aims to connect blog network owners with prospective writers and give more people the chance to earn from their skills in writing. With freelance and remote job opportunities, the site is very easy to navigate and new postings are frequently added.
26. Freelance Writing Gigs
The Freelance Writing Gigs site is a very helpful platform if you're interested in getting into freelance writing while you travel. Not only do they have a complete resources section full of tips, but they also have a freelance writing job board. New opportunities are posted every couple of days for freelance/remote work.
27. Craiglist
Good ol' Craigslist… Who Knew? Yes, they have a whole job section which often contains remote work opportunities. They don't make it so easy to find these online opportunities because there isn't technically a category for them, however, if you search through categories such as writing/editing, web/info design, technical support, sales, marketing, business and admin, you may find something. Because you are wanting to work remotely, remember, you don't necessarily need to be looking for jobs in your home area.
28. Gumtree
Gumtree is another classifieds site which has a great job section, often hiding some remote work gems. Again, they don't exactly have an online jobs section but you can browse through other categories containing jobs that are often executed remotely.
29. CopyPress
If you are breaking into the freelance writing world and want to build up your portfolio whilst getting paid at the same time, CopyPress could be the answer you're looking for. They are always on the hunt for new bloggers to write articles on a number of different topics for their growing base of clients and will continue to send you work if you do a good job.
30. LinkedIn
Funnily enough, although LinkedIn is the number one platform for connecting professionals and establishing career opportunities, not many people use it as a tool to find jobs. But if you think about it, you pretty much have access to anyone in any company you'd love to work for… So use this to your advantage! Not only that, LinkedIn also has their own remote job board, so if I were you, this would be my social media channel of choice!
31. AngelList
Remote Employment – Start-up | www.angel.co
AngelList is the platform to be on if you are hoping to work in the world of start-ups. Perhaps you plan to start your own business one day or perhaps you are drawn to the attractive salary that often comes with working for a start-up… Either way the remote jobs offered here will provide you with a ton of opportunity to further your career whilst holding on to that freedom of being able to work from anywhere. Another great thing about many start-ups is that because they are young, and often have this quirky kind of culture, they see and understand all the benefits of employing remote workers.
32. Growth Hackers
Growth Hackers is a platform which facilitates professional collaborations and allows ideas to take shape through their learning resources and job network. This site is all about growth so most of the remote job opportunities are in the fields of marketing, engineering and analysing.
33. Preply
Preply is a language tutoring platform where you can create a profile and start tutoring students almost immediately. Basically, students go on to Preply and leave details about what they want to learn and how much they can pay and then you can respond with your available schedule/rates. The easiest part about this is that the lessons are made 100% via Skype so you can do it from anywhere.
34. Inbound
Do you wanna know why I love this job site? Because they actually use the term "digital nomad" when you click on the remote jobs category. They've actually caught onto this idea of being location independent and working online while you travel. I love that, because a lot of these sites still use the terms "home office" and "work from home", but lets face it, most of us just want to get a job that allows us to travel the whole damn world.
35. Remotive
Remotive, supported by Hired (a platform which let's companies apply to you, not the other way around), is a job search network which allows you to find the best remote jobs so you can work form anywhere. They post jobs in all kinds of fields, from marketing to education and also have a slack community so that you can receive useful tips and communicate with other remote workers.
36. Jobbatical
Jobbatical is a bit different to most of the other platforms I mentioned here and that is because they list international job opportunities for people who work online. They say that "skills are becoming global and the time is perfect for collaborative teams, where different nationalities enrich the culture." Whether you're a marketer, engineer, content creator, designer, programmer, you name it, they've got opportunities waiting for you in different countries all around the world!
37. Escape The City
Escape The City is a platform where you can gain access to programmes, opportunities and inspiration to find or create work you love. They also pride themselves on listing exciting job opportunities from forward thinking and progressive employers. I love that! They don't always have a lot of job opportunities on offer but keep an eye out, because when they do, I'm sure it'll be a gonner in no time.
38. ESL Authority
I recently came across ESL Authority and thought it was a fantastic resource for anyone wanting to teach English online while traveling. Basically, this is where you can come to find pretty much every online English teaching opportunity. You may be teaching English to Chinese, you may be teaching it to Brazilians, who knows?
39. JobRack
JobRack is the first specialised remote work job board for freelancers only from Eastern Europe that is free to sign up for. Freelancers can build their profiles and apply for jobs directly on the website. All Eastern European job seekers are welcomed to register on the site and apply to hundreds of jobs listed!
Update 2017
This year I have been contacted by yet more awesome companies who can connect you with remote online jobs. Check them out…
40. Outsourcely
Outsourcely is one of the easiest ways to connect with companies all over the world hiring remote workers for jobs in content creation, design, web development, admin, customer service, marketing and more. Outsourcely isn't as saturated with freelancers offering low fees compared to other large platforms, which means you'll likely have much less competition and secure higher paid work. Take a looksy!
41. TakeLessons
TakeLessons has been connecting students with teachers online since 2006. Starting off in music, TakeLessons now works as an online marketplace, allowing students to find teachers in various fields, from acting coaches and dance instructors to English teachers and homework tutors. The software is free to use and helps you to manage your online teaching business, acting as the bridge to find, schedule and communicate with new students. Get teaching!
42. Hubstaff Talent
Hubstaff is an online service which makes it easy for companies to manage remote teams and work. Built by a small team spread across the globe, the company's office space is 100% virtual, so everyone works remotely (and by the way they're always hiring remote staff). Hubstaff Talent is their awesome platform which allows employers to connect with freelancers directly without any fees or middle-men involved (hard to come across nowadays). All you have to do is start a profile, add your skills and start connecting with new clients!
[NEW BONUS] 43. Lingostan
Lingostan is a brand new online language learning platform where students interact with teachers and tutors to improve their linguistic skills. They hire native speakers from various countries who independently conduct their lessons through Skype. You can work as a fully qualified teacher or if you don't have any qualifications, you can work as a tutor to help advanced students with conversation. A great opportunity to work from home!
Online Jobs Conclusion
After reading through this list of websites where you can find remote/online jobs to take traveling with you, I hope you've found a lot of valuable resources and now have more inspiration and courage to plan out your life as a new digital nomad!
If you have any questions or queries please don't hesitate to comment below, and also, to get even more tips and inspiration, don't forget to download our free eBook, 12 Steps To Full Time Travel.
Love the idea of working remotely? Don't forget it! Pin one of these to your travel board on Pinterest >>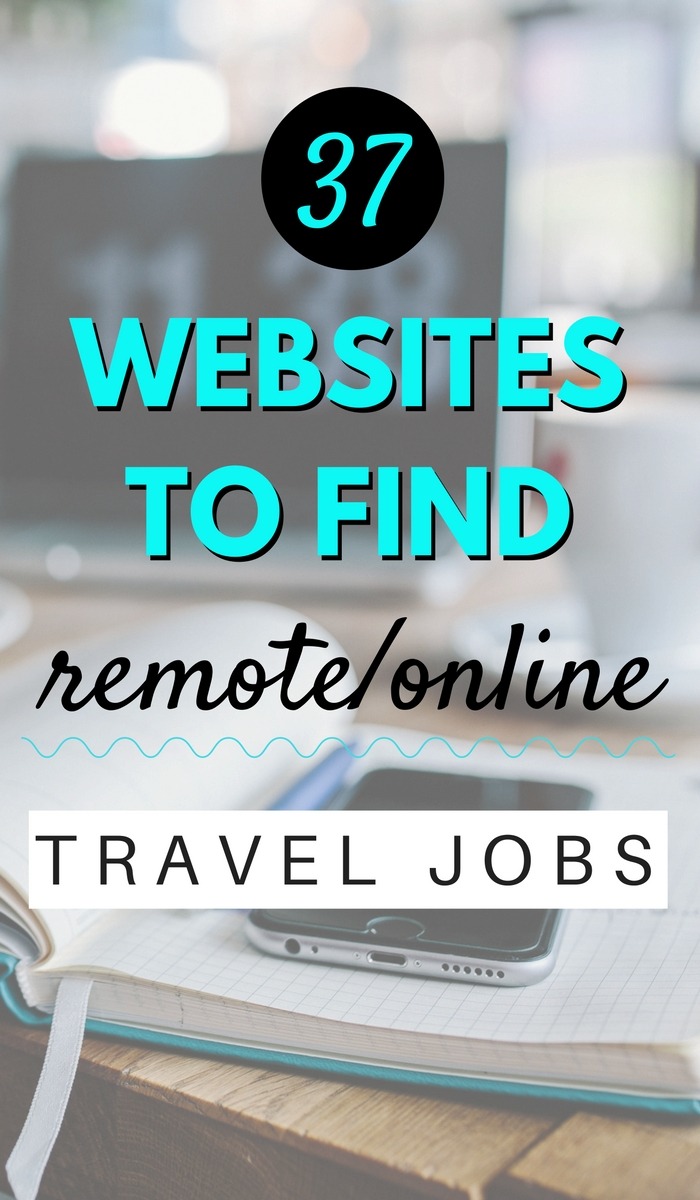 ---
Now it's over to you! Leave your comments below…
Are you looking for remote/online jobs to take traveling? How have you found the experience so far? Have you found any other sites not listed here? Let me know!
Did you find your dream remote job through any of these online platforms? I'd love to hear your story!