I'm just going to start by blatantly putting it out there - you haven't done London (like, truly experienced all the things to do in London) until you've done Notting Hill and Portobello Road Market.
I know, 'doing' a city seems peculiar but apparently everyone's trying it so let's follow suit.
You see, there's more to Notting Hill than Hugh Grant.
In fact, with its renowned Portobello Road Market, classic Victorian architecture and picturesque traditional pubs, Notting Hill may just be the most enchanting little neighbourhood in the whole of West London to get totally and utterly lost.
Imagine a neighbourhood where you can take pictures of your Cronut up against rows of pink and yellow and blue houses. Isn't that just the ultimate Instagram dream? Yes. It is.
Anyway, moving on...
In this post I'm going describe one of the best things to do in London by taking you on a slightly more unique tour of Notting Hill and Portobello Road (so basically I got completely lost and these are the places I ended up).
To follow my footsteps when you visit Notting Hill, read on...
Things To Do In London: The Short, Unconventional Guide To Experiencing Notting Hill and Portobello Road Market
Pin this to your London board on Pinterest >>
Getting There
First, you need to get to Notting Hill.
Depending on where you're staying, Notting Hill is easily accessible via metro, bus and taxi, or on foot if you're nearby.
My accommodation was located in South Kensington so all I had to do was take a twenty minute stroll through Kensington Gardens, up a few blocks and I was there.
If you do take the tube to Notting Hill, you'll pop out right in the centre of town, so there should be no getting lost yet.
Tip: Be sure to get a few snapshots inside the Notting Hill Gate tube station. It's something about that red that screams "PHOTOGRAPH ME! (straight would have been nice, Hannah, thank you)".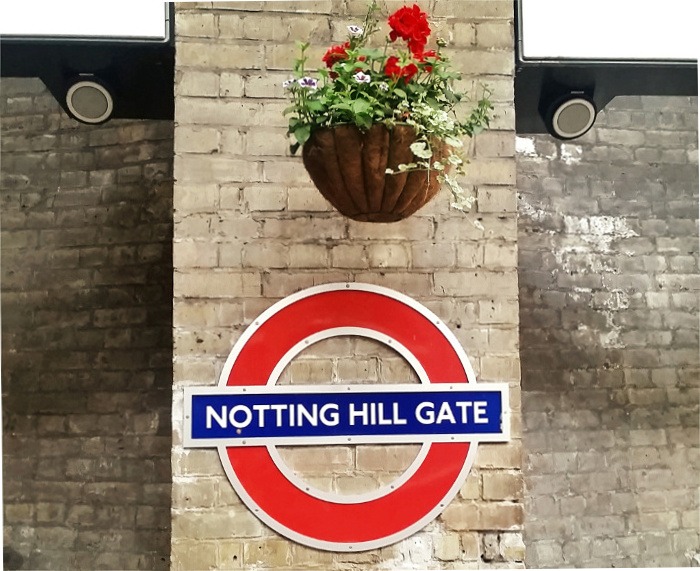 After you've finished snapping away at every wall inside the Notting Hill Gate tube station, head upstairs towards the high street to get started on your little wander around one of London's most characteristic neighbourhoods.
The Notting Hill Backstreets
Dotted with real estate agents and chain coffee shops, you might as well skip most of the high street and take a left down Hillgate Street to begin your dream house search and ice-cream cone photography session.
You'll find so much cuteness here you won't know what to do with yourself. There's even a local pub (they call it the local boozer), complete with hanging flower baskets and antique flourishes.
Look!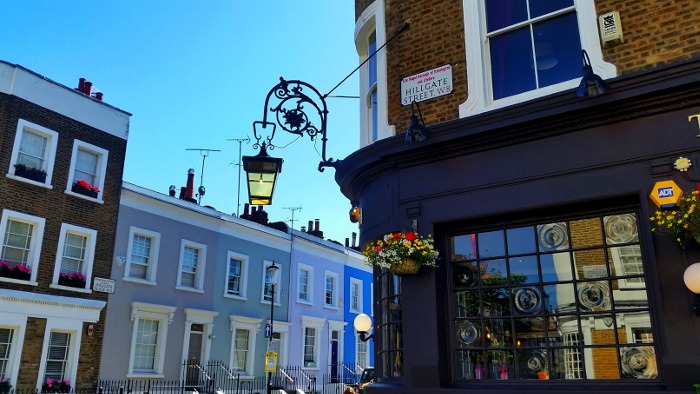 If you take a right onto Hillgate Place from Hillgate Street, carry on down Farm Place and then take another right onto Uxbridge Street (which creates a full loop around two blocks) you'll notice that the area is laden with little pastel coloured houses, you know, those typically perfect Notting Hill houses, each immaculately maintained with chimneys poking out the top.
The atmosphere is also surprisingly peaceful which makes it so easy to lose track of time just dawdling around, taking pictures and daydreaming.
"...One day I'll live in a powder blue house with white roses perched in every window sill..."
Quick selfie in the doorway to let future husband on Facebook know how life's about to go down
Once you've done the loop (by the way there are plenty more adorable streets in the area to wander down if that's not enough), make your way back to the high street and cross over to the other side (of the road).
The Notting Hill High Street
Upon first glance the high street may not seem like anything too spectacular.
Like I said before, there's a few real estate agents... the regular coffee chains... and then you'll spot it - Jamie Olivers' b-e-a-utiful café and cooking store, Recipease.
The alluring reflective glass panels that form the shell of Recipease make it way too tempting to ignore and then when you notice Jamie Olivers' kind invitation to pop in for a tea stickered next to the entrance, you won't be able to resist.
Don't be a ninny about it, take a gander.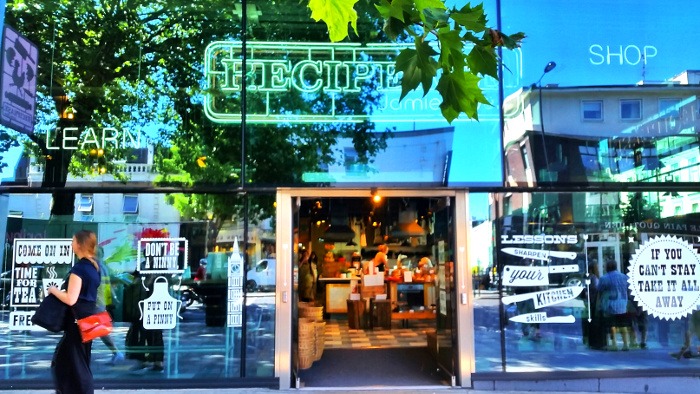 And try not to buy the whole store while you're at it...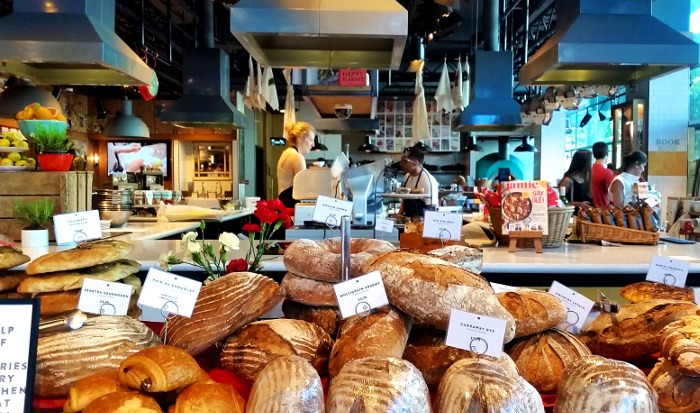 After you've contemplated purchasing every single Jamie Oliver cook book, looked into cooking lessons and drooled over all of the deliciousness that lays before you, it's probably time to move on before you accidentally buy enough lunch to feed a family.
Pembridge Road and the World's Cutest House
If you swing a left straight after Recipease you'll find yourself on Pembridge Road.
Now things get a little more interesting as you near closer to Portobello Road ("...Portobello Road").
Lining the street are a variety of different souvenir and gift shops, vintage clothing and antique stores and unique concept cafés, such as Bubbleology, possibly the worlds coolest looking bubble tea lab.
Put it this way, everything on this street will captivate you, including this picture perfect blue cottage that sits in the middle of it.
Like, seriously? Is this even real? It has flowers in the roof!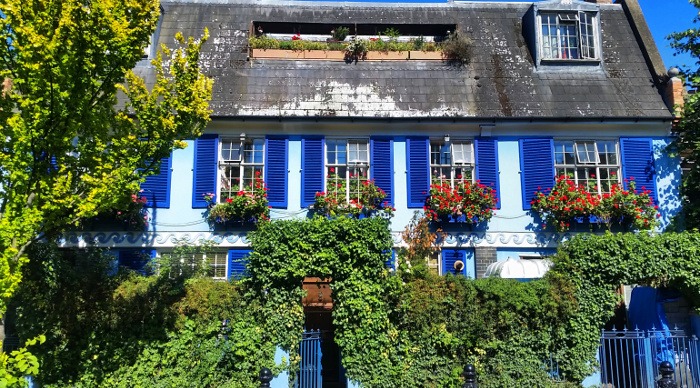 I don't know how many times this poor woman has had her house photographed by random tourists, but you might as well sneak one or two in.
To be honest, I don't think she minds too much.
She was taking the bins out when I stopped to take a photo. I pretended that I was simply admiring her house and on Facebook at the same time but from the look in her eye, I think she knew the truth.
Portobello Road Market
About two-thirds of the way up Pembridge Road, the entrance into Portobello Road (and the famous Portobello Road Market) appears on the right.
Now everything begins to feel a little mysterious and exciting as you wind your way down through one of Londons' most famous streets.
Out of all the things to do in London, you simply cannot miss Portobello Road.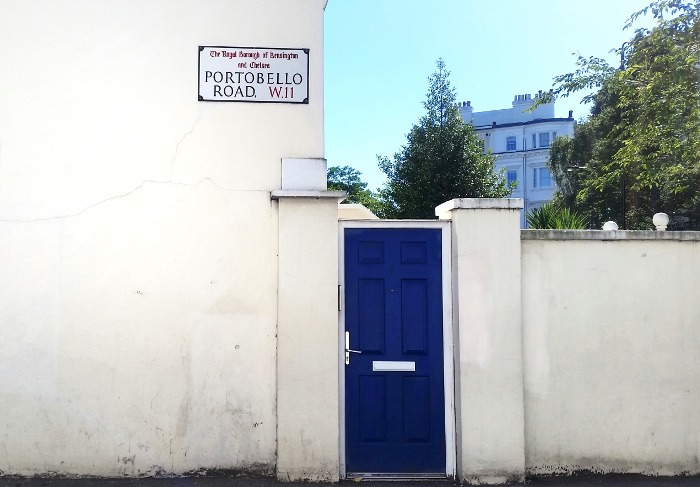 On the corner of Pembridge and Portobello Road you'll first notice Sun in Splendour, the most stunning little pub, painted in bright yellow to match its glorious name.
You can't help but smile at that, can you?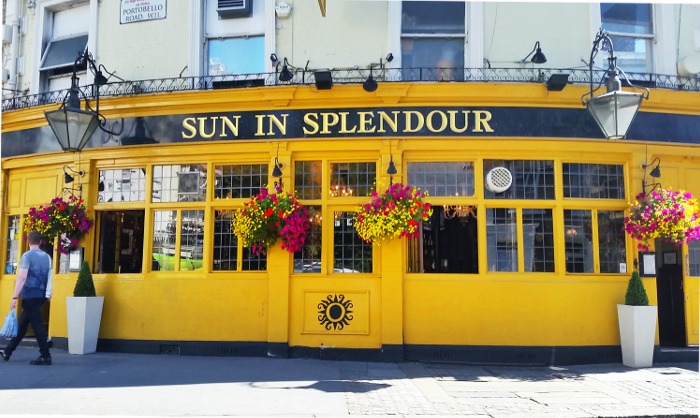 Although a lot has changed since Bedknobs and Broomsticks times, the Southern end of Portobello Road has still managed to maintain some of its original atmosphere with that precious old fashioned London market vibe to it.
With a heavy focus on antiques, bric-a-brac and low priced fresh produce, you'll feel as though you've stepped back in time.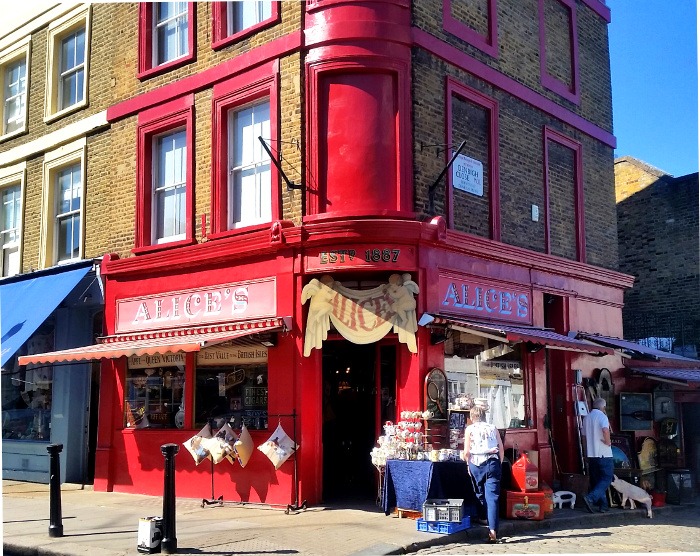 The further you walk down Portobello Road, the more modern the stalls become, selling products like new clothing, accessories and household goods.
You could probably spend a good few hours wandering up and down Portobello Road, hunting for unique bargains and taking little detours through the cute side streets for more photo opportunities.
And just so you can get an idea of the kind of bargains you can find, I bought a brand new River Island dress for £5 from one of the street stalls.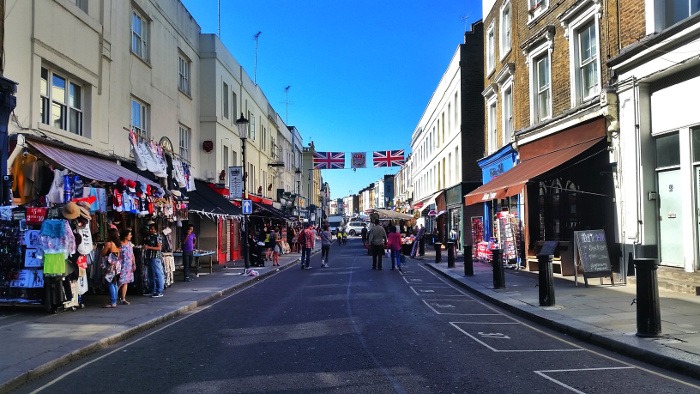 I also bought some of the tastiest rasberries I've ever eaten and a punnet of sweet strawberries for £3.
Not Thailand prices, I know but for London it was a pretty good deal.
To be honest, I only walked over to this stall to take some pretty pictures but then I felt bad and bought something.
Best move I made all day.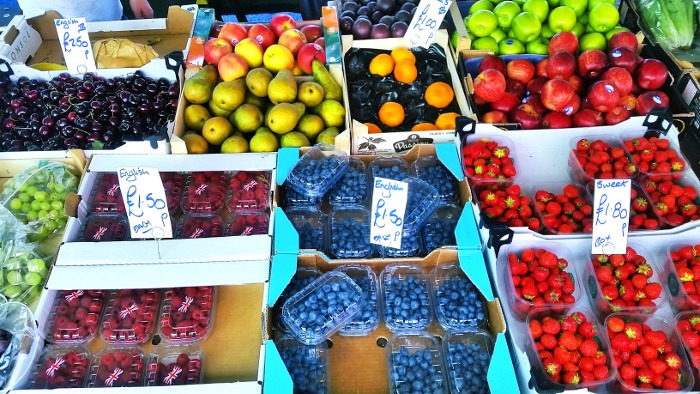 If you didn't buy lunch from Jamie Olivers' Recipease, now's the time to feed yourself.
Portobello Road is full of small cafés, bakeries, pubs and restaurants serving up good grub from around the world.
Price wise, it's not the cheapest but you should have expected that upon booking a trip to London.
Just a heads up, the Portobello Road market varies from day to day. Here's a breakdown of what to expect:
Friday
Second busiest day
Full street market
Vintage fashion, new fashion, antiques, bric-a-brac, food, furniture, accessories and more
Open 9am - 7pm
Saturday
Main day
Full street market
Antique arcades open
Street packed with stalls from Westbourne Grove all the way up to Golborne Road and out to Ladbroke Grove.
Get's crowded so arrive early
Open 9am - 7pm
Sunday
No street market on Portobello Road
Vintage clothing and bric-a-brac market on Portobello Green, located at the Northern end of Portobello Road
Monday/Tuesday/Wednesday
Portobello Road market open between Elgin Crescent and the Westway
Clothing, fresh produce, household goods
Open 9am - 6pm
Thursday
Full street market only open from 9am - 1pm
Powis Square
After you've haggled you way through hundreds of vibrant market stalls, shops and arcades, you may want some time out to just relax and do some more sightseeing.
I ended up somewhere completely random called Powis Gardens after I took a right onto Talbot Road and wandered up to All Saints Church.
There wasn't much to see in the area but it was a tranquil place for me to eat my donut and fruit in peace.
You may like it too.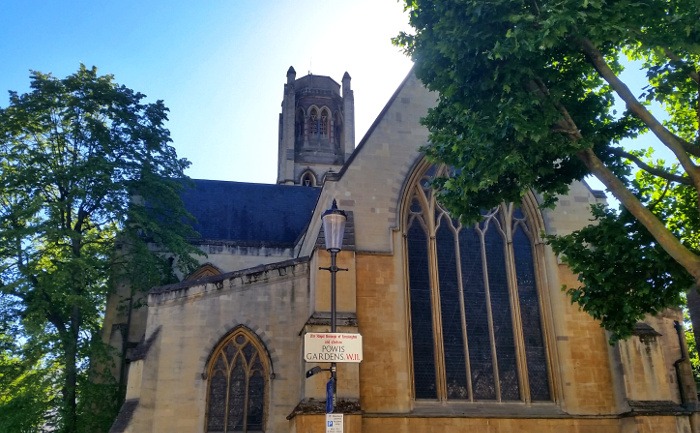 Now's the part where you have to find your way back to Notting Hill Gate tube station.
This is also the part where I ended up doing circles but I really didn't care because I had a whole punnet of strawberries to myself and I was walking in a dream.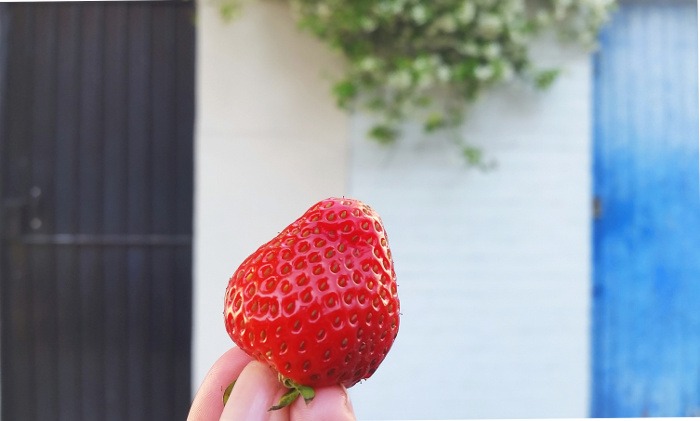 Look, it's the gates of heaven...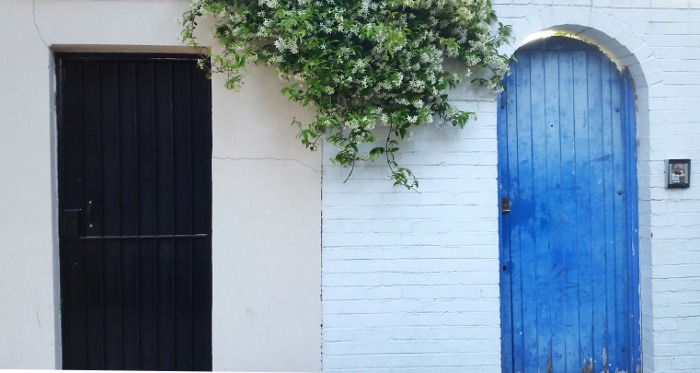 But if you want to see the route I ended up taking I'm pretty sure it went a little something like this: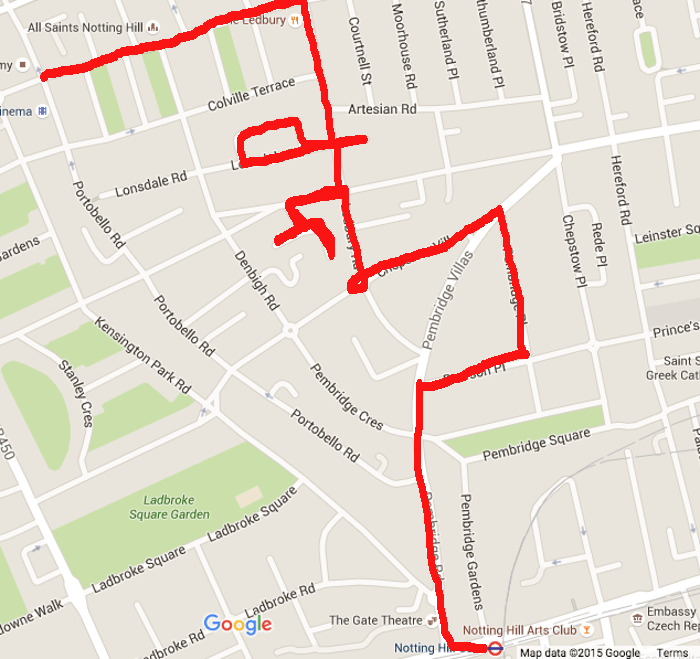 And that, my friend, is the unconventional guide to experiencing Notting Hill and the Portobello Road Market on your next visit to London.
---
London Travel Resources
London Hotels
If you haven't already started looking, now is a good time to search for London hotels while it's fresh in your mind.
Want stylish accommodation you can afford? Enter your dates and Hotels Combined will scan all the top booking sites (Booking.com, Hotels.com, Expedia, etc) for the cheapest prices possible:
London flights
If you don't have your flights to London yet, now's the time to look at your options. You can get some amazing London travel deals from a number of destinations around the world with Cheap Flights. Take a peek and see what promotions they have on at the moment!
---
Other London Posts You May Like:
If you think this could be useful for your friends looking for things to do in London, give it a share and let me know in the comments if you have any questions!
To getting lost in Notting Hill!
Pin these to your London board on Pinterest >>