As one of the most visited cities in the world, London is busy, vibrant and jam-packed full of tourists.
So how can you skip the crowds, save money and make the most of your London travel?
Find out with these 40 quick London travel tips, guaranteed to make your life easier when you get there!
Use These London Travel Tips To Plan Your 2022 Trip
Pin these London travel tips to your travel board on Pinterest >>

1. Check the Weather in London and Pack Accordingly
The weather in London can be very temperamental so always check the weather forecast before you pack.
When I was there this summer the temperature reached 38°C! A few days later it was cold and raining.
Typically, January is the coldest month, with an average low of 7°C and July is the hottest, with an average high of 19 °C…
But you never really know!
2. Pre-load a Visitor Oyster Card
You can pre-purchase a Visitor Oyster Card for £3 plus postage, add some credit and then have it delivered to you before you travel to London.
You can use this card for any mode of public transport in London, simply by tapping it as you enter and exit (except for on buses – only tap on entry otherwise you'll be charged twice).
If you run out of credit you can easily top it up at any station.
The benefits of having a Visitor Oyster Card are that you get discounted fares; you can request daily capping; you can use it at restaurants, shops and entertainment venues and it's much quicker than purchasing a ticket every time.
3. Travel at Off Peak Times
Low season is between January and February and shoulder season is between mid-September and November and then again in March and April.
Not only will you be able to skip some of the crowds during low season, accommodation and entertainment rates will be cheaper.
Not only are there peak times of the year to travel to London, there are also peak times of the day to travel within London.
Peak times are Monday to Friday between 06:30 and 09:30 and between 16:00 and 19:00.
If you use public transport to travel outside of these times, you'll be charged an off-peak rate which is much cheaper.
4. Book your London Hotel Prior to Arriving
I made the mistake of 'winging it' in London once and I won't do it again.
Dan and I ended up sleeping on the outskirts of London in a car we hired.
London is always busy. London will always have herds of tourists visiting – no matter what time of the year it is.
Book your London hotel at least a few weeks prior to arrival if you want a bed to sleep on.
5. Stay within the Inner Boroughs
Many would disagree on this but to save money on public transport/taxis and also save your legs from falling off, I recommend staying within the London Boroughs of Westminster, Kensington and Chelsea, Camden, Hammersmith, Hackney or Southwark.
That way, you can pretty much get around to all the major London attractions by walking or via a short Tube ride.
There are so many things to do in London you don't want to have to spend the majority of your time in transit.
Accommodation can be pricey but you always have the cheaper option of staying in an Airbnb, whether that's a private room or a whole apartment.
It is important to note that you will find cheaper accommodation on the outskirts of London, but it just depends how much time you're willing to spend traveling in and out of the city each day.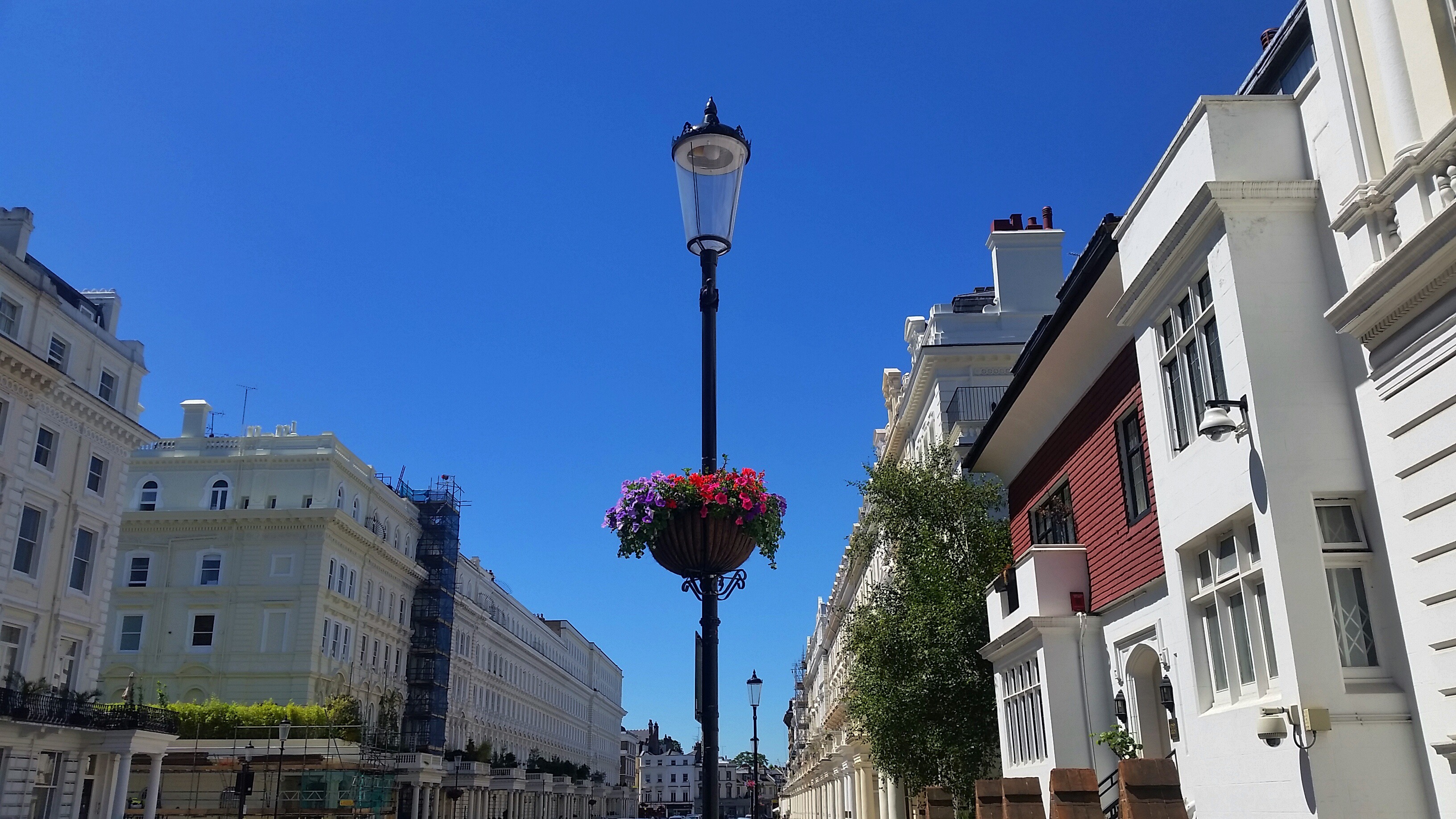 6. Book Flights into Smaller Airports
If you're flying into London from other cities within the UK or nearby in Europe, take advantage of low-cost airlines like Easy Jet, as they often fly into airports like Stansted with lower taxes/landing fees.
You'll save money on flights and then you can simply take the train from the airport into London centre, which normally works out cheaper still.
7. Organise Airport Transfers before Arriving
Depending on your budget, you can get from the airport to central London in a number of different ways.
First off, you could go for a traditional airport transfer which is usually organised through your hotel, but that can work out expensive, depending on where you're staying.
Your next option is to take a cab which is more comfortable, but again, not the most cost effective option.
An inexpensive way to get from the airport to central London is to go via the Tube. You may find this a little difficult with your bags, especially if you arrive during a peak time of the day, but it's a cheaper and often faster alternative to catching a bus or cab.
Lastly, if you are flying into Heathrow, you have the option of getting to central London via the Heathrow Express. At about £22 for the trip, it's not the least expensive option but it is fast, comfortable and convenient.
8. Purchase a London Pass
Pre-purchase a London Pass and you'll be able to get into 60+ London attractions, with transport included, for a heavily discounted price.
9. Go Camping!
Who knew? You can go camping in… London?!
Camping in the capital makes for a super affordable and unique London travel experience.
Not many people actually consider camping there, but apparently London has 5 camp sites along the M25…
For example, at Lee Valley Campsite you can get to central London in less than 40 minutes, at Lee Valley Caravan Park you can get there in less than 30 minutes and at Abbey Wood Caravan Club Site you can get there in 35 minutes.
Even if you don't think camping in a tent is for you, most of the camping grounds have caravan sites available as well.
10. Hire a Santander Bicycle
Here's one of our best London travel tips!
Dotted all around London are Santander bicycle docks where you can use their app to enter your credit card details and then take a bike to explore the city.
Here's a tip though – for the first 30 minutes you will be charged £2…
After that 30 minutes is up, return it to any bicycle dock, wait a few minutes and then request another bicycle. This time it will be free, as long as you return it after 30 minutes.
You can continue to do this for a whole 24 hours so basically you pay £2 a day as long as you only use the bicycle for up to 30 minutes at a time.
11. Eat the Indian Food
The Indian food in London (and England in general) is the best I've ever had (bear in mind, I haven't actually been to India yet).
The rich flavour and creamy texture they manage to pack into their curries will leave you craving Indian food every second day.
Luckily, London has no shortage of Indian restaurants.
One nice little Indian restaurant I went to was called 'Little India' and it was located in South Kensington.
12. Use the Website Openingtime.co.uk
This is one of our newest London travel tips!
When you're out and about it's always handy to know what's open so you don't get all the way there and find out it's closed.
Opening Time allows you to find the opening hours for almost every shop in London.
Due to the location recognition used by the site, the nearest shops are also automatically displayed.
13. Visit the Top London Markets
When we share our tips about things to do in London with people we always mention the London markets.
London is especially known for its amazing markets, including Camden Lock, Portobello Road and Brick Lane. Don't miss them!
You'll be able to get your hands on a variety of different antique valuables, trinkets, jewellery pieces, fashion items, household goods, foods and fresh produce at a low cost.
For cheap food, Brick Lane is supposed to be one of the absolute best!
On Sundays you can head down to Brick Lane and tempt yourself with a wide variety of international food, including delicious curry.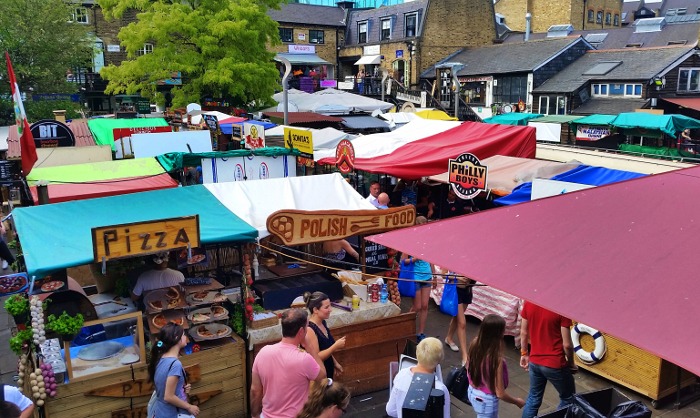 14. Go Shopping
Oxford Street is the main High street in London where shops such as TopShop, Primark, American Apparel, H&M and Urban Outfitters join forces to tantalise all your shopping taste buds.
If you want something a little more unique (vintage perhaps?) head to Camden Town where you'll be able to pick up some one off pieces for less than the High street prices.
15. Do NOT Hire a Car in London
Unless you want to face the London Congestion Charge and incredibly high parking fees literally everywhere you go, we wouldn't advise driving inside of London.
Not only does it work out to be really expensive, it's also super stressful.
Take it from us. We learned from our mistake when we attempted to navigate London in a ginormous Transit van.
Stay central and walk everywhere, rent a Santander bicycle or simply catch a cab or public transport – much easier!
16. Explore Further than London
There's more to London than, well… London!
Some of the neighbourhoods and towns on the outskirts of London are well worth visiting and can show you a totally different side to England.
For example, Windsor and it's famous Windsor Castle are full of character and history and should definitely not be missed!
You can go on your own using public transport or take a day trip with a tour company – it's up to you.
17. Eat in a Traditional British Pub
British food is essentially comfort food – think sausages with mashed potato and gravy, steak pies and roast dinners.
On a cold winters' day there's really nothing more comforting than a good British pub meal.
Not only are the pubs worth visiting for the food, they are often full of history, character and quirk which make them truly interesting places to sit down, relax and fill the hunger spot.
18. Go to these Places for Unique London Views…
The Roof Gardens is a bar located in Kensington where you get to view London from a unique angle whilst sipping on a cold Martini.
It's not the cheapest place ever but worth it if you want to relax somewhere sophisticated whilst watching the sunset.
Primrose Hill is located over near Regent's Park and is one of the most popular spots in London during the summer to chill out with friends in the late afternoon with views across the London skyline.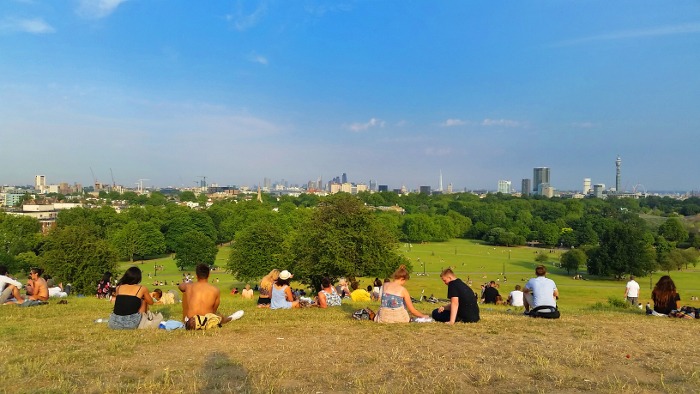 19. Buy a London Hop-On, Hop-Off Bus Pass
Here's another one of our favourite London travel tips!
If you're only in London for a day or two, the Hop-on, Hop-off bus tours are fantastic for getting around to all the London attractions you want to see without being limited to a set schedule.
For £26 you can purchase a day pass, hopping on and off the bus as much as you want.
The buses do 3 different routes and they stop and each of their 60 attractions every 20 minutes.
Also, a number of London walking tours and a Thames River Cruise is included.
20. Remember, it's not as Cheap as it Looks…
It's easy for those of us who use the dollar to forget that even though something looks cheap, it's probably not.
In basic terms, double the amount and that's what it's worth (around about) in dollars.
If you have a strict budget, research the exact currency exchange rate at that time and use the calculator on your smartphone to work out the true cost.
21. Purchase a Power Adaptor Before Arriving at the Airport
These types of things always cost more when you buy them at the airport.
Either purchase one before you arrive in London or purchase one from a local shop once you've got to where you're staying.
The British power plug is "Type G" and has 3 pins. Voltage is 220-240V.
22. Purchase a Pre-paid British Sim Card when you Arrive
Instead of being sucked in to purchasing one of those global sim cards before you travel, just buy a local pre-paid sim when you arrive in London. They work out to be cheaper and it's always easy to find somewhere to add credit.
23. Explore Londons' Parks
Half of the time you're in London you won't even realise that you're in one of the worlds most visited cities because there is so much green around.
Take advantage of the pristine, well kept parks around London to go for a walk, breath in some fresh air, take a nap, lay in the sun, have a picnic, hang out with friends and all the other things you can do in huge open spaces.
Some of London's most famous parks include Hyde Park, Kensington Gardens and Regent's Park.
24. Take your Time – London is BIG
If you really want to see London, give yourself at least 5 days in the city.
That way, you won't be rushing around trying to see everything so fast that you don't actually take anything in or remember it properly.
Go slow, take a few days out just to hang out and see where the day takes you – often those days turn out to be the most interesting.
25. Tipping In London Is Not Mandatory
Of course, if you want you can tip but they won't make you feel bad if you don't.
Sometimes a 10% service charge is included in the bill at hotels and restaurants but they'll usually tell you if that's the case.
26. Take Advantage of Happy Hour
If you're in London with friends and looking to have a few fun nights out without breaking the bank, you're in luck!
Numerous pubs and clubs across London have student nights and happy hours where you'll find two-for-one deals and other great promotions.
To find out where it's all going on, ask at your hostel, hotel or check online.
27. Cars Drive on the Left in the UK
Remember, when crossing the road in London (and the rest of the UK) you need to look right.
This also goes for walking – always walk on the left side of the road.
28. Do Some Background Research…
Just like in any other country, the British have their own culture and their own funny ways of doing things.
Just doing a little research before arriving will help you to understand some of the different customs in London and what you should and shouldn't do.
It may also help you to understand someone when they come and up and talk to you in a Cockney accent.
29. Emergency Dial is…
Not 000, not 911 – 999.
30. Order a Fry Up – A Traditional English Breakfast
The British love their full English Breakfast's and you can find some of the very best in London.
Usually consisting of fried eggs, bacon, sausages, black pudding, hash-browns, baked beans, mushrooms, grilled tomato and toast, breakfast is likely to become your favourite meal of the day.
31. Stay Somewhere with an Unusual Story Behind it
One of the most interesting places I've ever spent the night was in an old London courthouse.
In fact, it was the courthouse where Charles Dickens was working when he was writing Oliver Twist and where the punk band, The Clash were trialled back in 1978.
I literally stayed in a jail cell. Not even kidding!
But that's what I love about London.
There is so much history behind it that nearly everywhere you go and everything you do has an interesting story behind it.
Read more about my stay in a London jail cell here and think about having a go at it yourself if you want a good story to tell your family when you get home.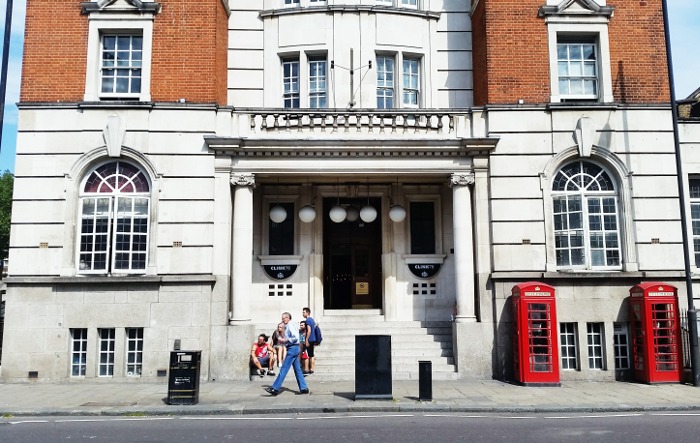 32. Take Advantage of the Free London Walking Tours
Yes, there are FREE walking tours in London. Used in conjunction with the Hop-on, Hop-off bus tours, you can set up some pretty epic days of sightseeing. Tours include:
Royal London & Changing of the Guard
Debauched London! Bankside, Brothels & Beer
Harry Potter Tour
London's Ghostly Haunts Walk
Fire, Pestilence and & Plague
Jack The Ripper!
33. Save Money at Lunch Time
If you're not too fussed about what you have for lunch, nip into a Sainsbury's supermarket and pick up a £3 meal deal.
These consist of a sandwich, a snack (either a packet of crisps, a chocolate or a bag of fruit) and a drink.
I can't even count how many of my lunches in London (and the UK in general) were meal deals but I know that it saved me some money.
34. You can Drink the Tap Water
The tap water in London is perfectly clean and won't harm you if you drink it.
Of course, it doesn't taste quite as good as a bottle of Evian but at £2 a bottle, think how much money it will save you.
35. For the Aussies… 'Thongs' are not Shoes
No-one calls flip-flops 'thongs' outside of Australia.
And just so you know, a G-string is called a thong in England.
That's why you'll get some funny looks when you start walking around saying, "I might just wear my thongs out tonight".
36. London Museums are Free but…
Just for the upkeep of the museums and to show that you are appreciative of the amount of hard work that has gone into creating them for tourists to visit in the first place, it is recommended that you leave a donation as you enter or exit.
37. Carry a Map
You will be so thankful to have one of these in your hand the whole time you're in London.
The underground system can be very confusing and half the time you won't even know where you are, which is why the Tube Map London Underground App is so helpful.
Not only does it work as a map, it also calculates where you need to get to and shows you the best route to get there (with thorough instructions) without the need for an internet connection.
Otherwise, if you don't want to use a smartphone, simply carry around one of the free maps that you can usually pick up from your hostel/hotel. They normally have a London Underground map on the back.
38. Get Lost
One of my favourite days in London to date was when I walked from South Kensington to Notting Hill, got lost in the backstreets and then ended up on Portobello Road.
Make a day without any plans and go for a wander. Who knows where you'll end up or what sorts of interesting things you'll find on the way?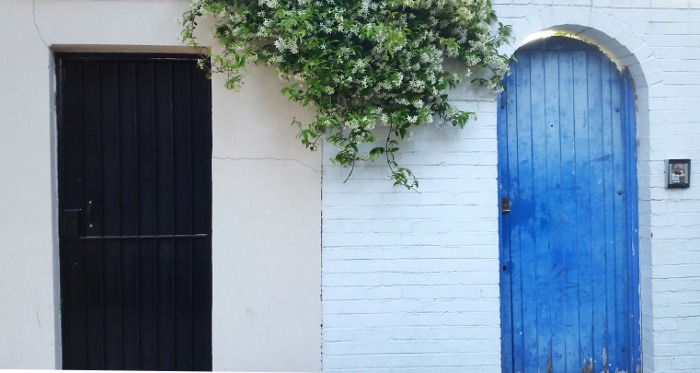 39. Visit The London Theatre
London has a huge theatre scene and is home to some of the best in the world, from world famous musicals to West End shows.
Apparently, along with New York Broadway, West End theatre represents the highest level of commercial theatre in the English speaking world.
You can book tickets online or when you get there but it is often recommended that you book in advance because shows fill up fast. Don't miss the opportunity!
40. Visit These Places To Potentially Spot Celebrities…
London is full of celebrities but where do they all hide?
Well there isn't exactly one main hang-out spot but if you visit places like Soho, Camden, Chelsea and Mayfair by night and Primrose Hill by day, you may catch a glimpse of a few different celebs kicking back and having some fun.
Also, apparently Alexa Chung and Sienna Miller love heading down to Portobello Road in Notting Hill in search of unique antique and vintage bargains.
---
London Hotels:
Ready to visit London after all of these London travel tips? Get prepared and book your London hotel now while it's fresh in your mind.
Recommended hotels in London…
Budget: Bayswater Inn, Bayswater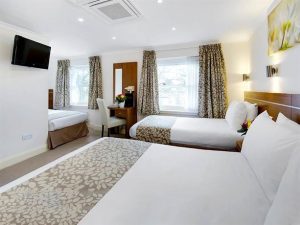 Mid: Premier London Notting Hill, Notting Hill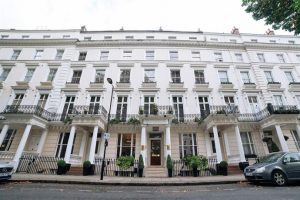 Luxe: Hotel 41, Saint James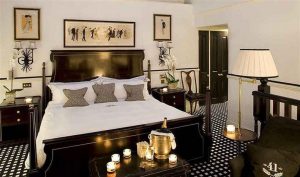 For more accommodation options, click the below link, enter your dates and Hotels Combined will scan all the top booking sites (Booking.com, Hotels.com, Expedia, etc) for the cheapest prices possible:
London Flights:
Don't have your flights to London yet? Now's the time to look at your options.
You can get some amazing London travel deals from a number of destinations around the world with Cheap Flights.
Take a peek and see what promotions they have on at the moment:
Other London Travel Posts You May Like:
If you liked our London travel tips, chances are you'll benefit from reading our other London blog posts too!
Do you have any more important London travel tips to add to this list that we forgot to mention? Scroll down to the bottom of this page, add them to the comments and we'll add them to the list!
Feeling a little more confident to visit London now that you have gone through our 40 quick London travel tips? If this helped you, please share it on Facebook and Twitter or use the images below to pin to Pinterest!
Pin These London Travel Tips To Your Travel Board On Pinterest >>