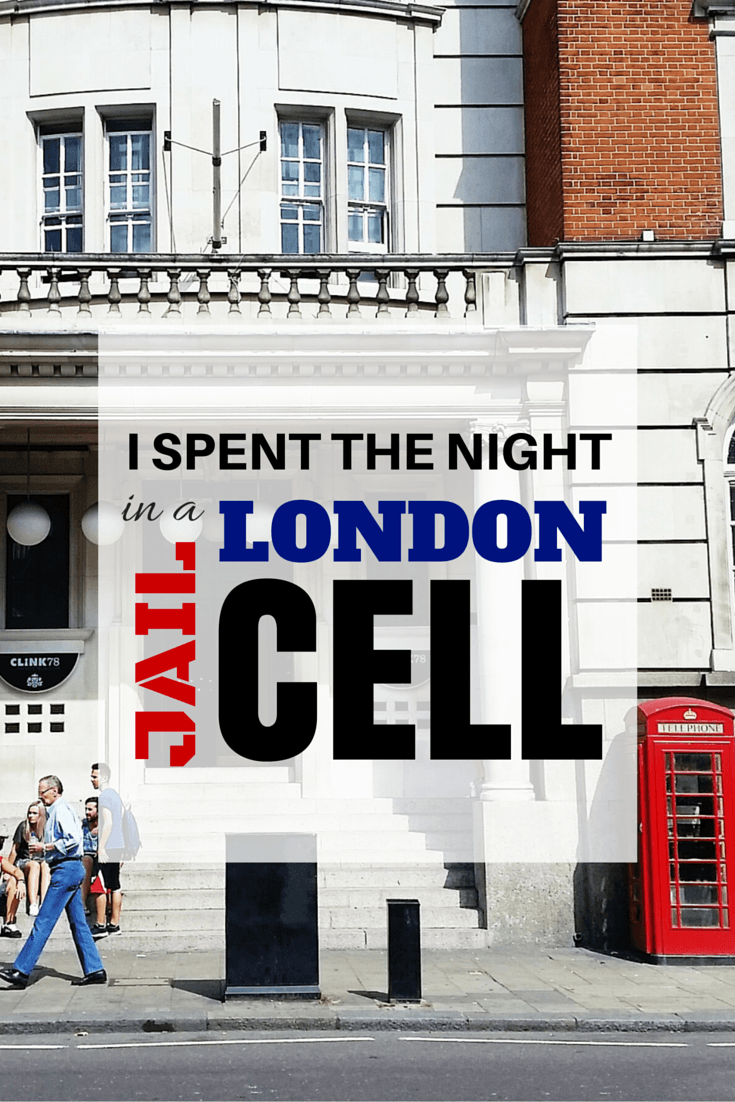 I Spent The Night In a London Jail Cell
The funny thing was, I hadn't done anything wrong other than step out in public with no make-up on. Was this really something they punished women for in London? Did I really offend someone enough for them to put me in a jail cell overnight?
Luckily for me, no. Thank god.
I was just on my way to Clink78, possibly the most outrageous hostel I've ever stayed in.
Clink78 Youth Hostel Background And First Impressions
Located in Kings Cross, not too far from Kings Cross Station, Clink78 is literally a converted courthouse. Not just any old courthouse though - Clerkenwell Magistrates' Court, where Charles Dickens worked whilst writing Oliver Twist and The Clash stood trial for shooting a prize pigeon. Yep, that courthouse.
And now, 200 years after it was built, Clerkenwell Magistrates' Court is Clink78, one of Londons' biggest and best (according to the Hostelworld reviews) youth hostels.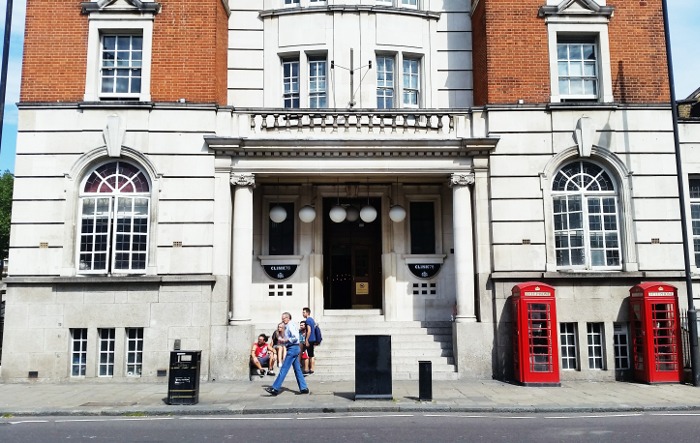 In terms of looks, pretty doesn't even begin to describe the exterior surroundings of Clink78.
Perched on the corner of Kings Cross Road and Great Percy Street, this building has a particularly grand appearance that really makes it stand out from everything else around. And aren't those old red telephone boxes just the cherry on top of an already picture perfect setting?
I smiled at the security guy on the door (yes, they have actual security) and made my way to the front desk.
Clink78 Youth Hostel Lobby
Naturally, I was pretty stunned by the lobby area. Complete with 3 helpful and friendly staff at the check-in desk, vending machines, a tour desk with free maps and pamphlets, a huge red retro couch for taking cool pictures on and good music pumping out of the sound system, I could already tell that this place had that contagious energetic vibe that young travellers thrive on.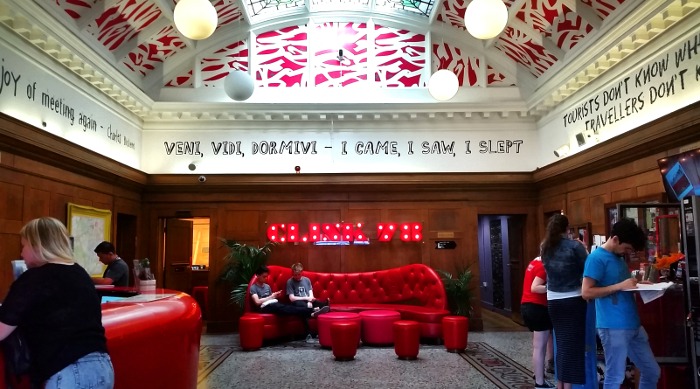 One of the first things I noticed as I handed my documents over to the Aussie sounding (but not Aussie at all) guy on the front desk was the crazy amount of people that seemed to be walking in and out of the place.
Apparently, they can accommodate up to 500 people. Five-HUNDRED.
This was different for me, I was used to smaller, more intimate hostels but, surprisingly, I was feeling the change in atmosphere. I liked it. It got me in a good mood. I wanted to party! But I didn't because I was alone and awkward.
Checking In To My Room At Clink78 Youth Hostel
"Ah! You're in a jail cell tonight", the guy on the desk exclaimed, "have you seen what they look like?"
In all honesty, I didn't even know I'd booked myself into a jail cell. I thought I was getting a private room. Turns out, the jail cells are the private rooms for up to 2 people.
I didn't know what to expect. The guy on the desk (I wish I remembered his name so I didn't have to keep saying 'the guy on the desk') was looking at me with a cheeky smirk on his face that said it all - this was going to be one weird experience.
Only time would tell.
He passed over my keycard, handed me a free map of London and pointed me in the right direction.
To my delight, there were no stairs, nor did I have far to walk from the communal areas. 10 points for Gryffindor. Even more to my delight, when I arrived in the criminals corner, I didn't freak out - possibly because the cell doors were painted in delicate shades of pink and blue and yellow. I smiled to myself and relaxed - this place was friendly enough for a child to stay!
Then I smelled it, the stale stench of puke down in the end corner, likely to have been the result of some poor guy getting a little too tipsy down in the ClashBAR.
Perhaps not so child friendly.
Kudos to the staff at Clink78 though because I'm pretty sure they returned numerous times to try and resolve that nasty whiff in the air.
Anyway, I attempted to snap a few pictures of the 4 or 5 jail cells in a row but the lighting wasn't working for me at all, so here's a close up of my door.
You'll notice here that they've kept the same old doors, only given them a paint job. You may also notice something that I didn't at first (something super weird) but I'll get to that shortly.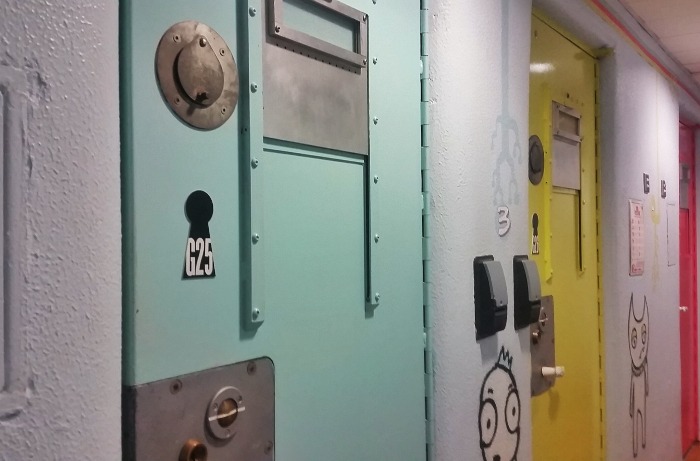 So I swiped my key over the reader and - clunk - the door to my jail cell was unlocked. Nervous but curious, I turned on the light and poked my head in for a quick gander.
I couldn't believe it.
My Jail Cell Room At Clink78 Youth Hostel
For some reason I was kind of expecting to step inside some cool old jail cell that had been completely renovated with modern amenities and nice cosy bed.
Nope.
I stepped inside some old jail cell that had a paint job. And yes, that is a toilet poking out from behind the bed.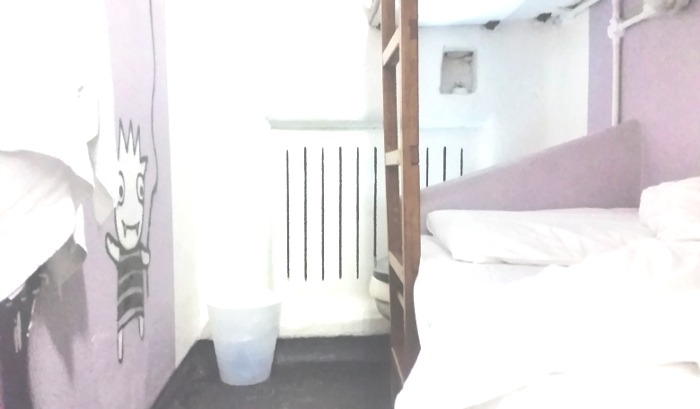 So what was the room like? Well, it had a bunk bed, a toilet, a bin, some handy hooks on the wall, a radiator and a powerpoint. Just like a jail cell, except with an emergency button to get out.
And don't worry, the toilet is only for show now, however, I'm almost certain staff have had to clean up after guests in the past. 
The bathrooms were kept separate from the jail cells and included toilets, sinks and showers, all of which were kept nice and sparkling clean.
Honestly, I don't know what I thought of the room. I think I liked it but I can't quite tell. And I think that was what the owners of Clink78 were going for when they decided to keep the jail cells. Because even though I didn't know what to make of it, I'll always tell people that I had this really cool, strange experience sleeping in a jail cell. Everyone loves a unique experience.
However I felt, It was surprisingly warm and I managed to get a good sleep which was all that really mattered to me.
But let's rewind back a few hours.
I was in my room, probably trying to take a selfie with that little character painted on the wall, when I heard a bunch of young guys outside of the room next to me.
"Woah, they're like real jail cells, crazy!"
"I wonder what they look like on the inside..."
"What! Look! You can actually see in through these little peep holes!"
I froze, all of a sudden remembering that little feature on the cell door I paid no attention to when I entered my room.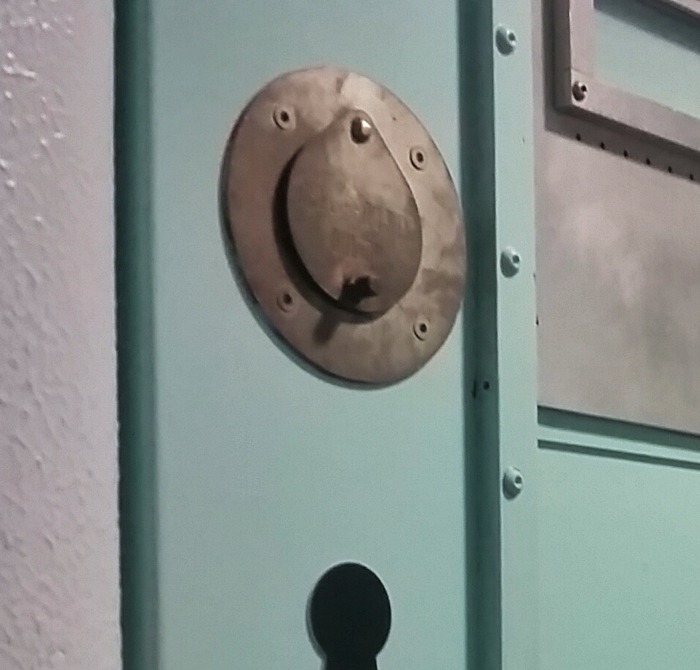 At this point, I was in my underwear, I had dirty clothes spread across the floor and I was taking selfies with a cartoon character. Weird situation.
I jumped up, ran to my door and stood with my back up against it so they couldn't see. At the same time I was trying to rustle a bag and clunk around so they would hear someone inside and feel rude and creepy peeking in.
It worked and they left after a good 5 minutes of checking out the room next to me.
Immediately I put some pants on and ran out to see if it was true. Could random people really see into my bedroom? While I got dressed? While I slept?!
Yes. But nothing I couldn't fix by covering it up from the inside. Remember to do that.
Moving on.
The Upstairs Communal Areas At Clink78 Youth Hostel
When I arrived there were tons of people just wandering around the hostel taking photo's like it was some kind of museum. I guess it kind of was after all, so I decided to go out and have a little wander around myself.
On a coolness factor, this hostel was up there.
First, I made my way into the TV room and then the computer/internet room, both of which were old courtrooms that had been only slightly renovated to suit the guests of the hostel.
All of the old furnishings remained in the courtrooms, including the judges benches, witness stands, clerk tables and jury boxes and the rooms were still clad in wooden panels. Then Clink78 went in and vamped the place up by giving the rooms a vibrant paint job, adding special lighting and decorating the walls with old quotes and quirky art. The result was captivating.
Most of the time these rooms were full of guests either surfing the net, watching TV, socialising with other travellers or studying all of the little intricacies that made the place so unique - even at 3am in the morning.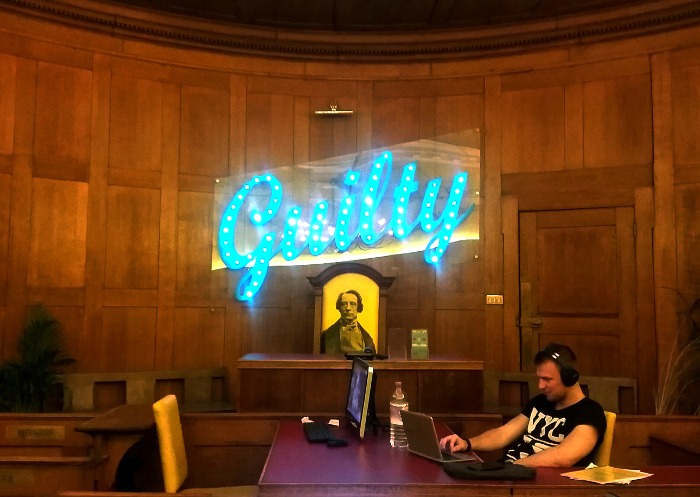 The Downstairs Communal Areas At Clink78
Downstairs there was a huge kitchen and dining area, where a free continental breakfast was served each morning, and a bar they named ClashBAR.
Again, I really loved what they did with this space by creating a modern 'grunge' like atmosphere to clash with the classic, upperclass appearance on the outside.
The kitchen was very modern and clean with ample space to store and cook your own meals and the way they set up the dining area made it very easy to get chatting with people.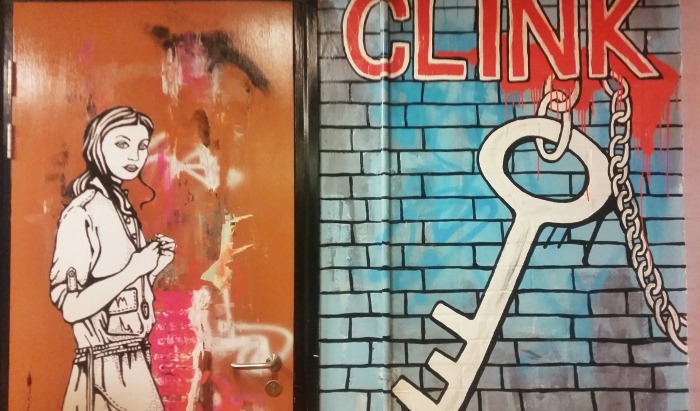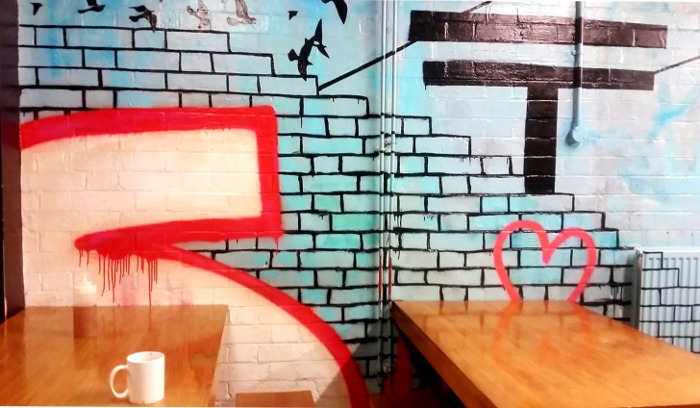 Located in the hostels' basement, ClashBAR, named after the Punk rock band, The Clash, who stood trial in the courthouse back in 1978, has a very dingy, mellow vibe to it, with dim lighting and cosy couches to relax on while you sip on one of their £2.50 glasses of wine. Open late every night from 5pm, ClashBAR is a star attraction amongst the young hostel guests. I also heard on the grapevine that if you can play music well they'll shout you a free night. Get practicing.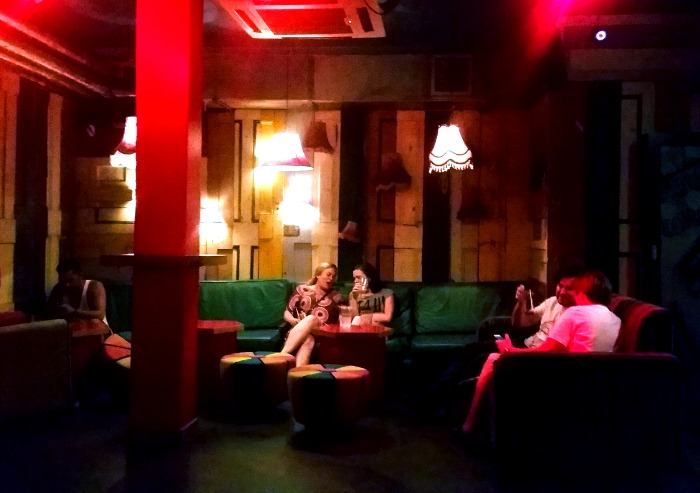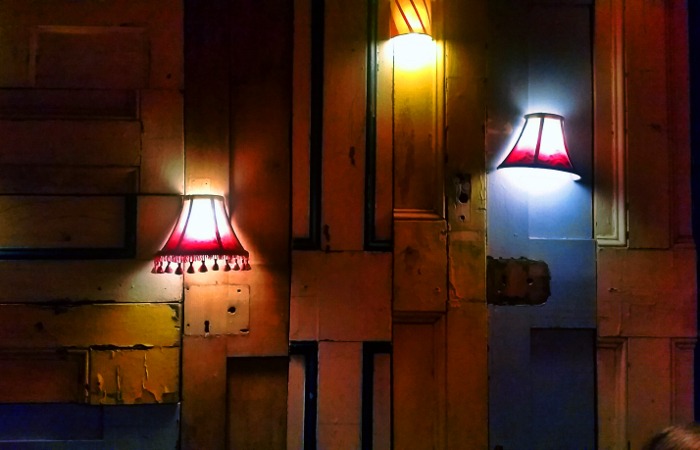 Location Of Clink78 Youth Hostel
While Clink78 isn't located in the most sought after neighbourhood in London (Kings Cross), it definitely has its perks. For example, being only a short walk away from Kings Cross St. Pancras Station, you pretty much have instant access to anywhere in the city and the rest of country. Also, if you're a Harry Potter fan, this is where you can visit the famous Platform 9 3/4.
Other than the station, which is quite marvellous in itself, there are so many little restaurants and places to eat around town, you won't know what to do with yourself. Indian, Italian, Chinese or Vietnamese? That is the question.
I went with Vietnamese at Sen Viet, located just opposite Clink78 and it was so delicious I never wanted it to end.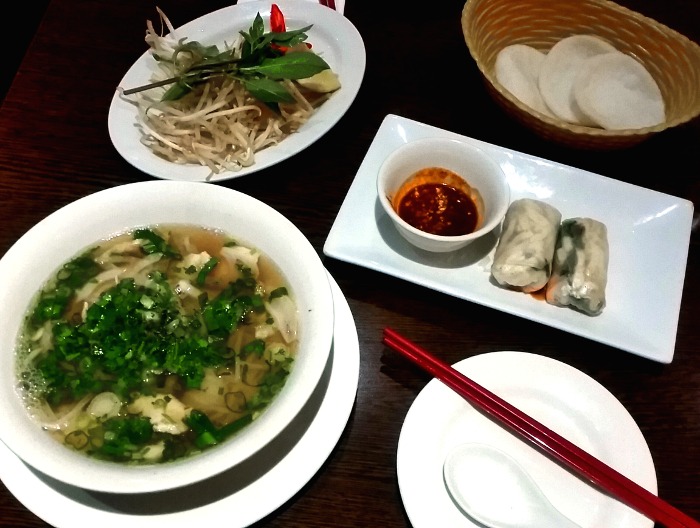 Other Facilities at Clink78 Youth Hostel
WiFi: While it's free, the WiFi is only available in common areas which is a little annoying if you need to Skype your boyfriend on the other side of the world at 2am. However, the common areas are fairly quiet, clean and comfortable so it wasn't too much of a problem.
TravelSHOP: This is where they offer discounted tickets to London attractions, travel essentials such as power adaptors and helpful travel advice. It's open 8am - 7pm every day.
Laundry Room: Yep, you can do your own laundry at the hostel (saves trying to find a laundromat).
24 Hour Reception with Security: Arrive any time of the day and there will be someone at the desk to help you, which is always a relief!
Overall Thoughts
Overall, I thoroughly liked my stay at Clink78 for the fact that they offered such a unique experience that most other hostels simply cannot.
Yes, if I had known about the peep hole in my door before I got undressed, I would have been even happier but luckily nobody saw in and all was well (I think).
Other than that (and the strange vomit smell that the staff tried to remove), my experience at Clink78 was fun, social and easy going so given the opportunity to stay again, I would definitely say yes!
If you would like to book a room at Clink78, go to www.clinkhostels.com and follow them on Twitter - @Clinkhostels to see what they're up to. Dorms start from £15 per night and jail cells start from £50 per night.
Have you ever had a crazy hostel or hotel experience like this one? Tell us about it in the comments below!
Please note that StoryV did receive a complimentary stay at Clink78 for the purpose of this review. As always, all opinions are our own.