The city of Santa Marta was one of the last stops on our month long journey around Colombia. Dan and I had spent the last 6 days soaking up the history and enchanting beauty of Cartagena and now we were ready to continue the adventure up to the next Caribbean hotspot.
First Impressions Of Santa Marta Colombia: Is It Worth Visiting?
Don't have much time? Pin these first impressions of Santa Marta Colombia so you can come back and read >>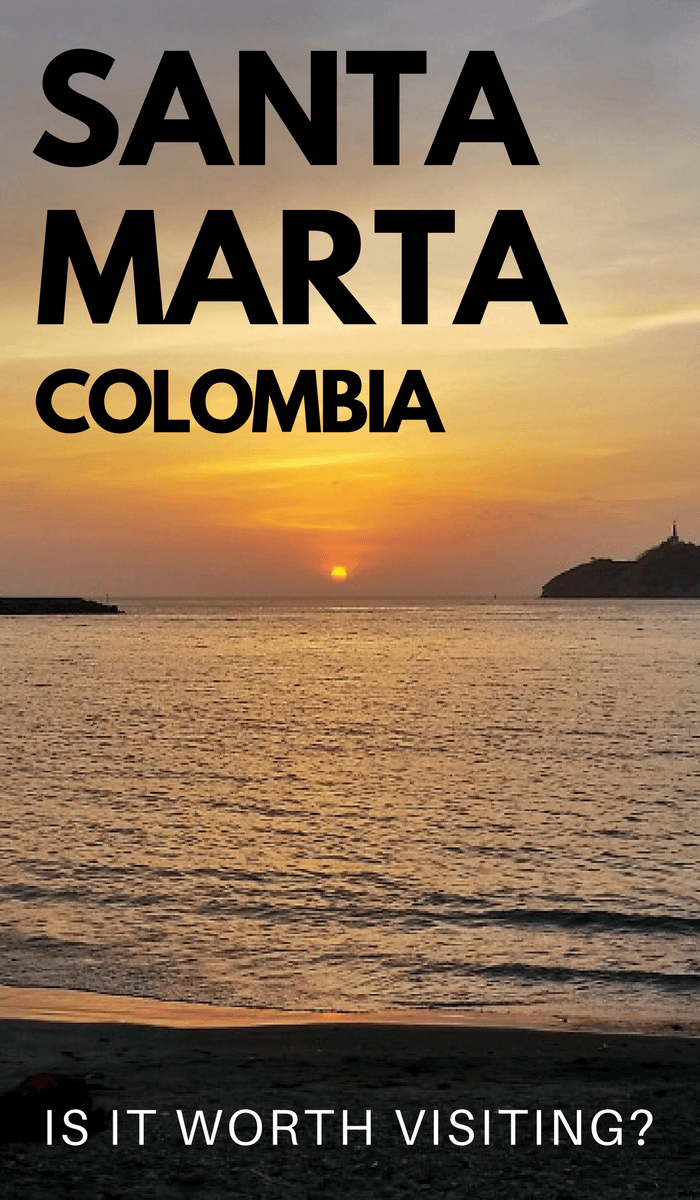 Despite hearing that Santa Marta Colombia was fairly run down and didn't offer much in the way of things to do, we wanted to stay for a few nights just to see for ourselves.
After spending time in tourist hotspots like Medellín and Cartagena (which we loved by the way) we were hoping to enjoy a more casual experience without getting sold to on every street corner.
Bus From Cartagena To Santa Marta Colombia
We had to be at the Marsol bus station/office in Marbella, Cartagena at 5:45am, ready for a 6:00am departure. I recommend catching a cab to the office the night before and purchasing your ticket to ensure a spot on the bus.
The Marsol minivans costs around 40,000 COP ($14 USD) per person and the journey takes about 4 hours, despite the staff insisting that it takes 3 hours (plan accordingly).
After a small mishap that may have resulted in tears on the morning of our departure (I left a bag with 2 laptops, a phone, a hard drive and a camera inside a taxi), everything got sorted out in the nick of time and we were on our way by 6:00am.
Come 10:00am we were dropped off on the side of a busy street in Santa Marta (yes, the journey took us more than '3 hours'), only to face our next dilemma – finding our hotel through rows of street vendors whilst carrying of our luggage in the scorching heat.
Luckily, our accommodation, La Casa Del Piano Hotel Boutique, was located just 3 blocks from where we were dropped off. As we entered, it was like walking into a day spa… Peaceful piano music… Air-conditioning… Sophisticated decor…
Just what we needed after dragging our bags around the bustling streets of Santa Marta.
About Santa Marta Colombia
Santa Marta Colombia is the oldest surviving city in the country and second oldest in the whole of South America. The first Spanish settlement occurred here in 1545 and it became the fourth largest city in the Caribbean region of Colombia.
Now Santa Marta is a prominent tourist destination, not only because of its history, hot weather and rugged charm but because it also serves as a gateway to Colombia's most beautiful beaches, mountains and national parks.
Where is Santa Marta Colombia?
First Impressions Of Santa Marta Colombia
In all honesty, we spent most of our first day in Santa Marta working and relaxing from our hotel. But really, what can you expect?
With a rooftop swimming pool, lounge chairs and the coolest of cool air-conditioning in the room, we'd found our own little retreat and wanted to make the most of our two nights there.
Of course, a girl's gotta eat though so we ventured out onto the streets of Santa Marta's Centro Histórico to find a cheap restaurant for lunch.
Oddly, the first thing we noticed was that although we were staying in the 'touristic area' of Santa Marta, there were barely any places to eat.
The small restaurant that we eventually came across was very 'local', serving up traditional Caribbean style Colombian food for pennies…
For example, I ordered a beef dish which was served with rice, salad and arepas as well as a bowl of soup and a glass of juice and it came to a total of 6,000 COP – $2 USD.
There were definitely no other foreigners in the restaurant and I barely saw any on streets either. So although Santa Marta Colombia is meant to be a tourist destination, it's nowhere near as touristic as Cartagena or Medellín.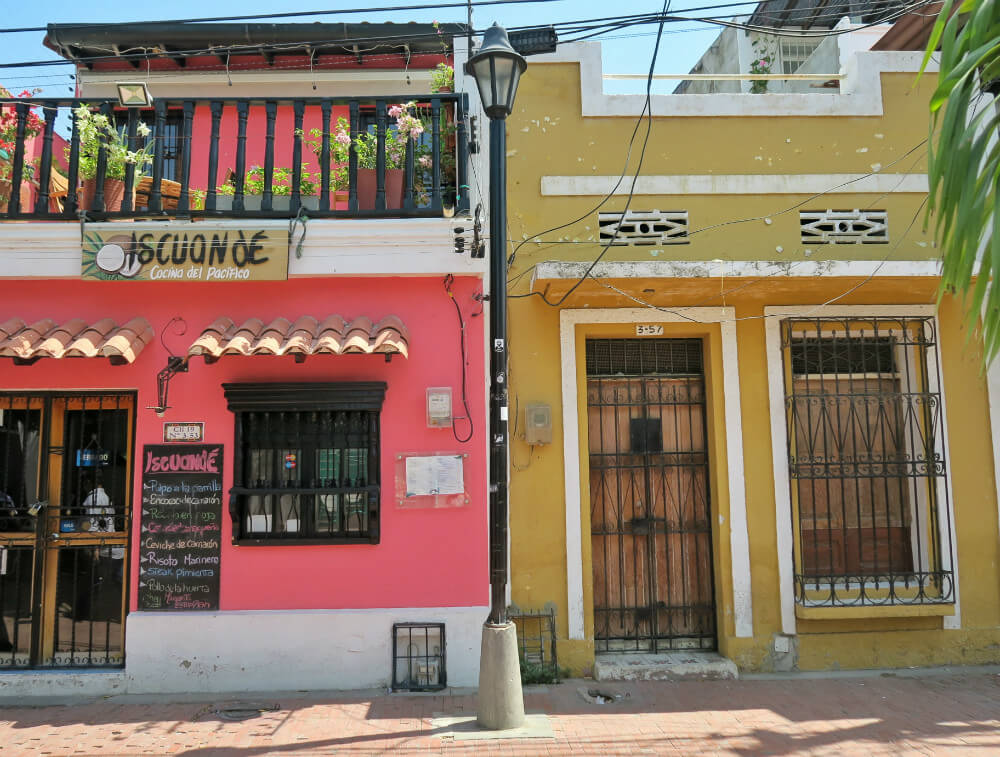 Walking back to the hotel, the concrete roads radiated with heat and the strong sun caused us to quickly break into a sweat. Yes, Santa Marta is hot, hot, hot.
I recommend packing light cotton clothing, wearing sunscreen every day and drinking plenty of water because it's easy to get dehydrated.
Gazing around at the old architecture surrounding our hotel, I began to understand why some other travelers had said that the city is a bit 'run down'.
Yes, some buildings have been totally neglected (to the point where there are gardens growing inside – it's kind of cool), but at the same time, I discovered a true sense of charm and character that I hadn't found elsewhere…
Square shaped and brightly painted cafés and shops… Old three story houses turned into boutique hotels… Market vendors wheeling carts of bananas up the street…
There was something about Santa Marta that left us feeling intrigued.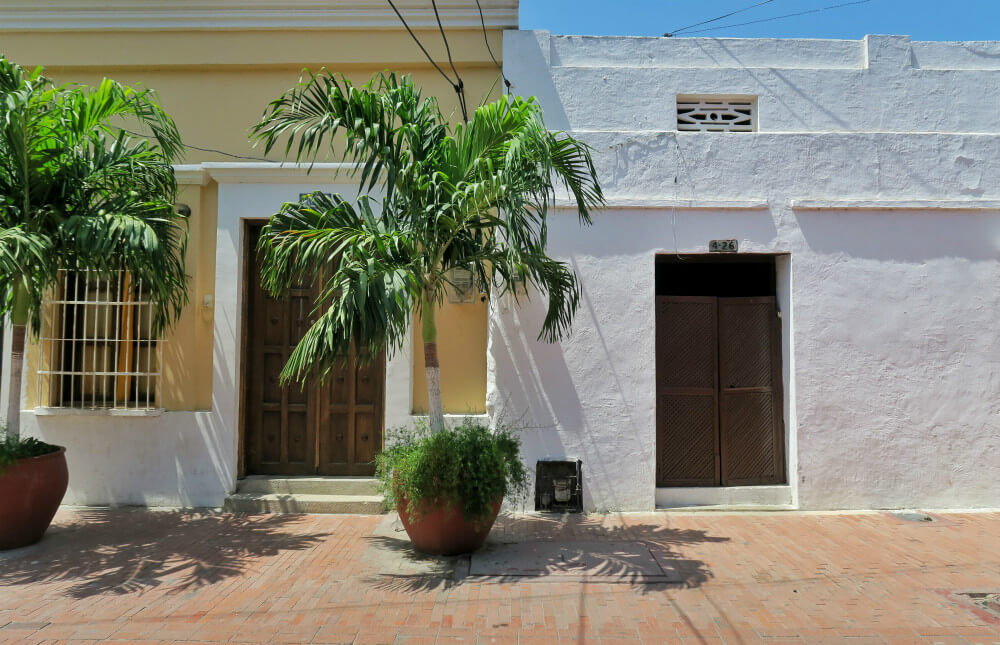 That evening we went wandering again, this time in search of a restaurant with a warm, relaxing ambience and good food (not that lunch was bad).
Our hotel receptionist pointed us in the direction of Parque de Los Novios where there were a few different restaurants and bars to try out.
We soon realised that this was where most of the tourists hang out. There were a couple of busy hostels nearby as well as live music and street performances.
Our hotel was only a 5 minute walk away so the location is very convenient, especially for solo travelers who don't want to venture too far for food at night.
On our second day in Santa Marta Colombia we found a great little natural café called Carambolo which served up hot and cold drinks, cakes, snacks and lunch.
The WiFi was free and they also had power points and comfy seating areas so we spent the majority of the day working from there.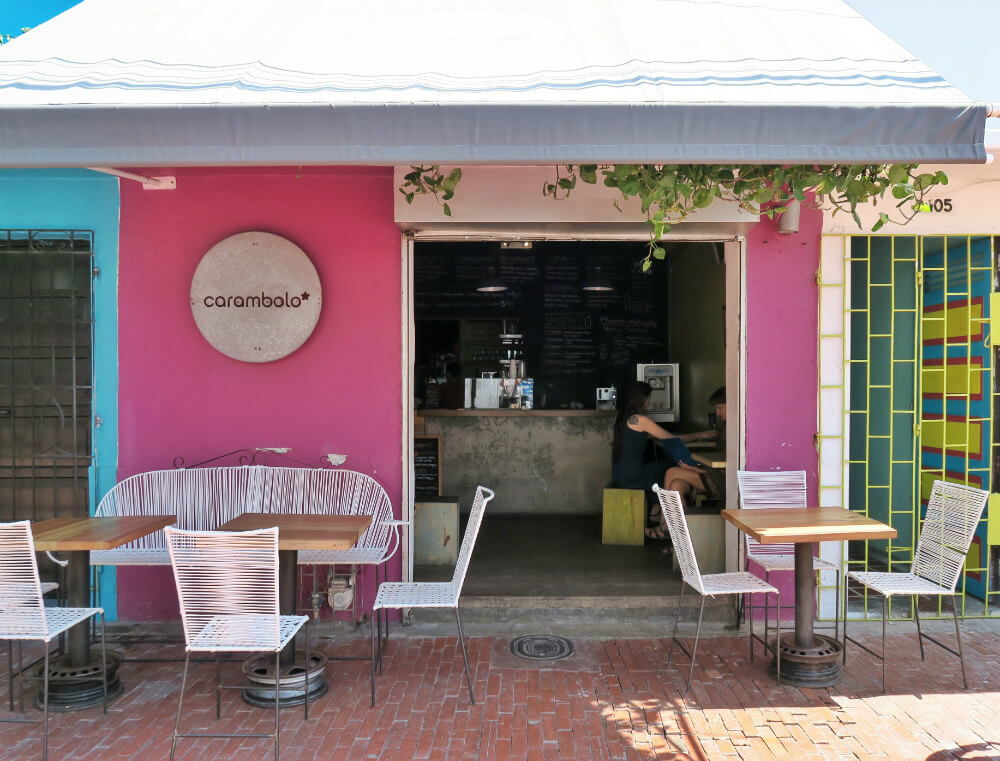 Later into the afternoon we decided to pack up our things and go for a walk down to the beach where we would stay and watch the sunset.
At this time there were enough people down by the beach for it to feel lively but not so many for it to feel crowded which was perfect.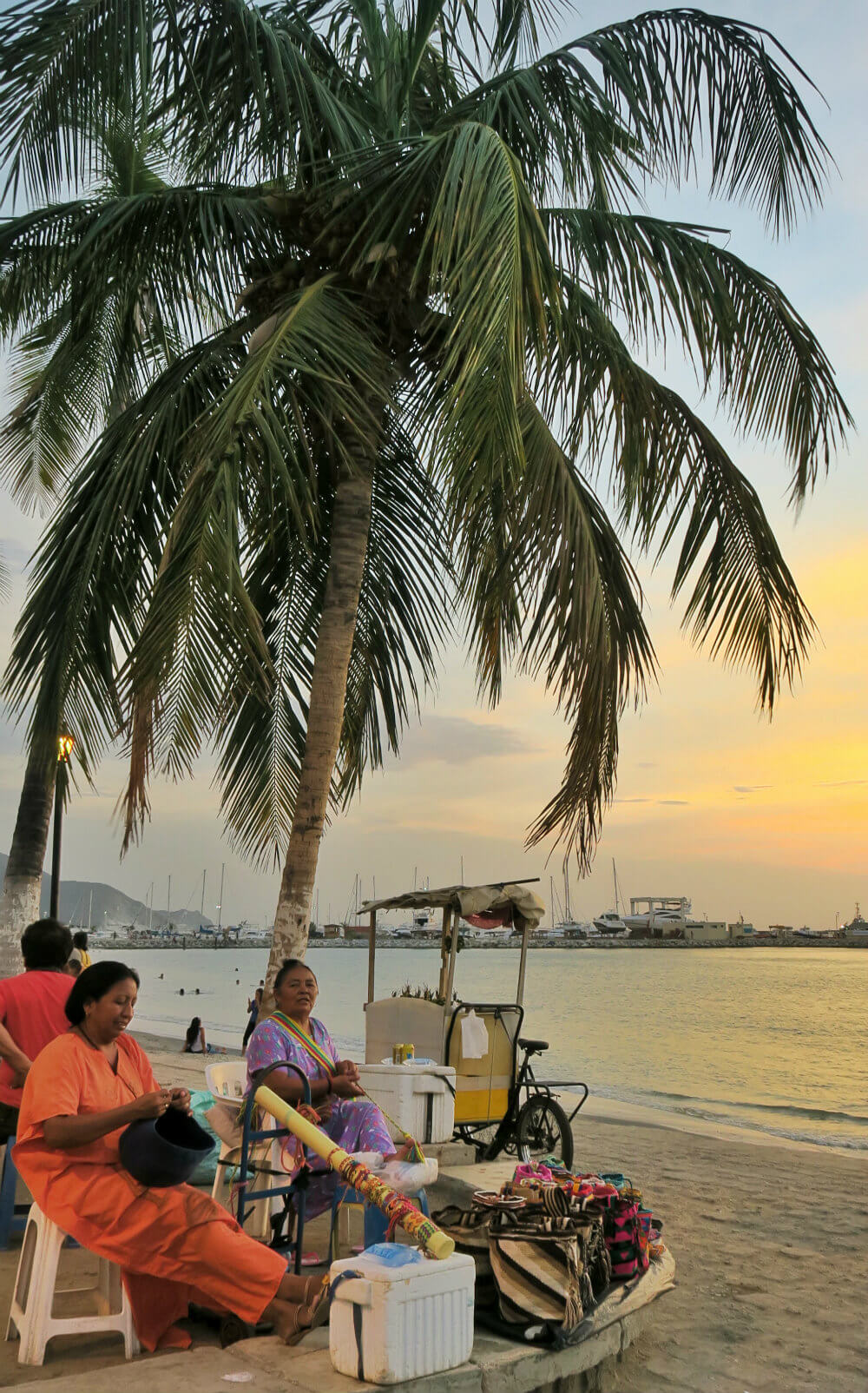 The sunset from this point was stunning, don't miss it when you go.

Is Santa Marta Colombia Worth Visiting?
The historic centre of Santa Marta is where most tourists go when they visit because it's safe, full of character and home to many different boutique hotels and hostels.
If you are traveling in the Caribbean region of Colombia then I would highly recommend spending a couple of days in Santa Marta. There isn't a lot to do there but it's a great city to simply walk around and see what treasures you can find.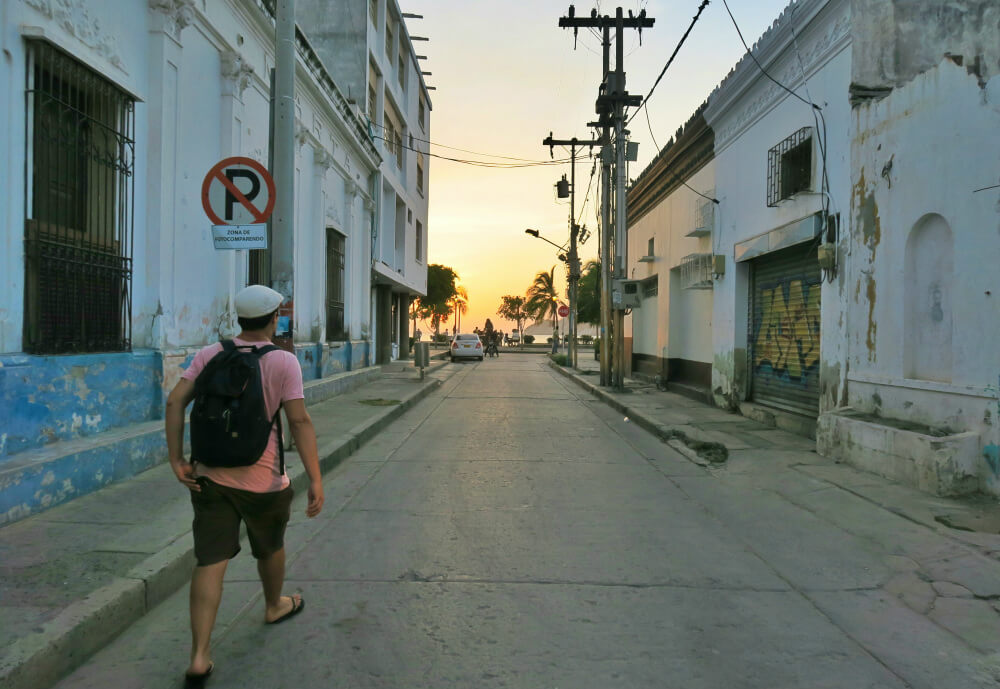 Not only that, Santa Marta is a must if you are looking to visit Tayrona National Park, Minca or Palomino. You can find cheap buses to any of these destinations from Mercado Central in Santa Marta.
You'll also notice that Santa Marta is cheaper than other touristic cities in Colombia, such as Cartagena, which may be a strong reason to visit if you are traveling on a budget.
We didn't get up to a lot in Santa Marta Colombia but I think that's why we loved our short stay.
The city itself isn't relaxing as such but if you book a hotel where you can escape the heat, hustle and bustle every now and again, you'll be able to strike a nice balance between experiencing every day Santa Marta life and enjoying a little R & R.
Santa Marta Colombia Hotels
If you are planning to stay in Santa Marta Colombia, I recommend booking accommodation near Parque de Los Novios so that you are close to shops, restaurants and bars as well as the beach. This way, you can walk everywhere.
We stayed at La Casa Del Piano Hotel Boutique which was modern, clean and very comfortable with a rooftop swimming pool and free WiFi.
To look at all other accommodation options in Santa Marta Colombia, choose Hostelworld for budget, Booking.com for comfort and Airbnb for local…
Santa Marta Colombia Travel Vlog
---
Over to you! Leave your answers in the comments section below…
Are you traveling in Colombia and unsure about whether you should visit Santa Marta? Let me know what your current plans are and I'll help you to decide…
Have you been to Santa Marta Colombia and have something to add to this post? Let me know below…