Romana is a 23 year old expat who lives in Denmark. Born and bred in Slovakia, Romana loves to travel around Europe. Here she gives us her best Macedonia travel tips. In this interview you will learn:
Where to stay in Macedonia
What to do in Macedonia
The challenges you may face as a traveler in Macedonia
The approximate cost of a two week trip to Macedonia
The top travel resources to book your trip to Macedonia online
Why Macedonia is such an amazing travel destination
Essential Macedonia Travel Tips You Need To Know Before Visiting
Pin these Macedonia travel tips to your travel board on Pinterest >>
To start, could you please give us a short introduction about yourself, where you're from and what you do?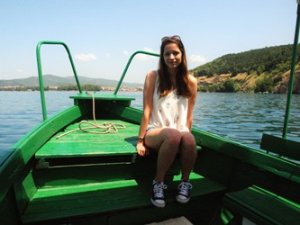 Hi, my name is Romana, I am 23 years old, and I am from Slovakia.
I am currently living in a small city called Randers in the northern part of Denmark and I have just started my studies in Tourism Management at the local Dania Academy.
When I have free time I love to travel, meet new people and get to know other cultures. So far I have visited 14 countries in Europe, but I plan to visit more.
When did you first visit Macedonia and where did you go?
I visited Macedonia this June with my boyfriend. We traveled through the west part of Macedonia. Our journey started in the capital city – Skopje, which is located in the north, near the Macedonia – Kosovo border.
We then continued to the nearby (15km) Lake Matka and Matka Canyon before traveling on towards the south and the famous city of Ohrid which lies near the same-named Lake Ohrid. It is surrounded by hills, creating the natural border between Macedonia and Albania.
Ohrid is full of narrow streets, colourful houses and little shops. Once there were 365 churches in the city – one church for each day of the year. The number of churches is quite a lot lower now, but there are still many of them.
You shouldn't miss the Church of St. John at Kaneo in Ohrid. The view from it is very beautiful.
Which Macedonian cities are your favourite and why? Would you recommend these as travel destinations? If so, where do you recommend staying?
If you happen to visit Skopje, do not stay there for too long. Take a taxi for around 5–10 € or bus a for 35 MKD (0,50 €) and go to Lake Matka– the oldest artificial lake in Macedonia.
In Lake Matka, you can find lots of caves and medieval monasteries. You can even hire a boat for a few MKD and go to those caves.
The most interesting place for every visitor is the Matka Canyon. The lake is surrounded by hills, and the view of the canyon is breathtaking. You can even hike those hills during the season  (April – October).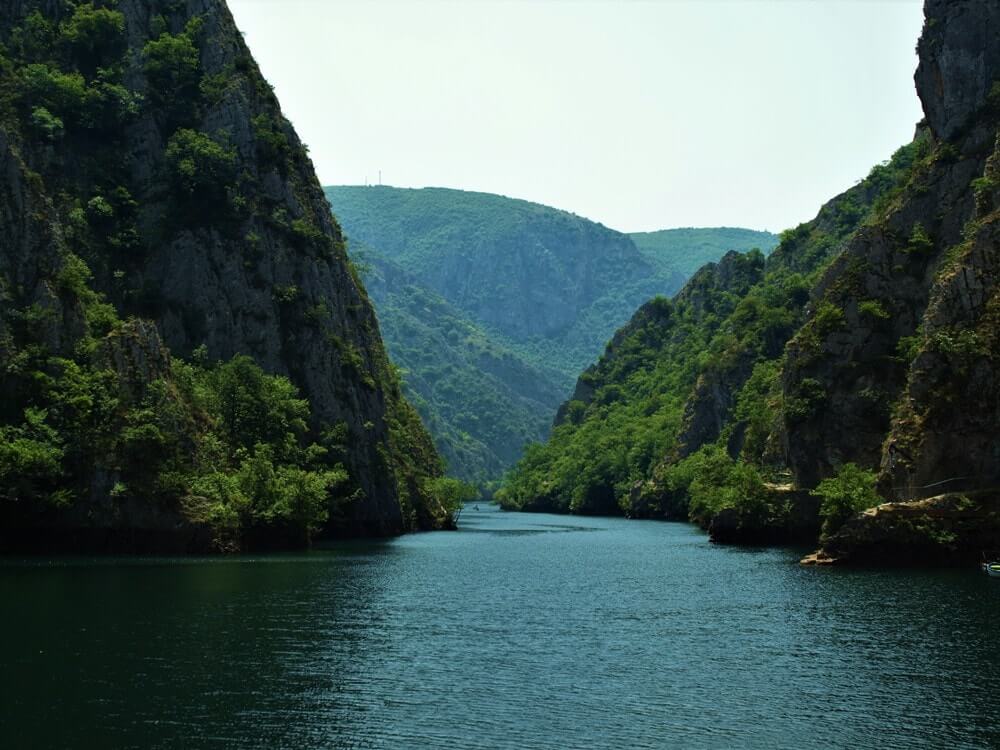 Your absolute top things to do in Macedonia?
Eat Macedonian cuisine it's amazing, and the restaurants are really cheap. You need to try their national sauces – Ajvar and Pindjur.
Ajvar is made from red pepper and garlic and according to tradition, it should be cooked only once a year.
The most traditional dish is probably Tavče Gravče, and it is one of the most delicious foods I have ever eaten. It's just baked beans and onions in a pot, and if you like, you can eat it with meat (but believe me, solely one bowl of this is enough).
Near the Matka lake, there are great restaurants in the cave with nice personnel.
What challenges have you faced in Macedonia and how did you overcome them? Should people planning to visit Macedonia be aware of these challenges?
When visiting Macedonia, you have to count on the fact that people don't speak very good English. The only people who speak English are the taxi drivers.
We had a real problem buying bus and train ticket at the stations. The Russian language is a little bit more understandable for them.
The best option is to buy a Macedonian vocabulary book with basic phrases if you want to communicate with the locals.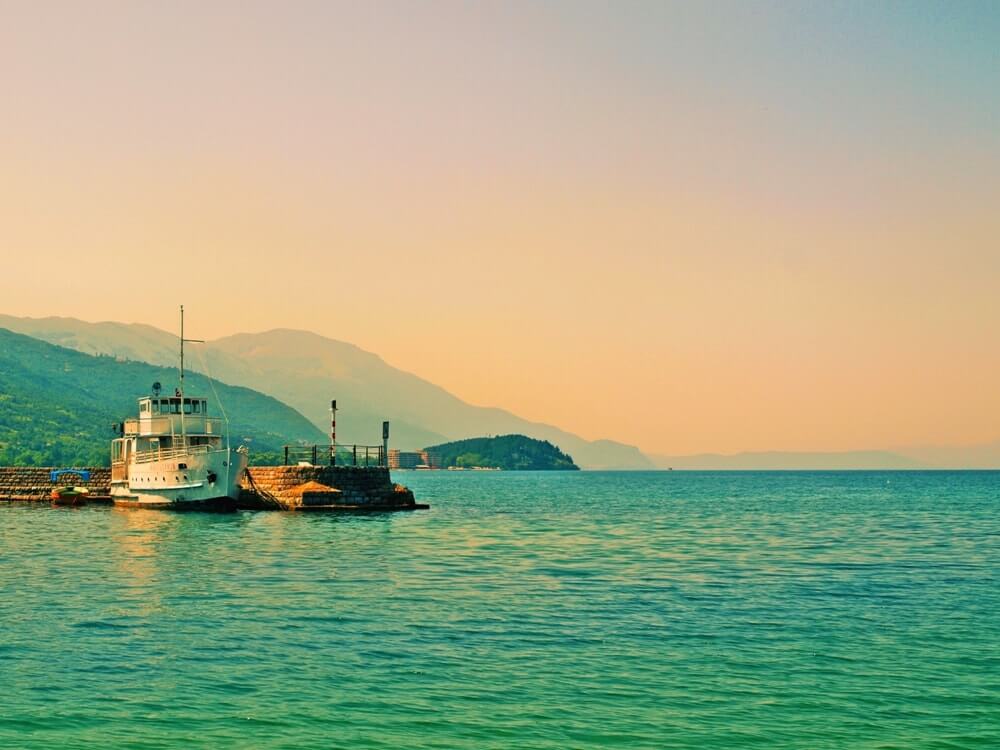 In your opinion, what is the best way to travel in Macedonia and why?
Macedonia is a very cheap country (as almost the whole Balkans). One ticket for public transport in Skopje costs 0,50 €, the return bus ticket for 4 hours drive trough Macedonia was only for 12 €.
What is surprising is that taxi rides are also very cheap (but don't expect luxurious cars, they drive mostly on old cars. For example one of our rides was with a 25-year-old Audi).
Based on this, what is the approximate cost of traveling in Macedonia (accommodation, food, transport, entertainment)?
The cost of traveling really depends on what kind of person you are. If you need a big comfortable room just for yourself in the centre of the city, or if you are good with a hostel.
In Skopje, you can find accommodation in a big 3-bedroom apartment with air-conditioning for around 40€ / per night in the city centre. I am sure that you can find a cheaper alternative if you are really on a budget.
Around Lake Matka and Lake Ohrid the prices are a little bit higher because it's a tourist destination, but you can still find rooms for reasonable prices.
In Ohrid, we paid around 60€ for three nights in a 2-bedroom apartment near the centre. One tip – if you are going to Ohrid, it's better to pay extra for accommodation near the centre.
There are may houses at the marginal part of the town, with almost no shops. From there it's a really long walk to the city centre and buses do not pass that often.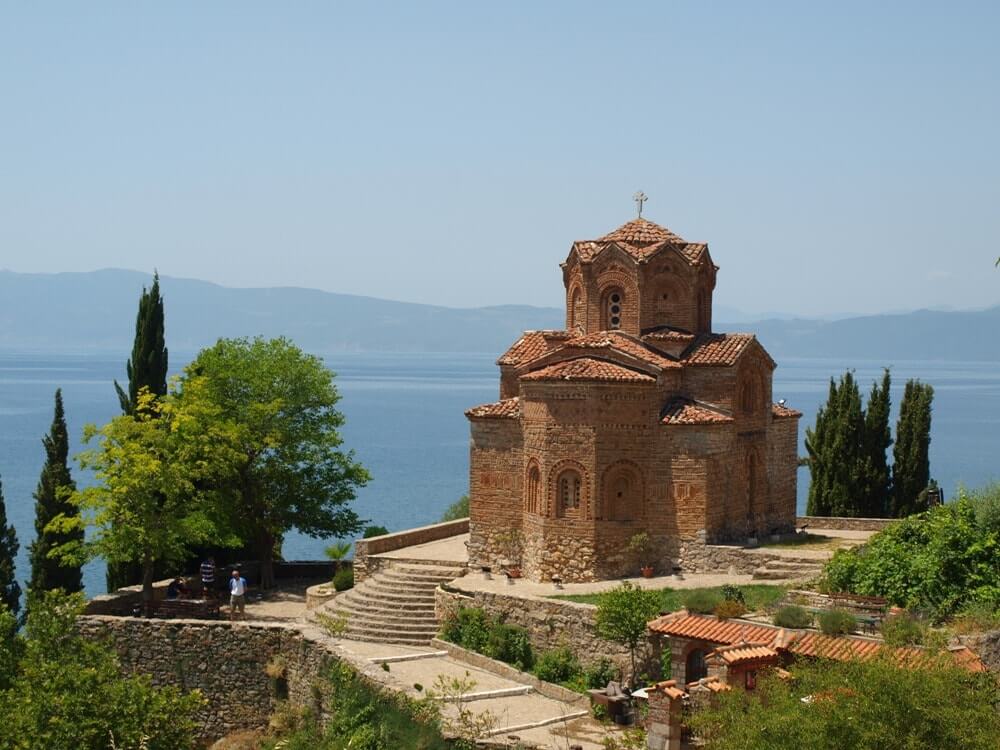 Your top go-to resources for booking flights, accommodation and tours in Macedonia?
When flying from Europe to Macedonia, you can use the low-budget air company Wizzair, which flies from Skopje to lots of European cities for good prices.
You can find nice cozy accommodation on well-known sites like Booking.com or Airbnb.
Can you share with us three important Macedonia travel tips to know before visiting?
If you want to take a taxi ride, always negotiate the price. They can go down to half the price. Although a lot of people recommend hiring a car when you arrive in Macedonia, it is not the cheapest option.
Do not stay in Skopje more than you need to. Half a day for the city is enough because there is not really much to do there, except look at the enormous sculptures and monuments. Rather dedicate more time to see the Macedonian nature.
Ice cream is great there! And only for 20 MKD (0,30€) for a cup.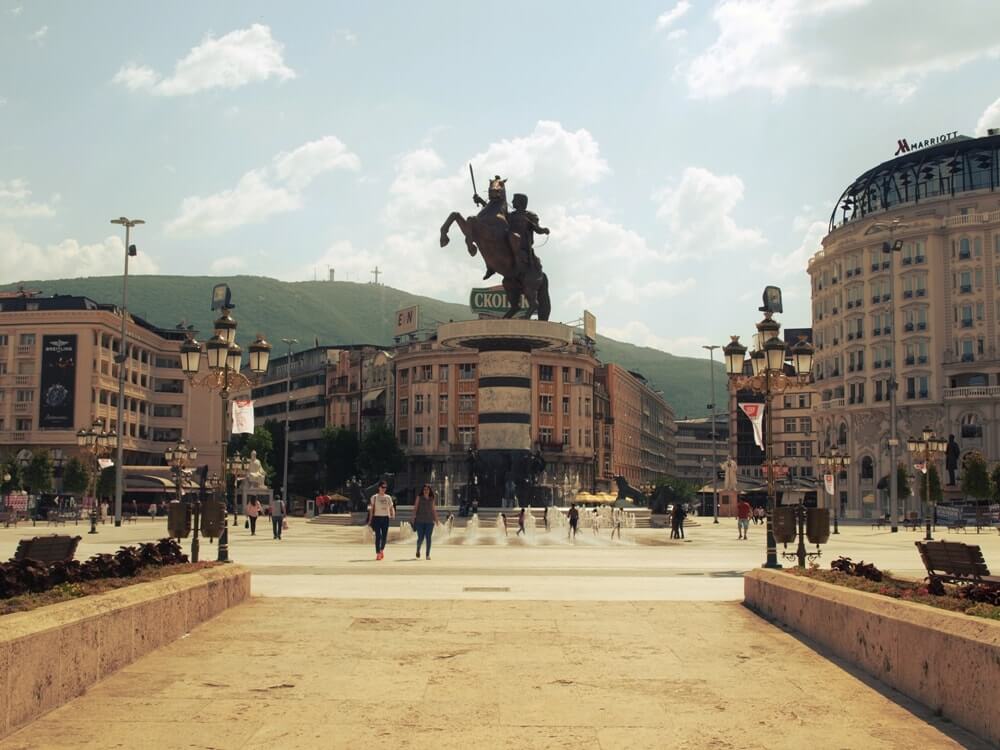 And finally, do you have any last words to inspire everyone reading this to travel to Macedonia?
Macedonia is not a really famous tourist destination, but that is what I loved about it.
Locals are not that used to seeing tourists. What we experienced was some people looking at us curiously and then even stopping by to talk to us. It was a totally different experience comparing to any other country I have visited.
Macedonia is a really magical country, and when you wander through the Balkans, you shouldn't miss it.
Thank you Romana for sharing your Macedonia travel tips!
To learn about Romana's next adventures in Europe and see all of her photo's, remember to follow her on Instagram: @romii.masaryk.

---
Macedonia Travel Resources
Macedonia Accommodation:
To start looking at your accommodation options in Macedonia, choose Hostelworld for budget, Booking.com for comfort or Airbnb for local (and get $20 off).
Macedonia Flights:
If you are traveling to Macedonia from outside of Europe, it is beneficial to use a flight compare site to find the cheapest flights. We recommend and use Cheapflights.com.
Click here to compare and book cheap flights to Macedonia
---
Now it's over to you reading this! Leave your answers in the comments section below…
Are you planning a trip and looking for more Macedonia travel tips? Leave your questions below and we'll help you out!
Have you already been and know some more Macedonia travel tips to add to the list? Let us know!
---
Are you interested in being a featured traveler and sharing your travel tips?
Click here to send an email to us
Share a few words about yourself and your travel experience as well as a link to your blog or favourite social media channel
We'll be in contact!