The day started off in a little café in El Poblado, Medellin. It was 9am and we were sipping on beautiful Colombian coffee whilst waiting for our paragliding guide, Marlon, to come and pick us up and take us to San Felix, which was located about 45 minutes away.
It was a beautiful Sunday in Medellin and we couldn't think of anything better than floating above the mountains of the Antioquia province. There were four of us in total – Dan and I and then two friends from France and Colombia.
Soon enough an old electric blue VW Kombi van chugged down the street and parked up. Our ride had arrived and we instantly knew this was going to be one epic adventure. Out jumped Marlon and welcomed the four of us into his hippy wagon.
The journey into the mountains had begun.
Paragliding in Medellin, Colombia: How To Have A Safe And Epic Ride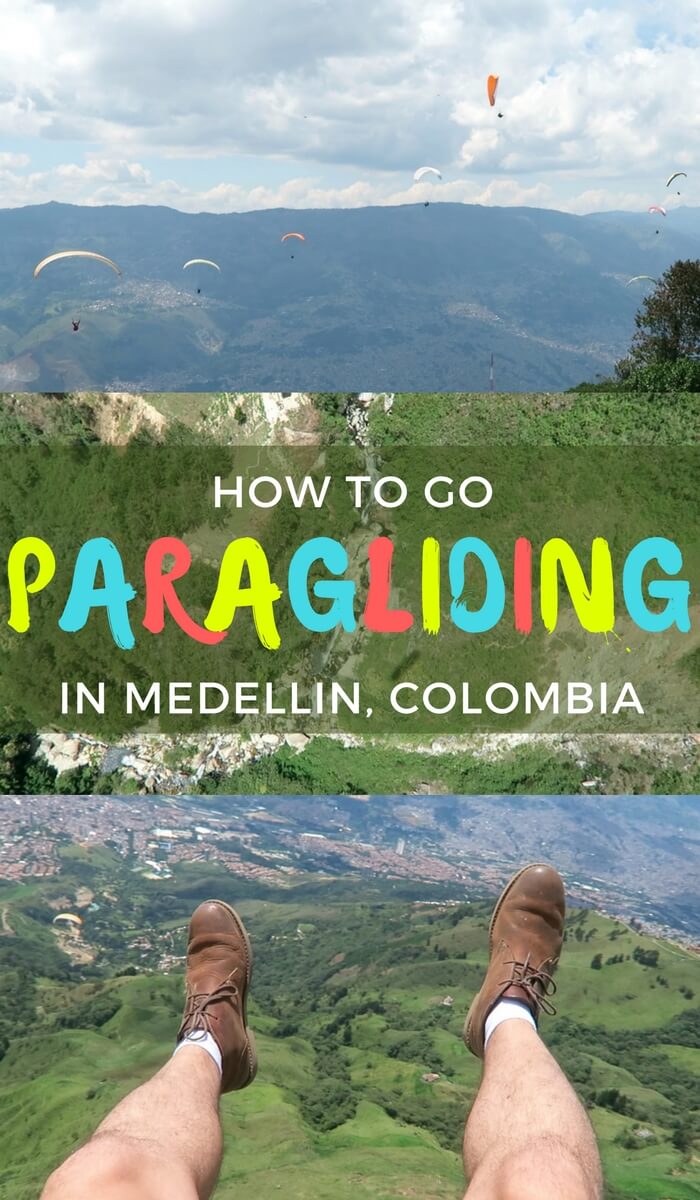 With Queen turned up loud we chugged up through the windy mountain roads of Medellin, alongside thousands of tiny houses stacked almost on top of each other. The views over the valley were incredible and the little neighbourhoods we passed through were beautiful in their own unique ways.
On the way we even stopped to pick up a local man who was waiting on the side of the road. At first we thought he was a hitchhiker jumping in so we all thought it was pretty random until Marlon mentioned that the guy was going to help bring the paragliding gear up to the top of the hill. Funny times.
After 45 minutes we had arrived in San Felix, the quirky little paragliding town in the hills. Jumping out at Aeroclub, we stopped for a quick toilet and drink break before crossing the road and hiking up to the top of the hill.
For us, this hike was a little tiring because we weren't prepared for it and the track was quite steep. That said, it only took 5-10 minutes to get to the top, so not a biggie. I do recommend wearing lots of sunscreen, wearing appropriate footwear and bringing bottled water though.
When we got to the top of the hill we had beautiful clear views over the valley below us. We stood and watched a few people take off but it wasn't long until Marlon called us over to the entrance to record our details. At the entrance there was a girl on the gate who took our names, ID numbers and weight before giving us our wristbands.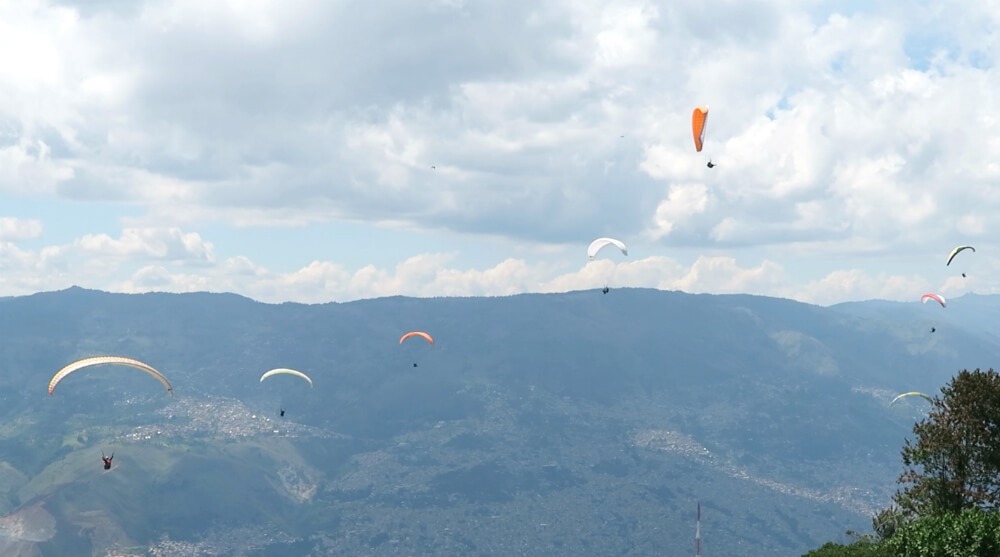 Once this process is complete, Marlon will take you through and get you set up. If there are a few of you, he will organise for his partner to take one person while he takes the other. As there were four of us, we went two at a time. For example, I flew with Marlon and Dan flew with his partner while our two friends waited on the hill and vice versa.
There are many paragliders in San Felix and plenty of spectators so it's perfectly safe to wait for your travel buddy on the hill while they are out flying. The grass there can get a little bit damp so I recommend bringing a small towel or blanket to sit on or you can sit up at the bar and have a drink.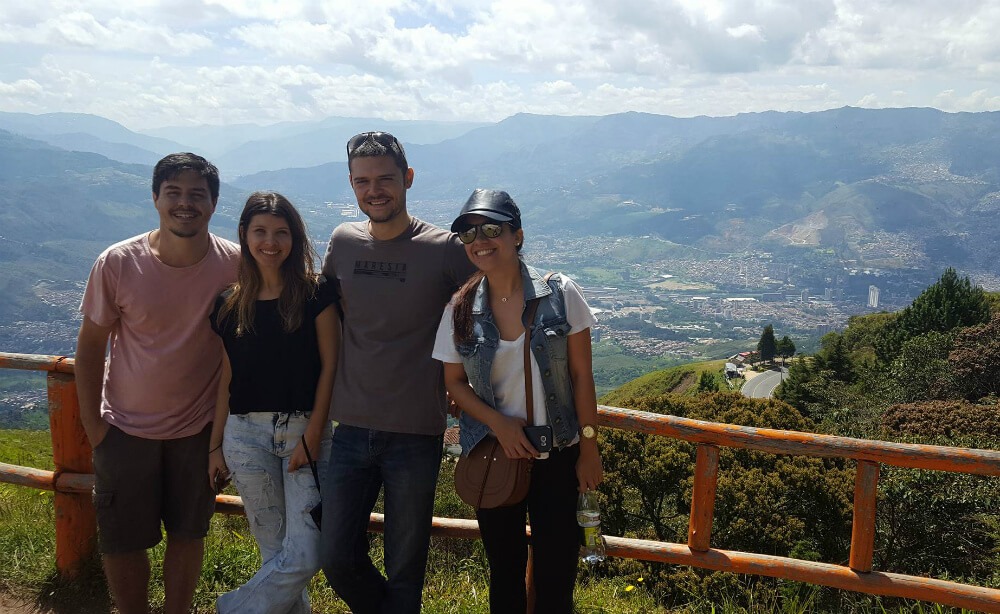 When you organise a paragliding trip with Marlon, you need to be available early. He doesn't like taking people out flying in the afternoon because the wind picks up and it can be a lot more difficult to control the flight. If you're a nervous flyer, this isn't ideal so the earlier the better for all parties involved.
By 10:15 we were all setup and ready to go. The first of us to fly was our French friend who went with Marlon and our Colombian friend who went with his partner. They took off within 5 minutes of each other and were in the air for about 30 minutes each, flying over the city of Bello which neighbours with Medellin.
Dan and I anxiously waited on the hill and watched as they elegantly glided over the mountains in the near distance. It was beautiful to see but I was nervous to say the least.
As our friends came down to land it was then our turn. I was in torn between wanting to conquer my fear of heights and wanting to run away. I eventually made the decision to be brave and walk out there with confidence. They quickly plonked a helmet on my head and then strapped me to the chair which would hang from the kite.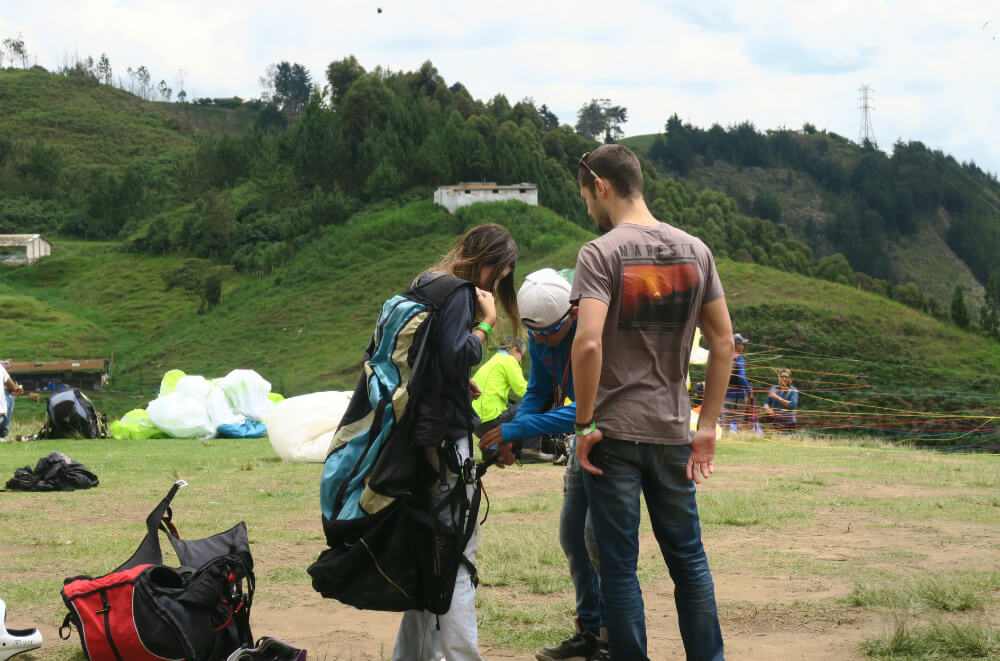 Just a few short minutes later I was all strapped in with Marlon behind me and we were running, although my feet could barely touch the ground. With the help of two young local boys, we were pulled out to the edge of the hill before we lifted up our legs and floated into the sky. We were literally dangling from a kite above the rolling hills below us. It was beautiful.
Everything instantly becomes peaceful, although thats not to say I wasn't shitting myself. Marlon kept on telling me to relax and let go of the cords but I couldn't. I was as stiff as a board for the duration of the flight. I'm a nervous flyer, alright?
It's completely safe to let go, hang out and let him do all the work but you do have something to hold onto if that free feeling gives you the shivers. Most people love the feeling though.
It doesn't give you that butterfly feeling in your stomach (thank god) but something about hanging in thin air makes me a little… I guess you could say, tense. Halfway through my arms were aching from holding on so tight!
Marlon took me flying close to the city of Bello, which is situated in the valley next to Medellin, and over the most beautiful waterfall which gushed it's way down the mountain and through the rocks below us.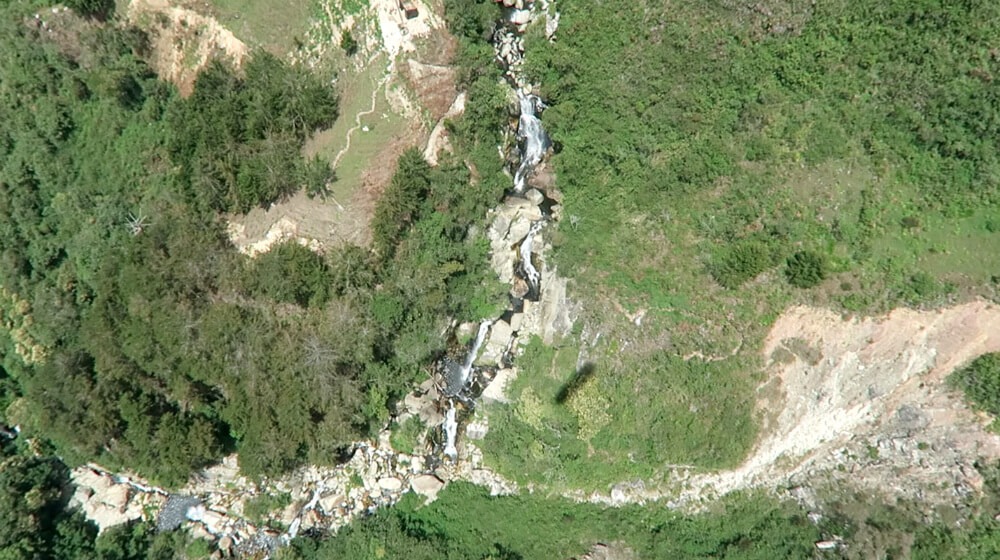 Above us Dan circled around with the other guide (they tried to fly close together for us). I think Marlon could tell that I was a nervous flyer so he took it really easy and had a good old chat with me for the duration of the flight.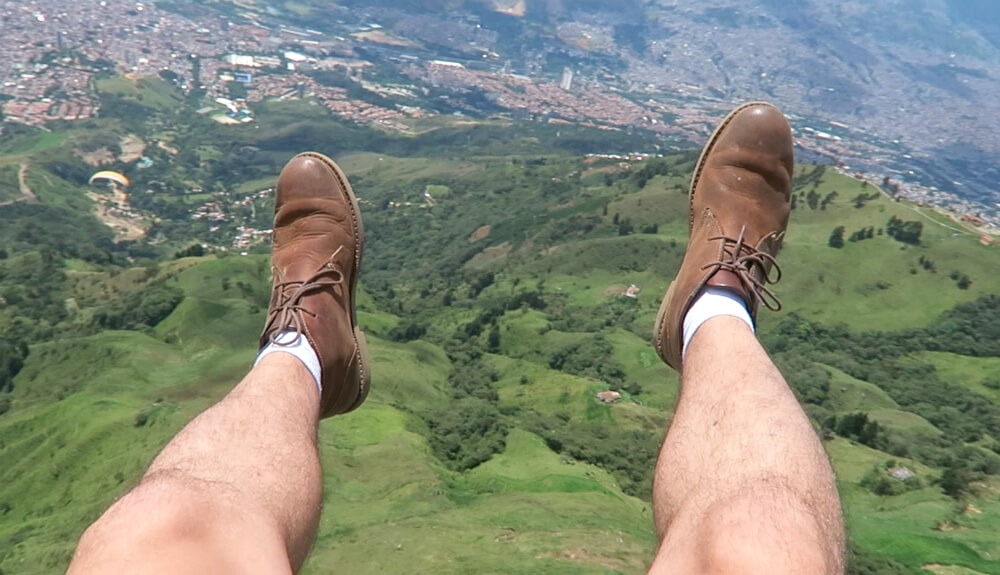 Landing was actually far less difficult or scary than I thought it would be. In fact it was super chilled. After about 30 minutes of floating around, Marlon let me know that he was going to prepare for landing. As we flew in towards the hilltop all I had to do was keep my legs up and he did all the work. The young boys were also waiting to catch us and pull the kite down.
Flight completed!
This was my first time paragliding and I was stoked to have stepped out of my comfort zone and conquered my fear of heights. Skydiving can wait though.
After we'd all landed safely and Marlon had packed up his gear, he wanted to take us on a little adventure in San Felix. First up, he took us walking through a small road to get closer to the waterfall. He told us about the area and the history of Medellin before we walked back up and jumped in the Kombi for a trip to the unknown.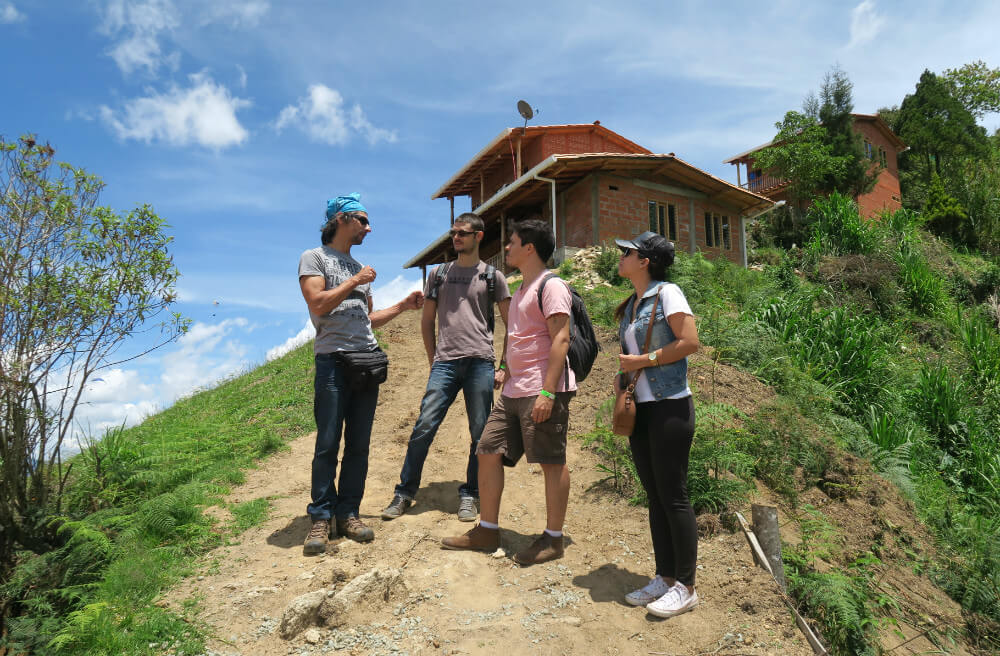 We spent the rest of the afternoon chilling out, eating and drinking at the most beautiful little restaurant called Waira Restaurant and Bar. It's located on the edge of a hill in San Felix and boasts 180 degree views over the valley and a lush picnic area and the best part about it is that not many people know abut it!
This place had so much character and charm it made us want to come back and live there for a while.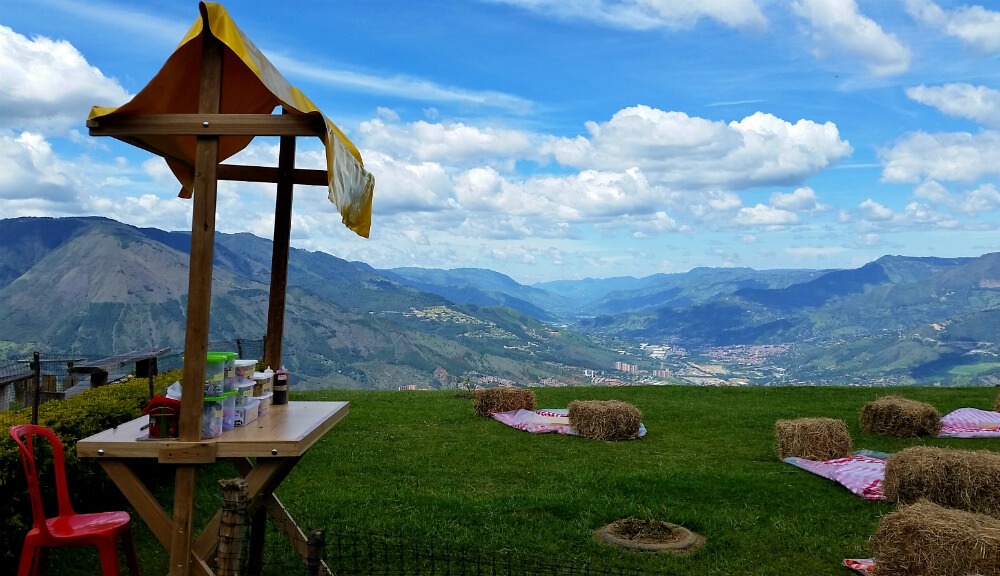 Marlon was an amazing guide who dedicated his whole day to taking us paragliding and showing us the hidden gems of San Felix. If you are looking at paragliding in Medellin, Colombia, he's your man.
Paragliding in Medellin, Colombia is an experience you won't forget! Along with some of the other amazing things to do in Medellin, make sure you include paragliding in your itinerary, even if you're only there for a couple of days. It's worth every penny!
Paragliding in Medellin, Colombia Details
Who: Marlon Pérez is a professional paraglider with over 16 years of experience. He's a really cool, laid back guy who will dedicate all of his time and energy into making your day amazing. Not only that, he is 100% safe and trustworthy.
What: A day trip to San felix with Marlon may differ from person to person but ours included pick up and drop off in El Poblado, 30 minutes of tandem paragliding, a walk down to the river, a visit to the amazing bar he used to work at, a visit to Waira Restaurant for lunch (lunch not included) and a drive through 'the real Medellin' on the way home.
He also offered to take us to a coffee plantation if you are interested in adding this to the itinerary.
Where: San Felix is a small town located in the mountains about 45 minutes away from Medellin by van.
Why: Paragliding in Medellin, Colombia is a breathtaking experience (literally for me). You can see over the whole valley and mountains in the distance whilst feeling as free as a bird!
How: Marlon will pick you up from a meeting point wherever you're staying in Medellin and will take you to San Felix in his Kombi. From there he will stay with you throughout the day before taking you back to Medellin at the end. Trips can vary in length and price, depending on what you want to do. He will go through the options with you when you contact him.
When: Marlon will want to take you early in the morning as the wind gets too strong in the afternoon. We were picked up from El Poblado at 9am and arrived back in the evening. If you organise it in advance, Marlon is available most days.
Cost: The drive from Medellin to San Felix and back costs 100,000 cop ($35 usd), no matter how many people you have in the car, so the more people the better. There were four of us so it was 25,000 cop ($8.50 usd) each. This drive also included stops at the bar and restaurant and a detour through 'the real Medellin' on the way back.
The paragliding is 120,000 cop ($41 usd) per person so in total it will be 145,000 cop ($50 usd) per person if you have four people and want to do the same trip we did. If you want to do the coffee tour, it will be extra.
Bring: A sweater or jacket of some kind (it can get cold up there), enclosed footwear, sunscreen, water and cash.
Watch The Vlog
Contact Details
You can contact Marlon to book a paragliding trip in Medellin via:
Email – Marlonflying@gmail.com
Phone/Message/Whatsapp – +057 300 652 16 23
His Website – www.lachiquitravel.com
---
Over to you! Leave your comments below…
Are you wanting to go paragliding in Medellin, Colombia and still have some more questions? Shoot!
Have you been paragliding in Medellin, Colombia already and have some tips to add? Leave them below!