Are you planning a trip to Cartagena Colombia and looking for some information and tips to help you make the most of your holiday?
I recently spent a week in Cartagena Colombia and fell head over heels in love with the place.
In this quick travel guide you'll discover why plus how you can thoroughly enjoy your very own travel experience in Cartagena Colombia.
Cartagena Colombia Travel Guide: What To Know, See And Do
Keep this Cartagena Colombia travel guide for future reference.. Pin this image on Pinterest >>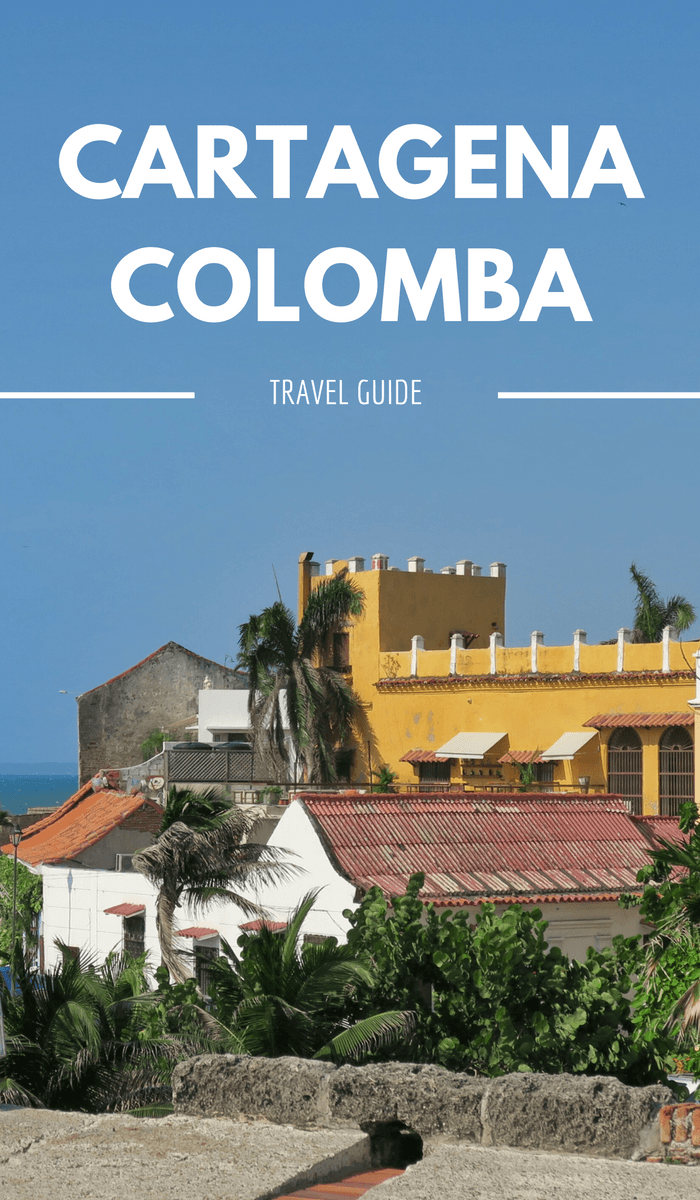 Let's start with the basics, shall we?
Where Is Cartagena Colombia?
I know there may be a few of you reading this who actually have no idea where the city is situated. So where is Cartagena Colombia?
Cartagena Colombia (or Cartagena de Indias) is situated in the northwest of Colombia, on the Caribbean coast. It is the capital city of the Bolívar Department and is one of the oldest cities in Colombia.
Before I went to Cartagena Colombia, my geography knowledge was way out of whack because I literally thought Panama was attached the the very top of Colombia and all of the coastal Colombian cities were below it.
I was wrong. Here's a map of Cartagena and Panama so you can get a better idea of where you're going.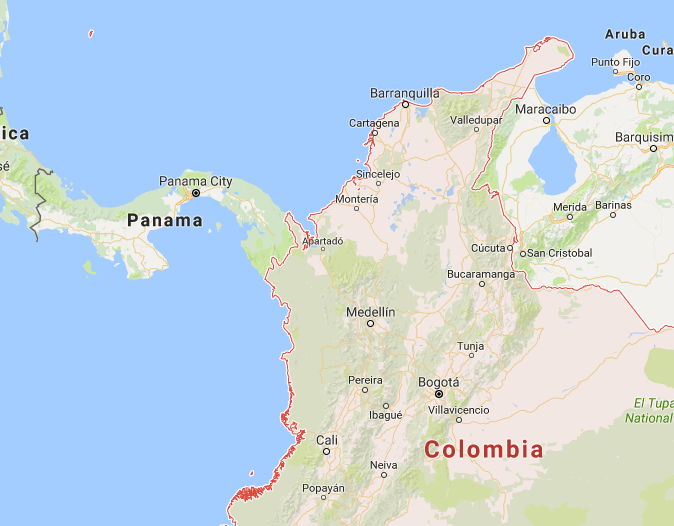 There is another Cartagena in Spain which this one was actually named after, but there will be another guide for that one when we eventually get there!
What Is Cartagena Colombia like?
Just putting it out there – Cartagena Colombia is one of the most beautiful little cities I've ever stepped into.
And yes, you kind of do have to step into it because the historic centre is guarded by a large wall (or fort), giving it the nickname, 'the walled city'.
So Cartagena is made up of a few different neighbourhoods but I'm going to tell you about the three main ones…
The first is the walled city, possibly one the most romantic places in the world. It has some serious charm.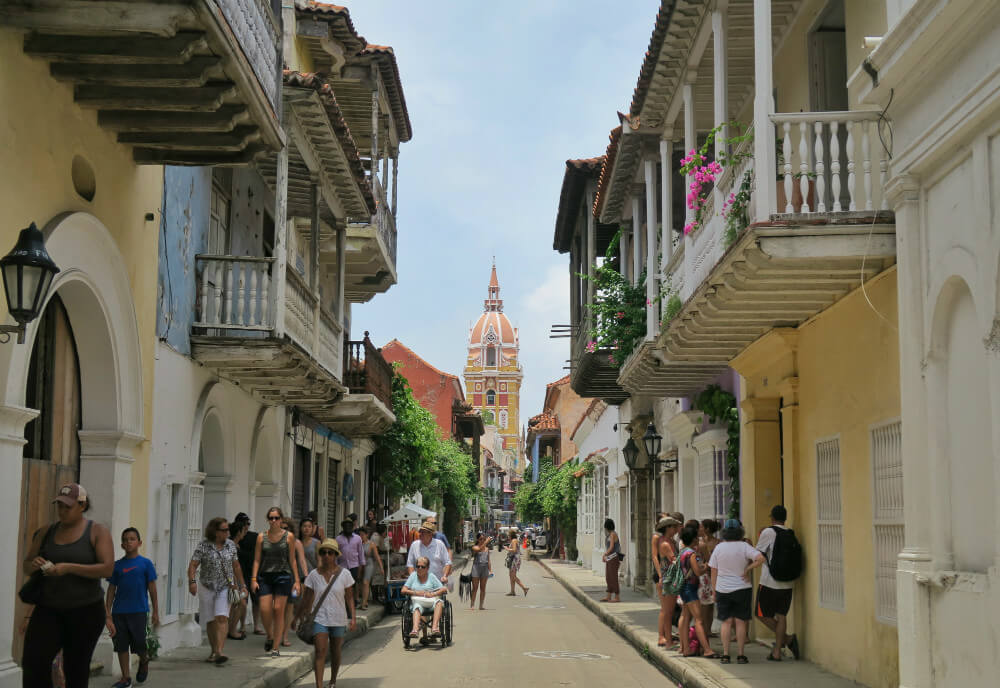 This is the oldest and most preserved part of Cartagena. When you drive past the walled city you'll catch a beautiful glimpse into Cartagena's captivating history.
All around the walled city is modern apartments and shops but as soon as you pass through the gate, you enter into another time and place.
Houses, shops and restaurants continue to look as though they belong in a far away past, yet they are maintained to a high standard, painted in bright colours and decorated with vines and hanging flower pots.
The streets are narrow and lined with gorgeous architecture and the street lamps are like something you'd see in a Harry Potter film.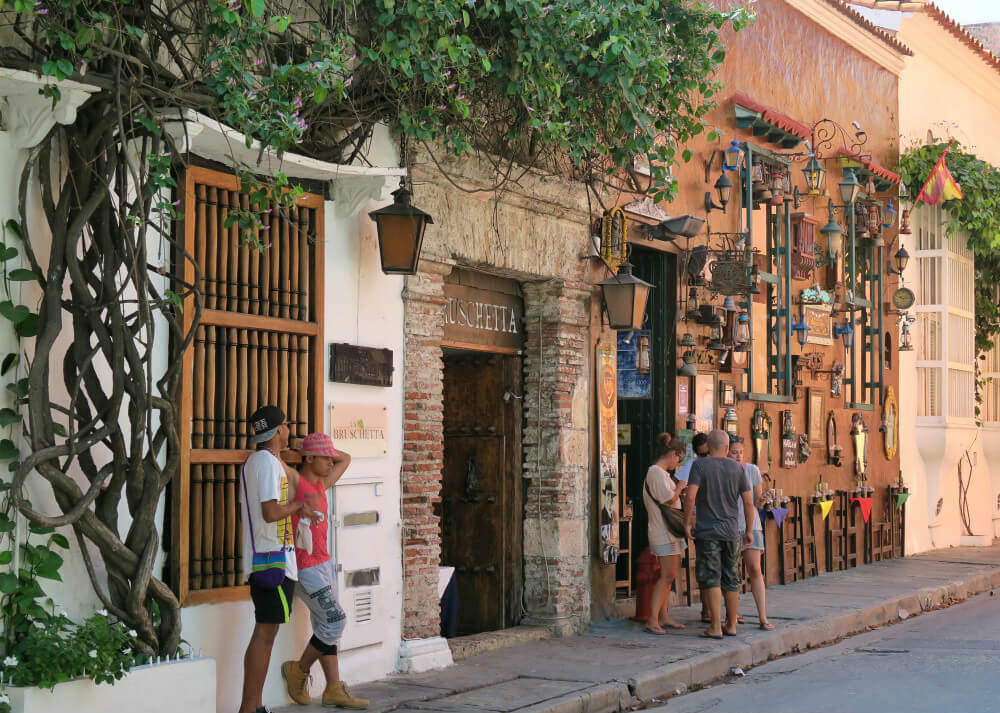 One of my favourite details of Cartagena though, had to be the horse and carriages.
Each day, especially in the evenings, the streets would echo with the sound of horse steps as carriages brought people back to their hotels after a night of eating at one of the many delicious restaurants.
The walled city is one of those places you have to experience to truly understand what makes it such a special place.
Then you have Getsemaní…
This is the more 'hip' part of Cartagena Colombia and is located just outside of the walled city (only a 5 – 10 minute walk).
In Getsemaní you will notice that most of the buildings are also very old and the streets do look a little bit similar to the one's inside the wall, however it is less affluent.
This area used to be quite dangerous, especially in terms of drug dealing but nowadays, it is considered the 'cool' part of Cartagena, home to many great bars and cafés, including the world famous Café Havana.
The third place I want to mention is Bocagrande.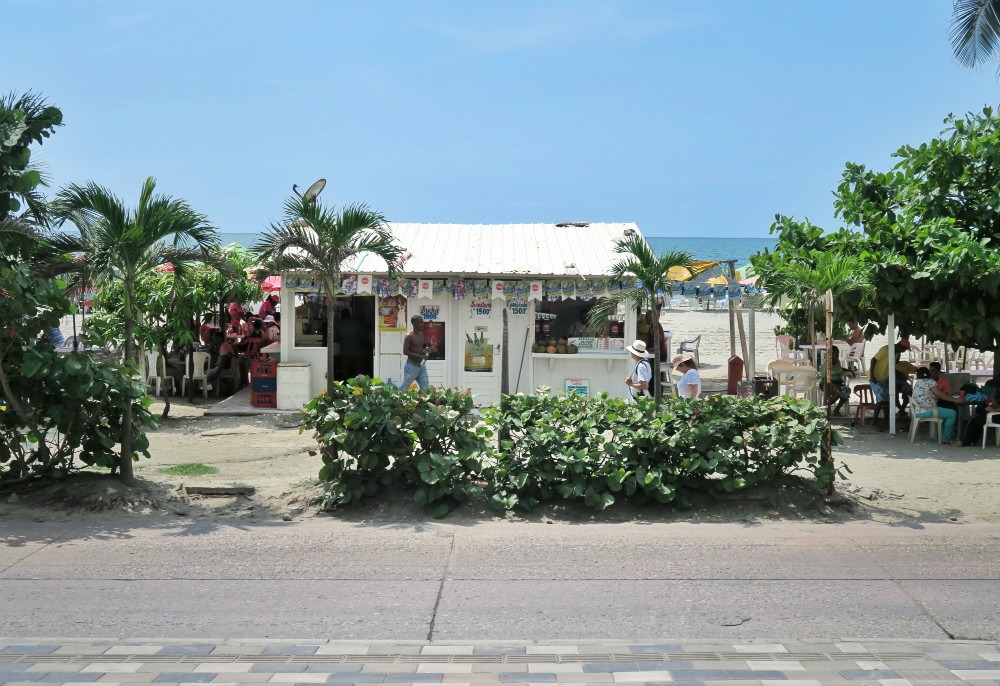 Although the walled city is located right next to the beach, Bocagrande (located about 15 minutes away) is the main beach area that tourists visit.
There are many high rises, hotels and restaurants along this strip, giving it a completely different vibe to the walled city.
Personally, I would stay in the historic centre and visit Bocagrande, not the other way around because there's more exploring to be done inside the wall.
Bocagrande isn't the most amazing beach, due to the volcanic greyish looking sand and large amount of vendors, however, it is worth a visit.
Cartagena Colombia Weather
Pretty much all year round Cartagena Colombia is hot, hot, hot! This makes it the perfect summer holiday destination.
Located in the Caribbean, Cartagena Colombia is used to having a tropical climate with high humidity.
There are two rainy seasons – in May and June and then again in October and November but you may get a bit of rain throughout your holiday no matter what time of the year you go.
We were there in August and enjoyed a quick tropical storm most afternoons to cool us down. These storms were normally very quick and once they were over, the sun came back out to play.
Clothing wise, I recommend wearing light cotton or linen items, particularly dresses for women. It can get very hot and sticky so denim and polyester are not the best materials to wear in terms of comfort.
You should also remember to put on sunscreen every morning and throughout the day because the sun is strong (we learned the hard way).
Cartagena Colombia Hotels
If you haven't yet figured out where you want to stay in Cartagena Colombia, let me tell you now, you're in for a treat.
There are some stunning boutique hotels and even hostels in Cartagena that don't necessarily come with a hefty price-tag if you do your research.
The walled city, in particular, is known for its gorgeous boutique hotels. If you take a look here, you'll see what I mean.
Most of the boutique hotels in Cartagena Colombia come complete with a rooftop, sometimes even a rooftop pool, and little balconies overlooking the charming Cartagena streets.
We left it all too late when we went so it was difficult finding somewhere affordable with vacancy. If you do your planning in advance, however, you can find some real gems.
The first place we stayed at was an Airbnb (you can click to get $25 off) and then we booked our other accommodation through Booking.com.
I would recommend either option, depending on your travel style (local, luxury, mid-range or budget).
If you want a more local experience then you would be better off renting through Airbnb.
–> Click here to look at Airbnb accommodation options 
Want stylish accommodation you can afford? Enter your dates and Hotels Combined will scan all the top booking sites (Booking.com, Hotels.com, Expedia, etc) for the cheapest prices possible:
–> Click here to look for the best deals on hotels 
Things To Do In Cartagena Colombia
There are plenty of things to do in Cartagena Colombia but I can honestly say we didn't do many of them.
We are definitely the wandering sort… Basically we walk around until we find something interesting that we like and then stop and spend a while there. Usually it's cafés.
There are a couple of things that I can recommend doing though:
Grab a morning juice at the daily flower market, located on the edge of the walled city (3,000 cop)
Take a horse and carriage ride through the old city at night (50,000 cop)
Sit in one of the plazas (city squares) and watch people perform arts and live music
Take a quick trip to Bocagrande to see the beach (15 minutes cab ride – 8,000 cop)
Organise a day tour to Playa Blanca on Isla Barú or the Rosario Islands (60,000 – 300,000 cop)
Get lost wandering through the streets of the walled city taking photographs (priceless)
Eat and drink a lot!
Click here for more things to do in Cartagena Colombia.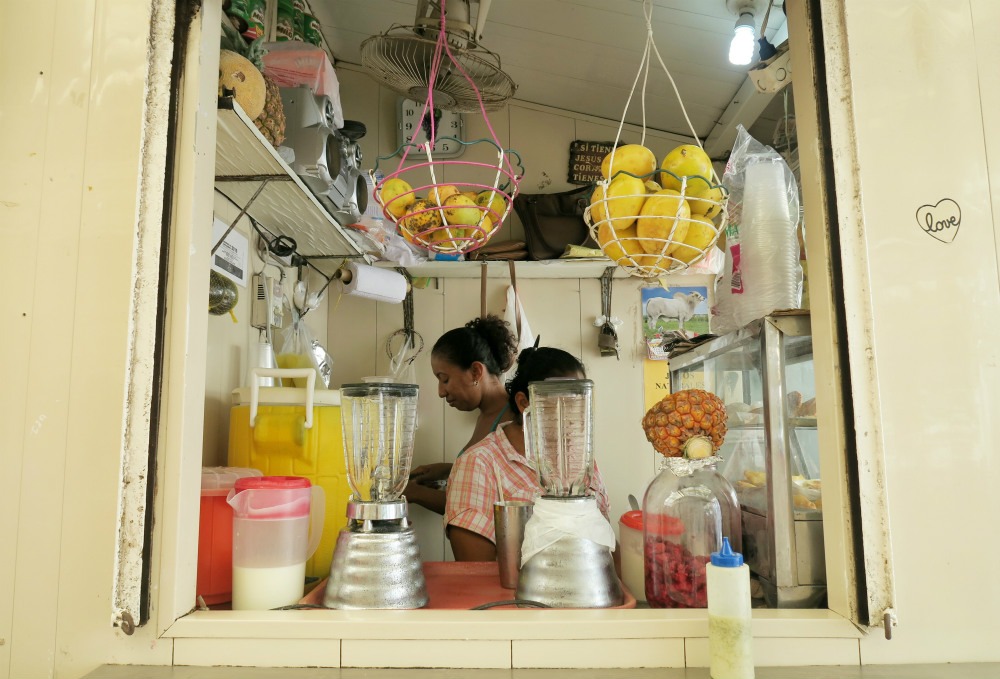 Where To Eat And Drink In Cartagena Colombia
In total we stayed in Cartagena for just under a week, however, as we work while we travel, we found the perfect little café/work nook called La Presentación and spent a lot of time there.
While we didn't get up to a great deal, what I can say is that we definitely enjoyed eating and drinking in Cartagena. Some of our top spots include:
Café del Mar – amazing views
La Presentación, Casa Museo Arte y Cultura – great coffee, inspiring space
Café San Alberto – many varieties of coffee, cosy space
El Bistro – amazing paella
Bourbon St – good old pub food
Mistura – delicious sushi/ceviche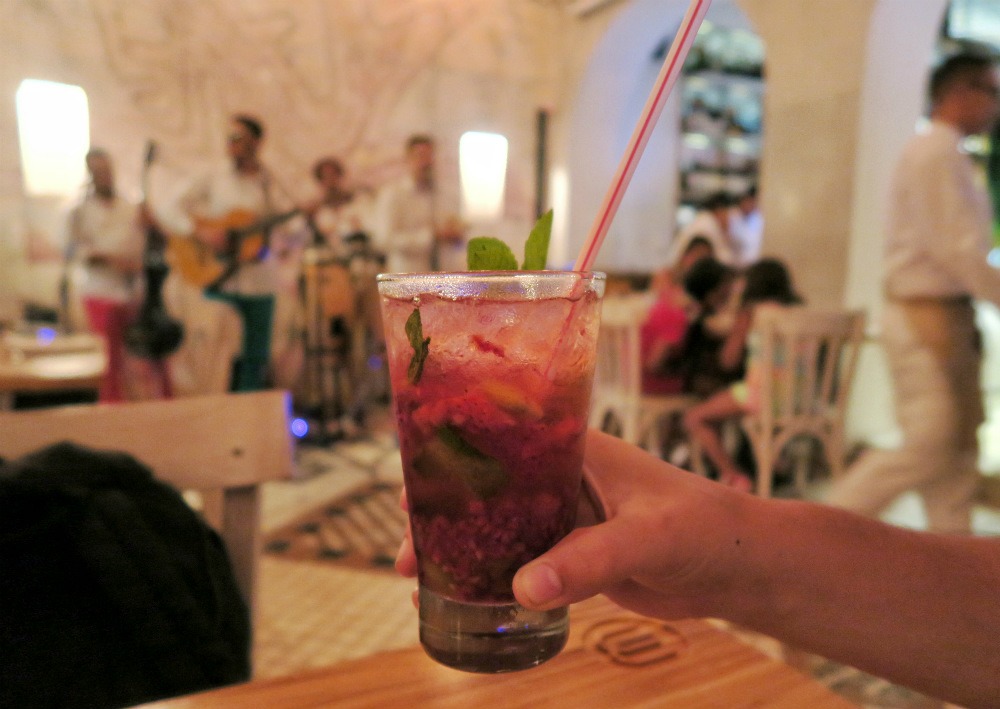 Cartagena Colombia Beaches
A word of advise, don't go to Cartagena for the beaches because you'll probably be disappointed.
Go for the magic inside the walled city and take day trips to see the beautiful beaches surrounding Cartagena.
You can jump on a speedboat for 40 minutes and arrive at Playa Blanca on Isla Barú. Many of the locals and cab drivers will tell you to visit Playa Blanca because it is paradise.
When we arrived, the beach was beautiful (crystal clear, turquoise water… white sand… cocktails…) but there were just way too many people for it to be relaxing.
I recommend going but on a weekday when it's much quieter.
The majority of tourists there were Colombian so if you go on a Tuesday, for example, most of them will be back at work and you'll have more space to relax.
We mistakenly chose to go on a Sunday – never again.
For a more relaxing time, you can opt for the Rosario Islands instead of Playa Blanca.
There are many islands, some of which are home to only one resort so it is a much more exclusive experience.
You can book your boat trip to either of these destinations at one of the many travel agencies in Cartagena.
Cartagena Colombia Safety
Colombia is known for being a 'dangerous' country because of what happened there 20 years ago with the drug trade.
Nowadays, however, a lot has changed and the country as a whole is much safer.
As Cartagena (particularly the historic centre and Bocagrande) is a more affluent city, there is generally less crime.
Of course, certain areas may be safer than others but as a tourist in these areas, you'll be fine.
Not once did we feel in danger during our month in Colombia and Cartagena was an absolute breeze. It's a tourist destination so you'll be looked after.
Just make sure you are aware of your surroundings and keep your phone and valuables out of site when you are in busy public areas – pickpockets are still quite common.
Cartagena Colombia Travel Tips
Finally, I'm going to leave you with some travel tips to help you on your way in Cartagena Colombia:
Cartagena is a popular travel destination so book your flights and accommodation at least two months in advance
Book a hotel with air-conditioning in the room and, if possible, a swimming pool because it gets very hot (even at night)
Colombia's currency is Colombia Pesos – $1 USD is roughly equal to 3,000 COP
Not everywhere accepts credit and debit cards in Cartagena, especially small restaurants, so withdraw some cash either before you go or at an ATM when you get there
Pack light, comfortable clothing which protects you from the sun
Always agree on your taxi fare before getting in, alternatively, go via Uber
Flights To Cartagena Colombia
If you don't have your flights to Cartagena yet, now's the time to look at your options.
You can get some amazing Cartagena travel deals from a number of destinations around the world with Cheap Flights.
Take a peek and see what promotions they have on at the moment!
Click here to search for flight deals to Cartagena Colombia
Watch the Cartagena Travel Vlog:
Cartagena Colombia Conclusion
Cartagena Colombia is a city of charm, character and romance located on the Caribbean coastline.
What more could you ask for, really?
If you are planning a trip to Colombia, whatever you do, make Cartagena a priority.
You'll be happy you did!
---
Over to you! Leave your answers in the comments section below…
Are you planning a trip to Cartagena Colombia and looking for more travel tips or have some questions? Shoot!
Have you been and have more Cartagena Colombia travel tips to share? Leave them below!