Looking for a credit card that offers no boundaries? If you are, then look no further. Standard Bank brings you the most luxurious and unparalleled experience through their wide range of credit cards.
The Standard Bank Platinum Credit Card is your best bet when it comes to taking exclusive privileges to another level. With this credit card in hand, you can finally keep up with the lifestyle you deserve. To know more about what this card has to offer, read on.
Standard Bank Platinum Credit Card Features and Benefits
True to its name, the Standard Bank Platinum Credit Card, powered by Mastercard, will bring you a wealth of rewards unlike any other. For one, it can get you exclusive travel benefits on Emirates flights. Here, you can get up to 35% off when you book through the Leisure Desk.
Likewise, you will get to lounge in style when you travel, especially when you will have access to various airport lounges around the country. In addition, you can get up to 15% off of your next rental and secure carefully curated and handpicked experiences designed to give you the best of what life has to offer.
Another great benefit you're sure to anticipate is their lifestyle privileges. Here, you can gain access to discounts of up to 33% off when you purchase wines and other beverages on Wine of the Month. As a reward for your continued patronage, you will also get 4 movie tickets for the price of 3! Better yet, you will get access to a variety of food and lifestyle offers when you use the Mastercard Buy 1 Get 1 app!
Last but certainly not the least, you will earn rewards points every time you use your Standard Bank Platinum Credit Card! You can use your rewards however you see fit – from getting discounts, redeeming retail offers, and more!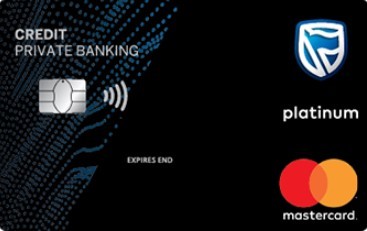 Applying for a Standard Bank Platinum Credit Card
To order your own Standard Bank Platinum Credit Card it's quite easy. All you need to do is fill out the online application form found on the Standard Bank website.
To be eligible for this card, you need to be over the age of 18 and fullfil the minimum monthly income requirement of R 58,000.
Some of the documents you need to have on hand include a copy of your South African ID, a recent payslip, 3 months bank statement and your proof of residence.
Should your application be approved, you will be given a credit limit of up to R 250,000.
Standard Bank Platinum Credit Card Fees and Charges
To enjoy all of these perks, there is a monthly card fee of R 89. There is also an initiation fee of R 175 you need to consider. The minimum monthly repayment interest is at 3%.
Other charges you need to consider include the late payment fee of R 160 and an international transaction fee of 2.75% of the total Rand value.