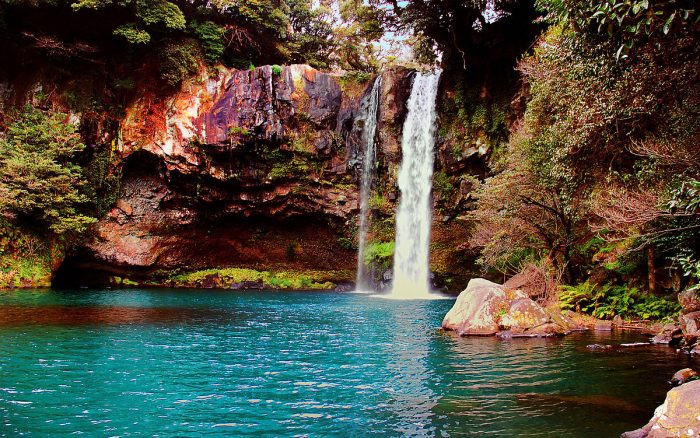 When you think of South Korea, you think of the bright lights and busy streets of Seoul. Kimchi, K-Pop, and drinking lots of soju are some of the things South Korea is most known for, but it has been keeping a secret from the rest of the world. At the tip of the South Korean peninsula, there is a large island off of the coast called Jeju.

Jeju is a beautiful, unique paradise, and it has been a popular vacation destination for South Korean citizens for decades. While Thailand's islands have garnered the world's attention, Jeju has been sitting quietly, remaining pristine and refreshing as one of South Korea's best kept secrets…
Jeju Island Travel Guide – Explore South Korea's Secret Paradise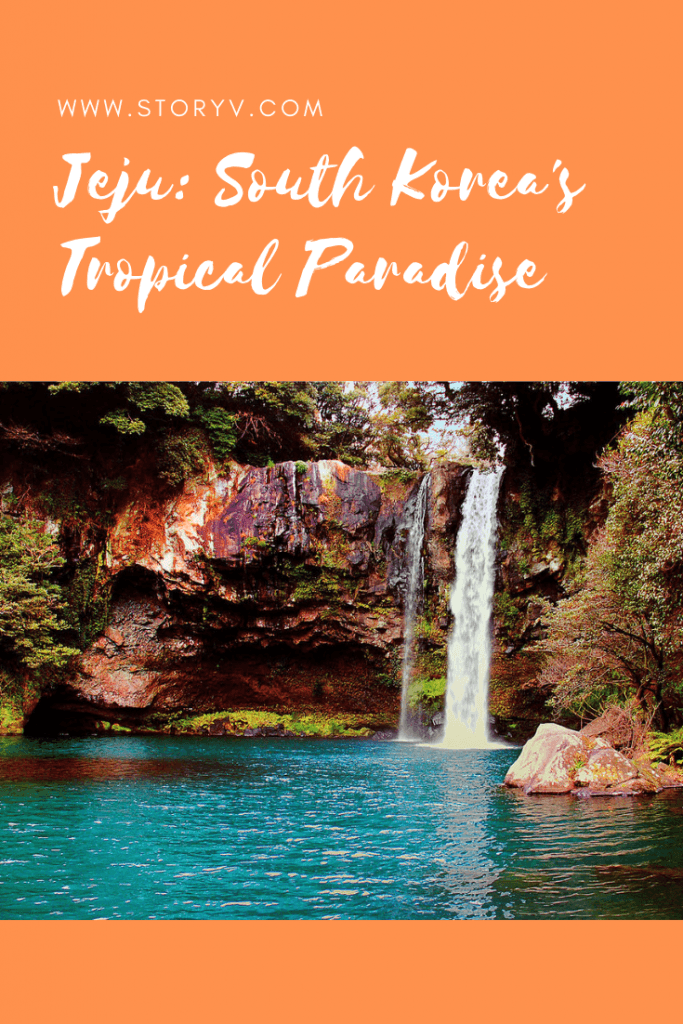 So if you want a beautiful island vacation without the massive crowds, Jeju Island in South Korea might just be the perfect choice. Here's everything you need to know about visiting Jeju Island…
Preparing for Your Jeju Island Vacation
Prepping for your island vacation is a little more complex than just expertly packing your luggage. First, it's best to use a credit card when traveling, as you'll not only have all-important fraud protection, but you're also likely to get better exchange rates.
Don't go crazy, though. It may be tempting to spend more while you're on vacation, but you need to be mindful of your budget. Treat your credit card as if it were your debit card — only spend what you can pay off in full at the end of the month.

If you have never traveled to South Korea before, there are some cultural differences you should keep in mind if you want the locals to love you. While South Koreans are welcoming to visitors, everything from drinking alcohol to how you pay for things operates differently.

South Korean culture reveres the elderly, almost to a fault. Though you can play the foreigner card in a lot of situations, disrespecting those older than you is a serious social misstep.
It is expected that you'll help any elderly people to the best of your ability. This means giving up your seat on public transportation, letting them jump ahead of you in line, and sitting quietly if they decide to yell at you (which they might).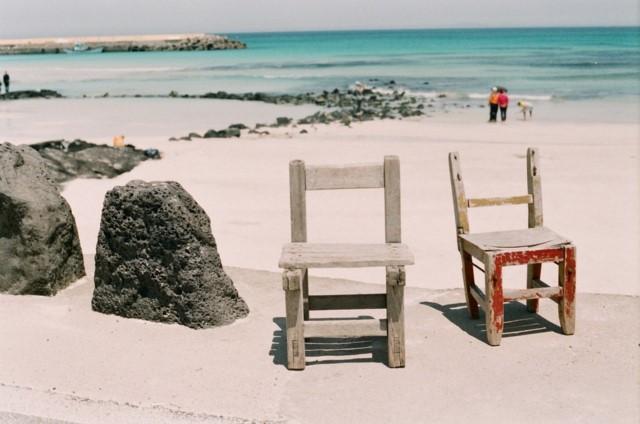 South Koreans are heavy drinkers, and if you end up making any local friends they will put you through your paces. They might try to make you drink more than you can handle, but that's only because they want to see how much you can drink.
Telling South Koreans that you have had enough isn't a faux pas, and keeping your head relatively clear in a foreign country is always good practice.

It is also important to note that while South Korea still uses cash and coin, it is beginning to fall out of popularity. Credit and debit cards are preferred just about everywhere, but it is important to check with your bank first to reveal any hidden travel fees associated with using your card overseas.
If your bank does charge for international transactions, you can always load up a T-Money card, which can be used to pay for public transportation and even to make purchases in convenience stores.

Unfortunately for the backpacking traveler, Jeju is sadly lacking in hotel alternatives. Though there are plenty of hostels to be found on the island, the hotels aren't that much more expensive and offer a bevy of creature comforts that the dorm-style hostels don't.
If you are budgeting to the extreme, by all means stay in one of the hostels, but for the most comfortable experience a stay in one of Jeju's hotels is your best bet.
When to Visit Jeju Island
Mainland South Korea has four distinct seasons: fall, winter, spring, and raining. Summer is monsoon season, and on both Jeju and the Korean peninsula it is no joke. Because of the intense storms and overbearing heat during monsoon season, Jeju is not an ideal summer vacation spot.
Spring is very popular, as that is when Jeju begins to warm significantly, allowing beach-goers to splash in the waves to their heart's content. However, the prices of hotels and flights increase significantly in the spring, so doing due diligence in making sure you get a good deal is wise.

Fall is similarly busy, though you will tend to see an influx of foreign English teachers headed to the island rather than your average tourist. This is because the Korean holiday of Chuseok is celebrated in late September, and teachers often get a week or more off from school.
Chuseok is similar to Thanksgiving in the US, as it is a celebration of the successful harvest and is a time for families to get together and pay their respects to their ancestors by engaging in memorial rituals at their grave sites.
The foreign teachers tend to be a young, party-loving bunch, and the traffic in the bars and clubs across Jeju increases significantly.

As it turns out, winter is the best time to visit Jeju! The reduced traveler traffic compared to the fall and spring allow you to enjoy the island's restaurants and attractions without massive crowds. With cool temperatures and a climate that is much more dry, November through February is a great time to summit Mount Hallasan which is South Korea's tallest mountain.
Other things to do in Jeju in winter include tangerine picking at one of the many citrus groves on the island, cozying up in one of Jeju's many trendy cafés, and exploring the Geomunoreum Lava Tube System, a UNESCO heritage site that shouldn't be missed.

With cool temperatures and a climate that is much more dry, November through February is a great time to summit Mount Hallasan which is South Korea's tallest mountain. Other things to do in Jeju in winter include tangerine picking at one of the many citrus groves on the island, cozying up in one of Jeju's many trendy cafés, and exploring the Geomunoreum Lava Tube System, a UNESCO heritage site that shouldn't be missed.

There are plenty of great cities across the globe to enjoy the New Year's Eve celebrations, but If you are going to be in Jeju on New Year's Eve, you can enjoy one of the many bonfires that are lit on the beaches across the island.
While there is no centralized, sanctioned fireworks display, there is no shortage of Jeju locals firing off mortars and roman candles well into the early hours of the morning. It is a more laid-back celebration, but a fun one nonetheless.
Experiencing Jeju – Where to Stay, What to Do
Jeju has a lot to offer travelers. Hiking trails, beaches, museums, and delicious restaurants fill the landscape, and you can enjoy both Jeju's urban and rural areas.
You can relax or be as adventurous as you like on the island, and traveling from one end of the island to the other only takes a couple of hours by bus or rental car. If you're deciding where to stay in Jeju, there are two main cities on the island — Seogwipo and Jeju City — both of which fulfill different roles for the intrepid traveler.

On the north side of the island is Jeju City, where you will fly into Jeju Island. This is by far the most urban, bustling area in Jeju, and if you love the creature comforts of a larger city, this is where you'll want to stay. High-end restaurants and bars dot the streets, and the nightlife in Jeju City prospers because of this.
However, for all of the benefits of staying in Jeju City you will have to contend with many other travelers, as this area also has the most tourist traps of anywhere on the island.

Escaping the crowds isn't impossible, though. If you are inclined (and you were able to bring your surfboard), the north side of Jeju Island is perfect for a day of surfing.
Iho Tewoo beach is located near downtown Jeju City, and if you forgot to bring your own board or have never tried surfing, rentals and lessons taught in english are readily available. To the west is Hyeopjae Beach, a beautiful spot with less foot traffic if you'd rather laze about in the sand instead of hitting the waves.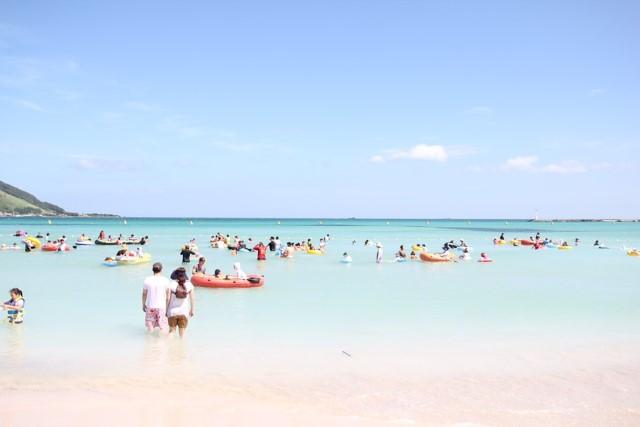 On the south side of the island is Seogwipo, a much sleepier oceanside town than Jeju City. While still a popular tourist destination, Seogwipo has a much more local feel to it.
You are less likely to find english-speaking Koreans in this area, the trade-off being that the food, bars, and attractions are all more authentically South Korean. Famous for its black pork, finding delicious meals is as easy as walking down the street, especially in Seogwipo.

The south side of Jeju Island houses many beautiful waterfalls and hiking trails that provide the perfect opportunity for taking fantastic travel photographs. If you're wondering what to do in Jeju at night, it is only a short walk to the Cheonjiyeon waterfall which is beautifully lit in the evening, making it a sight to be enjoyed any time of day.
If the natural beauty of Jeju doesn't appeal to you, you can also see Jeju's Haenyeo — a collective of all-female divers. These women spend their days catching fish, and if you are interested, will even prepare their fresh catch for you right on the beach!

In Seogwipo proper, you can spend the day walking through the streets dipping into the boutiques and coffee shops that seem to be hidden around every corner. Seogwipo was also the home of the famous South Korean artist Lee Jung Seob, and his small home has been preserved immaculately so that visitors can come see his humble residence.
There is a small art gallery filled with Lee Jung Seob's works, and is well worth the visit. As the evening approaches, head to Saeyeongyo Bridge, which connects Jeju island to the smaller Saeseom island, and enjoy watching one of the most memorable sunsets you're likely to experience.
Head Home, or Not!
Jeju is an exciting and beautiful place to spend a vacation. However, if you get tired of staying in the technology-minded hotels that have popped up due to increased tourism from younger generations, you still have options.
Jeju is in a prime location for jumping off to other parts of Asia. Flights are readily available, and if you do some research you can find them for much less than you would expect.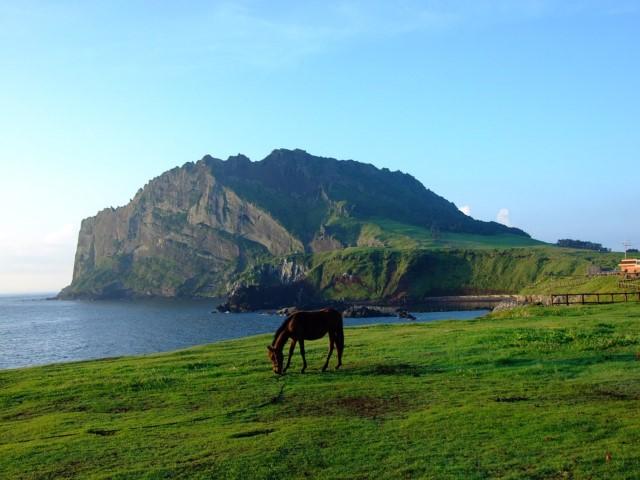 Take a flight over to Japan and explore Hokkaido or spend some time in Tokyo (though you'll need to have lots of extra cash). Japan is just a short flight away, and exploring it after your relaxing vacation can reinvigorate you. From Japan, you can catch a flight back to mainland South Korea and spend some time in Seoul or Busan.

If you've still got itchy travel feet and don't want to break the bank, Hong Kong is also right around the corner. Of all the places in Asia you could travel to from Jeju, Hong Kong is by far the least expensive.
Everything from flights, to food, to lodging are relatively inexpensive, and you'll find that staying for an entire week will cost you about as much as staying a single night in Tokyo.

Whatever you decide to do after your trip to Jeju, you'll have made memories to last a lifetime. The cuisine, sights, and people of Jeju are amazing and interesting, and well worth the trip over. Have fun, and travel safe!
Author Bio
Adrian Johansen loves to travel, write, and eat new foods. She loves sharing her adventures and helping others plan their own. If you want to see more of her writing, check her out on twitter.