If you want fresh vegan meals delıvered to your door, check out Purple Carrot. The delivery service was launched in 2014, just a few years after companies such as Plated, Blue Apron, and Hello Fresh were first introduced in the United States.
All of those guys provided fast-to-make meal kits delivered right to your door. While other meal kit companies are targeted towards omnivores, with a handful of vegetarian choices thrown in the mix, Purple Carrot provides a fully vegan alternative.
Recipes do not use animal products and are ready in about 30 minutes, making it easy to add plant-based meals to your dinnertime schedule, whether you are a full-time vegan or only want a few days of deliveries a week to eat healthier.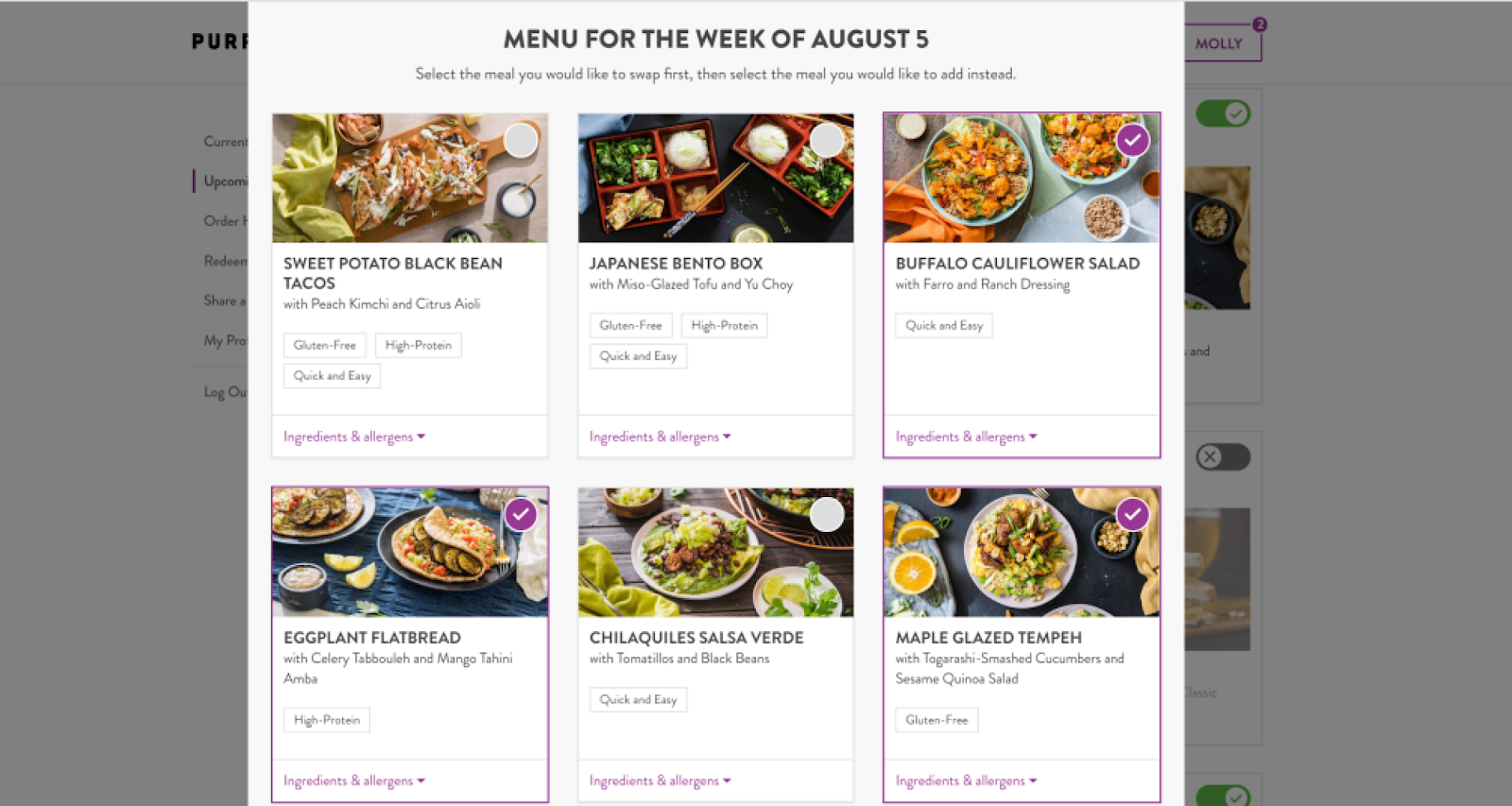 What Is Purple Carrot?
Purple Carrot is a meal kit subscription service that provides all the ingredients needed each week to prepare meals. When we signed up for the first time, we had to choose between a two-serving plan shipping three meals a week, and a six-serving plan sending two meals a week.
It's a little surprising that there wasn't a four- serving meal plan. Still, the six-serving program will work for regular families who are happy to have lunch leftovers. And, as the company says, it can be perfect for a small meal-preppers household who want to stock their refrigerator with meals.
The two-serving package costs $11.99 per serving, including delivery, and provides an option of eight meals a week. The cumbersome six-serve box is a great deal at $7.99 per serving, but you can't pick the two meals that the company wants for you. However, up to four weeks ahead, you can see what's on the menu and miss the weeks you don't want to have the dishes.
Although other meal kit companies require consumers to select their delivery day. Purple Carrot ends up choosing the day dependent on your proximity to their fulfillment center. It can also arrive early in the morning or late at night.
The company says the contents of their delivery are safe in their delivery box 72 hours. That is much longer than what most other companies state, presumably because Purple Carrot kits don't contain meat.
Several businesses are finding niches to differentiate themselves with the current success of the meal delivery services. Purple Carrot not only focuses on plant-based meals, but also aims for a protein, starch, and veggie balance.
As a vegetarian predominantly who rarely cooks meat, I was pleased to find a meal service that is all-veggie. And confirming plant-based diets are healthy for the world. Purple Carrot is an excellent addition to out there meal services.
How Purple Carrot Works
You will have to choose whether you prefer a two-serving or a six-serving plan.
The two-serve package allows you to select three meals a week, each with two servings. Purple Carrot offers you eight meal choices a week, and you pick your top three meals. If you have no dietary limitations besides no animal products, you can let Purple Carrot choose for you.
With six servings each, the six-serving package gives you two meals a week. With this package, Purple Carrot takes up the meals. Next up, you can opt to add extras.
Purple Carrot can give you smaller bonus recipes such as breakfast foods and snacks at an extra fee. I didn't go for that one, though it looked delicious all over. You can also opt-in or opt-out of the extras.
It is now delivered to your doorstep for you to get cooking. Your delivery will come bundled in plenty of ice. There is no doubt that the food is being kept fresh properly. If you want, you can customize the type of meal plan you prefer in your next orders.
You can turn from a two-serving plan to a six-serving one at any point, or vice-versa, press "pause" for a month on your orders, or cancel your order entirely. Payment is every week, and you're not going to have to pay for something you don't want.
This versatility is really appreciated as it is easy to cancel if you just don't want meals delivered one week or need them. Each order also comes with additional features. The package comes with a nice booklet that includes photos and step-by-step cooking.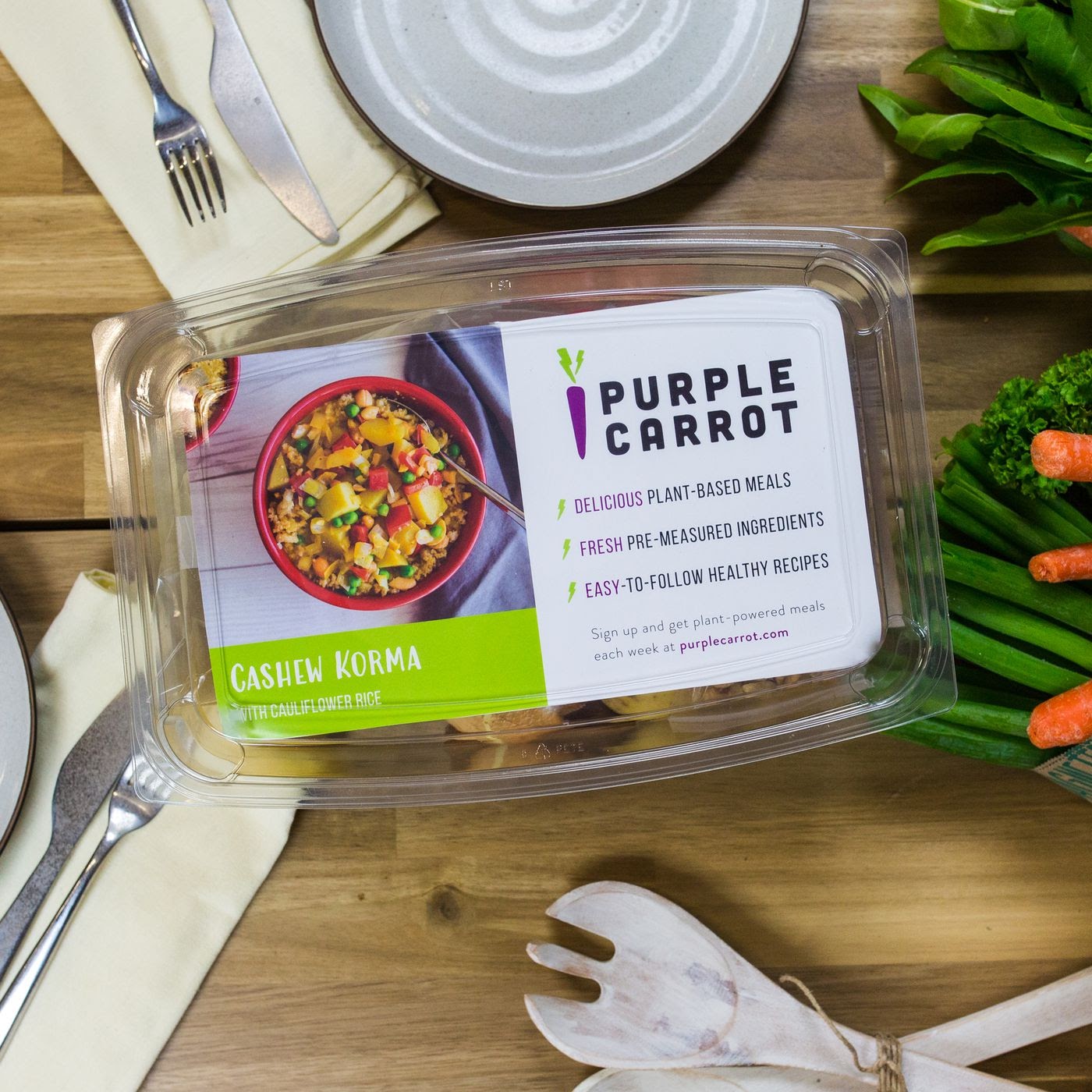 Conclusion
One perk of the recipe booklets is that they contain the eight weekly recipes and extras from all Purple Carrot menus. So that can really help you in planning what you want from them in the following week. Your vegan journey can get a whole lot easier with inspiration from this delivery service.