Rio de Janeiro - it's got to be on nearly everyone's travel bucket list, right?
I mean, who could turn down a chance to learn Samba with the Cariocas, drink fresh coconuts on Ipanema beach and live it up amongst all of that amazing scenery?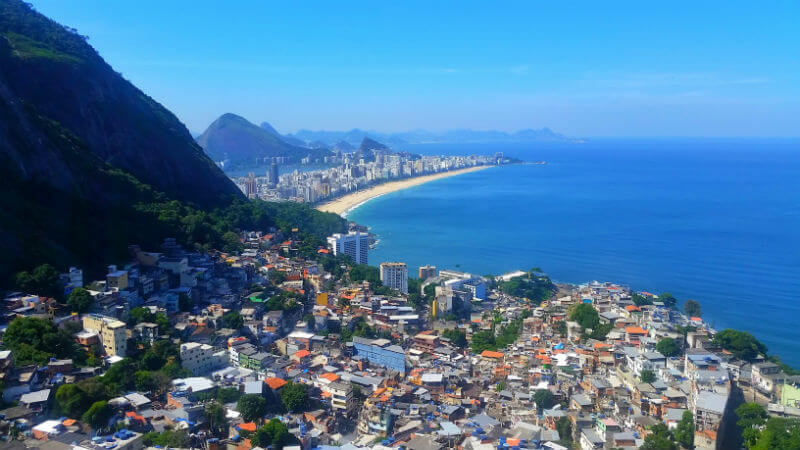 We couldn't, which is why, in April, we booked a trip back to one of our favourite cities in Brazil.
April is one of the best times to visit Rio de Janeiro as it is the beginning of low season, meaning that you can enjoy a more comfortable climate, fewer tourists and less expense. On that note, where better to spend a few days than in Santa Teresa, where you can appreciate a cool breeze whilst overlooking the city, lake and coastal mountains in the near distance?
After catching a little bit too much sun down in Ipanema at the beginning of our trip, we decided to move on up the hill to Santa Teresa for the remainder of our 4 night stay in Rio de Janeiro.
Arriving at Mambembe Hostel in the late afternoon, one of the first things we noticed was the crazy, colourful decorations hanging off the front balcony. Straight away we knew this would be a unique hostel experience.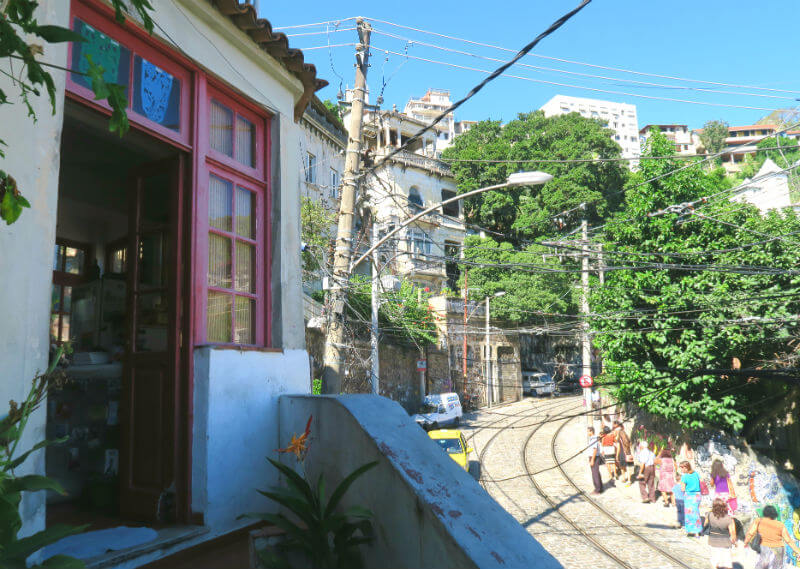 Carrying our luggage up the tiled steps to the reception area, we were pleasantly welcomed in and sat down at the front desk to go through important information we needed to know before wandering off. Well, I listened while Dan and our friend, Daniel, relaxed in the nearby living area.
Before being shown to our rooms we were given a helpful map of the Santa Teresa area which included special landmarks and bus routes and we were also advised about certain areas in the neighbourhood we shouldn't walk through.
Personally, I found this a nice touch because everyone knows Rio de Janeiro can be dangerous, depending on where you visit, so it's always a good idea to inform tourists about safety.
As I was peering around the downstairs area of Mambembe Hostel during our check-in, my first impressions were that it was clean, quirky and catered to a younger crowd.
Directly opposite the reception was a spacious lounge area complete with couches, a flat screen TV and a bookshelf filled with travel books. I liked this room because of its minimalist feel and personally, I thought the hostel logo looked fab on the wall too.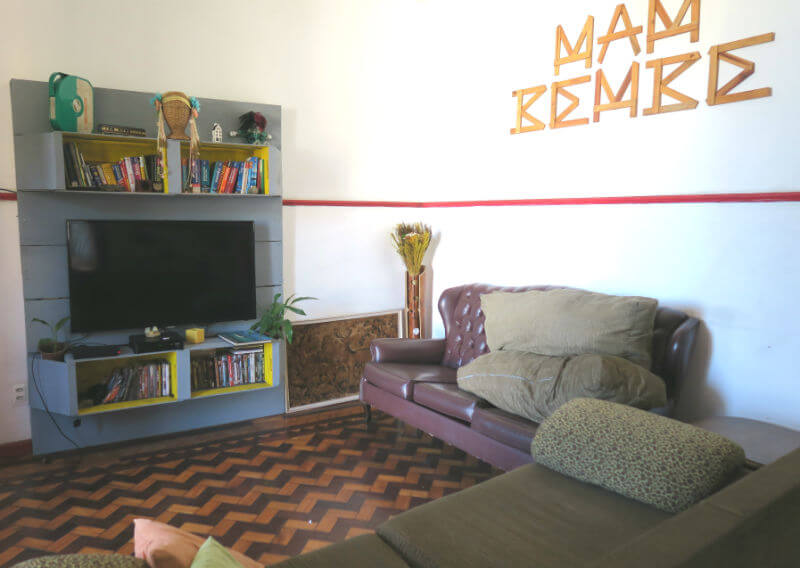 Just off the living area was a small room with a little surprise for anyone who likes a good dress-up every now again. Yes, the hostel has its very own costume room and its yours to rummage through! Apparently, one of the owners of Mambembe hostel, Nayana, has a passion for carnival so it's not uncommon to see her walking around the hostel in costume.
Around the corner from the living area was a small dining room, a communal kitchen and an outside bar and hang-out space. The amazing staff member on the desk also mentioned that she would be the one mixing it up behind the bar that night and invited us to come and have a cheeky drink.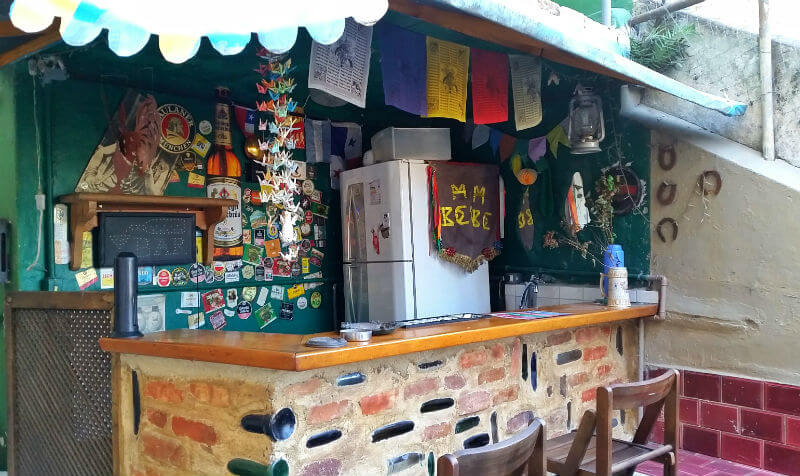 After going through all the basic information, we were taken upstairs and shown to our dorms. Unfortunately, Dan and I were placed in different dorms because they couldn't fit us in one together which was a bit awkward because we were sharing a bag and don't normally like being split up. That being said, it all worked out in the end when Dan and I slept in his bunk together and our friend decided to take mine.
Mambembe Hostel consists of 4 different room types - dorm, couple, twin and couple plus. As the hostel was fully booked that night we were in a 9-bed dorm with a cute little balcony overlooking Santa Teresa. Sheets were provided but we had to use our own towels come shower time. We also rented a padlock from the front desk for R$20 so we could put our smaller bags away in the provided lockers.
As far as dorms go, it was a basic room with 3 triple bunks and a locker unit but the louvered doors and terrace really added an elegant touch. Waking up, opening the doors and seeing the sunrise over the hills in the distance was pure bliss.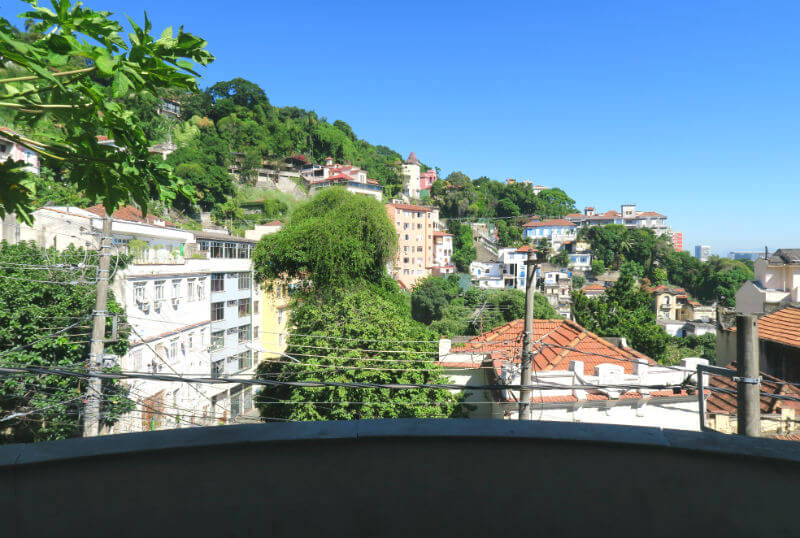 After checking in and taking our bags to the room we decided to go for a walk down to Lapa, a lively neighbourhood which offers some of the best nightlife in Rio. Lapa is only a 10 minute walk away from Mambembe Hostel, making the location, in Santa Teresa's south, very convenient. Not only could we get to Lapa quickly, we were also just a hop, skip and a jump away from the famous Escadaria Selaron (colourful steps), which is a must-see landmark in Rio de Janeiro.
Around the Lapa area you can find all kinds of different restaurants, bars and markets, especially on weekends when it gets particularly vibrant. While it's fine to walk down to Lapa from Mambembe Hostel earlier in the evening, we would recommend paying a small amount for a taxi back, just to be safe.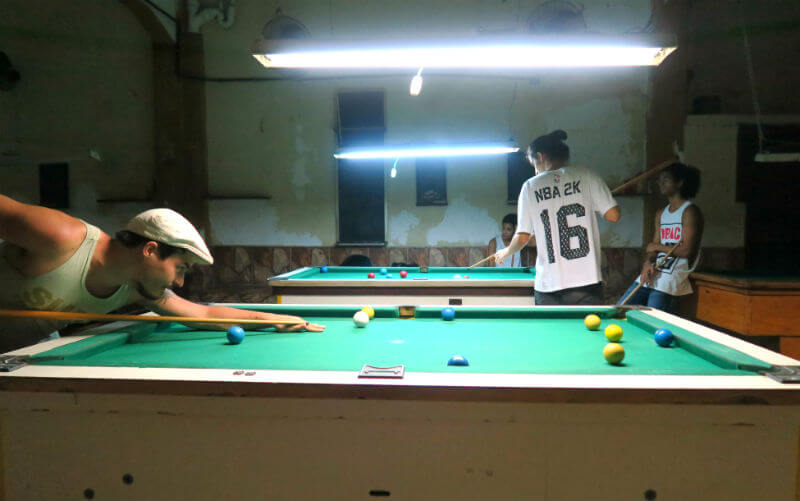 It was about 10:30pm by the time we arrived back at Mambembe Hostel and we still had some work to do so sadly we had to pass on drinks at the bar. That being said, we did go out and socialise for a while and they definitely had a nice chilled vibe going on.
We slept pretty solid that night, considering we decided to squeeze two people into a single bunk. The mattress was comfortable, the fans kept us cool and for added privacy we also drew a curtain around the bed which kept it dark. With one power outlet per bed it was also easy to charge our phone while we slept without worrying about it going missing.
Like many people, one thing that we always need when travelling is WiFi so that we can get our work done on the go. Luckily, Mambembe Hostel offered free WiFi in every room which seemed to work alright for Brazilian standards - except for when three people decided to watch Youtube all at once.
The next morning breakfast was served in the communal dining area. It consisted of basic breakfast foods, including bread, ham, cheese, fruits, cereals and coffee. With breakfast included in the price, R$30 for a 9-bed dorm seemed reasonable, especially because Santa Teresa is a top location with plenty of unique things to see and do.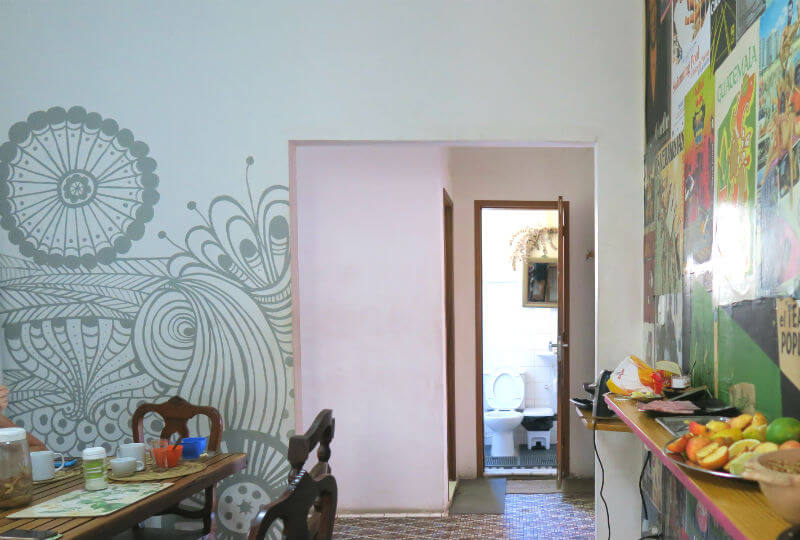 Check out was at 10 so we woke up earlier to get showered and ready before everyone decided that they wanted to to do the same. The bathrooms upstairs were shared, the female one consisting of 4 showers and 2 toilets. Then downstairs there were a couple of single bathrooms which I found handier to use when I wanted to get dressed. All bathrooms offered hot water, even though you won't need it during most months in Rio.
In terms of cleanliness I was pretty satisfied, except the toilet cubicles were quite small, meaning I had to sit on the toilet semi-sideways in order to avoid the waste-bin that was squeezed in beside me. That being said, it was one of the best hostel bathrooms I've been in - as you may know, they can get pretty ugly.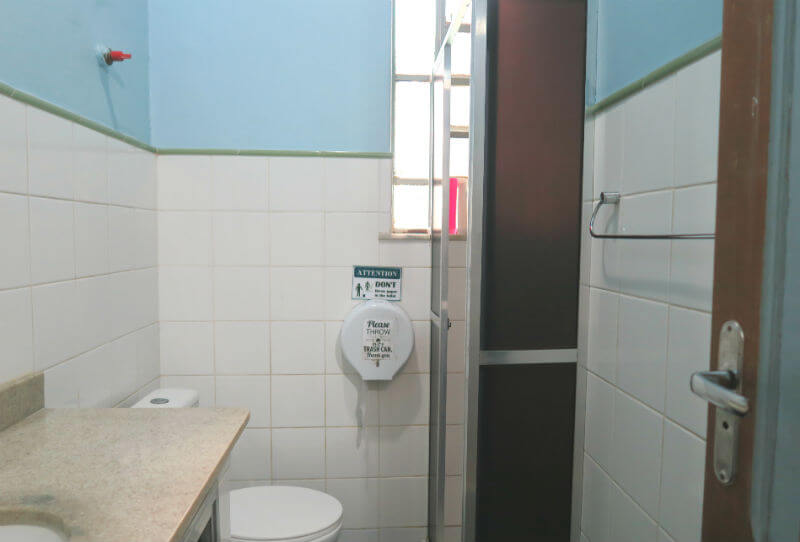 Check-out was an easy process - all we had to do was return our sheets to the front desk along with our locker key so we could get our R$20 deposit back, then we were all set to bid adieu to Mambembe Hostel. Dragging our luggage down the rainbow coloured flight of steps which connected the hostel with the road below, we were met by our Uber driver who took us onto our next Rio de Janeiro adventure.
And just a heads up - anywhere you go in Santa Teresa there will be steps involved so pack accordingly!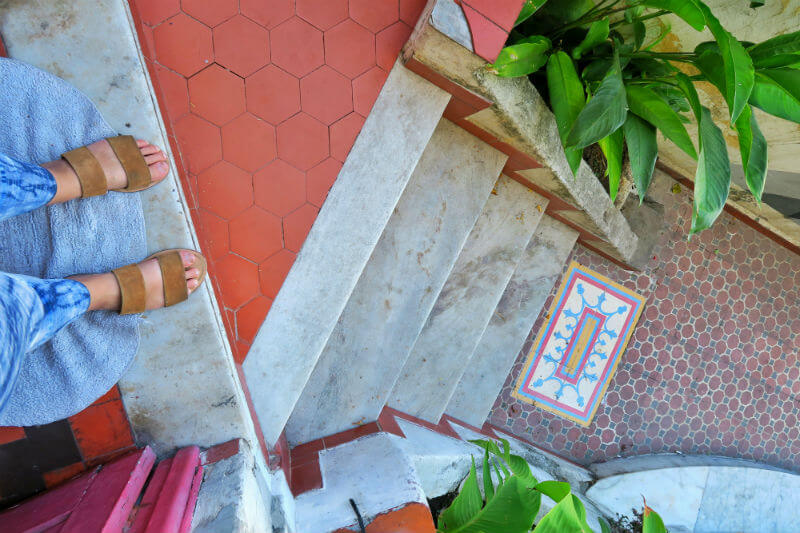 Final thoughts on Mambembe Hostel
Mambembe Hostel is a quirky space for young budget backpackers looking to meet new people and explore the culture of Rio de Janeiro. It's amenities are perfect for those who like to travel simply and cheaply without giving up comfort (or breakfast). If you have a curious personality you will find joy in the little details here. From the dress up room to your own little balcony overlooking Santa Teresa, you can enjoy a little craziness or a little solitude, depending on your mood. Whether you plan to spend one night or one month, this is the hostel for you if your mantra goes something like... "It's not about the destination, it's about the journey to get there".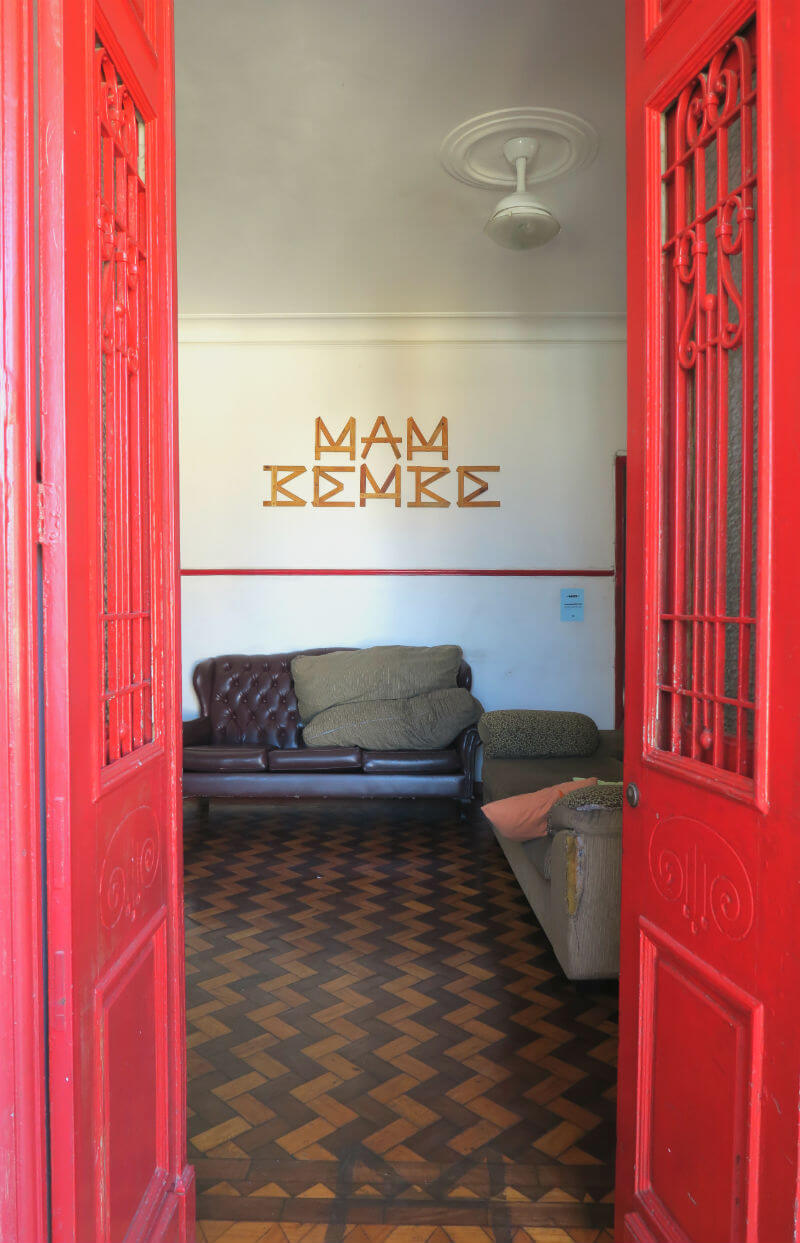 To make a reservation at Mambembe Hostel next time you are in Rio de Janeiro, go to their site: mambembehostel.com
Rooms start from just R$30 ($10 USD) per night, including breakfast and WiFi.
Pin this for later >>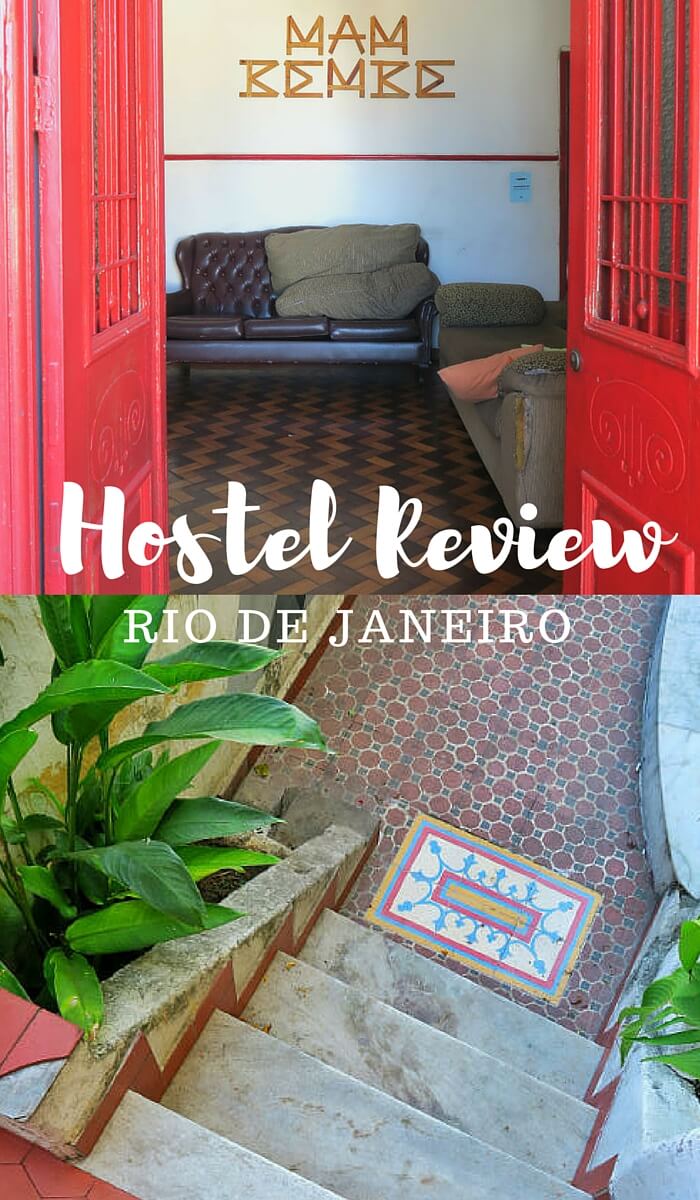 Thank you to Mambembe Hostel for hosting us for the the purpose of this review. As always, all opinions are our own.