Not long ago I wrote a giant detailed post about affiliate marketing and how you can turn it into a location independent career while traveling.
If you missed that one and not quite sure what affiliate marketing is, basically, it is the term used when you partner with another company to promote their products and drive sales online.
Then, when a sale is made through your unique ID, you earn a commission.
This is all done entirely online, so affiliate marketing is a fantastic way to make money while traveling and become location independent or otherwise known as a "digital nomad".
While affiliate marketing is not one of those 'get rich quick' schemes or lazy money making strategies (it actually takes skill and persistence), once you get the hang of it and start seeing results, you can turn it into a form of passive income.
Want to learn more about how you can earn a location independent income through affiliate marketing? Keep reading…
Free Training: How To Work In Affiliate Marketing While Traveling
Think your friends will like this free affiliate marketing training? Pin it on Pinterest >>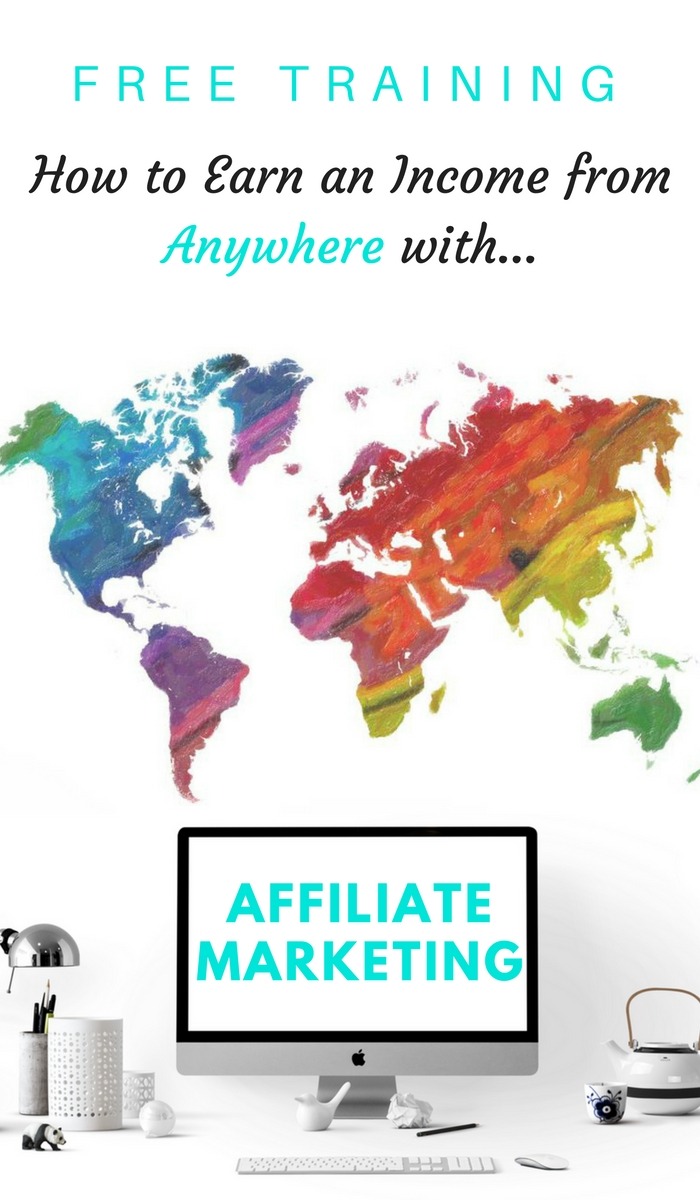 If you've already downloaded my eBook and started receiving my emails, you'll know that I'm always on the look out for resources that'll help you to become location independent.
Obviously, we're all passionate about traveling around here, so finding legit ways to blend your career with travel, and somehow manage to do both at the same time, is super exciting.
You've seen me write about remote jobs, freelancing, blogging, digital product creation, affiliate marketing and other online business models in the past and we've also got our new video series, The Nomad Masterclass, where I interview a digital nomad every week…
But today I want to talk a bit more about affiliate marketing because I think this can be a really great way for you to start out in the world of online business and learn the ins and outs of digital marketing.
Once you've got some affiliate marketing knowledge up your sleeve, you'll find it a lot easier to move into other areas of online business, such as digital product creation, offering services and running eCommerce stores…
So when I recently ended up on Affilorama (an educational platform about affiliate marketing), and found this whole library of training in affiliate marketing, I couldn't wait to share it with you.
You sign up just like a membership, except it's free, which is amazing considering the amount of value they give in the training.
Going through, I've learned that this is perfect for anyone who is just starting out in affiliate marketing and looking to learn the foundational steps to earn an income online…
So even if you haven't had any experience doing this kind of stuff, the free training will help a lot.
From what I've read, the founder, Mark Ling, started working in affiliate marketing during college when he was pretty broke. He started to generate a lot of income until he was penalised by Google and fell deep into debt.
He ended up taking a 9-5 and working traditional hours from an office to cover his expenses, but like us, he couldn't deal with that kind of lifestyle…
So he tried affiliate marketing once more, perfected his strategy and ended up becoming very successful from it.
This is what prompted him to start teaching others how to grow their businesses and become location independent using the same principles.
Now we've got free access to over 100 video lessons… Woop woop!
So once you sign-up for the free training, you get immediate access to the 100+ training videos and some other handy downloadables.
From what I've seen so far, the lessons cover pretty much any topic you can think of and, being honest, I'm already learning a lot of things I didn't know before about how to become a successful affiliate marketer.
Some of the topics include:
How to pick profitable products to promote
How to build and design websites
How to get SEO traffic
How to use PPC traffic effectively (advertising)
How to outsource and scale your business
Another cool bonus I got for becoming a member was access to the free forum, so we can ask lots of questions and go through old Q&A's as well.
In my last Nomad Masterclass, I mentioned that I know someone who learned everything there is to know about Facebook advertising from reading through the help centre, so these are awesome places to find information and help!
What's not included in the free membership:
Affilorama's free membership is a highly valuable training package for beginner to intermediate marketers and I strongly recommend checking it out…
But just keep in mind that to become an affiliate marketer and earn an income online while you travel, you will need a few other tools as well, such as…
Web hosting
SEO tools
PPC tools
That said, I know that from time to time, they offer $1 trials of their Premium subscription, which gives you access to all of these things, plus premium training as well…
So if you see them offering the $1 trial of their Premium subscription, I suggest taking them up on it because it will save you a lot of money.
I'm excited about making my way through all of the video lessons and upping my affiliate marketing game, and I'm also excited for you to start seeing how people really do run legit, successful online businesses!
In fact, most digital nomads I know earn their remote income through affiliate marketing, so it's not anything new, it's just you won't often hear about it until you actually start working in the online world…
But the good news is that you don't have to wait or be 'in with the crowd' before you can get started, because I want to show you all of these strategies now so that you can get your act into gear and start living out your travel dreams!
Really, if you want to become a digital nomad, it's important to take action on these kinds of opportunities…
The way I see it is, even if you don't end up going down the path of affiliate marketing, you'll still gain a ton of knowledge and skills which you can then implement in many other areas of online business…
And it's free. 🙂
Here's the link to sign up and get access to all 100+ video lessons now:
>> Access Affilorama Free Training
Obviously I would love to be able to teach you all of this stuff myself but I'm no expert when it comes to affiliate marketing…
I simply implement what I learn from resources like this, and if it works, I tell you about it. Now you can learn direct from the source as well!
I hope this helps you to get on the path towards full time travel success, and if you have any questions, leave them in the comments section below and I'll get back to you!
---
Over to you! Leave your thoughts in the comments section below…
Are you interested in learning more about affiliate marketing and have some questions before you get started? Ask away!
Are you already earning a remote income with affiliate marketing and have some other resources to share? Leave them below!
This post may contain affiliate links. If you click on one and make a purchase, we will receive a small commission to keep the site running and providing free content at no extra cost to you. As always, thank you for your support.