In search of a credit card that allows you to earn redeemable points whilst you spend? How about one that rewards you when you travel? TD Bank might just be your best choice when it comes to a rewarding banking experience. Read on to find out more about their offers.
TD First Class Visa Infinite Credit Card Features and Benefits
This bank offers one of the most valuable cards perfect for frequent shoppers and travelers in common. With this Visa card in your arsenal, you can expect a world of benefits that apply in many aspects of your banking. Perhaps the most exciting feature this card has is the rewards program. In fact, you receive 20,000 TD Points upon making your first purchase. What's better is you will be given another 20,000 points when you spend $1,000 within 90 days of card issuance.
These points can be redeemed through various partner establishments and accredited transactions. You can use it to purchase retail merchandise and gift cards, as well as for cash credit. The good news is that your points do not have an expiry, letting you redeem your rewards anytime you want.
Other features you can enjoy include optimal security and verification, best deals on automotive and optional benefits such as insurances and memberships.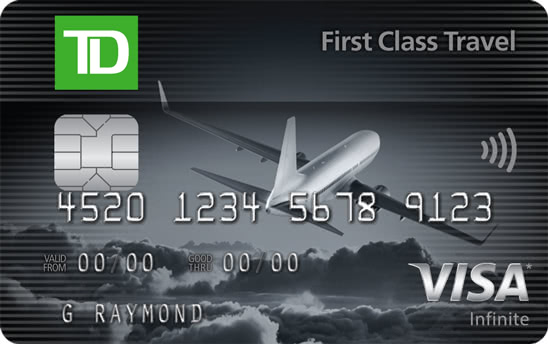 Getting a TD First Class Visa Infinite Credit Card
Applying for this card is pretty straightforward. The bank offers a variety of methods to order including application on TD's website, by appointment and branch visit. You can get your application started easily by providing proof of age, residence, and income. Keep in mind that you have to be in the age of majority in your province/territory of residence. Moreover, you must be a Canadian resident with $60,000 personal or $100,000 household annual income.
Once your application is approved, you can expect to have a minimum of $5,000 or above credit limit.
TD First Class Visa Infinite Credit Card Fees and Charges
This card offers competitive prices. You only have to pay $120 for your annual fee. In addition, an interest rate of 19.99% applies for purchase, whilst an interest of 22.99% applies for cash advances. Failing to pay your dues on time will result in a late payment fee, so make sure to monitor your account regularly.
TD First Class Visa Infinite Credit Card and Travel
Being a travel credit card, you can expect to have lots of perks when you use your credit account for travel and travel-related purchases. First, you are covered with Travel Medical Insurance of up to $1 million if you travel within the first 21 days. You are also protected from trip cancellation/interruption. Other related benefits you can get include travel accident insurances, emergency assistance, delayed and lost baggage insurance and priority pass membership discount.
Conclusion
With a card that offers shopping and travel rewards, you have never been more secure when you go on a trip. To ensure peace of mind whenever you travel, get a TD First Class Visa Infinite Credit Card today!