Are you a frequent traveler that's looking for a reliable credit card? Do you need a credit card that can help take you around the world? With a BMO Credit Card in hand, you can do all of these and more.
A BMO World Elite Mastercard Credit Card gives you exclusive deals and rewards each time you swipe your card. To know more about what this has to offer and how you can apply for this card, read on.
BMO World Elite Mastercard Credit Card Features and Benefits
True to its name, this card gives you unparalleled access to a plethora of advantages. For one, you will gain 3 BMO rewards points for every $1 spent on eligible travel, dining, and entertainment transactions. For all other transactions spent elsewhere, you can get 2 rewards points for every $1 spent.
As part of their welcome offer, you can get 35,000 bonus points and the annual fee waived for your first year! As another treat, you will get a $100 bonus when you spend at least $100 on travel-related goods and purchases within the first 6 months. Now, how's that for maximum savings, right? With a whopping total value of $500 in savings, this card is definitely something you don't want to miss out on.
As a frequent flyer and traveler, you'll be happy to know that you'll be given a complimentary membership to different airline lounges around the world. Through the free Mastercard Airport Experiences provided by LoungeKey, you will gain exclusive VIP access and have four annual complimentary passes to use when you travel.
The best of all, you will be extended utmost care and protection wherever you go. Aside from BMO's standard purchase protection and extended warranty, you will be given travel and medical protection on your holiday of up to $2 million.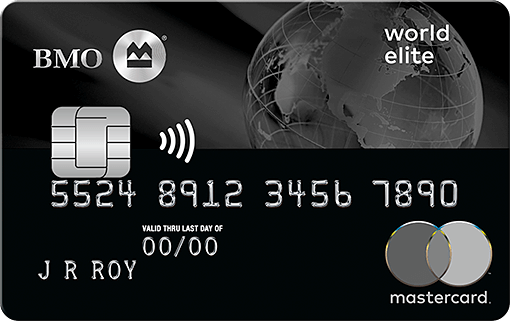 Applying for a BMO World Elite Mastercard Credit Card
Getting your own BMO World Elite Mastercard Credit Card has become easier. All you need to do is head on to their website, click apply now and fill out the online application form.
To be qualified for the plan, you need to fullfil the salary requirement of having a minimum annual individual income of $80,000 or $150,000 for a combined household income. Likewise, you must also be the age of majority in your province and territory and have a Canadian address on hand. Most importantly, you must not have declared bankruptcy in the last 7 years.
If approved, you will be given a credit limit starting from $10,000 depending on your credit standing.
BMO World Elite Mastercard Credit Card Fees and Charges
To experience all these benefits, you will have to pay the annual fee of $150 after the first year. Meanwhile, the interest rate for this card is 19.99% for purchases and other charges, while cash advances and balances transfer are capped at 22.99%.
There is a foreign currency conversion rate of 2.5% for purchases, an over limit fee of $29, and $5 charge for cash advances.
If you are looking for a premium credit card that won't let you down, the BMO World Elite Mastercard Credit Card is your best bet. Apply now and experience a world filled with irresistible deals.