Interested in getting an everyday credit card that allows you to gain access to all your needs? More importantly, are you more inclined to get a credit card that offers you some of the lowest interest rates on the market and absolutely no annual fee? If you are, check out what the MBNA True Line Mastercard Credit Card has to offer.
The MBNA True Line Mastercard Credit Card is your best bet when it comes to getting maximum savings. With standard annual interest rates and even promotional access to low rates, you are well on your way to financial independence. Read on to find out how you can apply for this card today.
MBNA True Line Mastercard Credit Card Features and Benefits
True to its name, this credit card makes sure to give you only honest to goodness perks. For one, it allows you to pay no annual fee for life. With this privilege, you can save your hard-earned money and use it for more pressing concerns.
Another advantage you will surely delight in is getting a promotional annual interest rate for 6 months on balance transfers completed within 6 months of account opening. Here, you can save at least have of your interest rate on balance transfers! You will even be given a minimum interest-free grace period of 21 days if you pay your new balance in full before the due date.
Even better, the MBNA True Line Mastercard Credit Card gives you access to over 1 million ATMs abroad. With around-the-clock fraud protection, you can finally keep an eye on your precious money wherever you may be.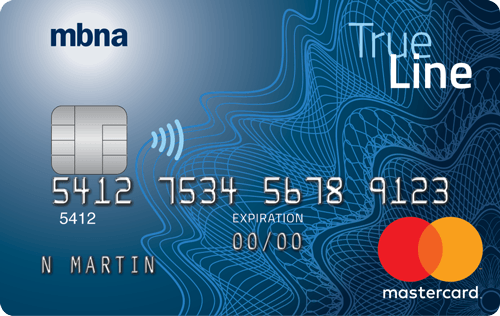 Applying for an MBNA True Line Mastercard Credit Card
Getting your hands on this credit card is easy. Simply fill out the online application form found on the MBNA True Line website in just 5 to 10 minutes.
To be eligible, you need to be a Canadian resident and have a Canadian credit file on hand. You must also be the age of majority in your province or territory of residence and have no record of bankruptcy or past due payments.
If approved, your credit limit can start at $500.
MBNA True Line Mastercard Credit Card Fees and Charges
To help you enjoy the benefits that the MBNA True Line Mastercard Credit Card brings you, paying your dues on time is essential. Remember, there are no annual fees for this card.
Other charges you need to remember includes the standard interest rates for purchases and balance transfers at 12.99% and 24.99% for cash advances.
There is also a foreign currency conversion charge of 2.5% of the transaction amount, a balance transfer fee with a minimum of $7.50 per transaction, and a cash advance fee of 1% of the amount advanced (with a minimum of $7.50).
In the end, the MBNA True Line Mastercard Credit Card is perfect if you are looking for a starter credit card. With no annual fee and low interest rates, everything is certainly looking good for you with this plan in hand.