Are you looking for a credit card that puts cash back into your pocket every time you spend? How about a card that ensures your banking security?
If your answer is yes to both of these questions, Toronto Dominion Bank has something that can satisfy your needs.
With their selection of credit cards, you are sure to find one that fits your lifestyle. Read on to find out how you can apply for a TD credit card.

TD Credit Card Benefits and Features
For your cash-back needs, the TD Cash Back Visa Card is the perfect option. Using this card for any eligible transaction allows you to earn 1% of the transaction amount back into your pocket. This applies to qualified grocery and gas purchases.
You can even set up your account to regularly send payments for your recurring bills, qualifying your payment for 1% Cash Back Dollars. For other purchases, you are entitled to 0.5% cash back.
You can redeem your Cash Back Dollars in several ways. You can even pay your balance through Dollar redemption. Keep in mind that your redemption should be a minimum of $25 with NO maximum amount.
What's best is that your Cash Back Dollars DON'T expire, so you can redeem them any time you want.
In terms of security, you can rest assured that your account is in good hands. With Visa Zero Liability, payWave Technology, Verified by Visa, as well as Purchase Security and Extended Warranty Protection, you can proceed with your transactions knowing that TD Bank and Visa have you covered.
Should any fraudulent transactions occur, you will be immediately notified and protected.
Getting a TD Credit Card
Applying for a TD Cash Back Visa Card is simple and easy as it does not require you to have a set minimum annual income to be eligible.
You should be a Canadian resident within the age of majority in the province or territory where you reside. Be prepared to present proof of these details including valid government IDs, utility bills, and other similar documents.
If approved the bank will set your credit limit based on your creditworthiness. This starts at a minimum of $500 and can be increased later on.
Interested in applying? Simply fill out the online credit card application form on the TD Bank website or go to any branch near you.
TD Credit Card Fees and Charges
For this card, you will receive an APR of 12.99%, 17.99%, or 22.99%, depending on your creditworthiness. However, those working on a budget will be glad to know that NO annual fee applies for this card.
For balance transfers, there is a fee of $5 or 3% of the amount of each transfer, whichever is greater. On the other hand, for cash advances, there is a fee of $10 or 5% of the amount of each cash advance, whichever is greater.
Missing a payment will cost you $37. However, there are no foreign transaction fees associated with this card.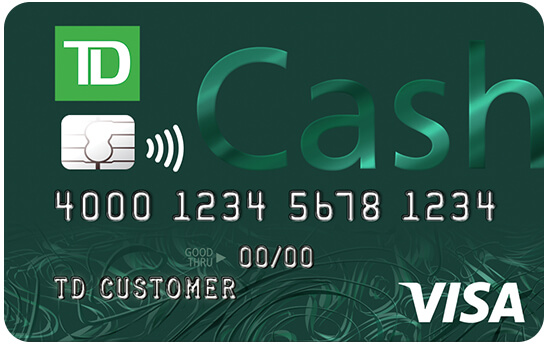 Contact TD Bank
If you would like to contact the bank, you can call 1-888-751-9000. Alternatively, you can locate their main office at 1701 Route 70 East, Cherry Hill, NJ 08034.
Conclusion
Overall, getting a credit card that puts cash back into your pocket and ensures your safety is always a valuable move. If these are on the top of your priority list, the TD Cash Back Visa Card is your best. Should you need further clarification or simply want to know more, get in touch with your nearest branch.
Note: There are risks involved when applying for and using credit. Consult the bank's terms and conditions page for more information.