Singapore! Who knew this little country could be so interesting? I didn't, until we spent 48 hours there in March this year. Wow, it's been that long?
Dan and I had both planned to visit Singapore on our way back to Brazil after spending Christmas with my family in Australia.
But then I fell pregnant…
Plans changed – I was going to stay in Australia while Dan went back to Brazil for a while to renew his visa (stopping in Singapore).
The day before Dan was going to leave I had a mini-breakdown (possibly something to do with being pregnant?) and went along with him after all!
You know, I wasn't really expecting to travel to Singapore, so I hadn't done any planning or research. My mind was a blank canvas, but I think that's what made my experience in Singapore all the more interesting.
Arriving in this new foreign country – smelling the unique fragrances in the air, tasting all the different spices in the food, watching the locals and expats go about their every day lives – it excited me…
I was like a dog visiting the park for the 40th time – delighted as EVER.
But we had a bit of a challenge ahead of us – we only had 2 days to get around Singapore and accomplish everything we wanted to experience.
Was it possible?
Totally!
Singapore's tiny which means it's the perfect place to plan an extended stopover.
Only got 48 hours to spare? No worries, you'll be able to enjoy every moment of your time in Singapore without missing out on any of the good stuff.
In fact, because Singapore is so small you really don't need a lot of time there – I would say a week, max.
So you're probably here reading this because you plan on traveling to Singapore or you're already there and wondering what to do…
Which is why i'm going to share our Singapore itinerary – what we got up to in 48 hours as well as a more visual guide to Singapore in our long awaited travel vlog (who knew babies could keep us mamas so busy?).
Ready?
Here goes…
Things To Do In Singapore: Our 48 Hour Singapore Travel Itinerary
Click Here to Subscribe to our Youtube Channel!
Day 1: 48 Hours in Singapore
9:00 – Grab a Coffee/Wander the Streets & Alleyways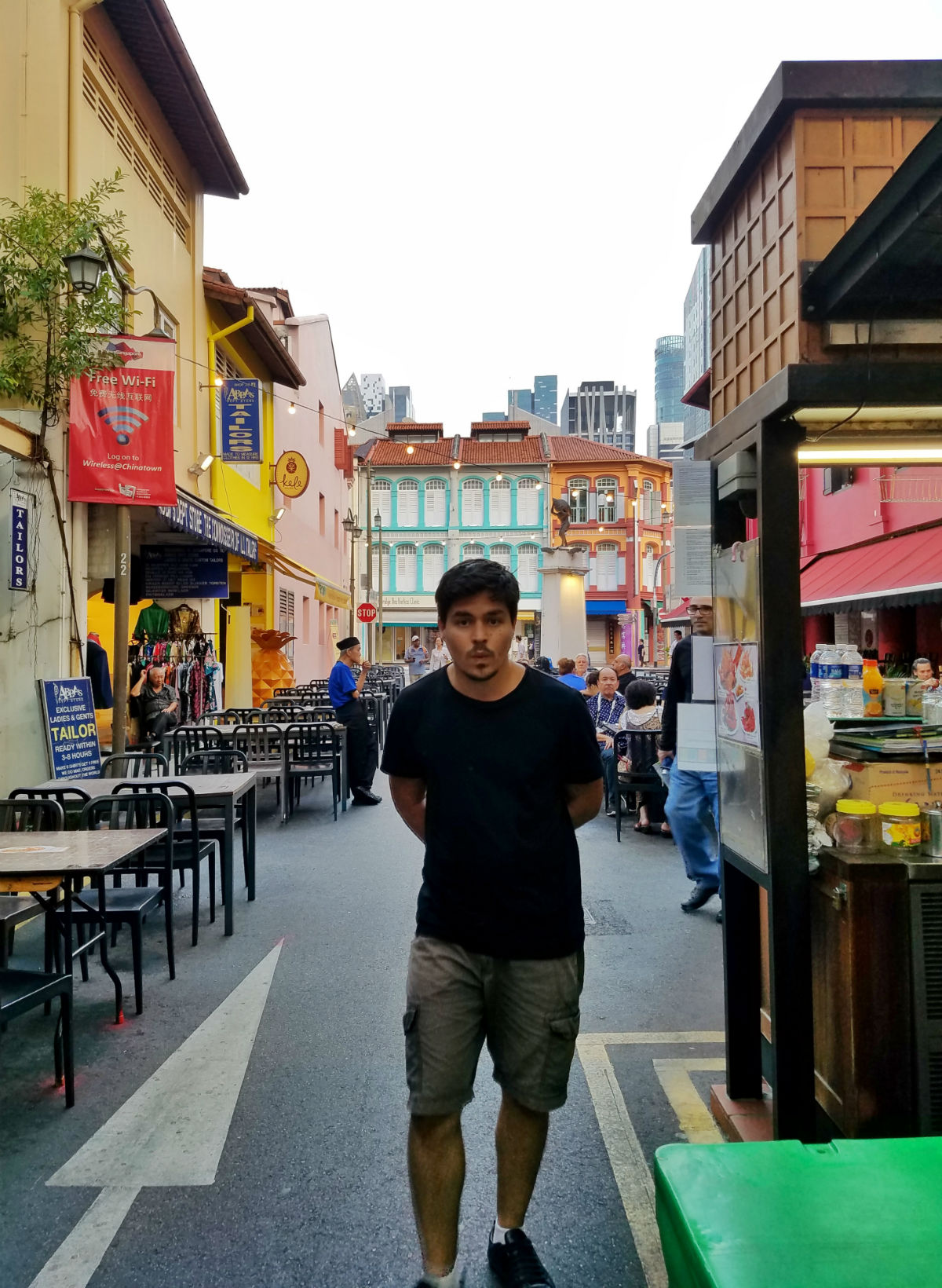 First thing's first, get up early and go for a walk. See where the streets take you. You may find yourself wandering through unusual little alleyways or quiet streets lined with quirky cafés and restaurants.
As you saw in our vlog, we woke up early(ish) on a Sunday to go and have a look around and nobody was out! It was so quiet but it also felt amazing to have the streets to ourselves to explore, film and take photo's at our own pace.
You're likely to see a lot of traditional meets modern in terms of architecture which I found interesting. You may also come across some fresh food markets selling strange fruits like yellow watermelon!
Take the morning to wander, grab a coffee and relax until lunch time.
12:00 – Visit Tiong Bahru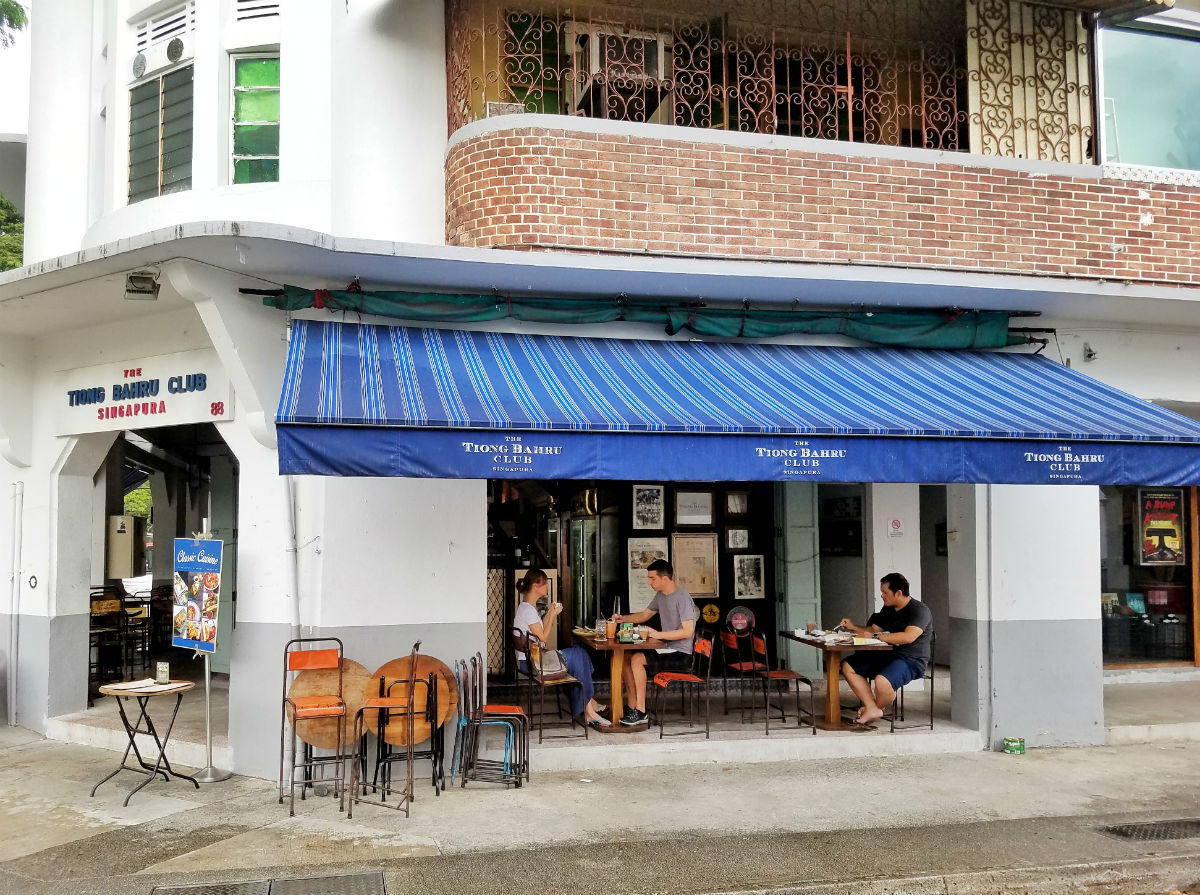 Come lunch time, why not head over to the 'hip' hood of Tiong Bahru, where you'll find quaint art deco shophouses and some of the city's hottest food and lifestyle establishments.
The highly praised Tiong Bahru market and food centre was what drew us to the residential estate but when we arrived it was closed for renovation! We were gutted to have missed out on experiencing a local food market, especially because we were itching to sample some more traditional Singaporean dishes.
That said, we found a delish Indian restaurant (which also serves some Malay cuisine) called The Tiong Bahru Club. We had a Palak Paneer, garlic naan and chai tea which left us feeling very satisfied!
After lunch, venture out for a little walk around the neighbourhood which is home to heritage-rich places that offer an insight into Singaporean culture.
14:30 – Visit Kampong Glam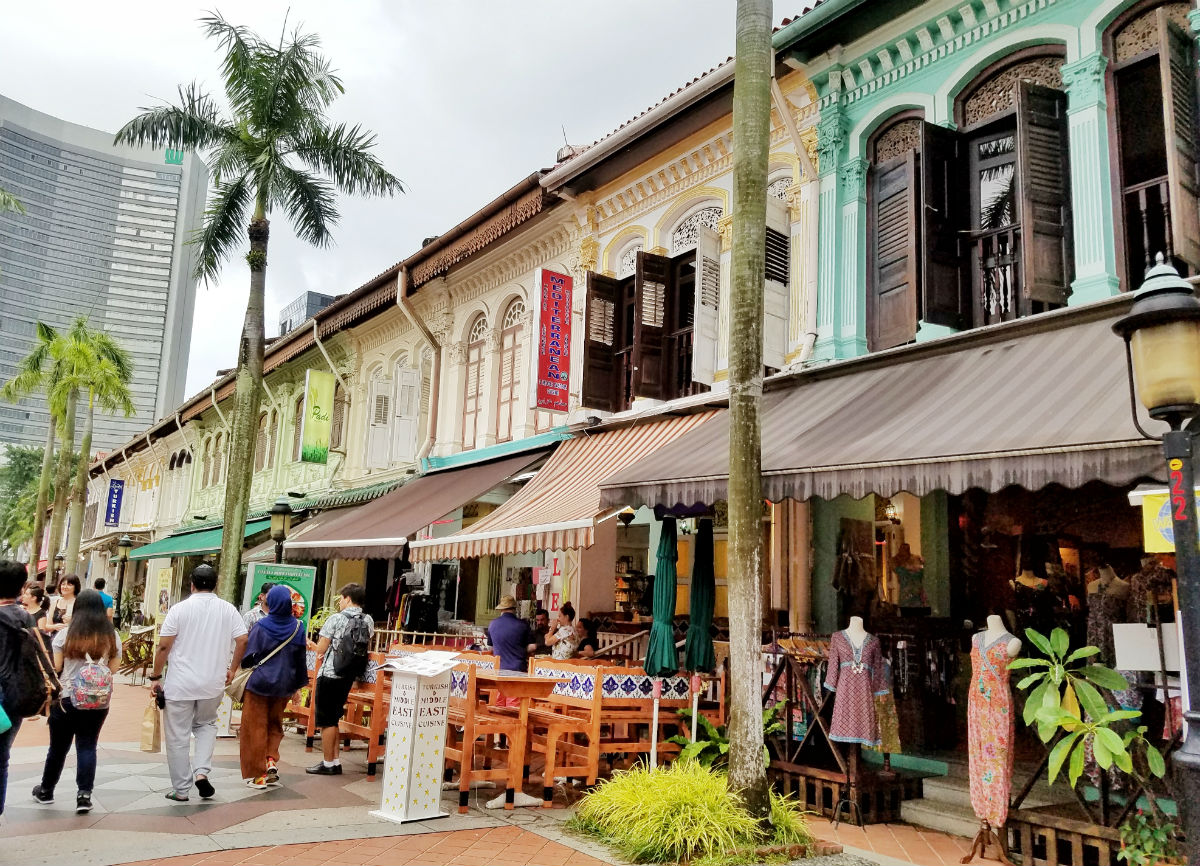 You literally can't go to Singapore without visiting the colourful, vibrant Kampong Glam. If you do, you're going to miss out on one of the absolute best things to do in Singapore! In fact, I think visiting Kampong Glam was my favourite part of the whole trip.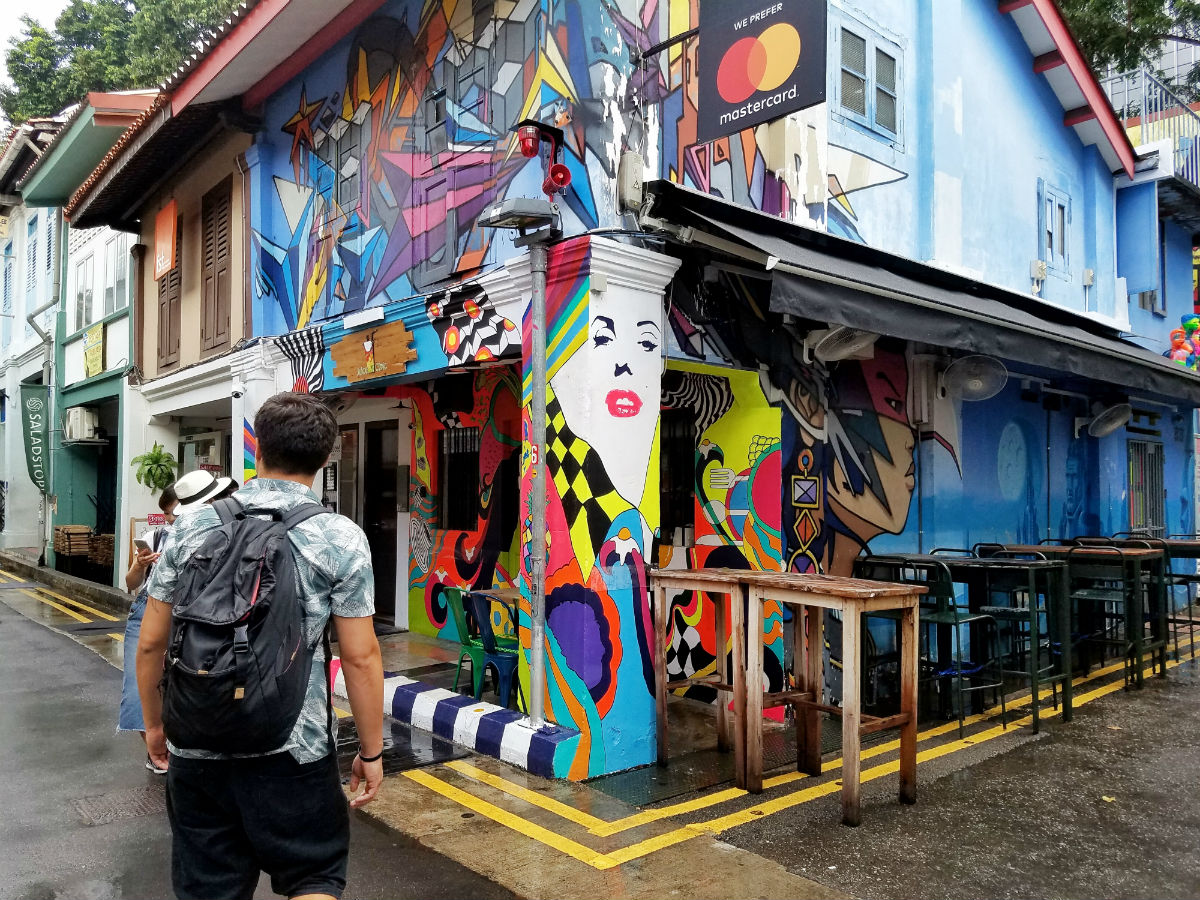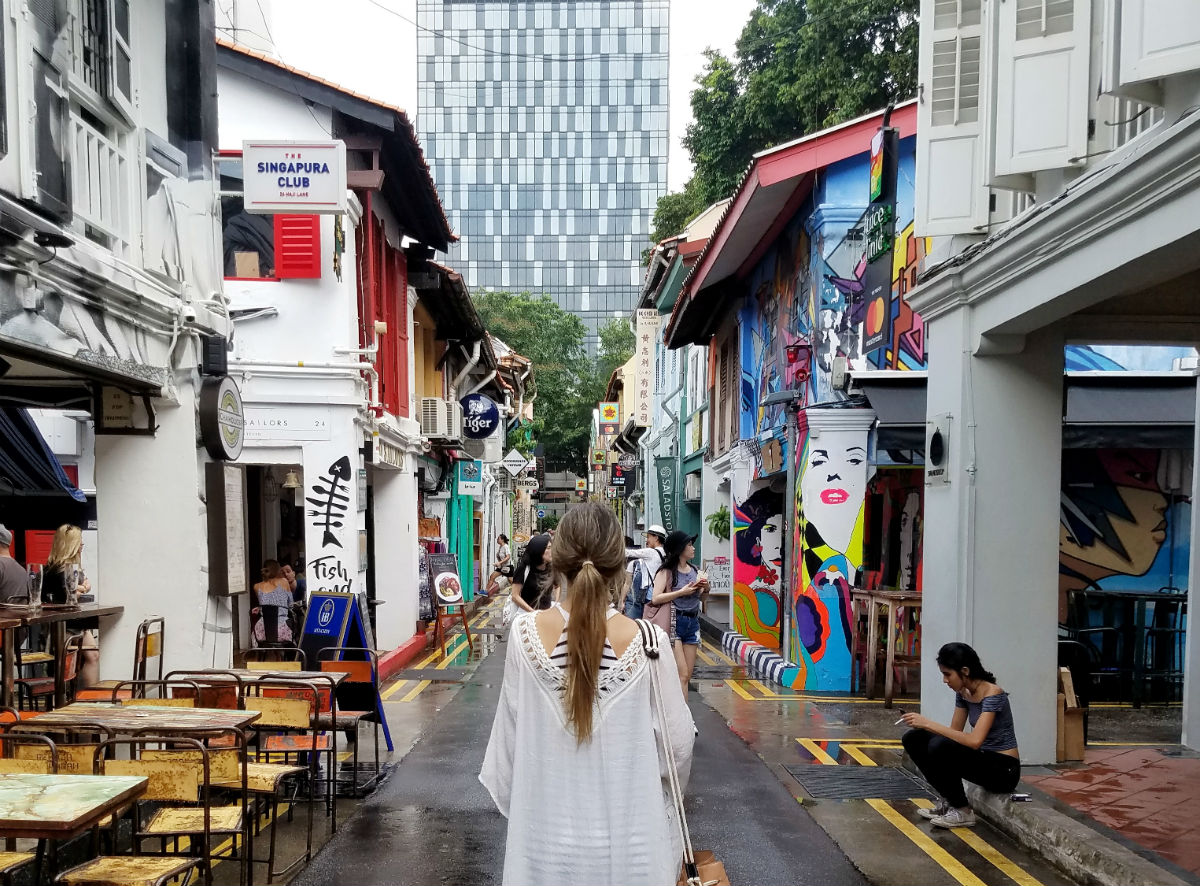 In 1822 Kampong Glam became home to the Malay Sultan Hussain Mohammed Shah as well as Arab and Bugis traders, so it has a very middle eastern vibe to it…
Here you can find some fantastic middle eastern restaurants as well as various boutique stores selling everything from silk scarves to kebaya dresses to Persian rugs.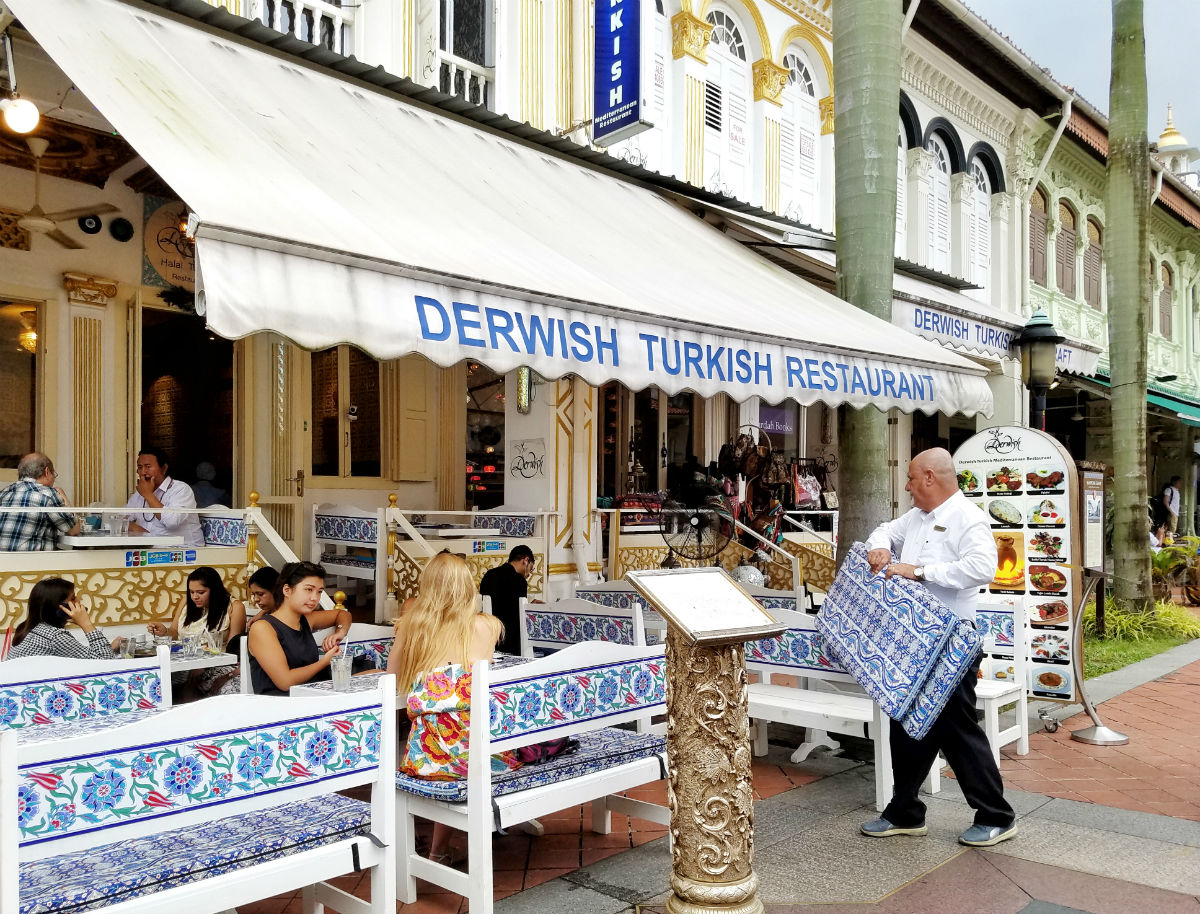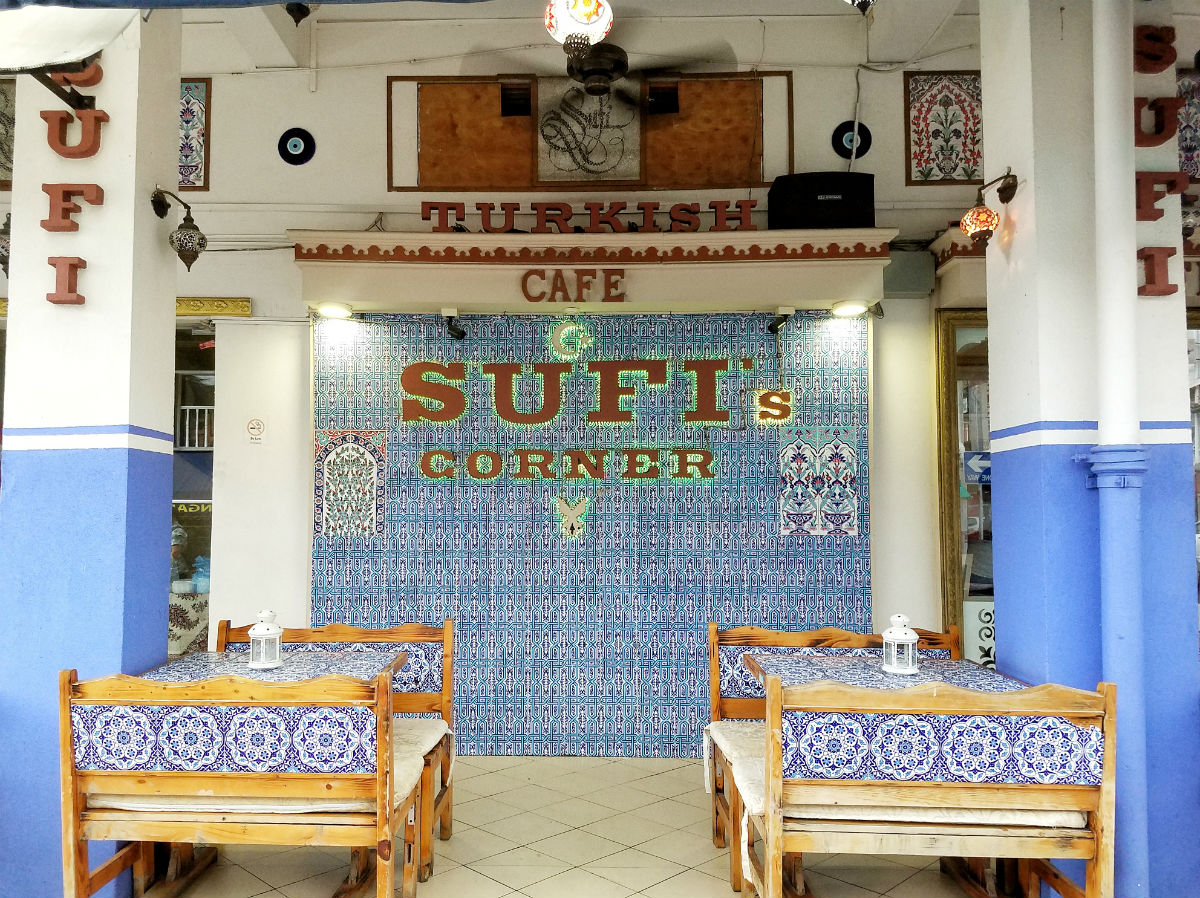 And if that's not enough for you, wait until you see the Sultan Mosque!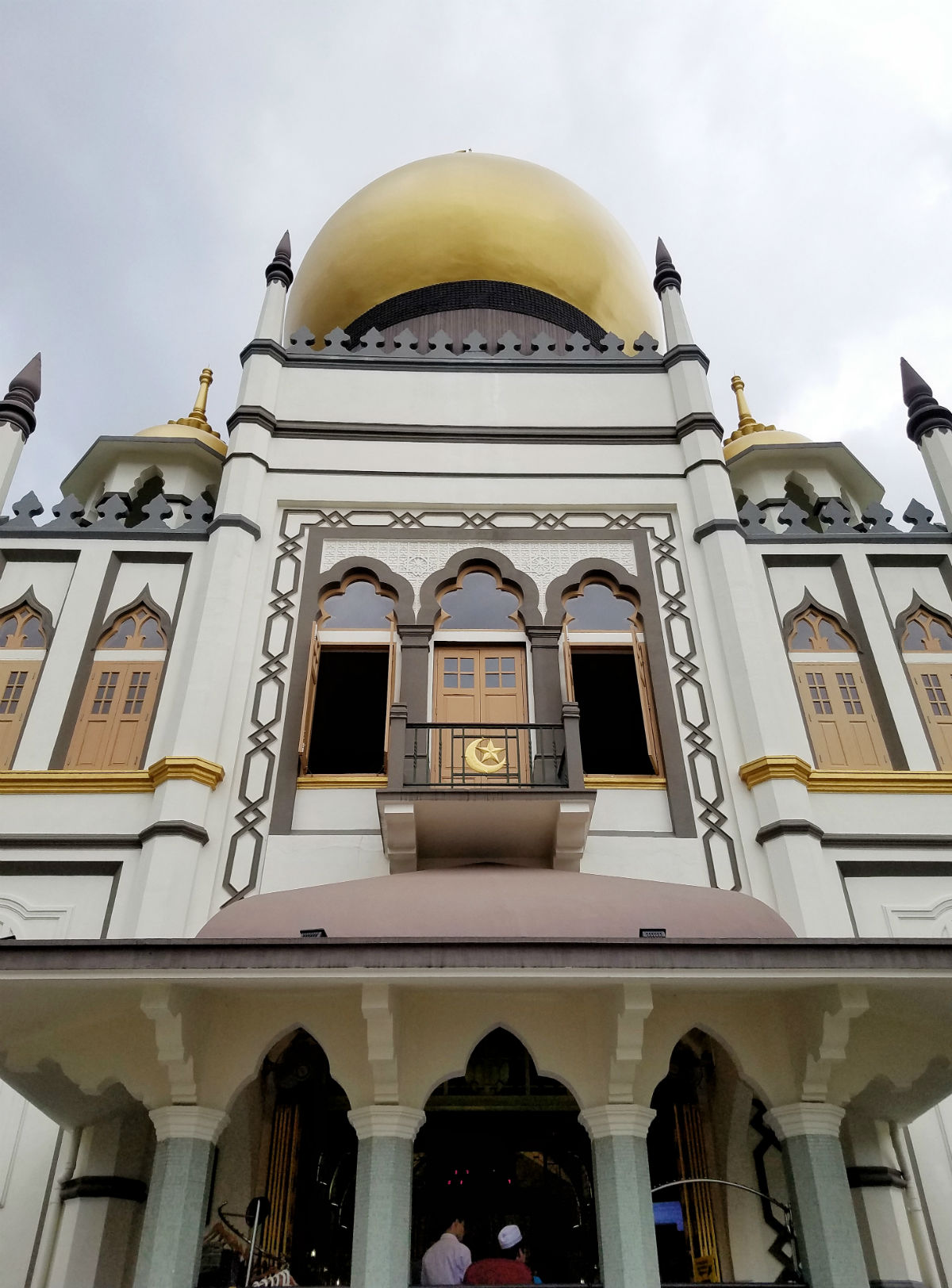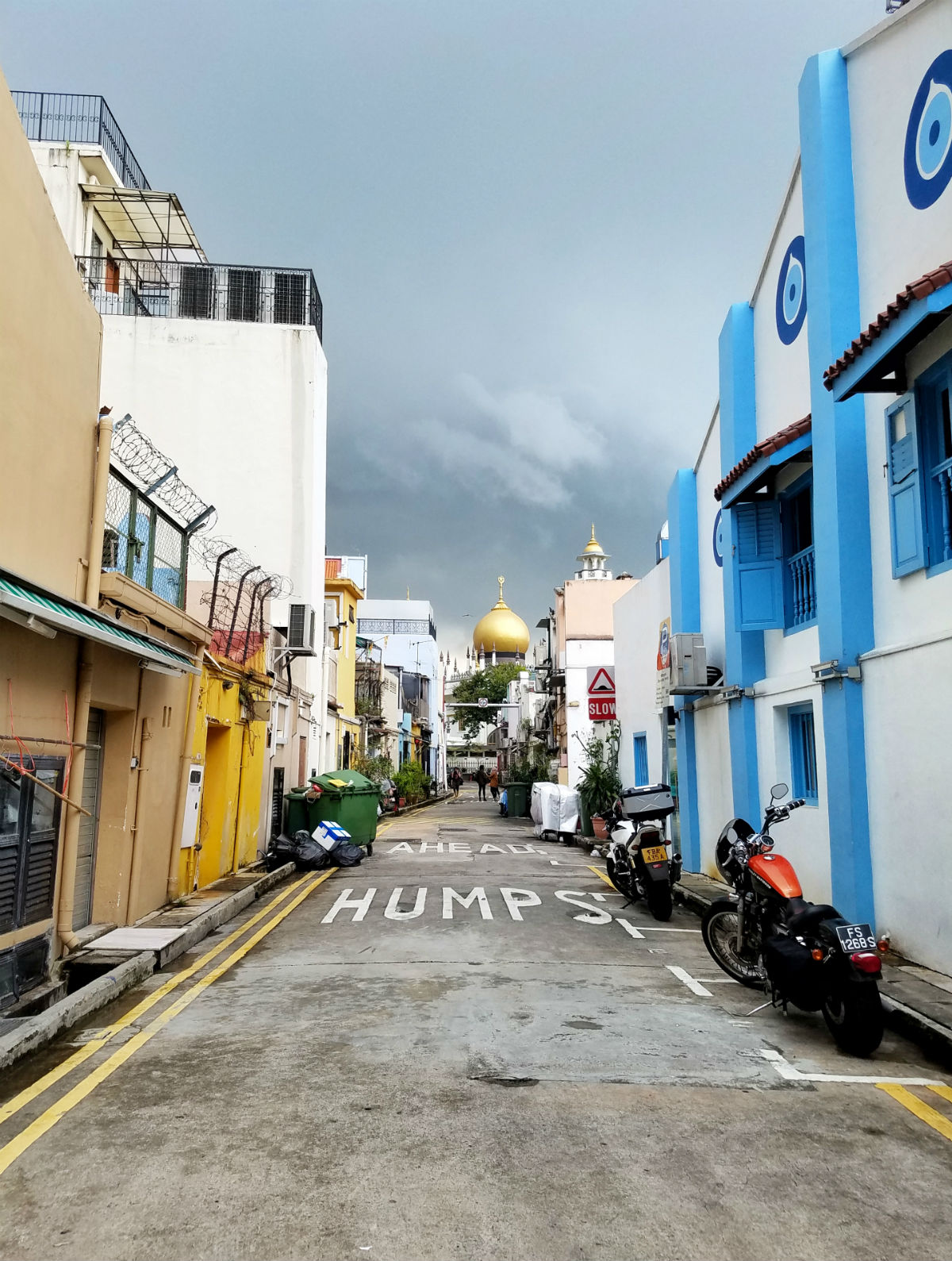 With its' eclectic blend of history and culture, Kampong Glam, also known as the Muslim quarter, NEEDS to be on your itinerary.
18:00 – Visit Little India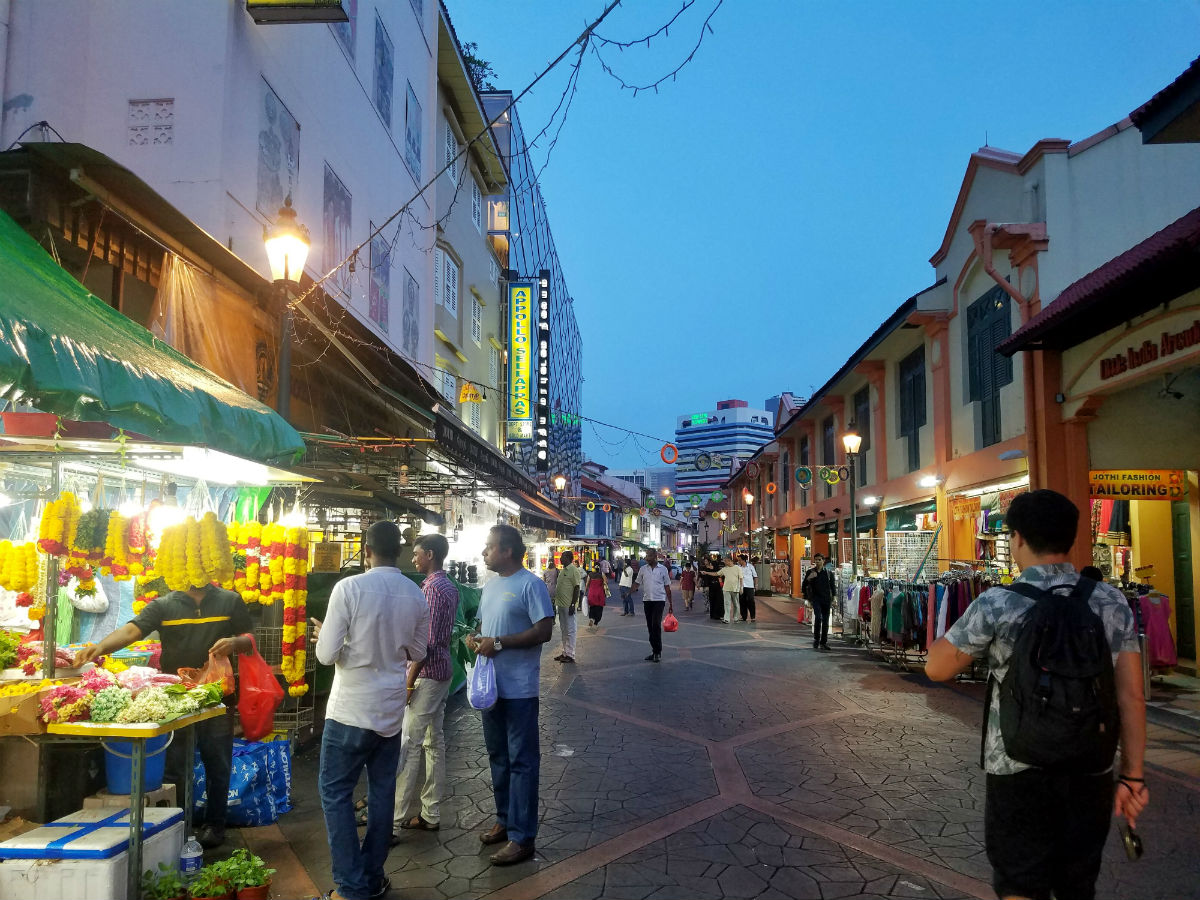 To add even more excitement to your first day in Singapore, why not finish up with more bright colours, strange sounds and crazy fun vibes in Little India!
This neighbourhood is full of vibrance, PEOPLE (everywhere) and Indian culture, which means…? Amazing food of course! Yeah, if you're wondering, I tend to spend most of my time thinking about food.
Anyway, no matter when you visit, you're going to be in for a unique experience…
We visited on a Sunday evening which (we were told) meant cheap trade. This brought in thousands of men from the outskirts of Singapore who were eager to pick up goods along the street at low prices.
Yes, literally JUST men. I've never felt so outnumbered.
One of our Youtube subscribers left a comment on the vlog (where I mention the fact that I was surrounded by men) saying that women should not go there alone after 1pm. So if you want to visit Little India, ensure you have someone to go with.
There was also a very lively Indian festival going on in one of the Hindu temples which was amazing to experience!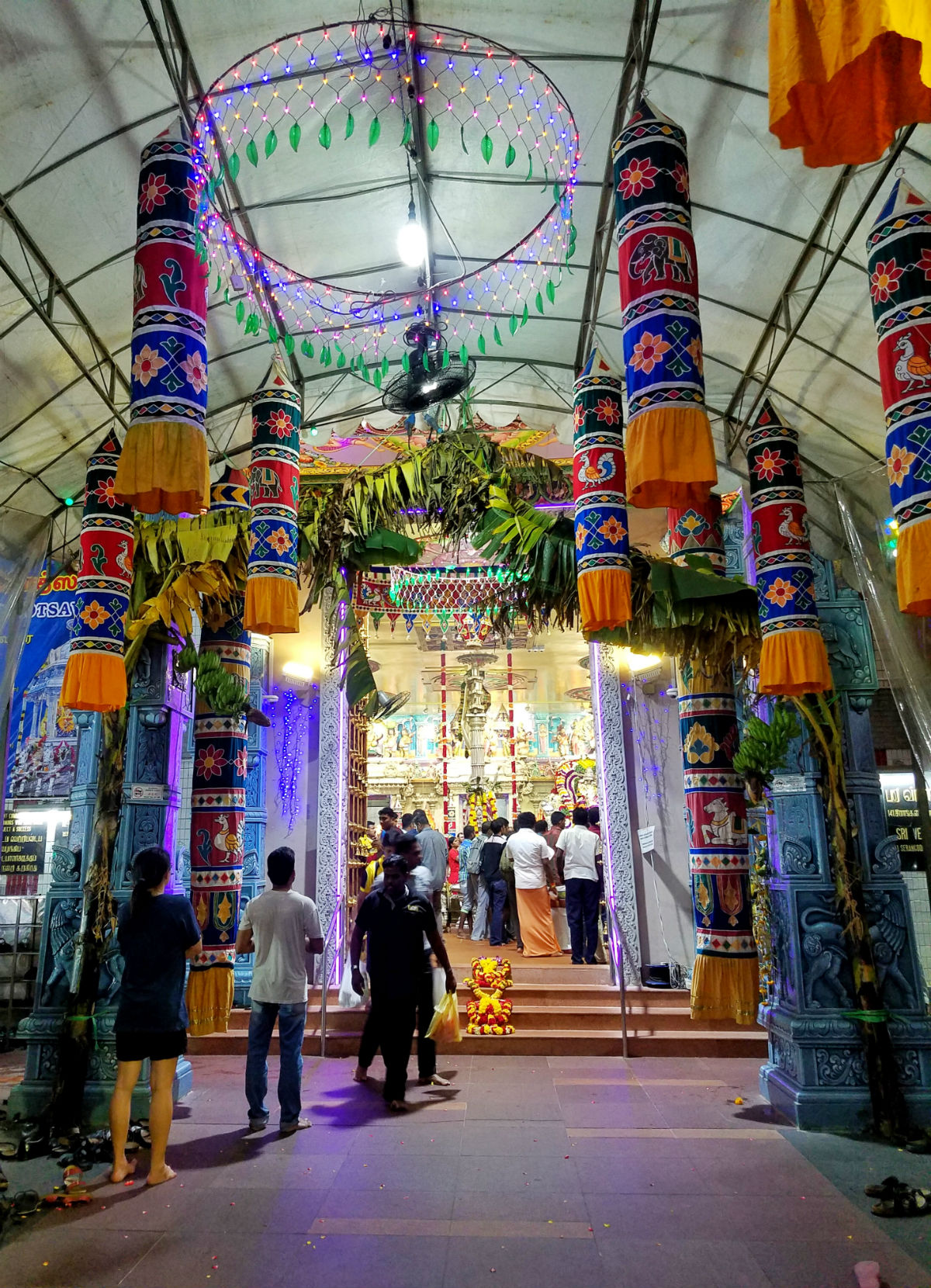 GO and find out what's in store for you!
---
Day 2: 48 Hours in Singapore
On day two of your 48 hour trip to Singapore you may want some quiet time – a chance to wander and relax at your own pace after all the liveliness of Kampong Glam and Little India.
So, what better way to get started than to take a walk through Chinatown?
12:00 – Visit Chinatown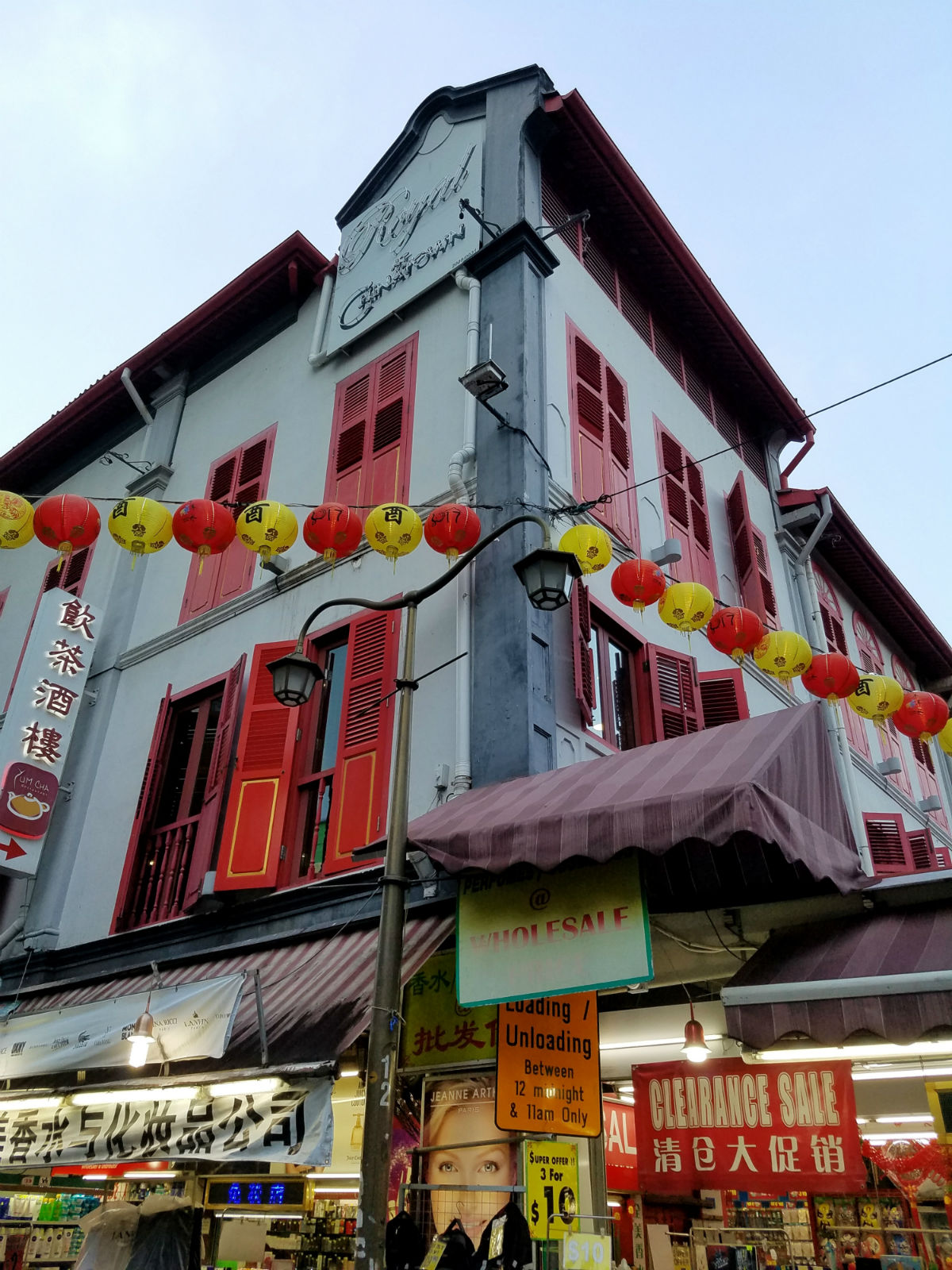 Our accommodation was located in Chinatown, as are many other hotels in Singapore, so heading over to the markets was just a hop, skip and a jump away (literally across the road).
What can you expect to find in Chinatown?
First of all, cheap, authentic and delicious food.
You'll have a hard time deciding which restaurant to choose from as you wander through Chinatown's Food Street.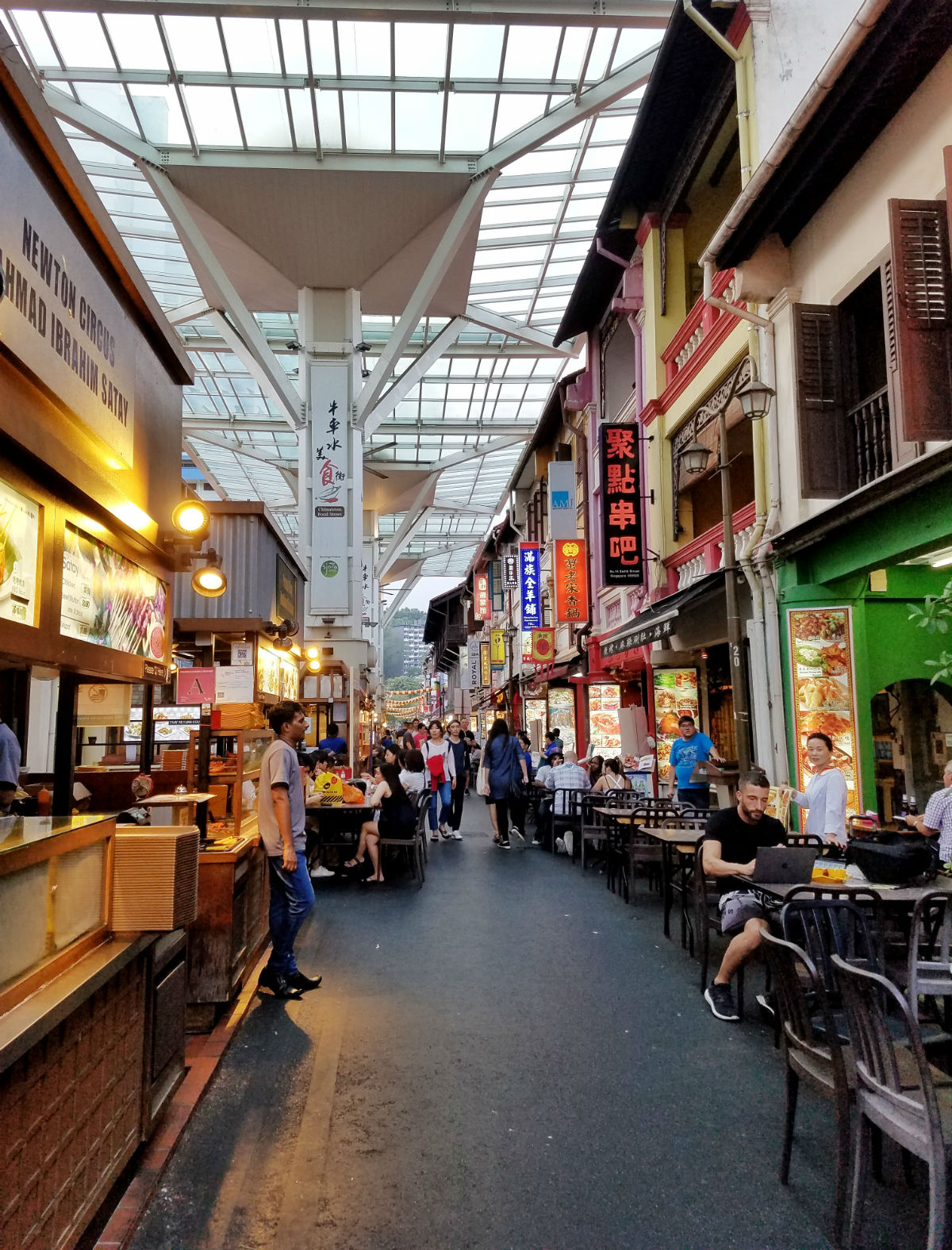 While it's mostly Chinese cuisine, you'll also find some Malay and Indian food vendors as well.
My advice?
Just go for the busiest… It's always a smart move!
Second, you'll encounter various market stalls selling Chinese trinkets, which make perfect gifts to take home for the fam (you know they're expecting something).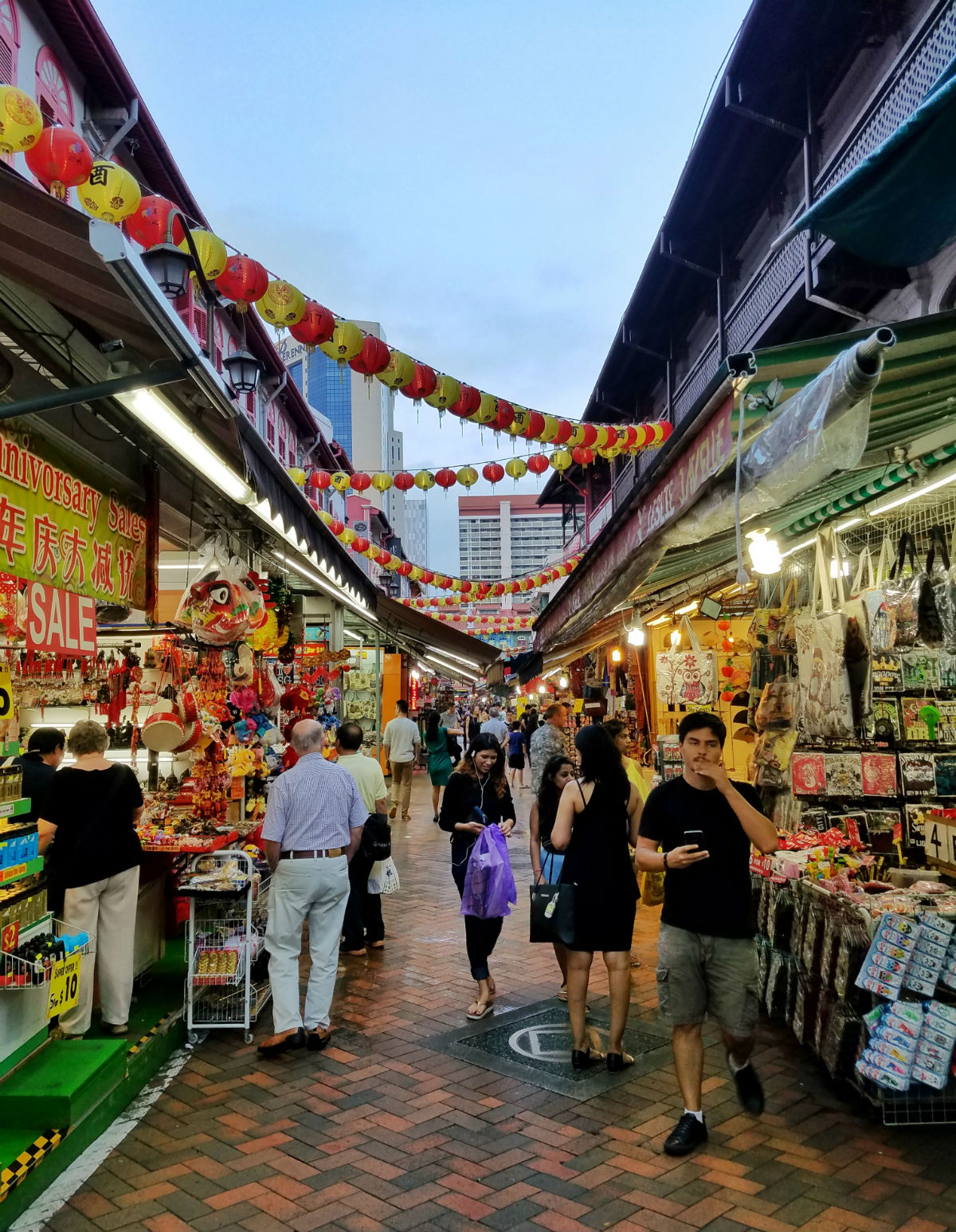 Finally, be sure to check out the temples!
Buddha Tooth Relic Temple is a beautiful four-story Buddhist temple which distinctly stands out behind the many market stalls of Chinatown.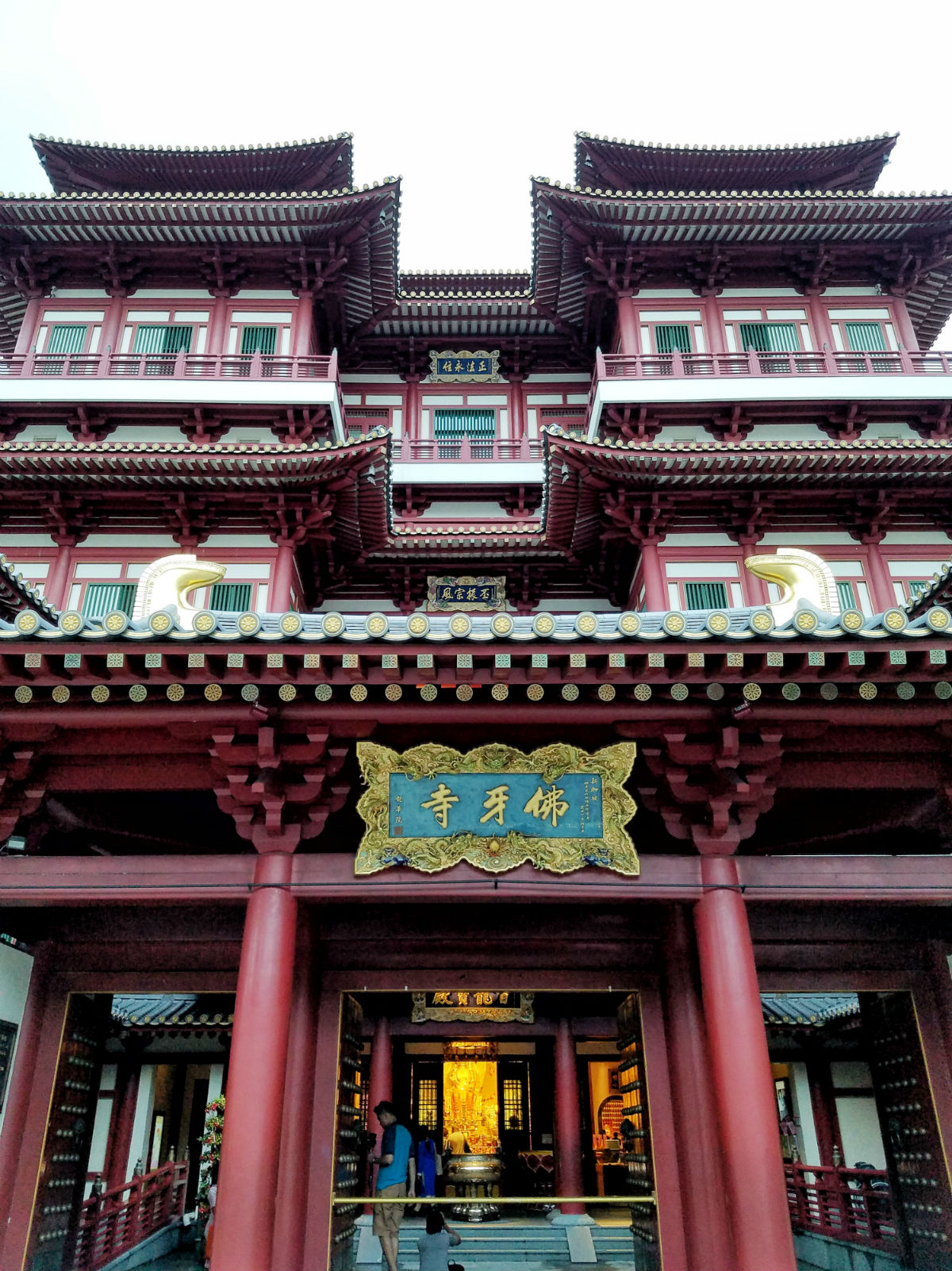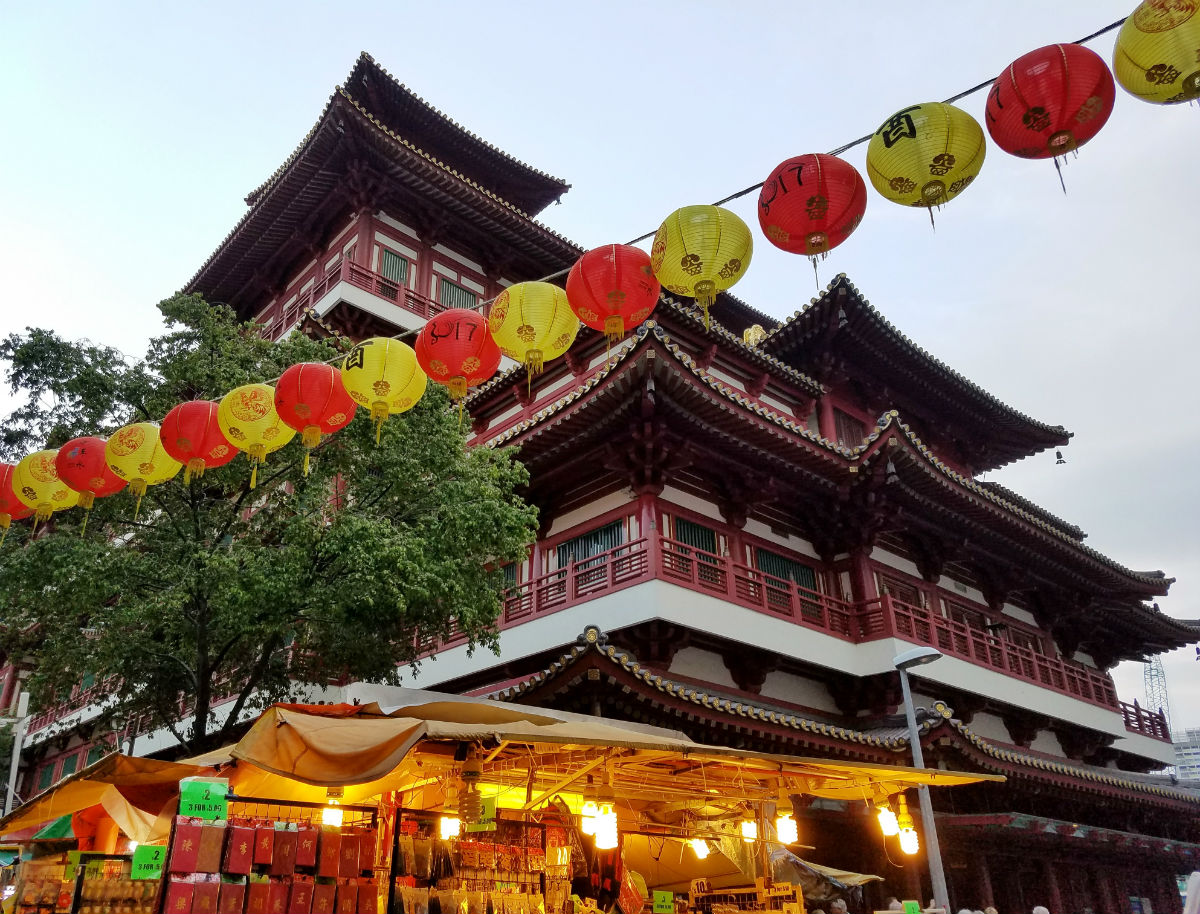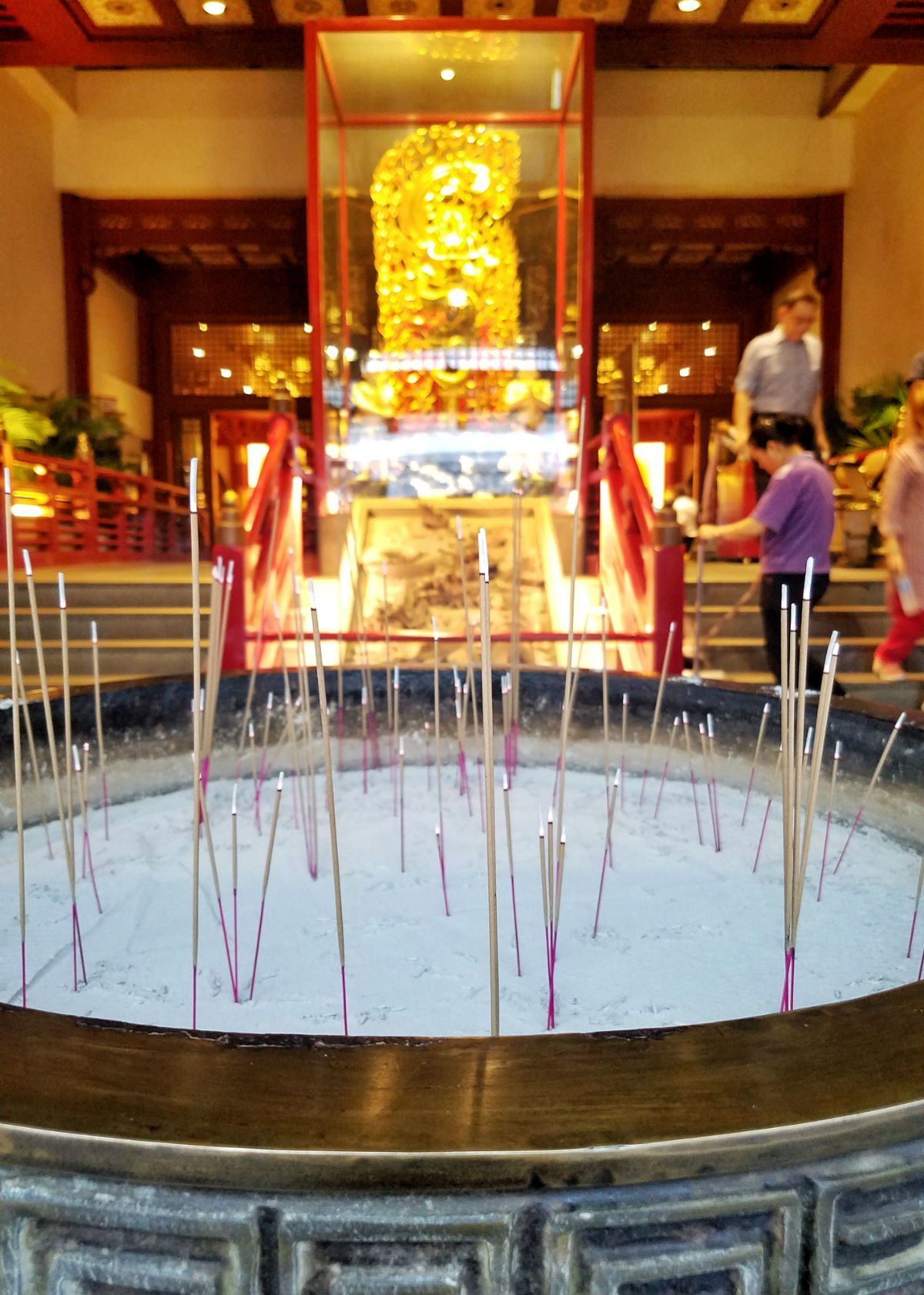 You'll see this temple about three quarters of the way through our Singapore travel vlog.
You also have Sri Mariamman Temple which is a Hindu temple close to the entrance of Chinatowns' food street. You'll see this one at the very beginning of our travel vlog.
The repetitive sound of drums beating drew us over to the temple as soon as we arrived in Singapore. We weren't quite sure what the ceremony was for but it was definitely a memorable welcome!
18:00 – Visit Gardens by the Bay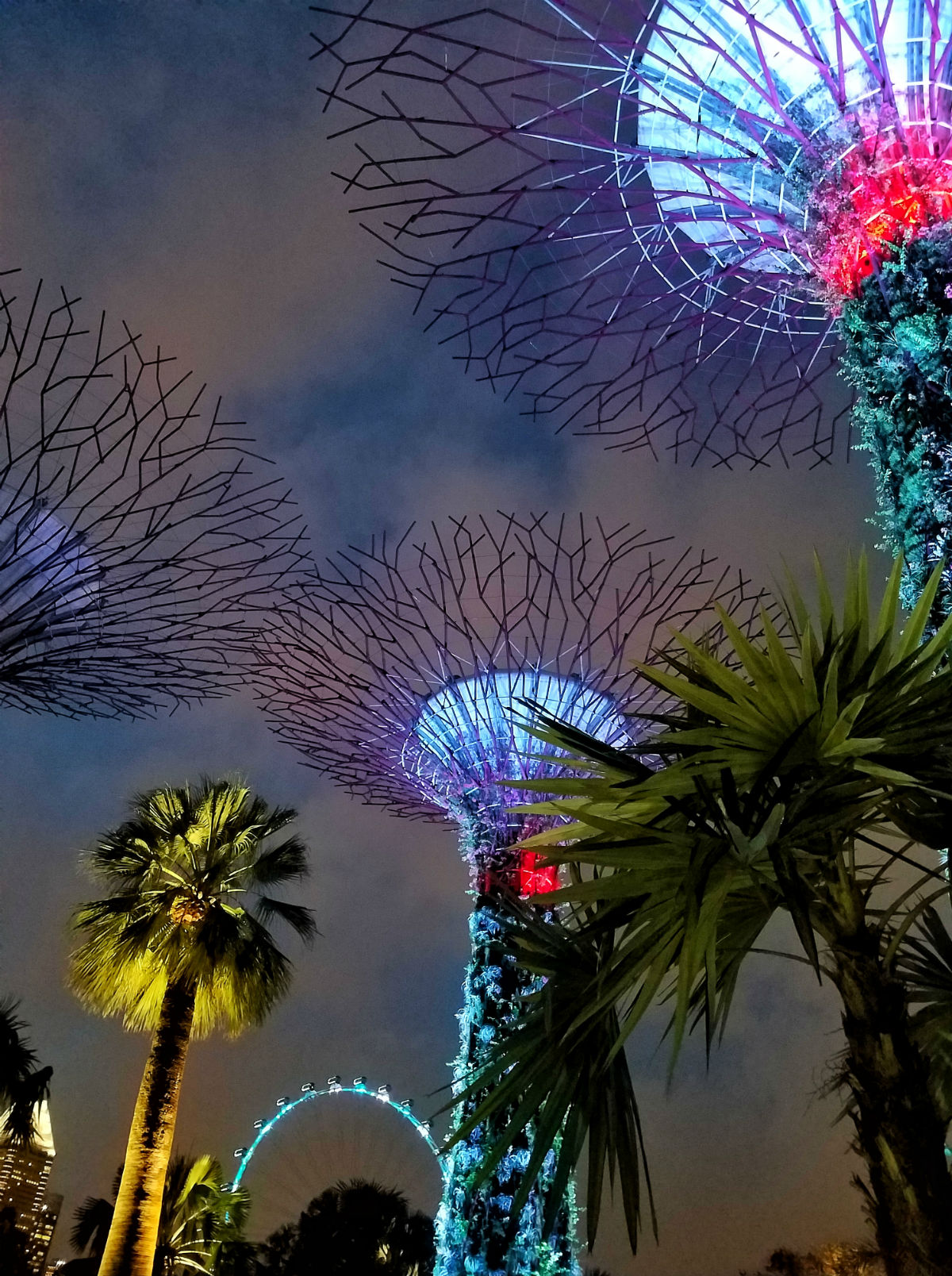 If you've done any research about traveling in Singapore then you've probably seen the famous Gardens by the Bay mentioned in every guide…
Why?
Because it's the number one attraction in Singapore according to Tripadvisor and is among the world's top 20 most checked in places on Facebook!
This expansive nature park boasts over a million plants and is home to the stunning Flower Dome, Cloud Forest, OCBC Skyway, and of course, the magical Supertree Grove (featured towards the end of our Singapore travel vlog).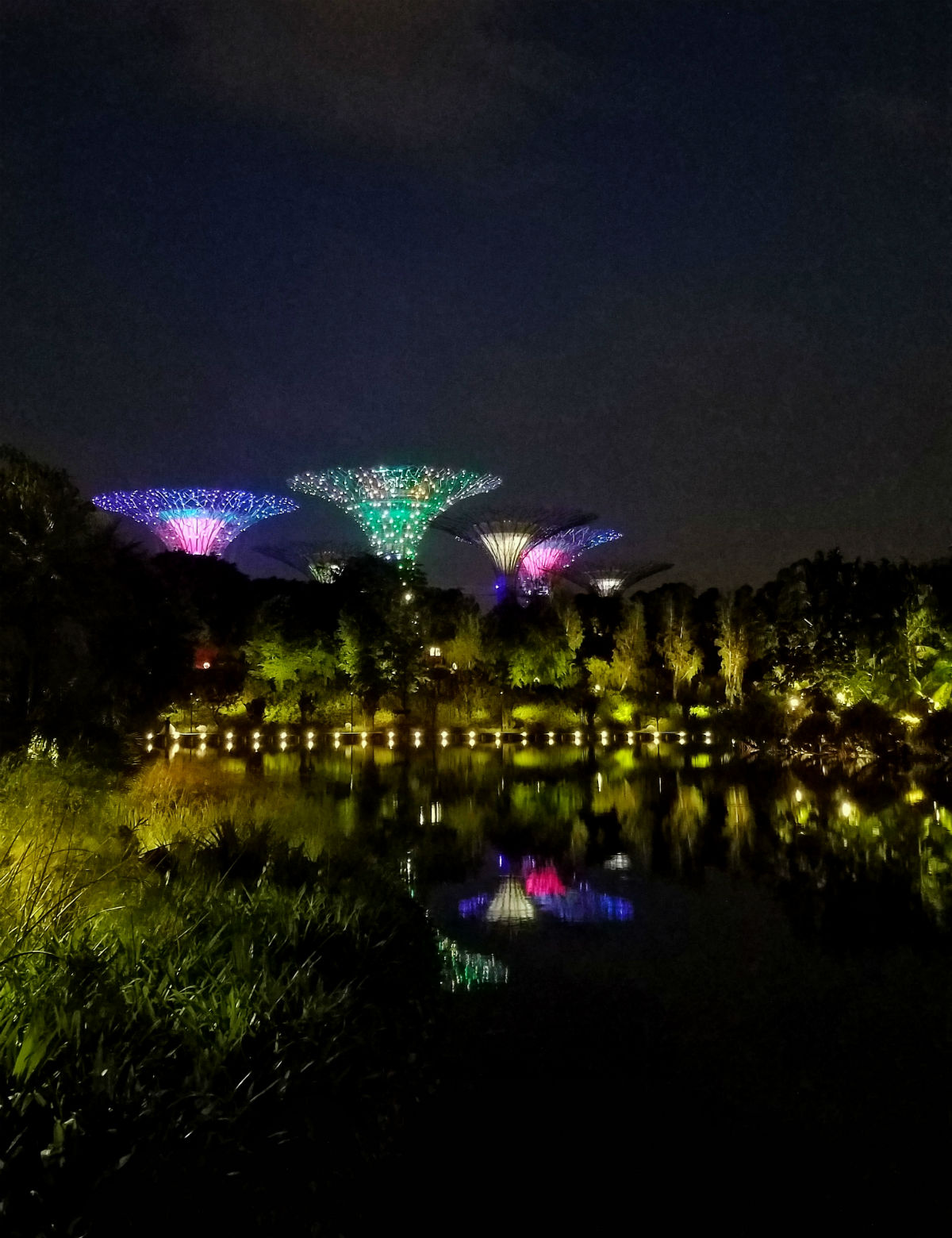 Gardens by the Bay makes for a wonderfully romantic setting to take a stroll after the sun sets and offers some seriously good views of the famous Marina Bay Sands hotel, known for it's amazing infinity pool overlooking the Singapore skyline.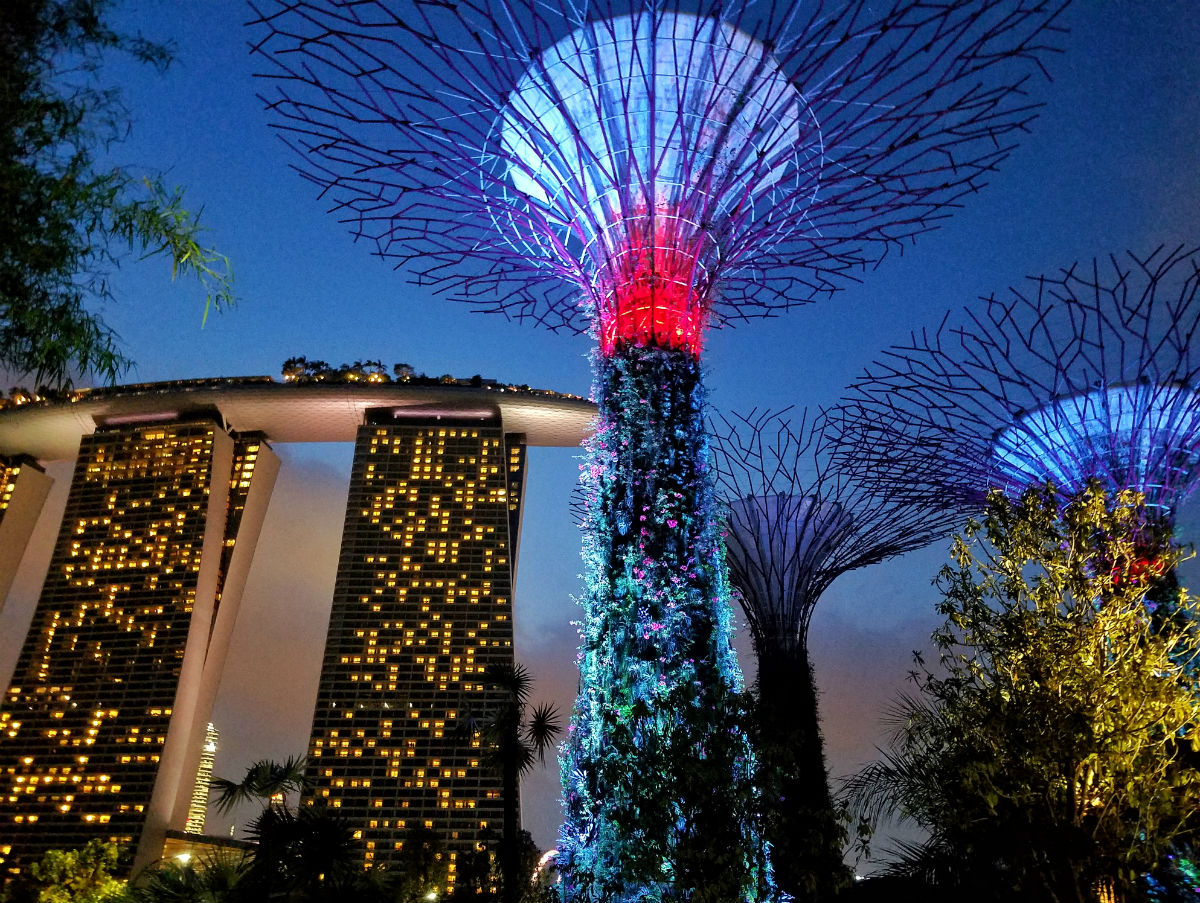 19:30 – Visit Marina Bay Sands/The Promenade
Finally, what better way to end your whirlwind trip to Singapore than with a magical light and water show overlooking the bay?
Spectra is a captivating evening light display which takes place on the promenade at Marina Bay Sands. The show starts at 8pm every night but if you miss it, don't worry because there's another at 9pm and on weekends, they put on a third show at 10pm.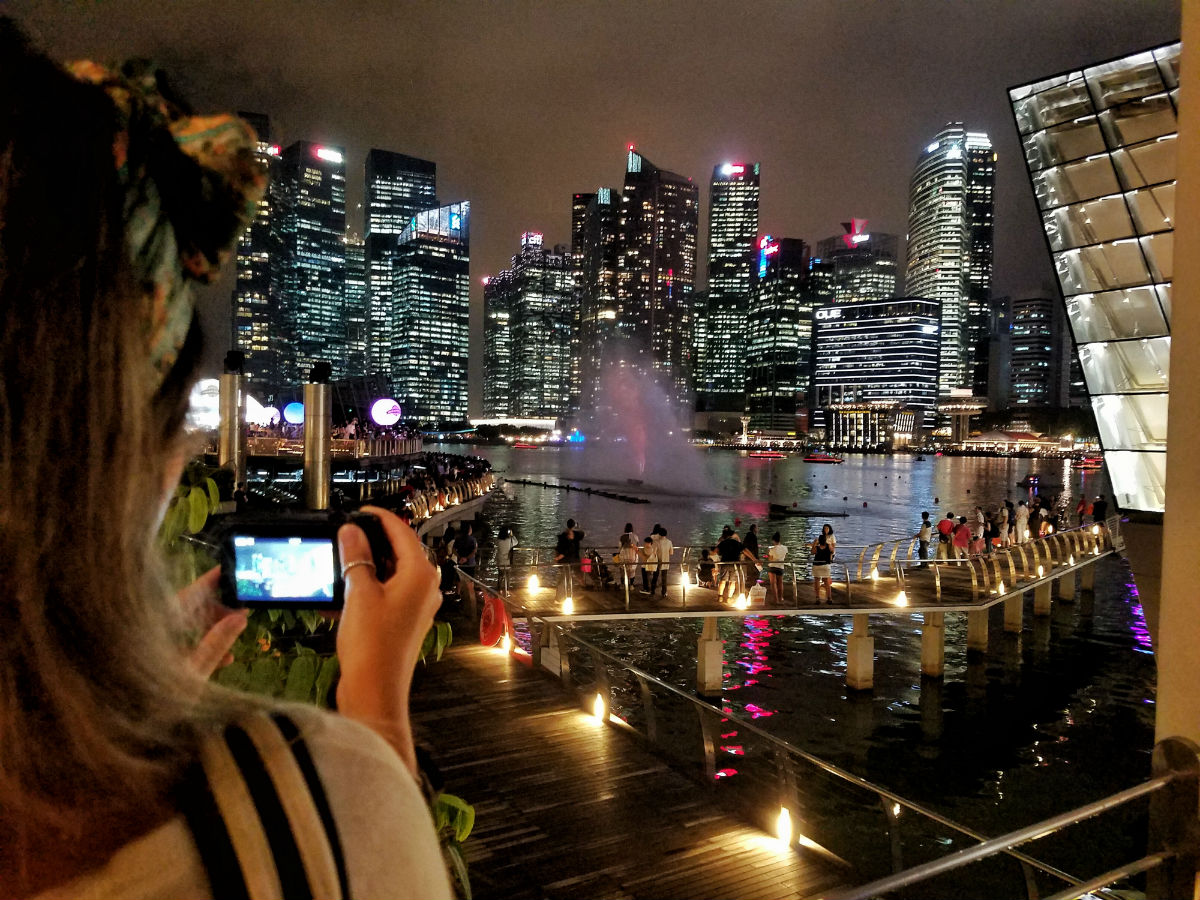 Upon exiting Gardens by the Bay we just so happened to stumble upon the light and water display at the right time and were pleasantly surprised!
The only thing I'd say is that it was super busy when we got there as the show had already started, so I recommend getting there early to secure to a good spot.
---
I was so surprised by how much I enjoyed Singapore, even though we only had a couple of days to experience everything.
If you're considering extending your stopover in Singapore or want somewhere convenient to travel on a limited amount of time, this is the place to do it!
For me, Singapore is one of those destinations I'd love to return to in the future, mainly so I can stay at Marina Bay sands and eat copious amounts of Asian food.
You can't tell me you don't have the same Singapore #travelgoals!
So now I'm curious, what are your Singapore travel plans? I'd be happy to help you out! Drop a comment below…
On Pinterest? Save this 48 hour Singapore travel itinerary >>