Are you tired of all the mainstream cities in Europe, packed with tons of tourists?
Do you dream of walking around a beautiful town and simply enjoying the calmness?
If so, I have prepared a list of hidden gem towns in Europe that you probably haven't heard of yet and should definitely see.
So without further ado here's our top 10 hidden gem towns in Europe which will make you want to pack your bags now!
Top 10 Must Visit Hidden Gem Towns In Europe
10. Bassano del Grappa
Location – Italy
Best time to visit – Summer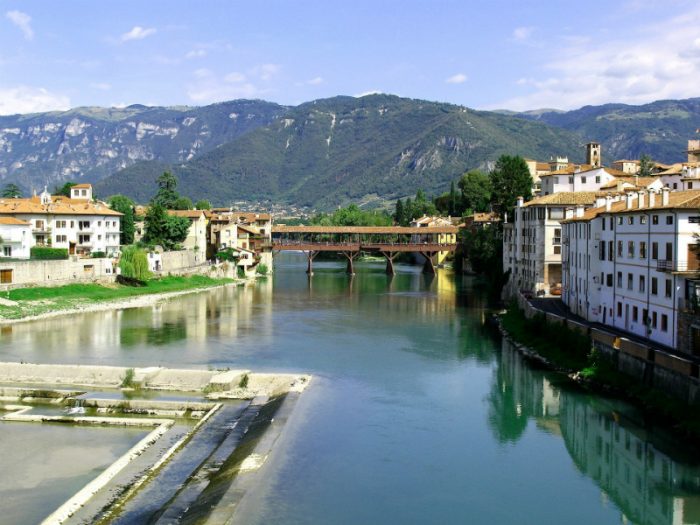 This little hidden gem town is the home of Grappa, a very tasty brandy which is named after the Grappa mountains.
While visiting Bassano del Grappa, be sure to visit it's most famous point – Ponte Degli Alpini, also known as the Ponte Vecchio ('Old Bridge').
There's a lot of bars, and surprisingly, this hidden gem has museums, that run all day, without closing for any lunch breaks.
So be sure to grab a bottle of Grappa and explore this little hidden gem town in Italy!
9. Obidos
Location – Portugal
Best time to visit – Spring, Summer, Autumn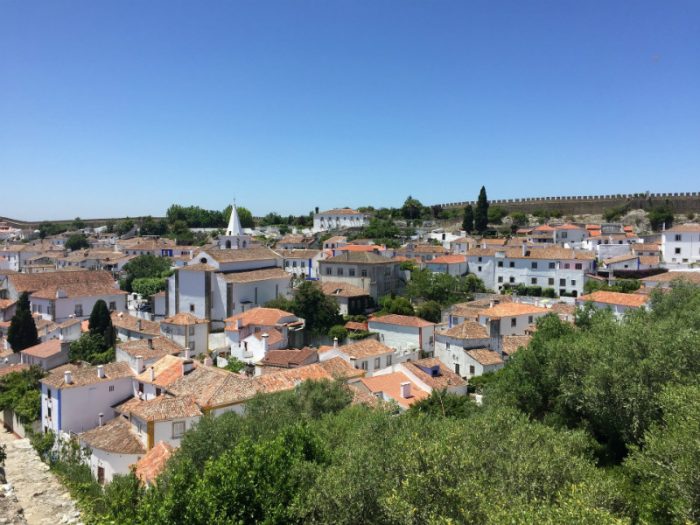 If you're visiting Lisboa, do not miss out on a day trip to this wonderful town.
Obidos is a walled in hidden town, and is located just north of Lisboa.
The Obidos region is known for a cherry liqueur called Ginja de Obidos and therefore no trip to this hidden gem town is complete without tasting it at a small local bar!
While visiting Obidos, you should definitely walk around the town walls and admire the beauty of this hidden gem, but be careful, because the path is well worn with multiple trip hazards!
8. Bamberg
Location – Germany
Best time to visit – From March to December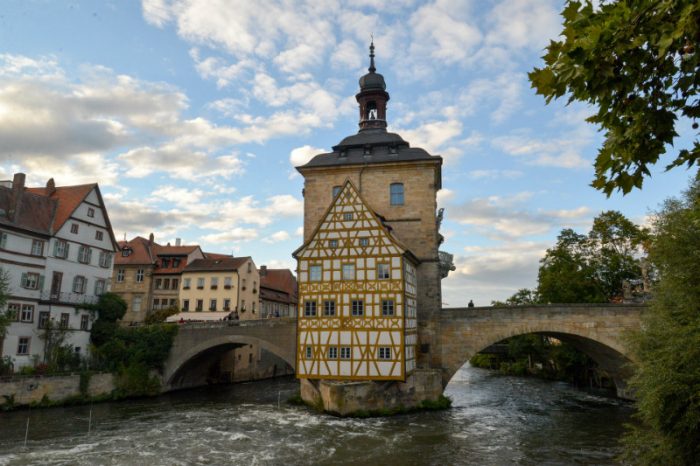 Bamberg isn't as small as the other towns listed here, but it's still quite the hidden gem.
This hidden gem town in Germany possibly has the coolest old town square – it's built on a tiny island!
Besides that, this town has managed to preserve a lot of history, because it hasn't been destroyed during war.
You can clearly see how the architecture ages back to medieval times while walking from the train station to the old town.
Oh, and don't forget that this hidden gem town is located in Bavaria, which means – beer!
Bamberg will surprise you with it's unique smoked beer, which tastes just like bacon!
7. Portree
Location – Scotland
Best time to visit – Anytime!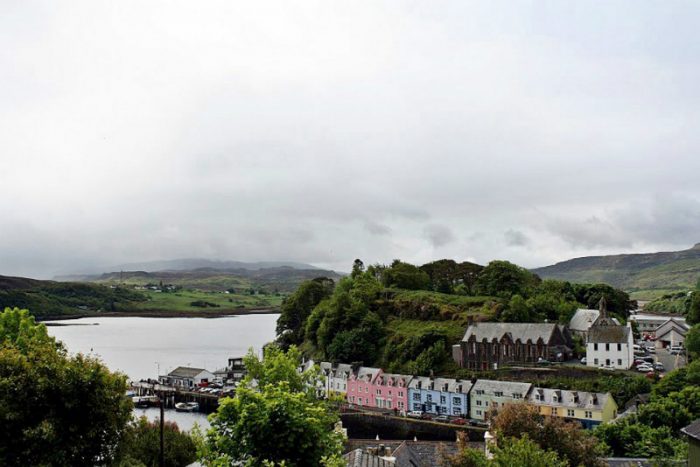 When people visit Scotland, they usually hang around in Edinburgh or Glasgow and miss out on this beautiful hidden gem town.
Portree has everything that a tourist would need: bars, cafés, restaurants, banks. But the true beauty lies just outside the town.
This hidden gem in Scotland is located on the Isle of Skye, possibly one of the most beautiful islands in the world.
All you have to do is jump in the car and drive around while admiring the mouth-dropping beauty.
This island is packed with mountains, waterfalls and even hairy cows!
6. Nida
Location –  Lithuania
Best time to visit – Summer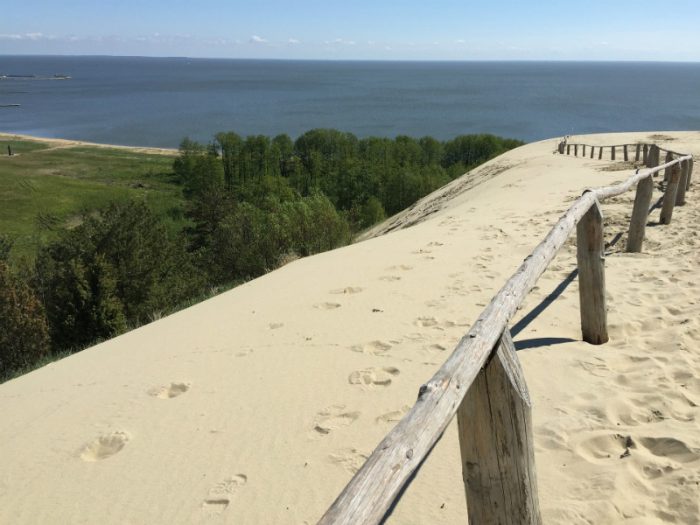 Nida is a fantastic place if you want to relax at the beach on a sunny day!
This hidden town gem is located at Curonian Spit and because of that, it has everything you need for a fantastic weekend vacation!
Just a few kilometres away you will find the beach which has the biggest sand dunes in the whole of Europe.
Also, not so far away you can find another hidden town gem – Juodkrante, which is home to the hill of witches, comprising tons of wooden carvings of witches and devils.. Spooky!
5. Haapsalu
Location – Estonia
Best time to visit – Summer, Autumn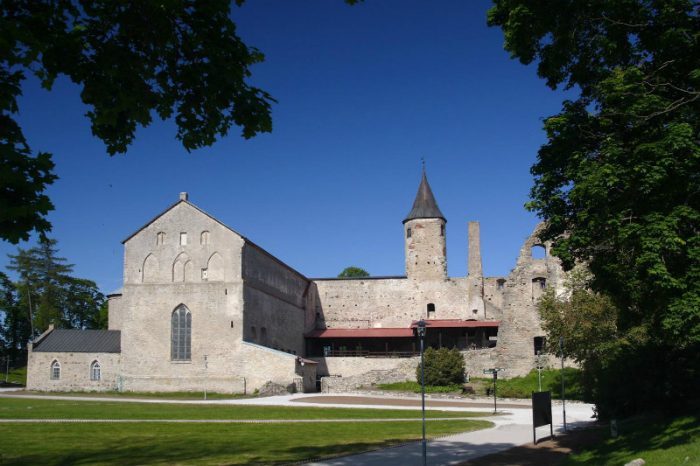 This hidden gem town in Estonia used to be a very popular resort for rich Russian aristocracy, but nowadays Haapsalu hosts a number of international festivals and is home to a variety of cozy restaurants.
Hence this romantic town is a must visit for couples who want to getaway from the bustling city life and relax.
Haapsalu has everything for a romantic stroll: Beautiful nature, a wonderful town and to top it all off, a castle!
4. Quedlinburg
Location – Germany
Best time to visit – Anytime!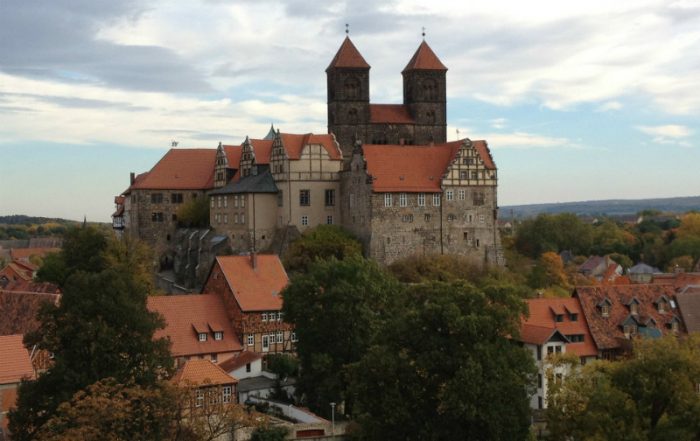 Quedlinburg is our second German city on this list, but trust me, this hidden gem deserves it's spot.
This hidden gem town, just like Bamberg, didn't get destroyed during wars, which means, the whole place breathes history!
The whole of Quedlinburg town was named a UNESCO World Heritage site because of it's history.
While visiting this hidden gem town in Germany, be sure to check out the town square, which is packed with medieval buildings.
Also, don't forget to visit Abbesses' Palace, which stands on The Burgberg ("castle mountain").
3. Troyes
Location –  France
Best time to visit – Anytime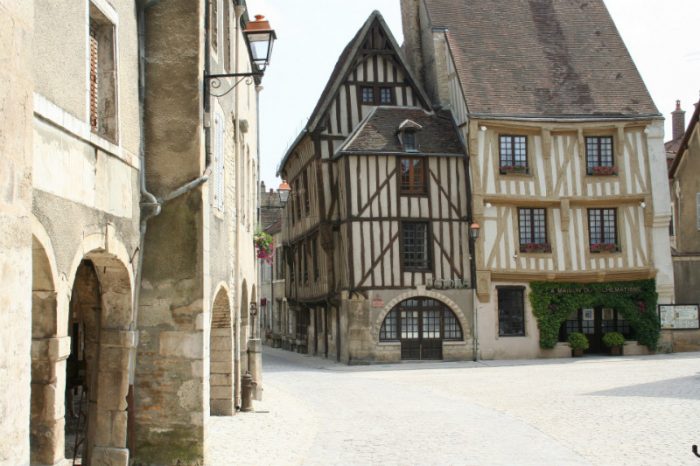 First of all, did you know that Troyes is shaped just like a champagne cork?
After visiting on-the-go cities like Paris and Strasbourg, Troyes, located in Champagne, France, will be a pleasant surprise…
This medieval hidden gem town in France is the perfect place to experience real French culture while sipping wine and chatting with the local people… and it's affordable!
Oh, and don't forget to buy some new clothes at the factory shop, since you might even grab a few bargains at 30% off or more!
As a result this hidden gem is a wonderful place to get in touch with the French culture, nature and people.
2. Braşov
Location – Romania
Best time to visit – Spring, Summer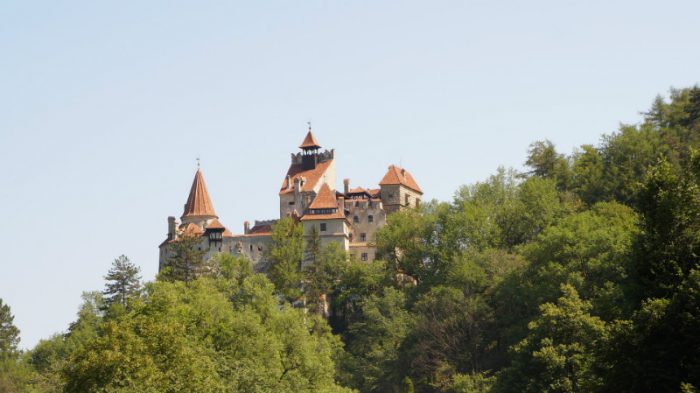 Tall spires, medieval gateways, Soviet block buildings and a huge Hollywood-style sign – this hidden gem town in Romania has a very particular atmosphere!
Braşov is a small town located in Transylvania – yep, where Dracula lived!
This gem has so much to offer – Baroque buildings, churches, narrow streets and tons of cafés.
You can also take a funicular up the mountain and enjoy a beautiful view of the town.
Oh, and if you like skiing, there's a very well known skiing resort – Poiana Braşov, just 30km away!
1. Ronda
Location – Spain
Best time to visit – Anytime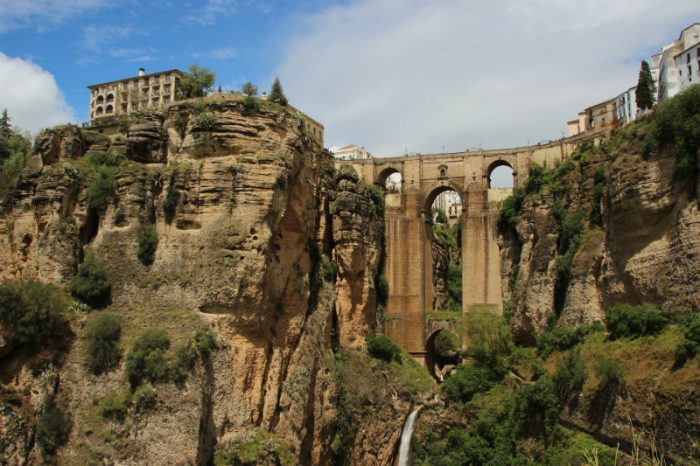 People go to Malaga and they go to Seville, but they don't seem to go to Ronda as much as they should, even though it's located just between the two cities!
This beautiful hidden gem in Spain is built on a mountain-top and features a large stone bridge which spans the gorge below.
Ronda is, in fact, one of the oldest towns in Spain and is the birthplace of bull riding!
There's plenty of beautiful spots to see in this hidden gem town: Medieval architecture, churches, mosques and so much more!
So grab yourself a bottle of wine and explore this magical Spanish town!
Conclusion
So, as you can see, there's way more to Europe than London, Paris and Rome. While I've only listed 10, there are so many hidden gem towns in Europe yet to be explored!
I encourage everyone to explore, find new places and enjoy the experiences that not many people get to!
Remember, every town has something to interesting to offer, no matter how big or small.
Enjoy our top 10 list? Maybe you know some more hidden gem towns in Europe? Share your thoughts in the comment section!
Pin this image on Pinterest for quick reference! >>