While São Paulo is often disregarded as a city worth visiting, it actually offers tourists plenty of fun and interesting things to see and do.
So if you're about to visit Brazil and have a few days spare in São Paulo, we highly recommend that you make the most of your time by doing some, if not, all of our top 5 favourite things to do in São Paulo.
No boredom – guaranteed.
Things To Do In São Paulo: 5 Weekend Activities
Save these things to do for future reference.. Pin this image on Pinterest >>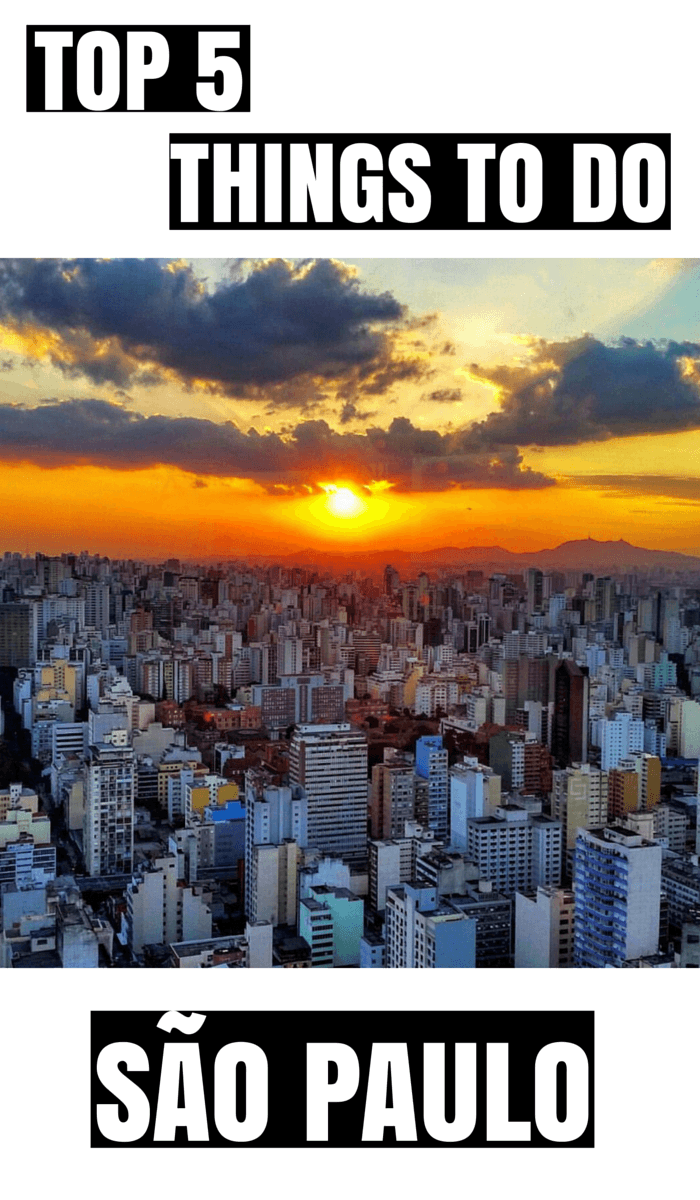 Located on the top floor of Hotel Unique in the sophisticated and highly sought after neighbourhood of Jardim Europa, Skye Bar offers visitors a truly luxurious experience without the super high price tag.
Hotel Unique gets its name from its unusual design.
In fact, the building itself is actually shaped and created to look like a huge wooden ship, somewhat similar to Noah's Ark.
Stretched across the rooftop of Hotel Unique is Skye, a half open air bar and restaurant with insane views across the São Paulo city skyline and Ibirapuera Park below.
As the heart and soul of Hotel Unique, one of Skye Bar's prominent features is its crimson red swimming pool with underwater sound system surrounded by a spacious and modern lounge area.
Unfortunately swimming is prohibited in the evenings but it still makes for a lovely backdrop.
Skye Bar at Hotel Unique opens every evening at 6pm, with a DJ playing from 9pm.
No reservations are needed at the bar, just walk through to the open air area, find a place to sit and relax until a waiter brings you some menus/takes your order.
I love the fruity cocktails (especially the watermelon or lychee ones) and the pizzas and pretty amazing too!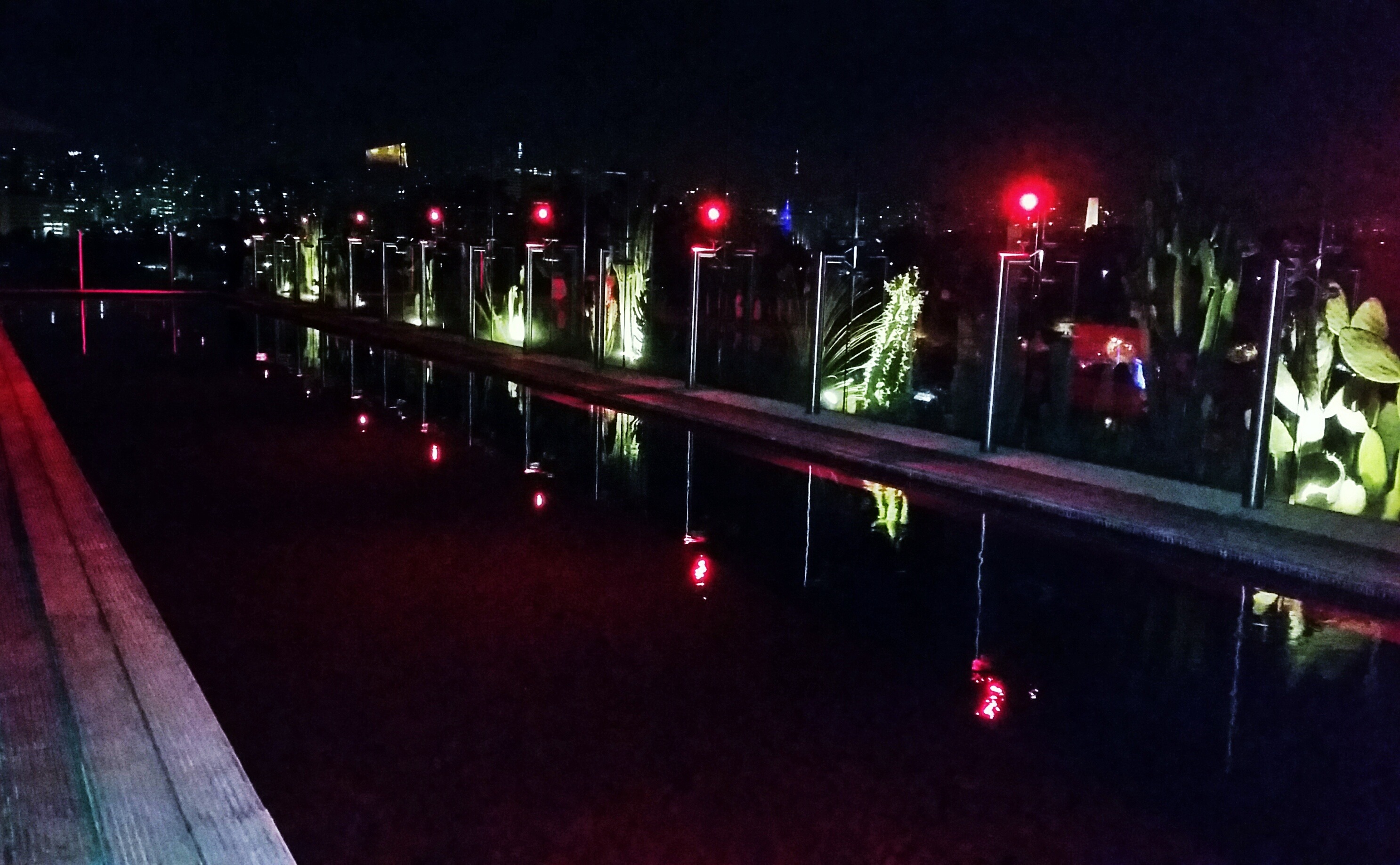 Well known for it's alternative, quirky art scene, walking the streets of Vila Madalena is definitely one of the top top top things to do in São Paulo.
While Vila Madalena is easily accessible via metro, bus or taxi, I would highly recommend consulting a map (or human being) and making your way to the area around Rua Gonçalo Afonso and Rua Medeiros de Albuquerque.
It is in this very area where you'll stumble upon one of the most colourful, vibrant and downright funky alleyways you'll ever come across.
Beco do Batman (Batman Alley) is the nickname for this insane alleyway that winds its way through the backstreets of Vila Madalena.
Filled with crazy, thought provoking, but nonetheless outstanding artwork from some of the top graffiti artists in Brazil and around the world, Beco do Batman is an 'open air gallery' which started in the 80's and now attracts thousands of admirers every year.
Tip: As you wander the cobblestone alleys in search of your favourite graffiti pieces, be sure to snap some artistic photos along the way!
Tip: After you've finished admiring, wander up to Rua Harmonia where there are plenty of unique places to grab a bite to eat or a drink.
https://instagram.com/p/7qwKHMPgC9/?taken-by=storyv_com
Perched way up high on the 41st floor of Edifício Itália, one of the tallest buildings in São Paulo, Terraço Itália is a stunning bar with a classic feel to it and out of this world panoramic views over the São Paulo city skyline.
The first thing you'll notice as you step out of the elevator and make your way up more flights of stairs to reach the bar is the incredible amount of buildings below you.
In fact, concrete buildings of all shapes and sizes span out to the horizon and beyond in every direction you look.
It's a little mind-blowing actually.
On top of the pricey beverage menu there is a cover charge of $30 BRL.
While this is a little pricey, it's well worth it for the experience and the breathtaking views.
Tip: The absolute best time to visit Terraço Itália is just before sunset on a clear day. That way you'll be able to order your drinks, settle in and then watch the sun slowly disappear behind the mountains in the distance. It's truly magical!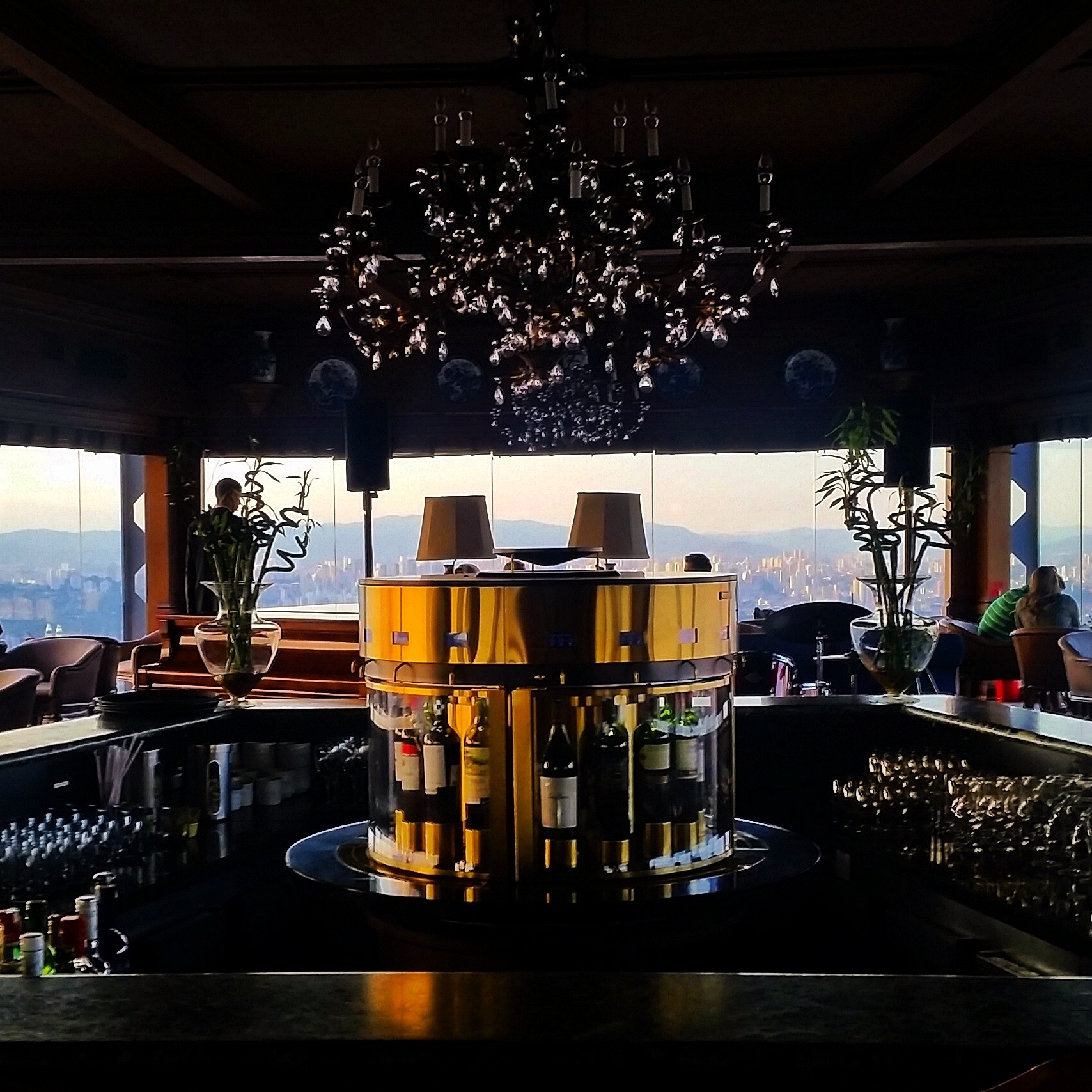 On the weekend one the nicest things to do in São Paulo is hire a bicycle and go for a ride through all the different neighbourhoods, stopping for a juice or coffee break on the way.
Surprisingly, São Paulo doesn't seem all that big when you ride a bicycle instead of a taxi and that's because a lot of the roads are one way and the traffic is horrendous.
Sometimes it can take an hour to get 10 minutes down the road in a taxi so more often than not, you're better off with a bicycle anyway.
But besides the convenience factor, it's simply a nice way of seeing the parts of the city you often don't get to see (and believe me, there are some really nice hidden parts).
Just like in many other cities, branded bicycle stations are located all over São Paulo.
If you download the Itaú app or visit their website, you'll find all the information you need to pick up a bicycle, including the station locations.
I believe it costs $5 BRL to hire a bicycle for an hour and you can drop it back at any station.
A scenic route to take starting off on Paulista Avenue, is taking a left down Rua Haddock Lobo or Rua Bela Cintra towards the Jardins neighbourhood then wandering through Rua Oscar Freire (very high end), Jardim Europa and then into Itaim Bibi, making sure you take the backstreets to marvel at some of the incredible mansions along the way.
Tip: The perfect coffee stop is Octavio Café in Jardim Paulistano – trust me, you won't be disappointed.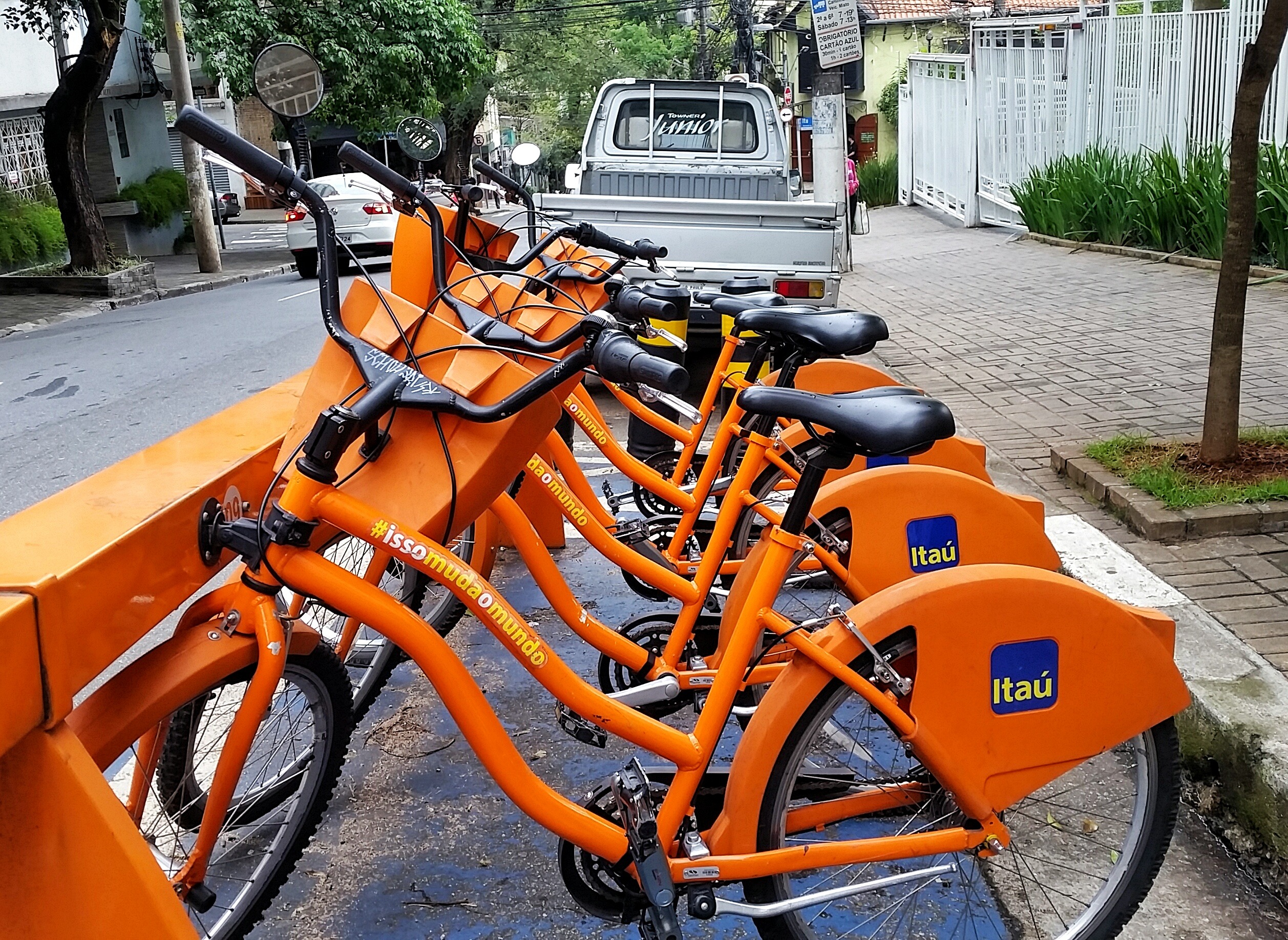 Tucked up a steep alleyway that connects the popular Rua Augusta and Rua Frei Caneca is one of the best things you'll experience in São Paulo – literally food truck heaven.
They call it Calçadão Urbanoide and it's basically a long narrow driveway, just a short walk away from the famous Paulista Avenue, packed to the brim with amazing food trucks serving up specialties from all around the world.
Some of my favourite trucks include Japanese, Mexican and Asian Fusion, not to mention the quirky little 'bars' serving up ginormous cans of beer and deliciously refreshing mojitos.
By the time the evening rolls around, Calçadão Urbanoide is open for your eating pleasure – that is if you can find a spot to sit. Yep, it gets busy.
Really busy.
And you'll understand why as soon as you arrive.
The atmosphere is vibrant, everyone is happy and the food is wonderful.
What more could you ask for?
We normally head to the Calçadão Urbanoide food trucks on a Friday night at around 9pm because that's about the time it starts getting a really nice energetic vibe to it.
And because all of the seating is outdoor and communal, it's super easy to meet people and have a good chat over  beer!
If you are looking for fun things to do in São Paulo at night time, Calçadão Urbanoide is definitely one of them or if it's lunch you're after, you're also in luck.
They open at 12pm every day except Monday and serve up tons of deliciousness until the late hours of the evening.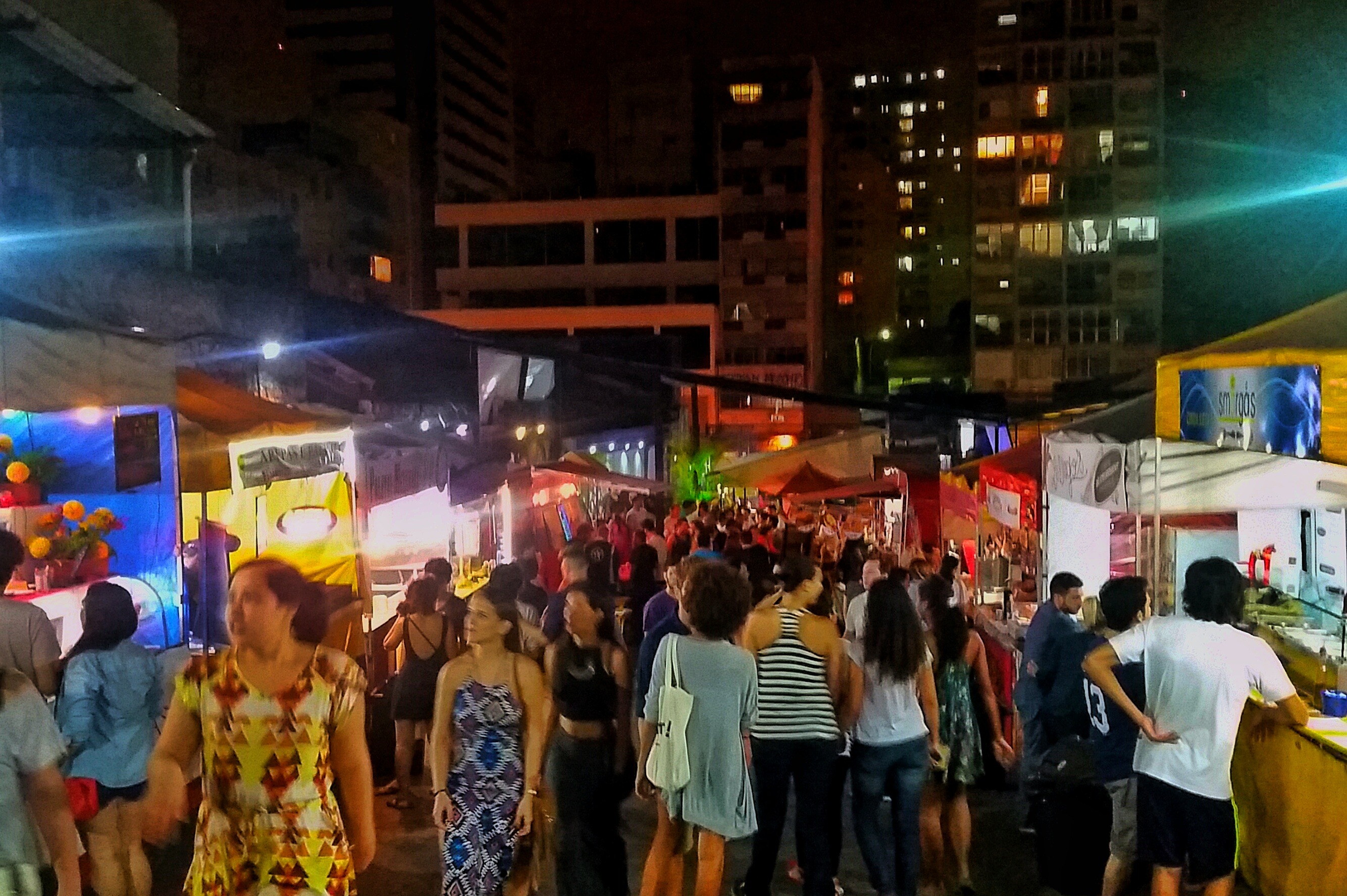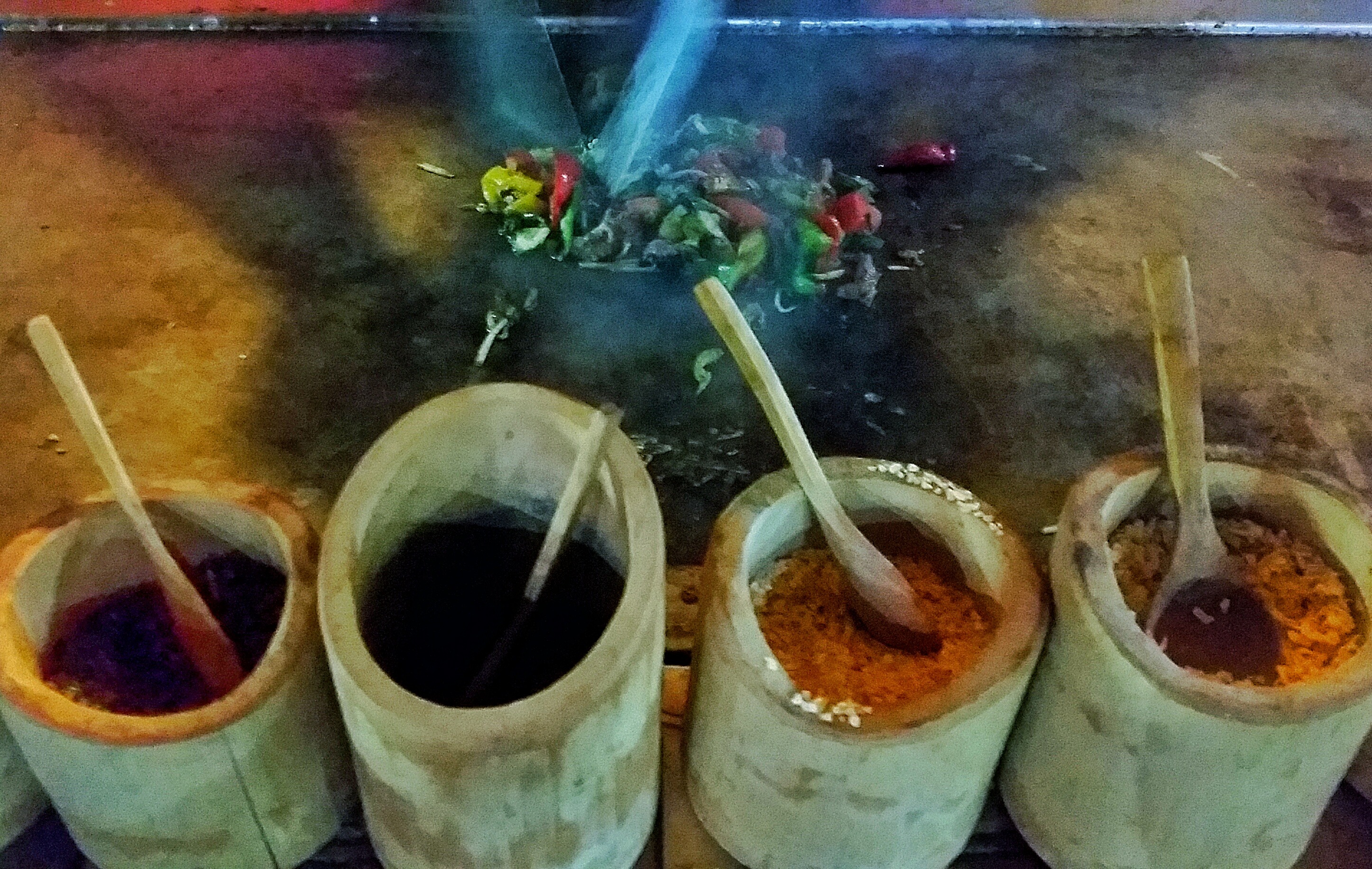 So if you're in São Paulo for a just a few days and don't know what to do, you have absolutely no excuse now!
There are plenty of fun and interesting things to do in São Paulo and we've just highlighted our absolute top 5 favourite.
In fact, in our opinion these are hands down the best things to do in São Paulo.
Make the most of your trip to São Paulo and add these to your itinerary!
---
São Paulo Travel Resources
São Paulo Accommodation:
To start looking at your accommodation options in São Paulo, choose Hostelworld for budget, HotelsCombined.com for comfort or Airbnb for local (and get $25 off).
Want stylish accommodation you can afford? Enter your dates and Hotels Combined will scan all the top booking sites (Booking.com, Hotels.com, Expedia, etc) for the cheapest prices possible:
São Paulo Flights:
If you are flying in to São Paulo, it is beneficial to use a flight compare site to find the cheapest flights. We recommend and use Cheapflights.com.
Click here to compare and book cheap flights to São Paulo
Have you been to São Paulo? What would you add to the list? Let us know at the bottom of this page!