It was approaching sunset at the end of a long workweek for most São Paulo inhabitants. The sky was as clear as water and the warm autumn air was still circulating through our living room. This called for one thing and one thing only – knock off drinks at the best rooftop bar in São Paulo. Of course, I'm talking about Skye Bar at Hotel Unique.
As our Uber driver passed a row of tall swaying palm trees and pulled into a long driveway that led up to the front door of Hotel Unique, I had to stop and take a photo. After all, this was the most unique building in the whole of São Paulo, if not, the whole of Brazil.
Shaped like an enormous boat and raised up into the São Paulo sky, Hotel Unique is often referred to as an abstract "Noah's Ark". The genius contemporary design of this tremendous boat shaped hotel is what has attracted hundreds of celebrities and influencers from around the world to stay in São Paulo.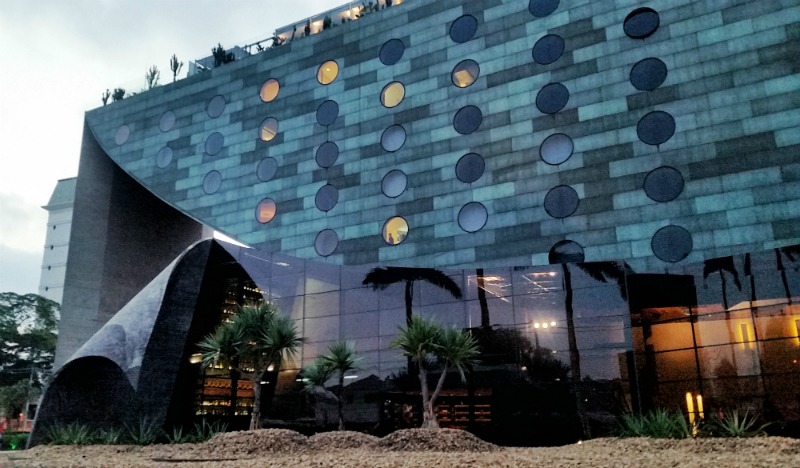 While this hotel is often frequented by the rich and famous, don't shy away. Hotel Unique's very own luxury rooftop chill-out deck, Skye Bar, is open to all visitors, even if you aren't staying. This is your chance to mingle among a diverse crowd of São Paulo locals, international travellers and sometimes the odd celebrity whilst sipping on mojitos, overlooking the bright São Paulo skyline.
Oh, and did I mention there was a rooftop swimming pool?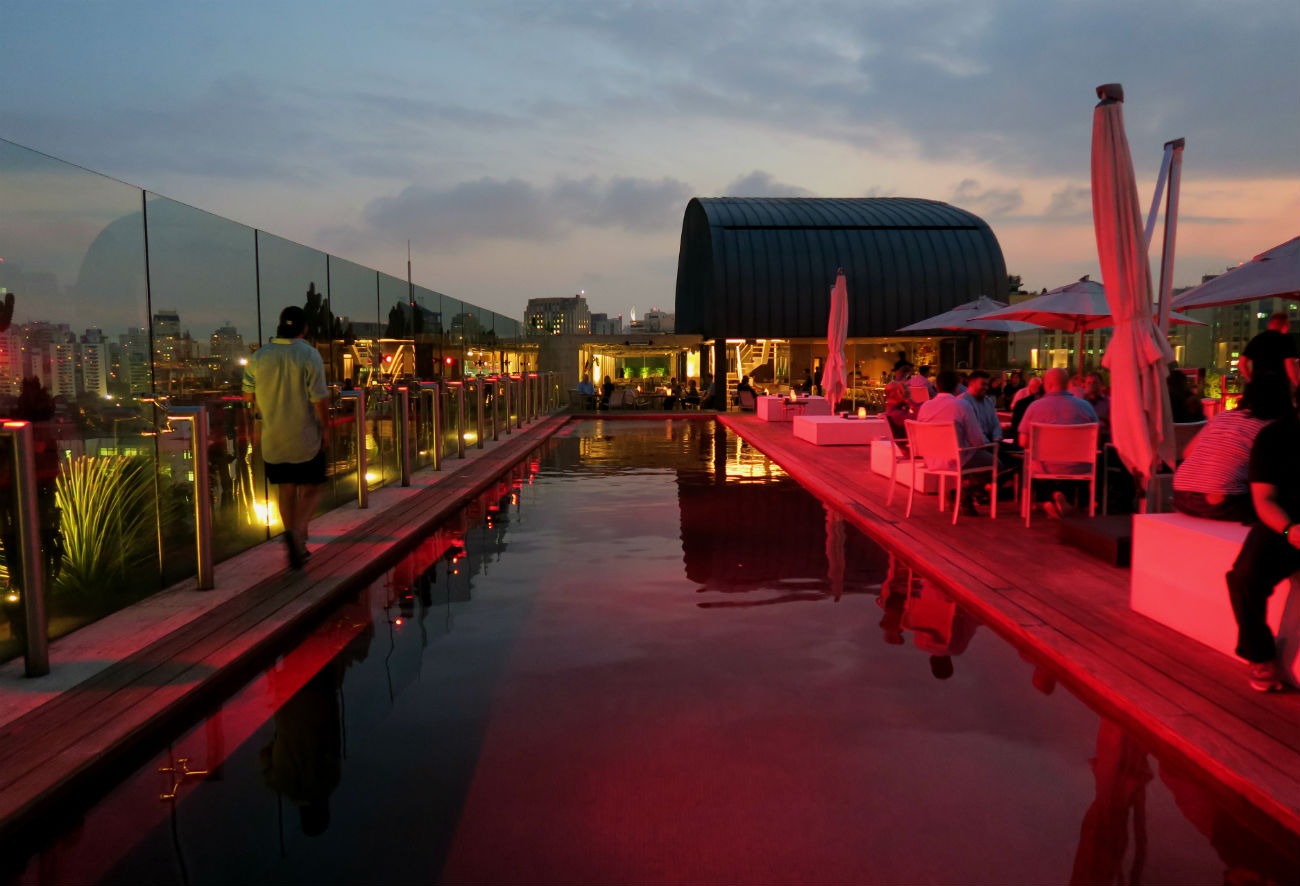 We were among the first to arrive at Skye Bar on this particular evening, making sure we were lined up at the door before the bar opened to the public at 6pm.
We'd visited Skye Bar with some friends on a number of previous occasions but we found that we were always getting there too late to watch the sunset and find somewhere comfortable to sit. We realised that come 8pm on a Friday and Saturday night, Skye Bar turns into the hottest spot in town to meet with friends over a few cocktails, so turning up early this time was a smart move. It also meant that we could take some photographs while it was still light, without having people standing in the way.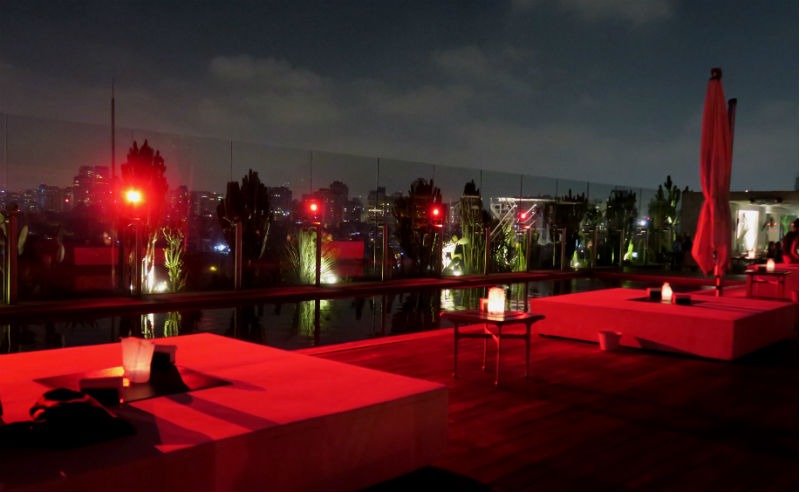 Unfortunately, by the time we got there, the sun had already escaped us for the day, leaving just a soft pastel wash across the sky, which we didn't mind either. It made for the perfect light to take some footage and then relax alongside the swimming pool.
After riding the glass elevator up to the top floor of Hotel Unique, we were welcomed by a friendly host who then pointed us in the direction towards the rooftop terrace. Even though we knew where we were going, it's always nice for it to feel like a first time experience.
Turning left, we made our way through Skye Restaurant, Hotel Unique's highly acclaimed fine-dining restaurant, commanded by Emmanuel Bassoleil, an award winning chef who is recognised worldwide for his gastronomic creations. We're yet to try the menu at the restaurant but it's on our must-do list.
As we approached the exit of the opulent indoor restaurant and bar, we were welcomed out onto a large, open-air rooftop terrace of Skye. This was where our night really began.
To get things started, the guys went and sat down at a low-set table, next to a warm outdoor heater and I decided to explore while we still had some natural light.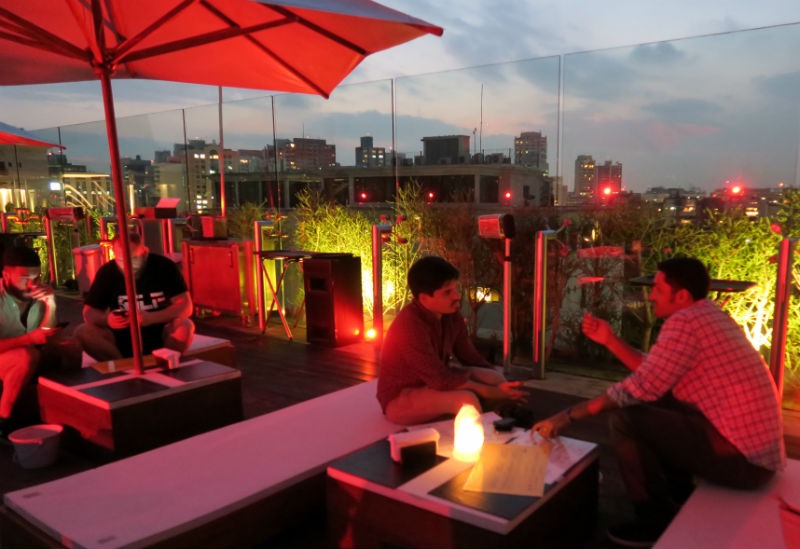 As I said, we'd been to Skye Bar in the past but it was always dusk so I couldn't exactly tell what I was looking at. This time everything looked different and I was able to imagine what it would be like lounging by the pool on a hot summer afternoon. Oh, one day…
Unfortunately, the pool is only available to admire come 6pm when the bar opens to all visitors. It would be nice to take an evening dip with a mojito in hand, overlooking the glimmering city skyline but for now, one can only dream. Also, can you imagine the chaos if it were to open on a Saturday night? It would be like spring break (ok, but on a far more sophisticated level).
While the guys continued talking business I headed over to the edge of the terrace where I was spoiled with a 180° view over the city's famous Parque Ibirapuera and glowing skyline in the near distance.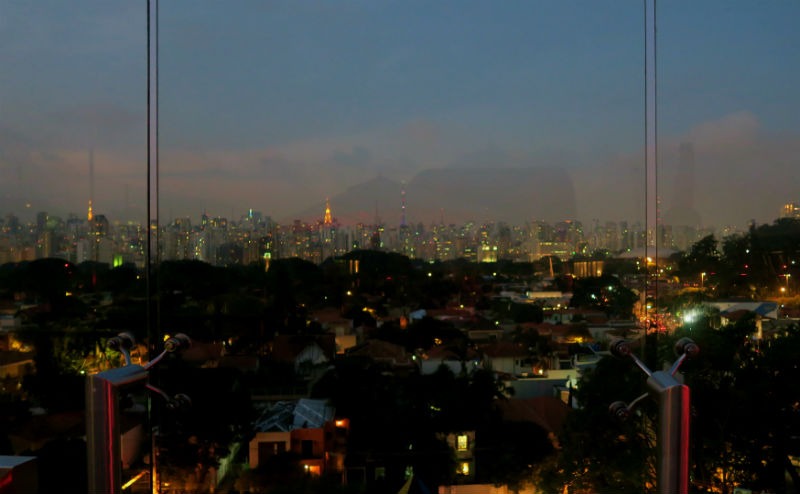 Due to the reflection, the glass panels can be a little frustrating to look through, especially if you want to take photographs. But at the end of the day, it's the safety of their guests that is of their upmost concern. To add to this, I would suggest arriving early if you want to photograph the view because once it gets dark it can be awkward getting a quality shot.
When I joined Dan and our friend back at the table, the sky had relaxed into a darker shade of navy and we were ready to enjoy some drinks under the candlelight. Contrary to every other time we'd been to Skye Bar, we decided to stick to non-alcoholic drinks this time. The extensive beverage menu, however, is worth the visit alone. In the past we've enjoyed delicious lychee martinis, watermelon martinis and even tequila but this time I was going for a mocktail.
The polite and very professional waiter arrived at our table to take our order within minutes of seeing us pick up the menu. The guys ordered some natural juices and I ordered a mocktail. While the bartenders didn't have all the ingredients to mix up their standard mocktail, the waiter informed us that they would put together something special for me, something tropical, which was exactly what I felt like.
Soon after, the drinks arrived at our table and I must say, they looked beautiful. I took some video footage and then devoured mine – which tasted like strawberries – along with a quarter of Dans' pineapple and mint juice. I must have been thirsty.
Next up was food, of course. Now, since our previous visit, we did notice that the menu has been changed. I must admit, there used to be more shareable dishes but this time we struggled to find something suitable for all 3 of us. That being said though, all of the food on the menu was and still is great bar food with an elegant twist.
Consisting of mainly pizzas and sushi, we initially opted for a pizza as it was one of the only dishes on the menu that was filling enough to divide between 3 people. We ended up ordering a pizza that we had tried and enjoyed in the past which consisted of pear, grapes, honey and gorgonzola. It goes perfectly with a glass of wine. De-lish.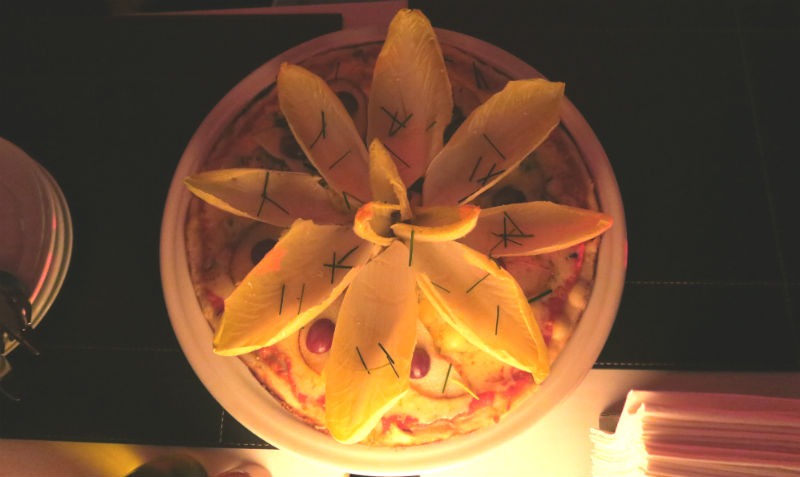 Shortly after finishing the pizza we still had a little hunger spot left so we decided to order a plate of sushi. Opting for their hot roll which consisted of salmon, asparagus and tare sauce, we were left feeling satisfied and full.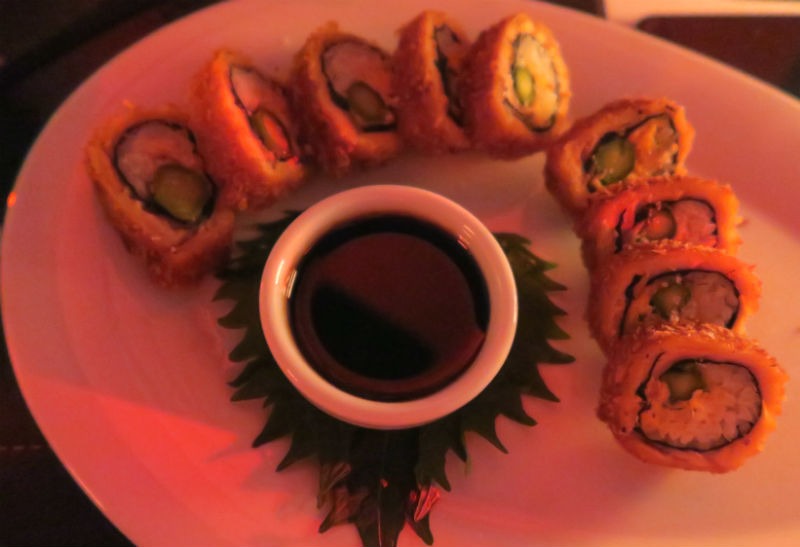 As the night went by, I sat under the warmth of our outdoor heater, toasting my toes as I continued admiring the incredible view over São Paulo and relaxing to the beat of their eclectic range of lounge music. This was a Friday night spent perfectly in São Paulo and a reminder as to why we just keep on returning.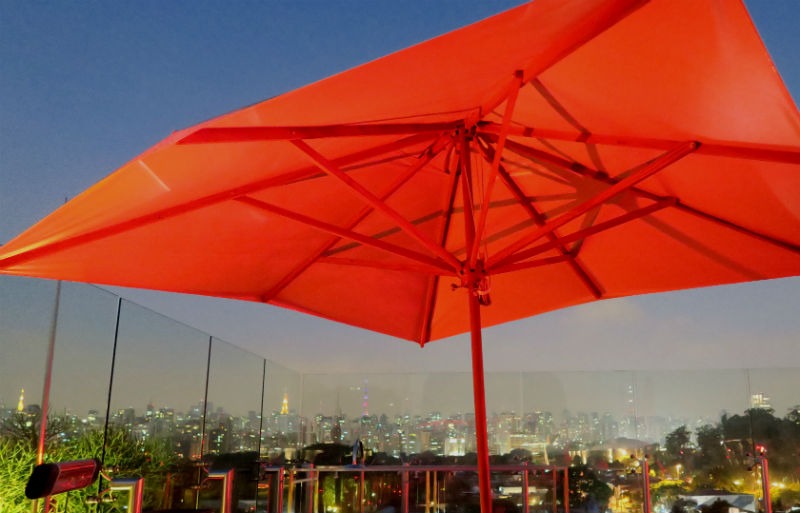 If you are looking for somewhere completely unique on your list of things to do in São Paulo, then we highly recommend a visit to São Paulo's best rooftop bar, Skye Bar at Hotel Unique. Trust me, you'll love it.
Check out this video of our experience at Skye Bar, São Paulo:
Skye Bar at Hotel Unique Address and Opening Hours:
Skye Bar at Hotel Unique is located in the Jardim Paulista district of São Paulo, close to many other well-renowned hotels and restaurants.
You can find it located at: Av. Brigadeiro Luís Antônio, 4700 – Jardim Paulista,São Paulo – SP,01402-002,Brasil
Every evening Skye Bar is open between the hours of 6pm and 12am, except Friday and Saturday when it is open between the hours of 6pm and 12:30am.
Website: http://www.hotelunique.com.br/
Important Notes:
Skye Bar at Hotel Unique is a sophisticated contemporary cocktail bar so we recommend smart casual dress. This means no flip-flops, short-shorts or tank tops for men. If you are travelling, make sure you arrive clean and well presented.
Generally they use a tab system so you can order throughout the night and pay at the end. For this, we recommend bringing a credit card to secure your tab.
Bring a camera – the view is amazing.
Before you take the elevator up to Skye Bar or before you leave, take the chance to visit 'The Wall', an impressive bar and lounge area located in the hotel lobby. This is another fantastic photo opportunity.
Conclusion:
There's a reason why we keep on returning to Skye Bar when we're in the mood for a sophisticated drink in São Paulo and that is because the amazing view, stunning poolside terrace and extensive beverage menu truly make for a relaxing yet glamorous night out. When you next visit São Paulo, we highly recommend adding Skye Bar to the top of your list.
Note: We were not paid or compensated for this review. In actual fact, we just really like Skye Bar (if you can't already tell).
Pin this >>